Spy
This is perhaps one of the best videos in amateur porn – if not the best. A couple of months ago, my stepsister and I went to a party together and came back so drunk that we woke up next day naked and sleeping in the same bed together! We thought nothing serious happened until I found a video on my smartphone, not only had we fucked, she begged me to film us doing it! Nasty! Ever since I got that provocative video of us fucking, my stepsister lets me fuck her whenever I get the urge, like this morning! I woke up with a huge morning wood and went over her bedroom, waking her up. As soon as she spotted my massive erection, she knew what was up, in more than a sense, lol! I tugged down on the sheets and then on her panties, revealing her sexy shaved pussy. Her lips so pink and soft just made me want to get a little closer look. My sexy step sister took her panties off and got down on all fours, looking at me over her shoulder as I played with her juicy butt and meaty pussy lips. She turned over, looked at me and took my morning wood in her soft hands, and moved the tip of my swollen member to her sweet lips, looked up into my eyes and said, you taste really nice and have a beautiful cock. She covered my purple mushroom with her lips and darted her tongue around it, sucking and stroking it. Her mouth was warm and moist and felt wonderful on my swollen manhood. I know she loves how big and tasty it gets in the morning, but I just wanted that pussy around my hard cock. My stepsister took off her top, got on top of me, took my dick in her hand and led it into her warm pussy. She smiled, her eyes were aglow with pleasure as she tightened her pussy lips around my cock and her vagina swallowed my entire dick. My naked step sister just started bouncing up and down and I just lay there watching her fine little titties and her lovely pussy. She bit her soft pink lips as she rode my erection and turned over, getting down on her hands and knees by the edge of her bed so I could fuck her doggy style from behind. Her juicy bubble shaped ass looked fine from this angle, and when I stop banging her, the dirty little fuck slut pushes her sexy ass against my cock while grunting, begging me for more of her stepbrother's hard cock! I fuck her from behind and flip her over like a flap jack so I can keep banging her in missionary. By now she's enjoying this as much as I am, and I rub her clit as I continue penetrating her meaty pussy. She tells me how big and hard my cock feels inside her and how bad she wants me to blow my creamy load all over her face and her tits! Now my step sister always tells me she prefers when I wake her up at the crack of dawn then in the middle of the night.
THE SEXIEST AND HOTTEST YOUNG SISTERS GOT CAUGHT FUCKED:
Sibling relationships have never been so hot and sexy, because at SisLovesMe, these horny step brothers have a serious sex crush on their smoking hot step sisters. These guys spy on their naked step sisters as the girls shower and they spy on the naked girls when they're masturbating in their room, the guys fuck their young sisters while they sleep, the girls watch porn together with them and jerk off together, these naughty young girls are free to show their love to their horny step brothers by sucking their hard cocks and swallowing their creamy cum after getting their teen pussies fucked very hard.
|
My sexy blonde stepsister was walking around the house half naked, wearing just a sexy pair of bra and panties with thigh high socks and it got me so fucking turned on! I was just staring at her and when she realized I was there, she couldn't avoid noticing I was pitching a tent under my pants! She was going to cover herself up, but I wanted to keep seeing her, she was so gorgeous and sexy! She liked getting all that attention from me and making me so hard, so she teased me back to her bedroom, where she got down on all fours on her bed as I pulled down on her panties, exposing her delicious bubble shaped ass and dripping wet pussy. She was 18 with a very well developed body. You know, nice boobs and a curvy ass. Her ass was the prettiest thing I had ever seen. We are both single, haven't fucked for months and the idea of having sex with each other felt so forbidden and hot, it was irresistible! My naked step sister spread her legs and played with her twat for me, rubbing it all round the opening and inside the lips, and I rubbed her slit, feeling how wet, soft and hot it was as I stimulated her. She get back on her hands and knees, spread her delicious ass cheeks, I was hard as a rock by then. She raised up her ass and was rubbing my member along her ass crack and pussy. Now put your dick here, she directed, and guided my throbbing erection into the folds of her pussy. Her young pussy was squeezing my dick tighter than anything else could ever do! She began to moan softly and as I fucked her warm moist pussy faster and faster. I pounded her hard from behind and she pushed her delicious ass back against my cock, moaning and grunting with pleasure for my hard sausage. She pulled her bra up so I could see her flawless youthful titties and her puffy, fully erect nipples as she straddled herself atop my burgeoning erection, she grabbed it and pushed herself onto me, forcing my cock deep into her vagina. My step sister was fucking hot like really hot like super hot! She bit her lip and begged me to fuck her pussy harder, deeper and faster. She flipped over and kept riding me, SO fast and SO intense, making her delicious bubble shaped ass bounce up and down my lap, it was the hottest shit I ever seen! She squatted and kept pushing herself up and down, her buttocks resembled basketballs bouncing on the court and I could feel myself getting closer and closer to the point of no return. The best part came when she began tickle her anus with her finger right in front of my face, riding me with such force that her whole ass flew up and down with every stroke! It was mesmerizing! I couldn't wait to pull out of my stepsister's young pussy and blow my load, splattering hot, sticky semen all over her beautiful face and her open mouth and watch it dripping down her chin and all over her little tits, fucking hot! After several minutes of her desperate fucking, I felt myself beginning to come. In a few minutes my balls gave that familiar twitch and my cock spruted a huge load all over her cute face. My step sister smiled and said, we would continue as often as possible.
THE SEXIEST AND HOTTEST YOUNG SISTERS GOT CAUGHT FUCKED:
Sister love is great, but nothing beats step sister love! Discover why right here at SisLovesMe, where naughty young girls are free to show their love to their horny step brothers by sucking their hard cocks and swallowing their creamy cum after getting their dripping wet pussies and tight assholes fucked very hard by them in hardcore stepsibling XXX action! After catching their step brothers spying on them while they shower in the bathroom, or after sneaking in their bedroom at night while the girls sleep naked or masturbate under the blanket in their bedrooms, these beautiful teen girls are ready to become their brother's sluts! They even have sex for the first time with them.
|
I just love spying on my sexy little 18 year old stepsister when she's in the bathroom; totally naked and checking herself out in the mirror. Every time she catch me she covered herself up and told me to leave, but not before I got to play a bit with her shaved pussy and soft butt. My step sister let me touch her wet pussy slit, her pussy lips and her clit, and she didn't protest. She also liked it. Her nipples hardened up as I touched her breasts and her clean shaven smooth pussy got so wet as she got turned on by the situation! My step sister had never let me nothing more than just look and touch before but that day she was really hot. She asked me if she could see my big cock. I let my step sister touch my balls ans stroke my penis. She was getting into it and she set on the toilet seat, taking my throbbing erection in her hands and popping it into her wet mouth, giving me head. I decided to see if she would let me fuck her pussy. We got back to her bedroom and she got down on all fours by the side of her bed, raising her juicy bubble butt as I was ready to stuff her tight pussy with my big dick, filling her up and pounding her hard doggy style! My naked step sister spread her round ass cheeks with both hands and the head of my cock was at the entrance to her dripping wet vagina, my erection was aching. She pushed her juicy ass against my dick and she opened her eyes wide as my cock slipped in. Her pussy was hot, and so tight! I held her beautiful butt-cheeks. She was smiling, her eyes looking back at me, I pushed a little harder, and my sexy step sister started to go "mmmm", I kept pushing, harder and harder, that bubble butt jiggled like vanilla pudding, baby! She kept tightening her vagina, so I kept pushing harder. She had me lay down on her bed and got on top of me, started to rub her pussy against my dick and then lowered herself on it. It felt so good as she bounced up and down on my cock. I was starting to feel my dick ready to cum after about a minute but she kept ride me, making her bubble butt bounce up and down my rod. I love it when a girl rides my cock in reverse cowgirl, since I get a great view of a hot ass! I squeezed it and spanked my step sister's sexy ass and she flipped over, bouncing up and down my rod, showing me her sexy little tits and her slutty little face. She was so horny by this point, her cunt was all covered in her juice and she just screamed "Cum inside me! Cum inside me! Please!". She looked me right in the eyes when I was cumming! The thick, heavy load thumping again and again into her. I did empty my balls into her! I pulled out and it was starting to leak out of her pussy onto the bed sheet. She keeps tell me we have to stop doing this, but she's ready for my dick the very next day, she can't get enough of my hard cock and my creamy cum and I can't get enough of my stepsister's juicy cunt and delicious cock sucking mouth! I fuck her several more times during the day, in the den, the living room, the kitchen, the garage, just follow the semen marks all over the floor left behind after I blow my load all over my sexy stepsister! I still remember the first time we fucked, after she caught me spying on her in the bathroom, and ever since we do this every single day, it's our own dirty little sex secret and we just love it!
THE SEXIEST AND HOTTEST YOUNG SISTERS GOT CAUGHT FUCKED:
When these guys see their half naked sisters walking around in just the panties, displaying their sexy legs and their sexy bubble butts, indecent thoughts come. If they are family after all, what wrong can there be in these horny guys spying on, seducing and banging their sisters? These horny guys sneak in the sister's room at night and fuck them while the girls sleep, convince them to pose fully naked on cam for them and their friends, watch porn together and masturbate to each other and even have sex for the first time, cum inside after pounding their tight pussies and assholes while their parents are at work!
|
This sexy girl's boyfriend is out of town so she is chatting with him online, teasing him by touching her sexy body and rubbing her dripping wet twat in her sexy lingerie, not knowing that a burglar broke into the house and is spying on her! This sexy teen girl is going to cum right on webcam when her BF is jerking himself off, not knowing that some dude is behind her back. This petite slut looks so hot, cute little butt, nice titties, bald pussy… everything about this girl just screams "fuck me"! He even took a video camera from downstairs and is using it to film her! Finally her boyfriend notices him and alerts her to his presence and she grabs her phone, threatening to call the cops, but she gets an even better idea! Since her boyfriend is out of town, the burglar's big hard cock will sure come in handy to keep her sexually gratified! Tiny teen slut gets down on her knees and begins stroking and sucking his throbbing member, licking his balls and looking over to her laptop, where her boyfriend is still online and watching her fuck the burglar! His girlfriend deepthroats this massive erection and drools all over his long shaft, delighted that she finally has some cock to suck and fuck, since her boyfriend won't be back in town for several weeks. The guy doesn't turn off the camera and continues to film amazing POV with this tiny girl drooling all over his huge cock. His cock is so big for her little mouth that only the head of his cock fits in her mouth. Then this young girl gets down on all fours on the bed so the burglar can penetrate and fuck her dripping wet pussy from behind, doggy style! This burglar gets more than expected! She pushes her juicy bubble butt against his dick like a nasty little slut and he grabs her by the hair to pull her back against him. She makes him lie flat on his back on her bed so he can straddle herself on top and impale her tight cunt on his big dick, riding him hard, twerking, spreading her ass cheeks with her hands to expose her tender asshole as he presses her hot naked body against his own and gives her pussy a hardcore pounding. She rubs her muff while bouncing up and down the burglar's big hard cock, this experience is totally new to all of them and it just feels so fucking right. She wants to show her boyfriend how good she is at sucking and fucking another man's hard cock, she gets off on showing him and he gets off on watching her! Then young naked girl flips over and keeps riding the burglar's hard cock in reverse cowgirl so he can film her juicy bubble ass with the camera before it's time for him to cum all over her slutty face! Definitely, her boyfriend always wanted to see some guy cumming all over his girlfriend's face, lol!
HOT YOUNG GIRLS IN THE BEST TEEN PORN YOU HAVE EVER SEEN BEFORE:
The raunchy world of teen porn cums to live at MOFOS, the best porn site on the web for the hottest uncensored young porn, featuring the sexiest young girls, sucking huge cocks and fucking in front of the cameras for the very first time in their lives! When teens wanna become hot famous pornstars and get naked on camera they come right here to MOFOS. These amateur young girls are made for porn, but first they have to prove it and this is the place where they all get started! These girls have sex in the most unexpected places and provocative situations. They strip naked, masturbate, enjoy hot lesbian sex, suck dicks, get fucked hard, have hardcore anal sex, get double penetrated, twerk, squirt, fuck in threesomes, foursomes, sex orgies and get their faces, tits and asses drenched in gallons of hot cum!
|
My stepsister has a crush on me ever since we met for the first time after our parents got together. I think the idea of getting banged by her very own stepbrother turns her on, but I usually just ignore her and pretend she's just playing games with me or pushing my buttons. Problem is, it's getting pretty hard to ignore her, since she's getting more and more provocative with each encounter we have, and since we live under the same roof with our parents, you can imagine the sexual tension at this point; you can cut it with a knife! My step sister always has a little grin on her face that says, "I have dirty thoughts and I know you do too". We're sitting on the living room couch and the flirting begins again. It feels like a game of who will make the first move. And finally she gets up and her skirt is hiked up and I can see her naked juicy bubble ass!!! She's not wearing any panties!!! I just can't resist, grabbing her meaty ass cheeks! My step sister's ass is absolutely amazing, two big round buttocks and a little pussy between them. I can stare at her naked ass and I certainly take the opportunity. She's so turned on and I just want to see how far she can go. She spreads her legs and starts rubbing her dripping wet muff in front of me, telling me she can't resist this any longer, and honestly, neither can I! Then she leans over and unzips my jeans, pulling out my throbbing cock and taking it to her wet mouth, sucking it hard like a dirty little slut. This teen slut gives great head! We go to her bedroom and she strips naked and gets in her bed, masturbating herself for me and showing me how wet her pussy is. She keeps sucking my hard cock and stroking it slow and gentle. I don't think my dick has ever been so fucking hard, man! There is no turning back, my sexy naked step sister gets down on her hands and knees, spreads her hot, tight, fleshy ass cheeks and I instantly move so that my prick touch the hot wetness of her slit. I ram my hard cock deep inside her wet cunt, grabbing her tight bubble butt as I fuck her doggy style from behind. I can't believe it, I'm sliding in and out of my naked little sister and I know I'm about to cum at any moment. She straddles herself atop my lap and impales her snatch on my dick, riding it, then leaning back and spreading her legs so I can keep plowing her pussy in missionary position. We've both been waiting so long for this moment! I grab her titties while I'm fucking her and she gets back on top, this time in reverse cowgirl, so I can check out her juicy butt bouncing up and down my hard rod until my dirty little slut stepsister is ready to swallow my creamy cum as I blow my load!
THE SEXIEST AND HOTTEST YOUNG SISTERS GOT CAUGHT FUCKED: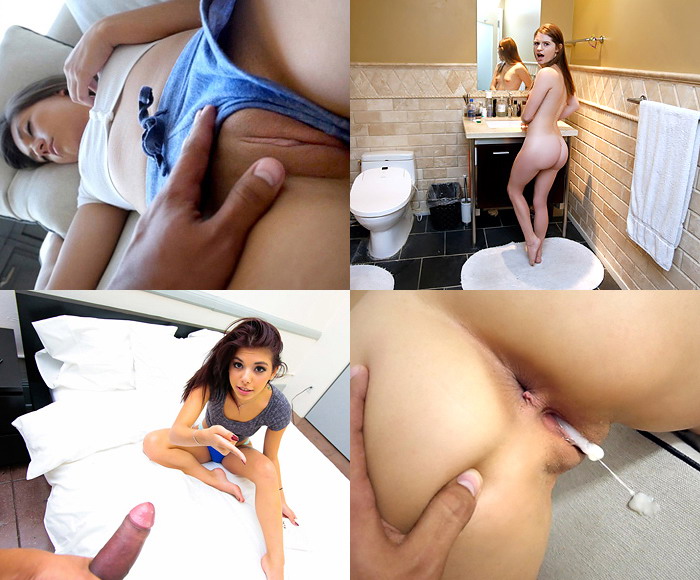 These horny brothers and sexy sisters have a dirty little family secret they want you to know all about! That's right; SisLovesMe is all about horny brothers seducing and fucking their hot sisters! These guys spy on their naked sisters in the bathroom and then fuck them hard; brothers and sister masturbate together and have sex for the first time; the guys sneak in the sister's room and stuff their tight pussies with their big throbbing cocks while the girls sleep and cum inside their virgin pussies; the girls get caught masturbating and now let their brother fuck their wet pussies and gaping assholes and blow their loads all over their faces! As long as their moms and dads don't find out, everything is okay!
|
This guy has always fantasized with banging a sleeping girl, so when he catches his beautiful stepsister taking a nap on the couch, he just can't help himself, she is so fucking gorgeous! Their parents aren't at home, so he begins to rub her muff over the soft fabric of her tight shorts and tugs on them to reveal that not only is she napping without her panties on, her pussy is drenched from his touch! He rubs her slit with his thumb and introduces it in her wet pussy. Her pussy is all shaven, warm and slippery. Since she still seems asleep, he tries something a bit more risky popping out his big throbbing cock and placing it in her mouth after fondling her soft breasts! She instinctively reacts to it, opening her mouth and sucking and licking his member! He rubs her pussy over her shorts while she eats his dick during sleep. He decides to see if his step sister is a virgin and pulls her shorts down her thighs, spreading her legs and rubbing his cock up and down her wet slit. He rubs his dick over her pussy and then slowly inserts his penis inside her! He pushes his dick deeper wondering if his sleeping naked step sister wakes up and she doesn't. He fucks her dripping wet pussy harder and faster, enjoying the feel of her young nubile body. He keeps it until he is buried into her balls deep. Then he pops his cock out of her cunt and places it back in her mouth so his sleeping step sister can suck and lick it some more, getting a taste of her pussy juices mixed up with his salty precum. He fucks her mouth and it's so wet, so hot, so tight that he just can't help himself and blows his load inside her sleeping step sister! He can fill her mouth filling up with his creamy semen and after he pulls out, his sticky jizz drips from the side of her lips and drips down her chin, so fucking sexy! A few hours later, she's already up and decides to pay him a visit in his bedroom! She wants to enjoy that big dick on her stepbrother fully awake to see if it feels as good as it did when he was fucking her during her nap! She is now fully naked, straddles herself atop and rides him, her young perky breats bouncing up and down in front of his face. So sexy! Then the young naked girl bends over so her horny step brother can fuck her tight pussy doggy style. She urges him to give it to her deep, hard and very fast and not to pull out of her when he's about to cum! He already blew his load inside her mouth and now she wants him to do the same inside her pussy and leave a sticky creampie oozing from her tender pink lips! What a wonderful stream of white goo flowing out of her pussy slit! DON'T MISS the full length video here:
THE SEXIEST AND HOTTEST YOUNG SISTERS GOT CAUGHT FUCKED:
Enjoy uncensored exclusive sister on brother hardcore smut you can find here! Hot teens with big tits, juicy asses, tight pussies trying a blowjob with their brothers for the first time in their life. The young girls receive intense fucking after their horny brothers spy on them naked in the bathroom. The guys sneak in the sister's room and fuck them while the girls sleep and cum inside their pussies. The girls get their faces and bodies splattered with hot cum and see sperm for the very first time after they were caught masturbating. These teen girls shouldn't have worn a shirt that was too short, they shouldn't have walked around in just the panties, show off their sexy legs and their sexy bubble butts and display their sexuality. You don't want to miss out on this porn overload, so cum inside and watch these sexy sisters get fucked hard by their horny bros!
|
My neighbor's cute teen girlfriend is so fucking hot, I can't help spying on her when he's away! I crept out and snuck into their place and watched her as the naked girl took a shower and lathered up her big tits and smoking hot body. She was absolutely incredible. She's got great features: cute face, amazing tits, ass and wonderful tan! She stood there naked and wet. Wow, I just staired at her amazing tits and so sweet young pussy. She dried herself off and went to bed in sexy lingerie, sexting with her boyfriend and pulling her laced thong aside as she did so, so she could finger her dripping wet pussy. I was so fucking turned on, stroking my hard cock to her, and I blew my cover! I tried really hard to apologize for making her uncomfortable, but she was not pissed so much because I was spying on her, but more so because I interrupted her just when she was about to cum! The little teen slut wanted me to make it up to her and make myself useful, ordering me to take off my pants as she rubbed my bulging erection over it! I was instantly rock hard. She took a good look at my hard dick and popped it into her wet mouth, moaning and sighing as she sucked it. She kinda giggled as I reacted to her cock sucking and deepthroated my member all the way down to the base. Then the cute teen pulled her thong down her thighs and got down on her hands and knees, showing me her sexy bubble butt, ass crack, asshole and her lovely teen pussy. Holding her sexy ass with both hands she spread her ass cheeks and asked me if I liked what I saw. With one big thrust I burried my throbbing cock deep inside her cunt and began fucking her from behind. She was really tight. Her ass was perfectly carved. She was looking over her shoulder and giving me the dirtiest looks as I banged her hard. She took off her bra and showed me her tits. They were so big and juicy, so enticing. My cock was cement hard by now pulsing hard. She made me lie on my back and straddled herself atop my cock so she could ride it with her tities in my face. I fucked her in all possible positions and I didn't stop until she made me blow my load all over her cute face and her big tits!
|
The other day I was passing by my stepsister's bedroom and since she left the door ajar, I couldn't help getting a glimpse of her taking off her clothes! Of course I got an instant erection, even more so when she got on her bed and began to masturbate while talking to a friend on the phone! I stared at her perfect bubble ass and her young pussy with a landing strip. The door swung open and she caught me! Odd thing is, she seemed more intrigued and curious than upset! Since I already saw her naked and masturbating herself, she made me come closer to get a better look at her spanking hot body! She asked me if I wanted to keep watching her get herself off and made me close the door so we wouldn't have any more interruptions! My slutty sister got down on all fours and began stroking my hard cock and licking it with this dirty look on her face. Blowing my dick turned her on. She drooled all over my dick and asked with a smile "Do you want to fuck me?"! She bent over, showing me her fabulous bubble shaped ass and inviting me to fuck her dripping wet pussy from behind with my big cock. She didn't have to invite me twice! I grabbed her from behind. My hands were around her waist and her round buttocks. My sexy step sister has an incredible, round, jiggly butt, with a deep crack between those luscious ass cheeks. Her big buttocks were like two soccer balls. I looked down at her pussy. It was wet. She took my hard dick with her hand and placed it between her moist lips. My dick slid into her slippery twat. I fucked her so hard, watching her juicy bubble ass bouncing and shaking until she pulled me away because she was having an orgasm! Getting fucked by her step brother made her cum like a filthy slut! She smiled, rubbed her pussy a bit and straddled herself atop my hard cock, ready for a second round, this time riding my dick! I rubbed her clit while banging her and she did the same and I told her I was ready to cum and just about when I was ready to pull out, she told me to continue because she wanted her dirty step brother to cum inside her and creampie her! I blew my load in her and when I pulled out I looked at her cunt – she was dripping with cum, the sticky creampie oozing from her spread pussy lips! Then we fucked. And fucked. And fucked some more. Ever since that day and now that I've seen my stepsister naked and fucked her, she makes me cum in her every time! I love it! I catch her in the bathroom, she sucks my dick, drags me to her bedroom and rides my cock until I'm ready to blow my load in her pussy and creampie her over and over. Every time she makes me cum inside her and it's so hot!!! When it gets close to sleepy time it's always polite to allow a goodnight kiss. Not on the lips, but on my cock! DON'T MISS THE OTHER VIDEOS with this sexy sister here:
SIS LOVES ME, THE HOTTEST AND RAUNCHIEST STEP-SIBLING HOOKUPS ON THE NET:
Only SisLovesMe can give you total access to hardcore footage featuring sexy teen sisters stripping naked in front of their brothers and doing it all on camera! The girls masturbate in front or together with their brothers after they were spying on them in the bathroom. The guys sneak in the sister's room at night and fuck them while the girls sleep and cum inside their pussies. The girls walking around in just the panties, displaying their sexy legs and their sexy bubble butts, seducing and then banging their younger brothers without worrying about getting in trouble. The guys catch their younger sisters in compromising situations and convince them to get down and dirty to stay out of trouble. Shit! They will do anything to keep from Mommy and Daddy from finding out.
|
This guy and his sexy black girlfriend just moved in together to a new place with a beautiful pool and since they have no nosey neighbors around them, they can get naked and naughty outdoors and have sex! She takes off her bathing suit and as she lies down over the towel her boyfriend already has a huge erection and is stroking it with his hands, he's so naughty that way! His sexy black girlfriend gets down on her knees so she can suck it, licking the tip with this dirty smile on her pretty face. She holds his member firmly at the base and licks it like an ice cream cone, her favorite flavor too, vanilla! He slaps his cock against her outstretched pink wet tongue and rubs it against her chocolate nipples and pops it back in her hungry wet mouth so she can suck it some more. She adores her boyfriend's white cock and gives him amazing blowjob. Then black naked girl bends over, getting down on her hands and knees, wiggling her juicy brown bubble butt as he penetrates her dripping wet clam and starts fucking her doggy style from behind. She looks absolutely gorgeous, her tight body is smoking hot, her cute little butt looks perfect. He passes his hands all over her ass cheeks and lower back as she pushes her butt against his cock, feeling how it burrows deep inside her pussy funnel and makes her feel so motherfucking good and nasty! He lies flat on his back and the sexy black babe straddles herself atop his cock and lets it slide inside her until she is impaled on it and ready to ride. I love seeing his white cock going in and out of her black pussy. I love her tight pussy, firm breasts, those incredible legs, and her tight hot ass is so inviting and arousing. She has a great body for those who like slender girls. This girl fantasizes with her new neighbors spying on her from the windows of their bedrooms, masturbating compulsively to her sweaty ebony body bouncing up and down her boyfriend's hard white cock, filled with jealousy and envy of their interracial lust on full display in their backyard! The black cutie rides his hard cock, pushing her pelvis against his crotch, feeling it bigger and harder inside her as she squeezes it with her pussy muscles. When she stops, he continues, thrusting inside her, filling her up. She smiles, she loves how he fucks her, and she loves feeling the cool pool water beneath them and the warm sun above them, sweating as they fuck in their new pool and as her boyfriend pulls out of her dripping wet pussy and squirts a white cum line across the middle of her cute face she realizes this will be their favorite place to fuck!
HOT BLACK GIRLS SHOWING THEIR BEST SEX SKILLS ON CAMERA:
Black GFs brings you the very best in homemade amateur porn, filmed by horny boyfriends and their naughty black girlfriends! These hot ebony babes know that their boyfriends' ultimate sex fantasy is filming them as they strip naked and fuck in front of the cameras! The sexy black babes suck their rock hard cocks and spread open so their boyfriends can drill their mocha pussies and give them hard anal sex! Only black girls know how to twerk the butt right riding a cock and they show their best sex skills for their boyfriends to film and upload online! Watch new videos and sexy black girlfriends added all the time!
|
I had never seen my sexy brunette stepsister so pissed off! Turns out she found out that her ex-boyfriend started dating one of her best friends and she wanted to get back at him! She asked me to help her make a revenge video for her ex, and since those opportunities don't come around often, I agreed! She asked me if she could take a picture of my dick in her mouth for her ex boyfriend and how could I say no? I was amazed as she grabbed her phone, turned the video camera on, dropped to her knees and started sucking my dick! Yeah, it was awkward since she's my stepsister and shit, but so fucking hot at the same time! If we wouldn't be related I would fuck her, but I didn't have to worry about that anyhow! I could tell that she was quite surprised with my dick, she said she had no idea it was so big, hard and thick, much better, since it's bigger than her ex's! Lol! She sucked my cock like a pro, even salivating over it to get it all nice and wet. When I said I was about to cum, she continued to jerk me off and suck my dick even faster and deeper. I ejaculated in her little mouth, and seemed she loved it. The crazy teen slut didn't let go of my dick, continuing to slowly suck sperm out of me and drink it. My sexy step sister swallowed every last drop and licked the swollen mushroom head of my cock till it was clean. After we were done, that was it, but I couldn't get her off my head, so the next day I asked her for a favor! Since I helped her get her revenge on her ex, maybe she could help me fulfill my fantasy of banging her young pussy! After all, I had a raging hard-on since she sucked me and it wasn't going down! It was her responsibility! She got by the edge of the bed, pulled her panties down and got down on all fours! What a fine bubble butt and what a gorgeous teen pussy! She was awfully soft and warm down there. Her pussy was so wet. I popped my throbbing cock between her moist pussy lips, deep inside her tight vagina and began fucking her doggy style. When I fucked my hot step sister from behind she continued to read her school book. She asked me to hurry up, but I was taking my time, just enough time for her to get into it. When she began moaning and grunting, I knew she was into it! I pumped her faster, harder and deeper, and felt that her pussy was very narrow. I flipped her over, spread her legs and kept fucking her in missionary while she kept playing the role of annoyed stuck up bitch but deep inside was loving it. Finally my hot step sister took off her top and fully naked straddled herself atop my dick, telling me how big my dick was and how good I was, now the slutty teen was into it! I felt that I was about to come, and told her this. She just begged me to keep pumping her faster, because she was very close to a climax too. She rubbed her twat as I blew my load in her! When she felt my hot cum filling her vagina, her pussy tighten up around my cock and she began to shudder with an orgasm.
SIS LOVES ME, THE HOTTEST AND RAUNCHIEST STEP-SIBLING HOOKUPS ON THE NET:
When these guys see their half naked stepsisters walking around in just the panties, displaying their sexy legs and their sexy bubble butts, indecent thoughts come. If they are family after all, what wrong can there be in these horny guys spying on, seducing and banging their stepsisters? These guys sneak in the sister's room at night and fuck them while the girls sleep, convince them to pose fully naked on cam for them, watch porn together and masturbate to each other and even have sex with them for the first time and cum inside after pounding their tight pussies and assholes while their parents are at work!
|
This guy believes that his nerdy stepsister and her best friend are more than just gaming buddies, so he pretends to go out and hides and pretty soon he confirms his suspicions. His stepsister and her friend are playing video games alright, but they are half naked and her best friend is eating out her pussy and ass while they play. The girls finger each other and munch on the tits and his stepsister squirts as she rubs her young pussy. While she munches on her friends carpet, and her friend reciprocates, he hides behind the couch and masturbates. What could be better then two young lesbians fingering and licking each others wet pussies and playing video games at the same time? When the girls see him they are shocked, but also turned on by his big throbbing cock and want to play with it. The first idea most girls get when they see a huge naked dick is to lick and blow it. That's exactly what these two do. The girls get down on their knees so they can suck and stroke his member and lick his balls. He makes her best friend suck his hard cock and puts her down on all fours so he can fuck her juicy bubble butt while she keeps eating out his stepsister, who is also crawling on her hands and knees, her video game controller still in her hands. He's not so much into video games, but the girls can play whatever the fuck they want as long as he gets to bang them both! He thought his stepsister and her friend were just into pussy, so he's glad they also have a taste for cock. Her best friend has a lovely bubble butt and he enjoys grabbing it while he continues pumping her wet pussy with his cock meat and watching her lick his stepsister's snatch. He sits on the couch and makes the naked girls stand side by side, their juicy butts rubbing up and down each side of his throbbing member while they continue playing their game. Then he grabs his sexy slutty stepsister by her hips and straddles her on top of his hard cock, impaling her dripping wet pussy on it. Fucking one young tiny girl is hot, but fucking two tiny girls is just special! He pounds her with his huge cock and rubs her little pussy, making her squirt all over his dick and balls. He gives these young girls the most brutal hardcore fuck they have ever seen in Porn! He can't wait to blow his creamy load all over both of them and soak them with his hot spunk! This fucked up episode isn't over, join site to see what happened next:
THE YOUNGEST AND THE HOTTEST TEEN VIDEOS ON THE WEB:
What could be better than all these young and hot teen girls caught on camera sucking huge cocks and getting fucked hard? This is the best place on the web where the young girls get wild, naked and get their little pussies stretched out by the biggest cocks ever. These cute and innocent girls turn into sex crazed, cock craving sluts when they see these huge throbbing erections. Do you think that these teen girls are sweet and innocent? Check these videos and you will see that you can be in big mistake. They have only a innocent face but when they see a huge cock and their pussy is wet and hungry for the cock, they don't wait too long.
|
Knowing his roommate, and best friend, is not around, this horny guy can't help himself and spies on his girlfriend, who's masturbating herself with a Hitachi wand over her yoga pants and they are absolutely drenched in her squirt juices at the crotch! She's down on all fours and rubbing herself against the sex toy, twerking and grinding her juicy bubble butt, flipping over, spreading her legs and pulling her tank top over her big tits as the sex toy rips yet another intense squirting orgasm form her snatch! It's in this moment that she sees her boyfriend's best friend spying on her from behind the door! She's a bit upset at first, but when she sees the throbbing bulge under his pants and realizes the reaction she provoked, she kinda likes it and wants to see more! He whips his hard dick out and she takes it with both hands and bagins to stroke and suck it, licking his big balls and reminding him that her boyfriend won't be back until late, so they have plenty of time to play without him knowing. This can be their dirty little secret and keeping secrets from her boyfriend turns her on and when she gets turned on, she squirts like a motherfucking sprinkler! The sexy babe gives him a blowjob and he rips her soaked yoga pants at the crotch, places her down on her hands and knees and she twerks her booty, inviting him to fuck her hard from behind, bang her dripping wet pussy doggy style. She is so wet that you can hear the glistening sound when he pulls his dick out and pushes it back into her slit. She pushes her juicy ass back against his cock and he pounds her making her moan with pleasure louder and louder. Her big ass cheeks shake like jello when he pushes it deep into her body strongly. The sexy babe rubs his throbbing cock between her big tits, then she straddles herself atop and rides him. Wide hips, tiny waist, round voluptuous bum, perfect pussy, cute face with freckles, this redhead babe is so hot! He keeps fucking her in missionary and she rubs her clit with her Hitachi wand so she can squirt all over his hard cock before he cums all over her face and tits!
|
I love watching my stepsister when she sleeps. I know it sounds creepy, but she looks so sexy in her pink lace panties and tank top, I just can't resist touching her and feeling up her big breasts under her top! As I touch her soft tits I can feel her nipples getting hard and erect and by the way she moans and grunts during sleep, I can tell that she is enjoying it. I whip out my throbbing cock and put it close to her lips and when she wakes up she acts all annoyed and shit, but I know what she really wants is for me to keep playing with her. I take her hand and put it on my hard cock and she begins to stroke it gently as I caress her thighs, her pussy and her tits. She lets me pull her tits over her tank top and remove her drenched panties and she gets to work on my throbbing erection, popping it into her mouth and giving me head with this dirty look on her sexy face. My hand reaches her pussy and I start rubbing her clit ohh yesss "You are already wet. You're enjoying this aren't you, you crazy little slut." I put her down on all fours and slowly pull down her pink panties, revealing her beautiful pussy! Standing doggy style with her ass in the air my naked step sister grabs her ass with both hands, spreads her ass cheeks wide and tells me that our parents will not be home til late and we have the house to ourselves. She spreads her pussy lips and tells me to lick her down right there and shove my throbing cock deep inside. I penetrate her from behind, fucking her hard doggy style and feeling hot wet, hot and tight her pussy is. She has a beautiful bubble shaped ass and I just love playing with it while I'm banging her in bed. Now she is totally into her role and looks like a dirty little bitch, down on her hands and knees and taking my dick up her pussy real hard. I flip her over, spread her legs and keep fucking her in missionary position. It's so hot we both look down and watch my hard cock sliding in and out of her lovely pussy. She used to have a boyfriend, but ever since we started fucking she ditched him, she definitely prefers her stepbrother's hard cock to anybody else! I rub her twat while I'm fucking her and I squeeze her succulent big tits. She always tells me that having sex with her very own stepbrother makes her feel so dirty and hot, she loves it and so do I. She strips naked and straddles herself atop my cock, she rides it hard and fast, begging me to fill her up with my dick and urging me to blow my load all over her! I tell her to slow down, I don't want to cum too quick, but some time later I forget about having her rotate her ass and start pumping her deep, cumming inside her pussy.
THE SEXIEST AND HOTTEST YOUNG SISTERS GOT CAUGHT FUCKED:
At SisLovesMe family takes a whole new meaning for these horny guys when they receive the unconditional love from their stepsisters, cute, sexy, naughty teen girls with big tits, juicy butts and dripping wet twats that love being seduced by their very own stepbrothers! Watch these horny guys sneaking into the stepsister's room, touching their wet pussy and fucking them while the girls sleep. They spy on them while the girls strip naked in the bathroom and masturbate and then fuck them hard. When the parents aren't home, these sexy young girls suck their hard cocks, get banged hard by them and get creamy facials and sticky cumshots!
|
I walked into the bathroom when my sexy step sister was taking a shower and watched her drying up without her knowing, but she saw me! She was a bit pissed at first, but by the way she smiled and giggled, I could tell she loved being the object of my desires! She let me remove the towel and twirled so I could see her hot naked body and her pussy was dripping wet as much as my cock was as hard as a rock! We were naked face to face and she started jerking me off with both her little hands. I probably had seen my step sister naked dozens of times before, but this was the first time she rubbed my dick and I touched her pussy and her lovely titties. She gave me a look that said, fuck me, fuck me hard! I bent her over and wasted no time in penetrating and fucking her from behind and she just smiled! Her pussy was so wet and tight and my step sister has one of the most sexy ass ever! I nearly blew my load in her but she slowed down. We moved to the other room and she got down on her knees and sucked my cock until she made me blow my load in her mouth! Watching my sticky cum dripping from her lips and chin was awesome! My slutty step sister giggled and laughed saying she can't believe she allowed me to cum in her mouth. But she was still horny and I was still hard so she got down on all fours and I penetrated her from behind, pounding her wet pussy doggy style. I guess knowing that we were stepsiblings made the sex kinkier and hotter! Her ass was so big and juicy and it jiggled like jelly as I banged her hard from behind and she begged me to fuck her harder and deeper! She grabbed on tight to the sheets and sweat poured down her sexy body as I kept pumping her with dick meat and I couldn't to pull out of her pussy and blow my load inside her! I held out as long as I could, but her beautiful young body, and her sexy little ass eventually won out. I filled her up with my hot semen and as I pulled out, cum dripped down her leg. I watched my sticky creampie oozing from her semi parted pussy lips, it was unbelievable. I had already blown my load twice in a row and the sexy babe asked me if I had another load inside me, because she wanted it! With my cum still inside her, she flipped over and told me to fuck her pussy in missionary. She rubbed her pussy as I hammered her, my dick pushing my own cum deeper inside her and I really plowed her this time! We were both so fucking turned on, it didn't take me long to blow my third load inside her again! It only took a few strokes and I said I am going to cum and she smiled and I shot my load in her mouth again. The cumshot blew so hard into her throat that she almost choked on cum. Probably it is not the last time I fuck my sexy step sister.
THE SEXIEST AND HOTTEST SISTERS GOT CAUGHT FUCKED:
When these guys see their half naked stepsisters walking around in just the panties, displaying their sexy legs and their sexy bubble ass, indecent thoughts come. These horny stepbrothers sneak into their stepsisters' room and rub their wet pussy and fuck them while the girls sleep. They spy on them while the girls bathing and masturbating and then fuck them right in the bathroom. When the parents aren't home, these sexy girls start sucking and riding their step brother's hard dicks. What happens if a guy and his sexy stepsister move in together?
|
While his friend plays video games downstairs, this boy decides to explore his buddy's home and gets caught trying to spy on his pal's sexy blonde busty stepmom in a sexy bathrobe in the bathroom! To punish him for being such a naughty boy, she makes him pull down his pants and shorts. He's still a virgin, but all that's about to change, because she loves making hot young boys like him lose their virginity with her! She strips him naked and his dick is already as hard as a rock. I must say that for a 18 year old, he is well equipped. The friend's mom invites him into the tub and begins to wash his body, stroking his soapy throbbing erection and admiring how big and hard it is as she pushes her big tits against his back. She removes her robe and looks so hot in her lingerie. She takes that off too and gets in the tub with him. This young boy has never seen a naked woman before, moreover a woman with such huge boobs. And when I say that her tits are huge, it means that they are really HUGE! She takes his hands to her big tits and she squeezes them as she gets behind him and strokes his cock with hands and feet! She kisses his lips tenderly, gently masturbating him and sucks his hard sausage, licking his balls and drooling all over his virgin cock. This hot naked woman massages it between her fabulous big slippery soapy tits and urges him not to cum just yet. She tells him that she wants him to fuck her dripping wet pussy and make him a man! The naked woman rises and shows the young boy how a pussy looks like, letting him enjoy the taste of her mature vagina. She instructs him how to eat her out. He kisses a woman's pussy for the first time in his life and then his friend's naked mom bends over and tells him to shove his throbbing cock between her buttocks. She feels his hard cock slipping inside her as she teaches him how to fuck her hard from behind. He learns fast and pounds her tight pussy in several different positions he learned from porn movies. It's much better than jerking off! Despite the fact that these two look a bit ridiculous, a skinny young boy and a naked woman with big tits, but they have really hot sex together! This boy fucks her like crazy. He keeps pumping her and blows a huge load of cum all over her big tits!
|
Ever since she joined the family when her mom married his dad, this guy's fantasized with fucking his very own stepsister. After all, she's hot, but he's decided to wait, since she's a virgin and he thinks that losing her virginity to her very own stepbrother is just too weird. However, this is about to change, since he just found a discarded pregnancy test in the bathroom wastebasket, which means his sexy stepsister stopped being a virgin some time ago! He knows her mom won't be too happy to see such test, but he's willing to keep his stepsister's secret if she's willing to satisfy his fantasy, and boy, is she! They go to his bedroom and she strips naked while he watches her. This sexy girl is that special combination of youthful sexuality and a girl who deserves a good pussy pounding. Teenage innocence and a fuck-me attitude all in one shoot. What a lovely pretty face with a super sexy body. Long blonde hair, charming smile, pretty little breast and nice ass with pussy. She is so sexy! Her step brother always dreamed about seeing where her slender long legs connect to her body. Looking at his naked step sister he strokes his hard cock into full erection so she can straddle herself atop his member and ease into it. It's weird having her stepbrother's cock inside her, but it's kinda hot and sexy too! He places his cock between her meaty pussy lips and begins rubbing it back and forth over her clit. Very fast the head of his dick slips inside her wet slit. You won't be able stop cumming for her tight young body. Her vagina is extremely tight, squeezing her stepbrother's dick firmly. Naked girl bounces up and down his hard cock and he makes her get down on her hands and knees, dragging her to the edge of the bed and admiring her perfect bubble shaped ass while he fucks her doggy style! She has a pair of studs on her lower back and that's just so fucking sexy as he grabs that ass and spanks her, feeling how that tiny girl pushes her juicy ass against his dick. Yeah, his stepsister likes getting her pussy plowed by her dirty stepbrother! After banging her from behind, she flips over on his bed and spreads her legs so he can fuck her some more in missionary position. She just wants to see his face while he's banging her and show him with her dirty facial expressions how much she likes having her stepbrother's thick dick pounding her dripping wet pussy and making her feel like a fucking slut. He rubs her clit while he's banging her, and his dick is bigger than any of the guys she's fucked so far so she won't mind him visiting her bedroom every night and fucking her hard. She begs him to fuck her faster, deeper and harder, because right now the only thing she can think of is having her stepbrother's sticky cum blasted all over her body! At the beginning her teen pussy was tight and sensitive and now it's big, juicy, swollen and deep!
SIS LOVES ME, THE HOTTEST AND RAUNCHIEST STEP-SIBLING HOOKUPS ON THE NET:
When these guys see their sexy stepsisters walking around in just their panties, displaying their smooth long legs and ass, indecent thoughts come. If they are family after all, what wrong can there be in these horny guys spying on their naked stepsisters in the bathroom, jerking off on their underwear, watching porn and masturbating together, sneaking into their room at night and fucking the girls while they sleep, seducing and banging them while the parents are not around? These sexy young girls love sucking their stepbrother's morning wood, licking their balls and getting a taste of their creamy cum when they blow their loads all over their open mouths and dirty faces or cum inside.
|
CHECK OUT RECENT VIDEOS ON THE MAIN PAGE !!!