Skirt
This dad is getting everything set up before going on a family weekend trip and as usual, his wife and daughter have left everything up to him, but that is not always a bad thing. He's hauling their luggage in the car, when his daughter's best friend passes by and asks him if he can help her with her bike's flat tire. When the teen girl bends over to show him, he notices that not only is she not wearing any panties underneath that skimpy skirt, she's got one of these butt plugs with bling on them stuffed in her tight asshole!!!!! He can't believe it! She literally hid a diamond in her ass! She explaines to him that she likes to keep it in her ass as decoration. Turns out his daughter's friend is a little bit of a bitch, and since his wife and daughter are not around, he decides to have a little bit of fun with her. He asks to take a closer look and sticks his face in her ass. She hikes up her skirt so he can lick, suck and kiss her asshole, ass crack and tight butt cheeks while complimenting her on that beautiful ass. Her pussy looks great too with that sweet little bush! The hot teen sits on the back of his car and spreads her legs so he can lick her dripping wet snatch and she rubs herself as he pops the butt plug in and out of her airtight asshole. She can feel her pussy starting to flow with juices in his mouth. She moans in pleasure as his tongue caress her clit and her anus. The teen slut is still breathing hard from her first orgasm when she reaches under his jeans and grabs his throbbing member. She drops to her knees so she can suck and stroke his big hard cock. Then she strips naked and spreads her legs, begging her best friend's daddy to fuck her pussy very hard! He fucks her in missionary and flips her over, making her cum like a dirty little slut as he's pounding her sideways. She don't forget to caress his balls with her hand, so sexy! After making her cum one more time, he spreads her ass cheeks with his hands and tongue fucks her tender little asshole. He's still pounding her when his daughter shows up! Since he's concealed behind the car's door, she wonders why he doesn't have t-shirt on. Good thing she can't see the rest of the picture, or else she would be asking why her dad is totally naked and fucking her best friend, LOL! After she leaves, they get inside his car so the dirty teen can straddle herself on top of his cock and ride it in the backseat, showing off how she can twerk her sexy ass. Oh, I would love to play with that booty! There's nothing like watching these sexy young girls twerk their cute butts on huge cocks. She gets her pussy drilled until he blows his load all over her! She's amazing and has a great body, and I love the way she smiles in this video, especially when swallowing cum at the end. He cums like a volcano, spewing squirt after squirt of hot, white, sticky cum into her mouth. There's so much cum she barely manages to swallow it, continuing to stroke him and suck on his throbbing cock. That is fucking awesome.
YOUNG PORN WITH THE HOTTEST TEEN SLUTS EVER:
RealityKings give you the hottest, sexiest and horniest teen sluts ever. Don't miss more young porn with these hot girls, sneaking around behind their parents and their boyfriends and almost getting caught, sucking huge cocks, masturbating themselves, having hot lesbian sex with their best friends or their stepmothers, getting their pussies destroyed very hard by their stepdads or stapbrothers and getting their yonug pussies filled with hot cum! The thrill of almost getting caught while they sneak around turns these girls on and gets their pussies dripping wet. These girls are made for porn! This is like nothing you've seen before!
|
This sexy secretary is used to finding loads and loads of porn on her boss' office computer, but when she finds a homemade sex tape of her boss and his wife fucking, she gets so turned on that she can't watching it over and over as she spreads her legs, pulls her panties aside and rubs her dripping wet pussy. She is so turned on watching her boss naked and fucking his wife on video with that big juicy cock, she just can't stop masturbating! Her boss walks in and finds his secretary playing with her pussy, he hides behind the door, jerking his cock while he spies on her masturbatory session! When she turns over and sees him she is in shock! She is so sorry and embarrassed, she doesn't quite know what to do. He makes her lift her skirt and lean over his desk, she's wearing nylon stockings and a sexy white lace garter belt that makes this teen babe look so fucking hot as she pulls her panties down, exposing her still dripping wet snatch. The boss say her to lean over his desk and spread her butt cheeks with her hands. She's feeling his big throbbing erection spreading her tender pink pussy lips apart as he penetrates and fucks her with that very same big hard cock that got her so turned on watching him on video. He opens her blouse, pulls down her bra, making her big tits bounce up and down as he bangs her hard from behind. Nice fun bags. Truly one of the most enjoyable "natural" girls in the biz. I love this woman with her natural tits, big ass, and furry beaver! The phone call fit the script, the boss keeps fucking her when she's talking with his wife pretending that nothing is happening. Half naked girl climbs the desk, down on her knees so she can stroke and suck his hard member and licks his balls. The teen slut wants her boss to fuck her just like he fucked his wife on that video, make her scream with orgasm and cum all over her face and tits!
|
My mom and her friend were chatting in the kitchen when I came back from classes so I just sat down to chat while I checked my phone. My mom's hot friend is a sexy brunette cougar with a smoking body. She was wearing a tight low cut black dress and as she sat on the stool across me I couldn't help notice that she wasn't wearing any panties and I could perfectly see her shaved snatch! I couldn't keep my eyes off her naked pussy. Her pussy was so beautiful, clean shaved, tidy with very narrow slit between little pussy lips. I tried to hide my boner but she noticed the huge bulge growing under my pants. She had her legs spread wide open, shamelessly exposing herself, with a dirty grin on her face. She immediately started flirting with me but I was really confused. She grabbed me by my waist and pulled my hand under her skirt! Since my mom was behind the kitchen counter she couldn't see what was going on as I reached over and began rubbing her hot friend's dripping wet twat. When my mom turned her back to us for a moment, her hot friend got down on her knees, pulled my shorts down and started sucking on my throbbing member! I couldn't believe that this was actually happening, and the fact that my mom could turn around in any moment and catch us made it even more exciting! The sneaky scenario got even hotter when my mom turned away and her friend bent over and put her face almost to the ground with her ass in the air. I rammed my hard cock deep inside her dripping wet pussy, fucking her from behind. Suddenly my mom turned around and looked at us but didn't notice anything. Then I pulled up my shorts and hurriedly snuck off to the studio room where we both stripped fully naked and the hot woman spread her legs on the couch, showing me her big tits and rubbing her pussy while I fucked her as hard as they could. I loved her dirty talking. I licked her pussy and pins her shoulders to the rug with her lower back against the couch, pile drive power fucking that beautiful cunt and blowing my load all over her big tits!
|
Horny fathers swap their hot teen cheerleading daughters and fuck their pussies together! Don't miss this video if you are a fan of cheerleaders in porn. This sexy brunette in the blue outfit thinks her friend's dad is hot and her friend, the sexy blonde in the pink outfit, thinks the same of her dad and the girls come up with a very hot and kinky idea! The cheerleaders take off their panties and perform their cheerleading routine in front of their parents. When these single, divorced dads get a glimpse of their daughters' tight, shaved, pink twats they get raging erections. The girls want their fathers to swap daughters! The brunette fingers her dripping wet pussy and makes her friend's dad taste the nectar of her blooming flower, her friend teases the other man giving him a really nice upskirt view of her naked pussy. The girls take their daddies back home so they can make their swapping fantasies cum true! The blonde takes her friend's dad to her bedroom while she stays with her dad in the living room. The sexy cheerleader sits on his lap and takes off her outfit while her blonde friend is spreading her legs upstairs and getting her dripping wet pussy fucked hard by her dad's big juicy cock. The brunette straddles herself atop her friend's dad's huge cock and takes it in her hand and slides it between her moist lips, inside her as she lowers herself on him. The old fart spreads her beautiful ass cheeks with both hands, making her tight teen body bounce up and down his erection. She had no idea a guy his age could have such a hard cock! After riding him in cowgirl, she flips over and pops his cock back inside her, her juicy bubble butt facing his way as she continues riding his hard cock. She rubs her pussy while she does so and hopes her friend is having as much fun as she is. The hot blonde upstairs is also getting her dripping wet snatch drilled in cowgirl position while her friend downstairs gets her's legs spread wide open and her clam pounded hard in missionary position. He pushes her legs against her chest, pumping her deeper, faster and harder and making her cum over and over like a dirty bitch in heat. He had no idea his daughter's friend was such a slut. Matter of fact, he had no idea his daughter was such a slut, but it all worked out pretty well so he's not complaining about it, LOL! These girls scream together, getting their pussies pounded and destroyed by two old men. Pretty soon both sexy cheerleading daughters are getting their slutty faces, cum hungry mouths and naked bodies blasted with hot cum from their swapped fathers! This father and daughter exchange is definitely a success story!
YOUNG AND HOT DAUGHTERS GET SWAPPED AND FUCKED:
These proud fathers know that their daughters are beautiful, hot, sexy and slutty! They also know that they can fuck them, but nobody said anything about swapping their slutty teen daughters with their friends and that's what Daughter Swap is all about! These naughty teen sluts are into their best friend's dad's big hard cocks and they want to know what it feels like to suck them, get fucked very hard up their pussies and assholes by them, and open up wide to receive creamy facials and sticky cumshots in hard-core action! Watch all these teens get swapped, fucked, destroyed in amazing foursome with dads.
|
I had heard so much about the sluttiest sorority in town and it made my cock so hard that I just couldn't resist sneaking into their sorority house and spying on the slutty girls through the window. What I saw was amazing, they had one of the pledges, a sexy blonde teen, bent over the couch, with her skirt hiked up and her cotton panties dangling around her knees as she got her juicy little bubble butt spanked by her two naughty sisters, who took selfies with her naked ass, all part of the sisterhood initiation process. Wow, that ass looked amazing, the girl had a perfect ass, I almost came just looking at them. The naughty girls slapped the blonde's tight ass and you could tell how much she was enjoying this by the way she shook, grinded and twerked that beautiful butt for her sisters. I was there with my pants around my ankles and at some point one of the girls looked out the window and saw me spying on them! She ran out and caught me, grabbed my hard-on, dragging me back inside the house. I was so fucked! I was sure they were going to call the cops, but to my surprise, the girls had something else on their minds, something very hot and sexy! I was half naked in front of them and the girls couldn't take their eyes off me. Since I had a raging erection from watching them, the sisters made the blonde pledge get down on her knees, sucking and stroking my throbbing member. While she blew my cock she looked at the sisters, making sure they were satisfied with the way she was sucking my cock, well I sure was! She even licked and sucked my hairy balls! The girls watched and giggled, she was doing it, she was sucking a man's cock for the first time! I felt up her big tits and the girls challenged her to get her pussy stuffed by me. I was shocked but kind of happy! The hot teen babe bent her over the table, urging me to ram my big hard cock deep inside her dripping wet pussy and fuck her very hard while the sisters watched. The sexy blonde slut straddled her leg over the desk and looked over her shoulder at me. She looked so fucking hot! She pulled me against her burning hot body as I slammed her tight pussy with my big cock, forcing it deep inside her as one of the sisters caressed her body and groped her big tits, biting her lip, imagining how my cock would feel inside her. Her pussy was so hot and tignt, I went in and out in and out over and over again. She sucked my cock some more, then sat over me and put the head of my cock to her pussy and sank down on it, twerking her juicy bubble butt! Then one of the sisters told me to put my hot cock into her vagina. I said yes. She laid down and I straddled her and started to fuck her. Finally all the girls were naked. The girls moved my dick around on their vaginas, riding me in turn. Getting busted wasn't so bad at all, I got the chance to bang these smoking hot college girls and blow my load all over their face and tits!
|
This naughty blonde teen decided to skip school for the day and just stay home playing in bed in her schoolgirl outfit but she didn't count on the school principal checking if all the students have gone to school! He wants to school to have a perfect attendance record and will do whatever it takes to enforce it and that means catching those students with a bad attendance record and making sure they change their ways! When she finds the school's principal knocking on her door she's shocked. He berates her for skipping classes but she notices a big bulge throbbing between his legs as he reprimands her and she realizes that might just be the way for her to get out of trouble. She takes off her uniform's blouse and bra and pushes her nice tits and puffy nipples against the principal face! This girl is just 18 years old, but she has really great tits, firm, round, with yummy pink nipples! There is hardly anyone who could resist the temptation to rub her young boobies, suck her nipples and watch how his cum drips down from them. She's laughing as he sucks her nipple into his mouth. With one hand he squeezes and gropes the other one. She lies flat on her back, hiking up her skirt and pulling her panties aside so the principal can lick and finger her dripping wet pussy. He begins to eat her out, kissing her wet lips, caressing her clit, shoving his tongue deep into her vagina. She's trembling as he fucks her pussy with his mouth. She begins to scream from a strong orgasm, holding him by the hair and pressing his head tightly to herself. He sucks on her clit until she comes to several quivering orgasms. Then he spreads her legs and rubs his abundantly oozing precum cock over her pussy slit, her tight pussy gives way and his cock slips in deep inside her body. She thought she would just stay home masturbating in her bedroom, but she never imagined she would be getting fucked hard by the principal, much less that he would have such a huge hard cock! He pounds this tiny girl to one more unbelievable quivering orgasm. The new angle makes him go even deeper. She has a really intense orgasm with lots of quivering. Then the principal lets his student rest, stuffing her mouth with his cock so she can suck it and lick his balls too. Then he puts his little student down on her hands and knees and rams his hard cock deep inside her teen pussy, fucking her doggie style from behind. He's thrusting his cock so deep into her pussy that his balls are slapping against her clit, it looks amazing! This is the kind of incentive an undisciplined slut like her needs to improve her attendance, after all, he promises to keep banging her dripping wet pussy in his office every single day as long as she keeps assisting to her classes. Naked schoolgirl straddles herself on top of the principal's hard cock and pushes her body up and down his shaft, eager for the principal to blow his load all over her slutty face and tits and make her the principal's pet.
THE SMALLEST AND YOUNGEST GIRLS GETTING THEIR PUSSIES STRETCHED OUT BY HUGE COCKS:
Easy mister! I'm tight and tiny! The smallest, youngest and sexiest teen girls getting their small pussies stretched out by huge cocks. ExxxtraSmall is filled with tiny, petite and small, barely legal girls which love big cocks. Feast your eyes and hard cock on exclusive scenes featuring these young naked girls taking on their biggest challenge yet sucking and fucking these huge monster dongs, getting their tight pussies stretched out by huge erections, pounded hard and filled with cum! These tiny chicks will never be the same after getting smashed by these huge dicks!
|
Banging my sexy classmate after getting detention together! I think it's great to learn about sex at school, but quite honestly, I was paying more attention to the slutty little blonde with pigtails sitting right next to me then to my biology teacher. I mean, that babe looks so fucking hot in her tight schoolgirl outfit she was making my Dick as hard as a rock under my slacks. She noticed the throbbing bulge between my legs and she spread her own, hiking up her schoolgirl skirt and rubbing her pussy over her cotton panties just to tease me and turned me on. It looked as if this lesson about penises and vaginas was going to end in the most unexpected way! As the teacher talked about pussies and a clit, my slutty classmate pulled her moist panties aside and showed me hers. With one leg raised on the desk she slid her finger into her already very wet pussy slit, rubbing and fingering that delicious little pink twat. The other girls in the classroom could see what was going on, giggling as the teacher try to figure out what they found so funny, looks like she takes her penises and vaginas seriously, LOL! Thing is, my classmates started masturbating and got so into it. Most of the class was still writing when she began to moan and cum! She moaned so loud that our teacher finally caught her! At the end of the lesson she sent everybody away except for my classmates and myself, boy, were we in trouble! She gave us the tension and left the classroom and since we were all alone and with several hours to kill, what better thing to do then to pick up where we left off! The dirty little blonde got down on her knees, slowly unzipped my jeans, and grabbed my cock. Her tongue slowly circled the head of my cock. Her head bobbed up and down as she took my entire length into her mouth. After sucking and stroking my big hard cock she asked if I wanted to fuck her hard and cum inside her. Leaning against her desk she lifted up her schoolgirl skirt, spread her beautiful ass cheeks and I penetrated her dripping wet pussy! Holding her pigtails I began to fuck her as quickly and as hard as I could. My naked classmate told me to lay on the teacher's desk, as I did she climbed on and began riding my cock. Imagine the look on the teacher's face when she walked in on us fucking, it was priceless! I fucked my classmate missionary on her desk, holding her legs open wide and our teacher watched and just repeated Oh God, oh fuck, don't cum in her pussy, don't get her pregnant! I tried to hold it but I couldn't no more so I started to nut in her tight pussy!
|
Sneaky fucking, almost caught, POV, amateur porn and the hottest girl? Don't miss this amazing video! This beautiful real estate agent will use every trick in the book to sell this house to this lovely couple. Her best trick involves sucking her client's dick, fucking her client when his wife isn't looking, so she takes him to a corner behind the piano, drops to her knees and starts sucking his big hard cock while his wife is looking around the room. The possibility of getting caught turns her on, and him as well. She keeps showing them around the house, walking behind the wife while hiking up her skirt, so the husband, walking behind her, can get a good look at her naked ass, and her pussy. This sexy real estate agent never wears underwear so she can tease all her clients with a nice upskirt view. She'll show you her squirting pussy in every room of the house, so that when she's through you'll have to buy it. Things get really pretty when she lifts her skirt up over her ass revealing her shapely bum cheeks and her client just can't help it anymore and sticks his throbbing cock between her ass cheeks from behind while his wife checks out the master bedroom. The nasty real estate agent pushes her juicy bubble butt against his big hard cock so it can penetrate her wet muff even deeper, getting back down on her knees and sucking it some more so she can taste her twat on his throbbing member. The tour continues and the real estate agent manages to take the husband to an empty room where she throws herself on the big leather couch, spreading her legs so he can fuck her dripping wet pussy while she unbuttons her blouse and exposes her beautiful tits. She rubs her wet muff while her client's husband is banging her hard. She strips totally naked and straddles herself on top of his hard cock, impaling her pussy on his big member and pushing her body up and down, riding him in cowgirl position. When his dick pops out of her cunt she takes it in her hands, gives it a few strokes and pops it back inside her. His cock feels so big and hard inside her and she knows she's giving him the type of sex his wife never does, squirting all over his hard cock and balls. He fingers her slit and she licks and bites her lips, prompting her client to fuck her deeper, harder and faster so she can squirt even more all over his hard cock and the expensive leather couch. She licks her squirt juices from his cock and balls, sucking his dick and stroking it, straddling herself back on top, this time in reverse cowgirl so he can enjoy the view of her delicious bubble shaped ass! The way this sexy babe works her ass is phenomenal. She twerks her ass, grinds him, pushes herself against his erection, squeezing him so tight inside that he cums in only a minute or two, and he shoots a quart inside her.
|
This geeky blonde young slut with thick glasses is studying with her best friends but her attention is somewhere else, as she looks out the window and watches her friend's hot mature dad mowing the lawn. He had an incredible body, covered in tattoos and he looks so handsome she can feel her cotton panties getting drenched as her pussy gets wet just thinking about him. The slut runs her hand across the front of her panties and then slips down to her mound and her wet pussy slit and begins to rub it right in front of her girlfriends. The young girl masturbates thinking about her friend's dad how he fucks the shit out of her mom! When he comes back inside, she finds herself unable to resist spying on him, so she leaves her friends studying in the living room and sneaks into the bathroom. There, she watches her friend's dad showering naked, masturbating herself while checking out his huge cock. It's so big! She has never seen a big dick before. She gets so caught up in her masturbatory fantasies that her friend's dad catches her watching him. The teen girl feels so embarrassed and excited at the same time, as her friend's dad gets close to her, caressing her tight body and tits over her schoolgirl uniform. He reaches between her legs, under her skirt, pulling her pink cotton panties aside, rubbing and fingering her wet pussy. When his hand starts to slid between her thighs, up her pussy mound, she starts to breathe more heavier, her clit gets harder and her pussy begins to drip, she instinctively parts her thighs to give him better access. He takes her to his bedroom, putting her against the wall, pressing his naked body against her, fondling her tits and ass while taking off her school uniform. A bald pussy, cute little butt, perky titties… the girl is so hot!!! Half naked, she drops to her knees, taking his throbbing member in her hands, guiding it to her open mouth so she can suck it. It's the first cock in her little mouth, she has never even touched a man's cock before. She's just 18 and so young but she deep throats it all the way down to the base, slobbering it with her drool. Her best friend's dad's cock is so big, thick and hard. She gets down on all fours on his bed and he penetrates her from behind, his throbbing erection sinking into her wet snatch as he fucks her doggie style. He grabs her juicy butt, slapping it hard as he fucks her. She wonders if her best friend in the living room knows that she is getting fucked by her dad, it kind of turns her on if she does. By now she is totally naked, straddling herself on top of her mature lover's hard cock, impaling her tight pussy on it and riding him in cowgirl position. I love the way this young naked girl rides his dick and her bald pussy takes his cock, her pussy lips are wrapped around it and massage his balls. She flips over to reverse cowgirl and makes her body bounce up and down his hard pole until her best friend's dad is ready to blow his load all over her face. With her face covered in dad's sperm she can back to her friends and continue to do her homework.
HOT YOUNG GIRLS CAUGHT FUCKING IN THE BEST PORN VIDEOS:
At Reality Kings nothing turns these hot young girls on more than creeping behind their parents, boyfriends, and almost caught while sucking and stroking their lover's big hard cocks and getting their dripping wet pussies and tight asshole pounded hard, and you can check out all those amazing and exclusive XXX videos right here! Sexy teen sluts and their sexy moms with big tits and juicy round bubble butts sharing hard cocks and explosive cumshots or enjoying the hottest masturbation, pussy licking and tripping lesbian fun! The danger of getting caught is what turns them on the most, come check them out right now!
|
Being the new girl in class sucks. This poor girl is shy and introverted, and when she finds herself all alone after classes in the classroom with two of her new fellow students, she fears she's going to get bullied by them, but these girls want to get to know her better and unleash her potential for becoming their new BFF, best friend forever! The girls know by experience that behind every shy, timid girl lurks a freaky, kinky slut just waiting to be found! They take off her geeky glasses and place her facing the black board, spreading her arms and legs, lifting her plaid skirt and pulling her cotton panties down! She has a sexy little bubble ass, this girl has potential! The young lesbians bend her over the teacher's desk and while one of the girls holds her face against the desk, she can feel the other girl's wet, warm, silky tongue digging into her snatch, spreading her tender pussy lips and wriggling inside her, caressing her engorged clit! It feels so hot! She opens herself to her and she kisses her there. She lets the girls undress her, she has never felt so excited before, better yet, so accepted, wanted, desired! The girls lick, kiss and bite her soft neck, caressing her breasts, stimulating her erect nipples with their soft fingers. She never even dared fantasized with being with another girl, much less with two! The girls caress her hair and arms, stripping naked as they spread her legs so they can keep licking her warm moist pussy. The girls get naked too. While one of the girls spreads her legs and eats her out, the other stands and squats over her, so she can learn how to eat pussy too! She sticks her tongue deep inside. Instantly, her pussy juices rush into her mouth. This is so new, she never tasted another girl's twat, she had no idea it tasted and felt so good! She loves the way a pussy smells, it makes her dizzy. Her tongue is in her pussy licking her as she rocks back and forth and her nose is up her arse. When her tongue is exploring her vagina, and the friend's tongue is fucking her own vagina, her mind is completely on her backdoor. She's lost in the feeling of it. She loves it. She does what the other girl does to her. She kisses around her lips and on her inner thighs, using lots of tongue. The new girl in class slurps all over her cunt with her lips and tongue. She was always worried about boys and now she doesn't have to worry anymore, she already has two girls to fuck with! She is trembling now as the tempo of her tongue is bringing her to the peak of pleasure. One of her new lesbian friends bends over and gets her soaked pussy licked by the other, and the new girl dares to rim her asshole! She's a fast learner! Two naked girls trib and the third girl sits on one of them, getting her pussy licked and fingered. The young lesbians eat her pussy and lick her little ass from both sides, making her moan and squirm with pleasure. Soon she experiences the first of many incredible orgasms with her two new friends and hot lesbian lovers! At the end three naked girls spread their legs and masturbate on the teacher's desk!
YOUNG NAKED GIRLS IN A THREESOME, FOURSOME AND MORE-SOME SEX:
BFFS is the place to check out, view and enjoy the hottest naked girls in the best threesome, foursome and more-some orgies. These naughty young girls discovered that sex and fucking just wasn't the same without their Best Friends Forever, that's why BFFs brings you the hottest teen porn featuring sexy girls stripping naked, masturbating together, trying lesbian sex for the first time and having sex with their boyfriends together.
|
Tonight, this guy's sexy black girlfriend is making him a very special romantic dinner and since he wants to be all romantic like her, he deiced he's going to make her a romantic video, so he films her as she comes back from the market and sets the groceries up in the kitchen. Thing is, it looks like she gets frisky with the camera pointing her way, and his romantic video just might turn into an erotic full blown homemade sex tape! She unzips her top and shows some sexy cleavage and her red bra, then lifts her denim mini skirt so he can capture a glimpse of her matching red thong! He wants to see a bit more and she unbuttons her blouse and pulls her skirt down, showing off her big mocha tits under her red bra and juicy mocha bubble butt in that fine little red thong! Baby! Lord have mercy! As his black girlfriend juggles her caramel grapefruits with her hands she notices her boyfriend's getting a big boner so she removes the bra and shows off her big mocha tits, delicious! She removes the thong and bends over to show off her juicy brown slit and tight ass. She dies a lil striptease on his camera then hops right on the counter to play with her pussy, spreading her legs over the kitchen counter and masturbating for her boyfriend while he films her. Naked girl spreads her black pussy lips and shows her insides and her pink clitoris close up on camera. She tickles her clit with her finger when her boyfriend pulls out his white cock. Her pussy drips as she finger fucks herself and gets down on her knees so she can suck and stroke his rock hard erection. He takes her to the bedroom and his naked black girlfriend gets down on all fours so he can bang her juicy pussy doggy style from behind as she pushes her brown bubble butt against his big dick. Dont miss one moment of this Ebony hottie showing off all her awesome curves and moves. This sexy black babe rides his dick with her big tits bouncing up and down your face. She enjoys getting her black pussy fucked missionary, ready to catch her man's hot cum in her open mouth and big tits! He really gives her a good fucking on the couch, that leaves her covered in nut. Don't miss more cute ebony teen girlfriends skillfully sucking dicks for the boys at home. The best Amateur and Homemade Porn with with Black beauties!
|
My stepsister has a crush on me ever since we met for the first time after our parents got together. I think the idea of getting banged by her very own stepbrother turns her on, but I usually just ignore her and pretend she's just playing games with me or pushing my buttons. Problem is, it's getting pretty hard to ignore her, since she's getting more and more provocative with each encounter we have, and since we live under the same roof with our parents, you can imagine the sexual tension at this point; you can cut it with a knife! My step sister always has a little grin on her face that says, "I have dirty thoughts and I know you do too". We're sitting on the living room couch and the flirting begins again. It feels like a game of who will make the first move. And finally she gets up and her skirt is hiked up and I can see her naked juicy bubble ass!!! She's not wearing any panties!!! I just can't resist, grabbing her meaty ass cheeks! My step sister's ass is absolutely amazing, two big round buttocks and a little pussy between them. I can stare at her naked ass and I certainly take the opportunity. She's so turned on and I just want to see how far she can go. She spreads her legs and starts rubbing her dripping wet muff in front of me, telling me she can't resist this any longer, and honestly, neither can I! Then she leans over and unzips my jeans, pulling out my throbbing cock and taking it to her wet mouth, sucking it hard like a dirty little slut. This teen slut gives great head! We go to her bedroom and she strips naked and gets in her bed, masturbating herself for me and showing me how wet her pussy is. She keeps sucking my hard cock and stroking it slow and gentle. I don't think my dick has ever been so fucking hard, man! There is no turning back, my sexy naked step sister gets down on her hands and knees, spreads her hot, tight, fleshy ass cheeks and I instantly move so that my prick touch the hot wetness of her slit. I ram my hard cock deep inside her wet cunt, grabbing her tight bubble butt as I fuck her doggy style from behind. I can't believe it, I'm sliding in and out of my naked little sister and I know I'm about to cum at any moment. She straddles herself atop my lap and impales her snatch on my dick, riding it, then leaning back and spreading her legs so I can keep plowing her pussy in missionary position. We've both been waiting so long for this moment! I grab her titties while I'm fucking her and she gets back on top, this time in reverse cowgirl, so I can check out her juicy butt bouncing up and down my hard rod until my dirty little slut stepsister is ready to swallow my creamy cum as I blow my load!
THE SEXIEST AND HOTTEST YOUNG SISTERS GOT CAUGHT FUCKED: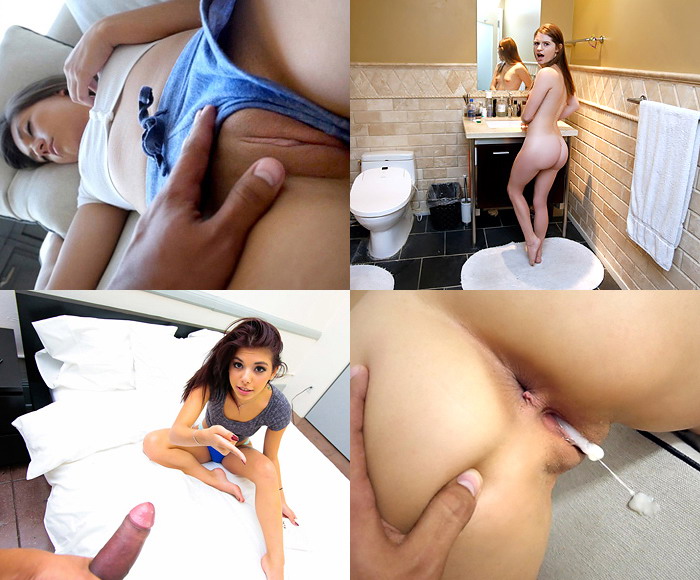 These horny brothers and sexy sisters have a dirty little family secret they want you to know all about! That's right; SisLovesMe is all about horny brothers seducing and fucking their hot sisters! These guys spy on their naked sisters in the bathroom and then fuck them hard; brothers and sister masturbate together and have sex for the first time; the guys sneak in the sister's room and stuff their tight pussies with their big throbbing cocks while the girls sleep and cum inside their virgin pussies; the girls get caught masturbating and now let their brother fuck their wet pussies and gaping assholes and blow their loads all over their faces! As long as their moms and dads don't find out, everything is okay!
|
If you've ever fantasized about having sex with your hot girlfriend when her parents at home, then you'll really enjoy our next video. This sexy teen chick just came back from school and still has her tight uniform when she hears some noises outside the bathroom. It's probably her dad, but before she gets a chance to figure it out, somebody grabs her from behind and puts their hand over her mouth, hiking up her mini skirt, pulling down her cotton panties, exposing her juicy bubble butt and biting on her ass cheeks! After getting over the initial shock and surprise, she realizes it's her naughty boyfriend, who sneaked into her place for a surprise fuck! Her daddy calls from across the bathroom door to see if all is okay since he heard her scream, and she invents some bullshit excuse. Her daddy doesn't approve of her boyfriend and doesn't like him coming in the house, much less unannounced and to fuck his daughter! He spreads her legs while fingering her dripping wet pussy and when I say her pussy is wet, it's really wet! He spreads her pussy lips and fucks her vagina with his finger and her pussy juice pulsing out of her hole. Then he inserts his tongue inside and all her pussy juices rush into his mouth. His girlfriend is so turned on, she drops to her knees so she can suck and stroke his rock hard cock. Naked schoolgirl spits all over his cock and spreads it along his shaft with her hands, giving him a sloppy blowjob and handjob combo. He fucks her mouth as she cups her tits in her hands and she lets her saliva drip down her lips and over her cleavage as her boyfriend fucks her tits with his big dick. She keeps blowing him, bending over as he leans against the bathroom counter. Then he bends naked girl over and starts banging her from behind. He nails her over the counter and lets her ride his dick on the bathroom floor. His girlfriend even doesn't think about her parents who can come into the bathroom and catch them in the act. If her daddy asks to use the bathroom, they're in trouble! She just enjoys her bf's hard dick deep in her pussy, riding him and twerking her sexy ass up and down. He stuffs her pussy faster and faster, she gets an orgasm and her eyes roll back! She has several amazing orgasms before he cums all over her dirty face!
|
Sit back, relax and watch this tiny naked girl getting her pussy stretched out in hardcore sex scene! This guy is checking out his sexy stepsister while she's in the kitchen trying to reach for a bowl on the kitchen cabinet and when she jumps trying to grab it, he notices that she's not wearing any panties under her short skirt! Getting a glimpse of her perfectly shaved clam makes his dick get hard as a rock! This girl has one of the most beautiful pussies ever, and a gorgeous ass in addition. He goes over to give her a hand and she notices the massive bulge throbbing hard between his legs under his denims and she takes her stepbrother to the living room couch, so she can play with his erection while he plays with her dripping wet clam! The teens kiss as she spreads her legs and lets her step brother stick a finger in her wet, warm pussy. He pulls her sexy tits over her top and sucks on her pierced nipples. Then he takes out his hard cock and she smiles as she takes his throbbing cock into her mouth. She kisses, licks and sucks his big cock slowly, caressing it gently with her lips and tongue. They strip naked and she's so fucking tight and petite, beautiful! There are many advantages in sex with a small sized girl, one of them is Standing 69 position! He lifts the petite naked girl and puts her in a pile driver, placing her head between his legs and her legs onto his shoulders so he can eat her delicious pussy and she can suck his hard rod hanging upside down. Then he spreads her legs on the couch and eats her out, squeezing her tits while tongue fucking her tight clam and it feels so fucking good. He follows up with his hard cock, her pussy is just too tight, but he tries to push it in further into her body. He begins pounding her wet snatch faster and faster and she's surprised he can actually get it all inside her! Naked girl bites her lip, she rubs her clit furiously, her eyes roll back as her step brother drives in and out of her madly and his balls slapping against her crotch. His huge cock is making her cum like no other guy has ever made her cum before! The shorty screams with pleasure having one wild orgasm after another. Then she squats over his dick and impales her pussy on it, bouncing up and down his long shaft, still rubbing her muff while he's banging her. She flips over on his cock and keeps riding him, her juicy bubble butt rising up and down before she gets down on her hands and knees so her horny stepbrother can fuck her wet pussy doggy style! She starts shaking and moaning really loudly, her body is quivering with orgasms, her pussy lips squeeze tightly around his cock. This feels so good, she doesn't want it to stop, but at the same time, she wants to feel his hot cum all over her face and body when he cums!
THE SMALLEST, YOUNGEST AND SEXIEST GIRLS GET THEIR PUSSIES DESTROYED BY HUGE COCKS:
You won't want to miss the youngest, smallest and sexiest 18yo young naked girls taking on the biggest dicks in porn! Slim, petite, tight and smoking hot teen girls love huge cocks and they love getting their little pussies destroyed in hardcore sex scenes. Their mouths, pussies and assholes will get stretched out of proportion and their bodies will get drenched in cum! Take a young sexy girl, match her up with a huge cock, and let the fun commence.
|
I'm continuing my quest to bring you the most passionate and hottest content possible. Two naked girls, a hot MILF and her sexy step daughter sharing a huge cock in a threesome! Don't miss this video. Since her stepmom is away, this naughty teen invites her boyfriend over so they can fuck! It's been so long since the last time they were able to do it, they don't have any other place to go, and her stepmom is always in the way! Her boyfriend has a huge cock and she can't wait to take it in her mouth and fill his hot cock throbbing and spraying cum inside. The girl mounts him on the living room couch and without wasting time he rams his hard cock up her dripping wet pussy and she rides him with her thong pulled aside and her top pulled over her big tits! She takes off her top and kisses him, pushing herself against his cock before leaning over the couch so he can fuck her from behind. While they are busy fucking, her stepmom unexpectedly returns and discovers her stepdaughter and her boyfriend fucking right in the living room! She's never seen her stepdaughter like this; she looks so sexy, so hot, so sexual! And her boyfriend, what a body, what a cock! She hikes up her skirt, pulls her panties down her thighs and starts to masturbate while watching the teens fuck! The boyfriend fingers her stepdaughter's pussy, eats her out, slaps her wet slit with his huge cock, and rams it deep into her body, so sexy! The MILF pulls her bra down, fondling her big tits and pinching her erect nipples while rubbing her wet muff, but just watching is not enough, she feels the urge to join them! This mature woman can't resist the temptation to try this young hot cock. The guy is all about it but the girl is a little hesitant. It doesn't matter cause this hot MILF is too busy getting her way. She takes stepdaughter's boyfriend's hard cock in her hands and starts sucking on it while her stepdaughter watches, totally blown away! She always though her stepmom was a frigid bitch, but she's a hot slut! Yay! The boyfriend masturbates his girlfriend while her sexy stepmom blows his hard cock and licks his balls, straddling herself atop and impaling her adult pussy on his erection. The naked woman rides him and her big tits bounce up and down as she watches her stepdaughter masturbating to the hot scene! This guy has never had sex with a mature woman bevore. There is something quite sexy having sex with an older woman. Moreover, despite her age, she has amazing body, sexy ass and firm boobs. He and his girlfriend are both so excited and turned on; their relationship is going to be much more different now, so much more intense, raw, sexual and fun! Naked girls look into each other's eyes when one of them rides dick and the other masturbates. Stepmom's body is drenched in sweat as she rides that young dick faster and faster and finally cums hard. The girls positions and she lets her stepdaughter take her boyfriend's dick up her twat in missionary. He rubs his huge dick over her meaty pussy and the MILF kisses her tits and nipples, rubbing her boobs and making out with her. Hot lesbian sex with her stepdaughter while having a threesome with her boyfriend was not in her agenda for the day, but she loves the fact that their day has turned out this sexy way! Thanks RK! Perfect MILF with big tits, a guy with huge cock and a sexy ass teen girl. Keep this formula. Sexy naked girls deserve BIG cocks!
EPIC PORN OF HOT TEENS AND THEIR SEXY MOMS GET BUSTED AND FUCKED:
Reality Kings specialize in teens of all kinds! They have shy, outgoing, amateur, experienced, adorable, sexy and nerdy teens ready for you. All of them in their prime getting fucked by huge cock in unbelievable threesome scenes with their sexy moms. Watch more Reality Porn with parents, boyfriends or girlfriends are home! More sneaking at home around in the house, caught fucking scenes. Step into a world where girlfriends and their hot moms share a dick in the best threesomes ever. These girls make the guy's kinky dreams of fucking older women come true! I've seen a few comments about how unbelievable it is, but I like the fantasy concept. It makes me think "This could happen to me" even if deep down I know this could never happen to me.
|
My petite Mexican mamacita with a sexy ass made my dream cum true today, dressing up in sexy lingerie and playing the role of naughty maid for me! This little slut had no panties on again. She hiked her skirt up and showed me her naked pussy and her amazing bubble ass, twerking it in front of my face. I put her down on all fours and licked her dripping wet twat. I tickled her little clit, licked up and down at the entrance to her vagina and my tongue slipped deep into her lovely pussy. I love eating a girl out before doing it. She got down on her knees and sucked my big hard cock, drooling all over it and stroking it while saying "Que rico!" She deep throated it all the way down to the base and licked and sucked my balls while jerking my rod. Her soft tiny hands and her little mouth fondling my balls and kissing the head… what a wonderful feeling! I oiled up her juicy bubble butt and pounded her hard from behind, doggy style, like the dirty Mexican bitch she is! I loved the way she moaned and panted as I banged her tight pussy with my huge cock, she says it's the biggest and hardest she's ever had! She pushed her juicy ass against my dick, shaking and grinding it like a filthy Mexican stripper slut would. I lied flat on my back and the dirty whore straddled herself atop and impaled her juicy cunt on my big dick, bouncing up and down my erection and letting me pound her as hard as I could. Her juicy oiled up and slick bubble ass looked so fucking hot as I drilled her tight pussy. "Oh my God, you're going to make me cum!" the bitch screamed as I gave it to her good! I flipped her over and made her keep riding my hefty meat sausage before putting her down on her back, spreading her legs and fucking her in missionary position. She got down on her knees and opened up wide, ready for me to cum inside her mouth and watch my cum dripping down her lips and chin! I filled her little mouth, she swallowed my sperm two or three times and still ended up with a full mouth and some on her chin. She always swallows, she loves it.
|
CHECK OUT RECENT VIDEOS ON THE MAIN PAGE !!!