Sitting down
This is one of the best lesbian pornos that I have ever seen, and that's saying something. This sexy blonde woman decides to bond with her beautiful teen stepdaughter during the 4th of July by putting on their matching star-spangled bikini and doing the exploding watermelon challenge together. After the watermelon bursts the girls find themselves covered in pieces of watermelon and watermelon juices dripping down their sexy bodies, so they decide to strip naked and lick and eat it off their hot naked skin! The beautiful blonde cougar grabs chunks of watermelon and squeezes them so they drip down her pussy and on to her stepdaughter's open mouth, it's so fucking hot! She had no idea her stepdaughter was such a good pussy licker and she offers her big tits to her so she can suck and lick her erect nipples. Two naked girls go upstairs to her bedroom, her stepdaughter lies on her back and the beautiful woman crawls over her, pressing her big tits against hers while kissing her passionately on the lips. She can taste the watermelon and her own pussy on her lips and tongue. She spreads her stepdaughter's legs with both hands and licks around her vagina opening, teasing but pleasing. She dives right between her ass cheeks with her tongue, deep into her open vagina. She licks her clit gently biting and blowing on it. She licks her dripping wet clam up and down with her silky tongue while rubbing and finger fucking her. The hot woman literally fucks teen's sweet tasting pussy with her tongue, bringing her to multiple orgasms. Only a girl knows how another girl likes it and where she likes it, especially such an experienced woman! Her boyfriend has never brought her to an orgasm with his small prick. She has never been with a girl and she has never cheated on her boyfriend, but, when your sexy stepmom fucks you with her mouth, it is not cheating! The hot naked woman wants to trip her stepdaughter, so the naked girls start scissoring together, she rubs her pussy against hers slowly and gently, then fast as if she were fucking her. With their pussy juices flowing they become one until they both moan into their climax. This blonde is glad that her husband is away on a business trip so the girls have the house to themselves and they can have all the hot and kinky lesbian sex they want! She keeps rubbing twat with her stepdaughter, interrupted only when she goes down on her again, licking and tasting her delicious sweet pussy juices as if they were the finest of wines and finishes off by sitting on her face as she orgasms! It's finally her step daughter turn! She takes both pussy lips into her mouth, stucks her tongue all in her juicy pussy. UMMMM it tastes so good! These naked women riding each other's face look amazing!
|
Squirting orgasm fans make sure you don't miss this video! I love cheerleaders to, but I love towing cars even more! So when these naughty cheerleader teens parked their car illegally I had no other option then to tow it. As I pulled into the car pound, the cheerleaders hurried behind me, begging me to give them their car back, but it wasn't going to be so easy and he would take the more than just a cute cheer to get it back. I told them that it would cost 200 bucks to get the car back and one of them, a spunky brunette doll, decided to take matters into her own hands… and mouth! The dirty little thing got down on her knees and began sucking and stroking my big hard cock. She even lifted it so that she could suck and polish my balls with her slippery tongue, what a dirty bitch! I love a girl that knows how to take the initiative and on top of that she was a pretty good cock sucker and definitely seemed to be enjoying her job. I may have even let her go with just a blowjob, but then she told me that she wanted me to fuck her hard! I made her bend over my tow truck, pulled down her sexy thong and popped my rock hard cock between her butt cheeks, penetrating and pounding her dripping wet tight snatch. She had a sexy little bubble shaped ass and her pussy was one of the tightest I had ever fucked. I sat down inside the truck so the nasty slut could continue sucking and stroking my big dick before sitting on my lap and riding me. I didn't even have to fuck her, she pushed her ass against my cock herself, burying it deep inside her dripping wet clam. She grinding her crotch against my lap, making her tight cheerleader body bounce up and down my meaty pole. I grabbed her ass cheeks and pumped her as hard, as fast and as deep as they could. Suddenly the little slut started to squirt like Yellowstone's geyser. Her friends showed up and couldn't believe what they were seeing. She wanted more so I pounded her harder and her pussy squirted more and more. I had never seen a girl squirted like this one! I could tell that this nasty little cheerleader was really enjoying the ride on my throbbing erection and though she knew that at this point I could give her back their car she just kept riding me until I was ready to blow my load all over her face and tits.
|
Banging my sexy classmate after getting detention together! I think it's great to learn about sex at school, but quite honestly, I was paying more attention to the slutty little blonde with pigtails sitting right next to me then to my biology teacher. I mean, that babe looks so fucking hot in her tight schoolgirl outfit she was making my Dick as hard as a rock under my slacks. She noticed the throbbing bulge between my legs and she spread her own, hiking up her schoolgirl skirt and rubbing her pussy over her cotton panties just to tease me and turned me on. It looked as if this lesson about penises and vaginas was going to end in the most unexpected way! As the teacher talked about pussies and a clit, my slutty classmate pulled her moist panties aside and showed me hers. With one leg raised on the desk she slid her finger into her already very wet pussy slit, rubbing and fingering that delicious little pink twat. The other girls in the classroom could see what was going on, giggling as the teacher try to figure out what they found so funny, looks like she takes her penises and vaginas seriously, LOL! Thing is, my classmates started masturbating and got so into it. Most of the class was still writing when she began to moan and cum! She moaned so loud that our teacher finally caught her! At the end of the lesson she sent everybody away except for my classmates and myself, boy, were we in trouble! She gave us the tension and left the classroom and since we were all alone and with several hours to kill, what better thing to do then to pick up where we left off! The dirty little blonde got down on her knees, slowly unzipped my jeans, and grabbed my cock. Her tongue slowly circled the head of my cock. Her head bobbed up and down as she took my entire length into her mouth. After sucking and stroking my big hard cock she asked if I wanted to fuck her hard and cum inside her. Leaning against her desk she lifted up her schoolgirl skirt, spread her beautiful ass cheeks and I penetrated her dripping wet pussy! Holding her pigtails I began to fuck her as quickly and as hard as I could. My naked classmate told me to lay on the teacher's desk, as I did she climbed on and began riding my cock. Imagine the look on the teacher's face when she walked in on us fucking, it was priceless! I fucked my classmate missionary on her desk, holding her legs open wide and our teacher watched and just repeated Oh God, oh fuck, don't cum in her pussy, don't get her pregnant! I tried to hold it but I couldn't no more so I started to nut in her tight pussy!
|
I couldn't believe my luck when the beautiful sorority girls on my campus invited me over to one of their initiation parties so I could get initiated into their exclusive sisterhood. But I had no idea that the girls were lesbians and that I had to have sex with all of them. I told them I had never done this before, I had never even touched a girl's pussy or penis before, but the sisters made me lie flat on my back on the rug and blindfolded me. Then, one of the girls squatted over my face, pulled her panties down and pushed her meaty pussy against my mouth, making me kiss, lick and suck it!!! The girls then told me to kiss her clit and suck on it, I did everything they told me. She was moaning and I felt her pussy juice rushed into my mouth. It tasted so fucking hot, my pussy was getting drenched just by eating her out. She then turned around and told me to open her ass cheeks and lick her pussy and her asshole. She sat on my face, so I could to eat her vagina with my nose stuck up her ass crack. One by one, the sisters lined up and squatted over my face, sitting on it and making me eat them out one by one, slapping me on the face whenever they felt I wasn't doing a good job and couldn't guess which girl it was just by the taste. Honestly, I did a half assed job just so they could punish me, it made me feel like such a dirty little slut. They even made me lick their tight ass holes, super fucking hot! The girls finally removed my blindfolds and stripped me completely naked, spreading my legs and finger fucking my wet pussy, shoving their dirty fingers into my mouth so I could lick them and taste my own pussy on them. I was screaming and moaning like crazy, experiencing my first orgasm, when she fucked me with her hand, hitting my G-spot. Then all girls were naked and they put me down on my hands and knees. I could feel their hands all over my body as one of the girls got down on all fours in front of me and they made me lick her asshole while another one of the girls got behind me and tossed my salad, the last girl lining up behind her and rimming her asshole too. I just couldn't get enough of that tasty asshole I was licking, and having another girl licking my own ass and pussy at the same time made me feel even hotter and more turned on by the second. I couldn't wait to see what the girls would do to me next! Naked girls formed a circle together on the rug, each one of us getting our pussies and assholes licked and fingered and doing the same to the girl in front of us. Pretty soon I had lost count of how many times the sisters had made me cum and I was happy when they told me my initiation was over and I was part of their sisterhood. Yay!
YOUNG NAKED GIRLS IN A THREESOME, FOURSOME AND MORE-SOME SEX:
Hot young naked girls in the best orgies ever! BFFs is the porn site dedicated and devoted to sweet, cute, sexy, naughty girls that share it all, from makeup and lingerie, to sex toys and boyfriends! They do everything together, go shopping, partying and dancing, as well as stripping naked, showering, having hot lesbian sex, sucking cock and getting fucked hard and receiving delicious facials and cumshots from their shared lovers and boyfriends in kinky group sex action! Naked schoolgirls, sleepovers, soccer girls, sexy ballerinas, bachelorette parties, prom! Its all here! Come inside right now and watch their adventures!
|
This guy walks in on his sexy brunette girlfriend while she's doing the laundry, and since it's lingerie washing day, she's not wearing any panties and he can see her delicious bubble shaped ass and tight snatch as she sorts the dirty clothes on the floor. His half naked girlfriend looks so sexy he comes up with a great idea, filming her while they get it on! An impromptu sex tape, she likes the idea! She's wearing a sexy black dress with matching stockings and she gets down on her knees, rubbing her dripping wet cunt and showing off her spread ass on camera. She squats down and slips one finger up between the moist lips of her vagina and begins rubbing her wet slit. Watching these close up views you almost breath in the aroma of her pussy. His sexy girlfriend plays with herself before sucking and stroking her boyfriend's big fat sausage while he films her. She lifts his dick so she can suck his balls too, she wants to show the camera how dirty and fucking sexy she can be with her boyfriend. She can already imagine their sex tape going live and viral on the web and it turns her on so fucking much! She bares her big tits while sucking his hard dick and tells him to lie flat on his back so she can straddle herself on top and impale her dripping wet pussy on his cock, riding him in reverse cowgirl so he can get a great angle of her juicy bubble shaped ass and rub her asshole with his thumb while she humps him. Still in reverse cowgirl, she accommodates herself so she is kinda sitting on his cock while pushing her bubble ass up and down his member. He grabs her chunky ass cheek and squeezes it hard and she takes off her dress and gets down on her hands and knees on the laundry room floor so her boyfriend can fuck her pussy doggy style from behind. He puts her flat on her back, spreads her long legs and penetrates and fucks her in missionary position, closing up on her sexy face to capture her expression as that big dick inside her makes her cum so hard. She begs her boyfriend to just keep pumping her pussy with his big dick until he's ready to cum, and to blow his creamy load all over her open mouth, her cute face and her naked body. She grasps his throbbing dick with both hands and squeezes his balls and long spurts comes out, splattering her face. His girlfriend opens her mouth and thick streams of cum ran down her face, dripping off her chin, running down her neck. She licks it all off herself and his hard cock and balls just like her favorite female pornstars do on the web!
|
I like playing chess with my friend but he cheats a lot, so we put cameras to avoid cheating when his hot girlfriend appeared! Thing is, we kinda forgot to tell her about the cameras, so as we are playing, you can see how she's rubbing my bulge over my shorts! She is cheating on her boyfriend when the cameras film us. This girl is so sexy and hot, big tits, nice ass, cute face, and she looks like Highest Heaven! My friend leaves to answer a call, and his sexy girlfriend gets down on her knees and starts giving me a hot blowjob, right in front of the camera! She asks me if I like it, smiling and moving her tongue around my meat as her hand holds my balls and caresses them gently when her boyfriend isn't looking! Fuck, she's my friend's girlfriend but it's a wonderful feeling to have her warm wet mouth on my cock. The young slut pops my hard cock into her throat and sucks it hard, and can you believe she doesn't stop when her boyfriend comes back? She smiles up into my eyes and keeps blowing me. At the moment he's not noticing, but we got this all on tape! As we resume our game, his girlfriend is still sucking my dick behind the kitchen counter, out of his line of sight! He notices I'm a bit shaky, but he figures that's just him beating my ass on chess! I'm about to explode in her mouth with my warm semen, with her boyfriend right next to us! Fortunately, he gets another call and I push her head back. As soon as her BF leaves the room, this busty teen offers up her big naturals for some messy titty fucking! She pops her great tits over her top, strips down to her panties and lets me fuck her titties and mouth, thick ropes of saliva dripping down her chin and she lets them drip over her tits too, what a slut! She places my throbbing cock between her bobbies and rubs it with her puffy nipples, so good. Then she bends over the kitchen counter, pulls her pink panties aside and I start banging her dripping wet snatch from behind. Good thing my pal is on a long call! Her pussy is dripping with juices when I stuff it with my hard cock. Her gorgeous tits swing and jiggle and she moans really loudly, not paying attention to her boyfriend who can hear her. After banging her hard from behind, she gets back on her knees and deepthroats my throbbing erection, sitting over the kitchen counter and spreading her legs so I can keep pumping her tight pussy with my dick meat. Her pussy is so wet. I slide the head of my cock in between her moist pussy lips and push it deeper and deeper. I grope her big tits and she rubs her muff while I'm pounding her hard. We are no longer preoccupied by him and we just want to fuck, so I lie flat on my back on the kitchen floor and the sexy chick straddles herself atop my hard cock and impales her wet twat on it, bouncing up and down my meaty pole. My friend's naked girlfriend rubs her clit as I impale her and then I place her on her back over the kitchen counter, with her head dangling down so I can fuck her mouth and throat some more. By the time my pal gets back, I already came all over her and we act like nothing went on during his absence, lol!
YOUNG PORN WITH THE HOTTEST AND CRAZIEST TEEN GIRLFRIENDS:
Brilliant scene, love this girls great tits and beautiful pussy. 10/10 for this girl. Mofos, keep doing what you do best, sneaky fucking, almost caught, pov and bringing the best girls to the industry! Bring her back for more sneaky fucking! This amateur girl is setting up to win "Best New Starlet" at the AVN Awards next year, for 'sure'! MOFOS is all about real amateur babes going bananas in the wildest sex scenes! These naughty girls came here in pursuit of a career in porn, this is the place where it all starts and all these young girls wanna do is get naked, suck cock and take it up the ass, pussy and any other available hole! Watch the hottest, wildest, naughtiest real life girls fucked, masturbating, having hot lesbian sex and getting covered in hot cum as they explore their sexuality and make themselves a reputation as the sluttiest babes in amateur porn!
|
These two sexy babes are boxing ring girls and as much fun as they have in the ring, they have the most fun outside of it, sucking and stroking the new guy's big hard cock when they get him alone after hours, since the new guy always stays last and cleans up! Cleaning up the gym after everybody left usually sucks, but for this guy, today it's sucking in the best of ways! After the girls deepthroat and suck his cock, lick his balls and drool all over his member, one of the girls strips naked and sits on the edge of the ring, spreading her legs so he can lick her dripping wet twat while her friend makes out with her and rubs her pussy. This boxer rams his hard huge cock deep inside her cunt and fucks her very hard while she keeps making out with her sexy friend. These two naked girls look stunning together, best combo ever! The other girl drools all over her snatch and his cock and she leans over her friend, eating her out while the new guy penetrates and fucks her hard from behind. She gets excited watching her friend get fucked by the new guy while eating her twat. Naked girls make him sit on the ring's edge so they can suck his cock some more before one of the girls squats over his cock and impales her dripping wet pussy on it, bouncing up and down his long shaft as she rides him. She flips over and rides him face to face after doing so in reverse, sweat dripping down their naked bodies as they fuck on the ring. He takes turns fucking both girls and cums inside one of the girls. Finally he removes his cock from her twat and the other girl is here, ready to lick the dripping creampie and clean off her friend's delicious pink twat afterwards! I really like girls eating cum out of a pussy. Two hot naked girls, two sexy butts, face sitting, deepthroating, a dripping creampie, cum swapping kissing girls… Great work girls loved it! Two hot babes in one of the most hot threesome scenes ever, don't forget to download this incredible movie.
|
My stepsister has a crush on me ever since we met for the first time after our parents got together. I think the idea of getting banged by her very own stepbrother turns her on, but I usually just ignore her and pretend she's just playing games with me or pushing my buttons. Problem is, it's getting pretty hard to ignore her, since she's getting more and more provocative with each encounter we have, and since we live under the same roof with our parents, you can imagine the sexual tension at this point; you can cut it with a knife! My step sister always has a little grin on her face that says, "I have dirty thoughts and I know you do too". We're sitting on the living room couch and the flirting begins again. It feels like a game of who will make the first move. And finally she gets up and her skirt is hiked up and I can see her naked juicy bubble ass!!! She's not wearing any panties!!! I just can't resist, grabbing her meaty ass cheeks! My step sister's ass is absolutely amazing, two big round buttocks and a little pussy between them. I can stare at her naked ass and I certainly take the opportunity. She's so turned on and I just want to see how far she can go. She spreads her legs and starts rubbing her dripping wet muff in front of me, telling me she can't resist this any longer, and honestly, neither can I! Then she leans over and unzips my jeans, pulling out my throbbing cock and taking it to her wet mouth, sucking it hard like a dirty little slut. This teen slut gives great head! We go to her bedroom and she strips naked and gets in her bed, masturbating herself for me and showing me how wet her pussy is. She keeps sucking my hard cock and stroking it slow and gentle. I don't think my dick has ever been so fucking hard, man! There is no turning back, my sexy naked step sister gets down on her hands and knees, spreads her hot, tight, fleshy ass cheeks and I instantly move so that my prick touch the hot wetness of her slit. I ram my hard cock deep inside her wet cunt, grabbing her tight bubble butt as I fuck her doggy style from behind. I can't believe it, I'm sliding in and out of my naked little sister and I know I'm about to cum at any moment. She straddles herself atop my lap and impales her snatch on my dick, riding it, then leaning back and spreading her legs so I can keep plowing her pussy in missionary position. We've both been waiting so long for this moment! I grab her titties while I'm fucking her and she gets back on top, this time in reverse cowgirl, so I can check out her juicy butt bouncing up and down my hard rod until my dirty little slut stepsister is ready to swallow my creamy cum as I blow my load!
THE SEXIEST AND HOTTEST YOUNG SISTERS GOT CAUGHT FUCKED: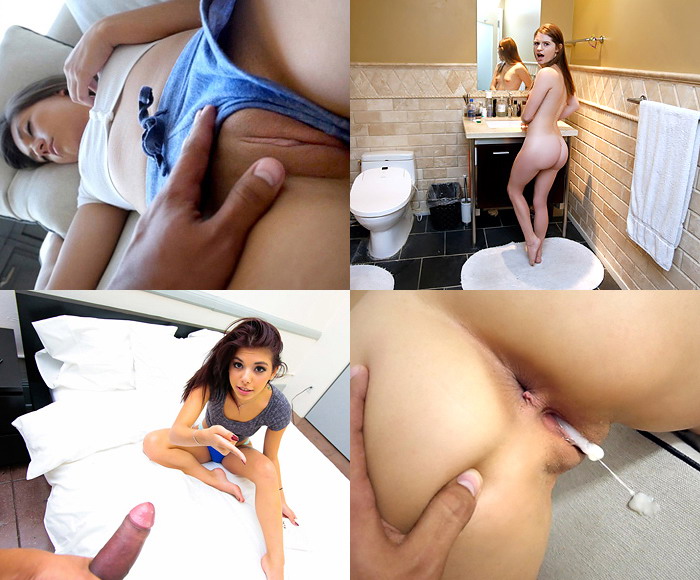 These horny brothers and sexy sisters have a dirty little family secret they want you to know all about! That's right; SisLovesMe is all about horny brothers seducing and fucking their hot sisters! These guys spy on their naked sisters in the bathroom and then fuck them hard; brothers and sister masturbate together and have sex for the first time; the guys sneak in the sister's room and stuff their tight pussies with their big throbbing cocks while the girls sleep and cum inside their virgin pussies; the girls get caught masturbating and now let their brother fuck their wet pussies and gaping assholes and blow their loads all over their faces! As long as their moms and dads don't find out, everything is okay!
|
Girls, you won't want to miss this lesbian fantasy. Just take a look at these delicious wet pussy lips and the tongue between them. I don't know if I've ever seen two naked girls who are more passionate about making each other cum than these two babes. This sexy brunette teen wants to experience the strong orgasm with the skills which her boyfriend never has. She wants to experiment more sexually, but doesn't have a clue how, so she confides this to her stunning hot stepmom, who is more than happy to help her sexy young stepdaughter out! She leaves her alone in the living room and returns a few minutes later donning sexy black lingerie and sporting a Hitachi magic wand in her hands! Her stepdaughter spreads her legs and touches herself over her panties while her stepmom applies the masturbator to her pussy and the vibrations rock her world and make her cunt tingle as her sexy stepmother removes her panties while she plays with her soft breasts. She pulls down her pussy juice soaked panties, grabs her legs and pulls her pussy closer toward herself. This hot woman pounces on teen's young wet pussy, biting and sucking her pussy lips, her sensitive clit, licking her slit, asshole and ass crack! She can feel her slick, smooth, pierced tongue probing her wet holes and it makes her shudder with pleasure! She had no idea her very own stepmom was so fucking hot and kinky! She is so turned on! Her stepmom drools all over her pussy and spreads the warm, sticky saliva all over her cunt with her silky tongue and she pushes her face against her crotch! Next, her stepmom straddles herself on top of her, rubbing her twat against her own and explaining to her that when naked girls do this together it is called tribbing or scissoring, it's so new and exciting! She feels as if her own stepmom would be fucking her with her pussy! Seriously, there's nothing better than two wet pussies rubbing against each other. Next comes the masturbator, applied to her dripping wet cunt and making her cum over and over under the expert hands of her sultry stepmother, now her former lesbian lover! Naked girls kiss and she feels her tongue exploring her mouth and she can't wait to learn how to make her stepmom cum too! The naked woman gets on her knees with her sexy ass in the air and her ass cheeks spread wide open so the teen girl can lick her ass and her pussy. There's not much these two lesbians won't do to give one another an orgasm. Whether it's ass rimming, pussy eating or the girls laying together in a scissoring, face sitting or delectable 69, these girls hold nothing back.
|
Well one day my girlfriend came back from school, she was so hot and began to tease me in her bedroom. She was wearing a sexy pullover, thigh high socks and pink lace panties, pulling the pullover over her big delicious tits and showing me her juicy bubble butt to get my dick hard. She lay on her back, spread her legs and pulled her pink panties aside so I could rub her dripping wet pink slit. I was rubbing her moist pussy lips, caressing her sensitive clit and her slit and at that very moment we heard the door open. It was her dad downstairs, she quickly grabbed me and hid in the bathroom! While he was talking to her through the bathroom door, I was eating out her dripping wet pussy and ass from behind! I just couldn't help myself when I saw my girlfriend's naked ass and her little pussy between her juicy buttocks. My cock swelled in my pants but we could be caught by her dad any moment. This fact made the experience all that more exciting. Finally he left and My hot girlfriend dropped to her knees in the bathroom so she could stroke and suck my throbbing member. When her lips touched my dick I thought I would explode right in her mouth, this little mouth almost made be blow. She lifted her pullover so she could massage her big tits while giving me head. She swallowed my thick sausage whole and pressed her tits together. Then she slid down her tiny panties, bent over and spread her perfect ass cheeks with both hands so I could fuck her dripping wet pussy from behind while sitting on the toilet. Absolutly amazing, perfect, flawless ass! She pushed her juicy bubble butt against my hard cock and felt my thick rod stuffing her super tight pussy. She just wanted my dick, and she wanted it so bad, she didn't give a fuck if her dad was still in the house! I was fucking her from behind next to the bathroom sink, so we could see our reflection in the mirror and I striped her totally naked and restrained her arms behind the small of her back while I kept pounding her hard. The old fart came around again and opened the bathroom door, fuck, he didn't even knock! I kept banging her amazing pussy from behind while she talked with him and when he left again, I went back to fucking her pussy full throttle. It only increased my arousal. Then my naked girlfriend went out and made sure daddy was gone so we could fuck in her bed, where she sucked my hard dick, drooling all over it. She got down on all fours in front of me, showing off her perfect ass, rubbing her wet slit, shaking that sexy little bubble butt and spreading her ass cheeks wide open so I could fuck her deeper and harder doggy style. I spread her ass cheeks, put my dick between her pussy lips and fucked her as hard as I could, making her moan with pleasure and push her ass against my dick. Then my crazy girlfriend straddled herself atop my erection and rode me, dirty little cunt got so excited when we fucked with her daddy around, I bet she fantasized with getting caught by daddy with my dick in her pussy! We fucked for about half an hour before I was going to cum in her mouth. Her tongue was swirling around my cockhead gathering up all the sperm as it oozed out of it. Her sweet lips tightened around my cock and she sucked hard as I continued to shoot a huge amount of cum in her mouth filling it more and more.
HOT TEENS IN THE CRAZIEST AMATEUR PORN YOU HAVE EVER SEEN:
More sneaky scenes like this? And more getting caught scenes? The hottest teenage girls in porn, the craziest scenes, see them only on MOFOS! Don't miss these hot teens in the best amateur sex videos you have ever seen before!!! This is not your average porn site! This is #1 amateur teen porn site in the world! MOFOS is filled with real girls getting naughty and naked in front of the cameras, getting their teen pussies fucked hard by huge cocks and their cute faces covered with cum. They are real cock hungry teen sluts!
|
I love excitement, and few things in life are as exciting as having my girlfriend's sexy little blonde slut of a sister sucking my big hard cock when she's not around the house, but their dad still is! She was drooling all over my big cock and the idea of getting caught by her dad got us both so fucking turned on! The little slut tried to fit more of my 8-inch cock into the back of her mouth, swallow my dick all the way down to the balls, when we heard footsteps. Her dad actually came down and stood by the door talking to me while I was sitting at the table, from his place he just couldn't see his beloved little daughter down on her knees and stuffing her mouth with my dick without stopping while we talked! I felt that I was about to come right in her mouth when her father was next to us. What made it more frightening were the chances of being caught in the act. When he walked away she set next to me and stroked my sausage while telling me how bad she wanted it inside her, fucking her hard. Her dad came around again and while she talked to him, she rubbed my cock and my balls with her bare feet! He left and she ran to the living room, taking off her clothes on her way and tossing them on the floor. My girlfriend's crazy sister bent over the couch's armrest and asked me if I wanted to fuck her little pussy! I started fucking her from behind, on the very same couch her dad decided to lie down and take a nap on! Can you imagine what would happen if he were to wake up and see us? Damn! Fucking hot! I pushed my cock against that tender dripping wet twat and she put her hand over her mouth to muffle down her screams. We didn't want daddy waking up in the middle of us fucking! I kept plowing her from behind and her pussy was so tight and hot and wet. I started to pump a little faster, we knew it was wrong, but that fact that her dad could caught us didn't stop us. I raised one of her legs so I could stuff my throbbing erection even deeper inside her 18 year old pussy. It was hard for her to hold the moan when my dick drilled into her narrow vagina harder and harder and my balls were slapping against her clit. I lay flat on my back over the dinner table so the crazy little slut could suck my dick and squat over my hard cock, impaling her dripping wet twat on it and riding me, making her tight tiny body bounce up and down. I made sure her dad was still sleeping while his younger daughter was on top of my rod and covered her mouth so she didn't scream too loud. This turned her on so much, she flipped over while still riding me so she could see her sleeping dad and I could see her cute little butt! Her petite sexy body drove me to fuck her harder. I couldn't wait to blow my load all over her, hopefully before her daddy woke up and saw us! Then we fucked on the couch right next to her dad. The small naked girl wrapped her legs around me and began moving her hips, pushing her hot pussy towards my rock hard cock, to further stimulate me and her pussy. I couldn't believe this girl was 18 year old. She kept on having orgasms as she fucked my cock to make me cum as well. As her movements began to increase in speed I could feel my cum start to make the journey to the head of my cock. I began cumming, the thick, hot goo was sprying all over her face, huge jets of sperm were squirting in her face, she liked it… at this moment her daddy woke up and saw it but I couldn't stop and kept cumming over his daughter's face when he watched!
CRAZY GIRLFRIENDS HAVE SEX IN THE MOST UNEXPECTED PLACES AND PROVOCATIVE SITUATIONS:
These sexy girlfriends caught fucking in the best sextapes you've ever seen. Sneaky stuff is cool! So hot! Don't miss more amazing sneaking at home around in the house! While parent/s Boyfriend/GF are home! More close call scenes! These girls have sex in the most unexpected places and provocative situations without worrying about being caught. You won't want to miss the most hottest sextapes and the craziest girlfriends!
|
When you are starting a new business, you will always face a few setbacks along the way, and each and every one of them is an opportunity for learning. This cute babysitter for example, made an error of judgment when she brought her girlfriends to the house where she was babysitting! Her client walked in and didn't like it one bit! These are her best friends forever, her BFFs, and her associates in her new babysitting enterprise and they are just getting started and this guy is already threatening with shutting them down! The girls know they did wrong, but as good entrepreneurs, they are focused on making it right! When the girls get on their knees and start sucking his big hard cock, it's obvious they will manage to keep him as a customer, and maybe even start a totally new business on the side, but that's another story! The babysitter is a gifted cock sucker and so are the rest of her friends. They look so sexy fighting over his cock, licking his rod and balls! The guy is standing in front of these four teen sluts, with his head all the way back while they are busy fucking his dick with their mouth! The brunette in the group bends over and pulls her leggings down so he can lick her asshole and fuck her doggy style from behind while he slaps her juicy ass and the rest of the girls watch! The babysitter has her legs spread and her panties tugged aside, rubbing and fingering her dripping wet twat, masturbating herself while she watches her client fucking her girlfriends; it's so hot and sexy! She wants to go next so bad! He grabs her, pulls her toward him and penetrates and fucks her in missionary position. She pulls her sweater up and her big tits over her bra so she can play with them while he bangs her so hard and goes taking off her clothes along the way. Once he has her totally nude he puts her down on her hands and knees and drills her pussy from behind doggy style. He lies on his back and lets the teen slut straddle herself atop his cock and ride it while the babysitter masturbates herself and continues watching them along with the rest of her entourage. She gets on top next and makes her big tits bounce up and down as she rides his cock and begs him to cum all over them! These teens of today know how to ride dick right. It turns into a real fivesome orgy when all girls get naked and ride his dick in turn.
|
Sit back and enjoy this amazing fucking scene with two beautiful naked girls. This brunette's boyfriend made her swear she'd never cheat on him with another man, but since he never said anything about another girl, she is having a hot lesbian affair with her best friend! She loves tribbing her when he's not around! She strips naked in front of her, rubbing her dripping wet twat and gets down on all fours, twerking her juicy little bubble butt while her hot lesbian lover smacks her ass! While she rubs her moist pussy lips and her clit, her friend finger fucks it and she grabs on tight to the white sheets and bites her thumb as she cums like a dirty dyke! Now her hot and busty lesbian lover gets down on all fours so she can lick her tight ass and tender twat too. She sucks on her ripe pussy like crazy, licking her clit, tongue fucking her slit and biting her ass! So hot! His girlfriend lies back with her knees almost behind her shoulders getting the pussy right out in the open for her lesbian lover. Two naked girls soon engage in a steamy 69, eating each other out, twerking their asses and riding each other's face. Wow! These girls are so hot, I love when this babe looks at the camera when she licks her friend's pussy! Time flies by when you're having lesbian fun, and she doesn't remember her date with her boyfriend. He walks in right in the middle of their lesbian sex session and he can't believe what he's seeing! Frustrated, angry and terribly turned on, he pulls out his big hard dick and decides to fuck that lesbian shit out of them! He starts with his girlfriend, making her get on her knees, suck his dick and lick his balls. She drools all over his member and swallows his big balls like a dirty slut and slaps his huge cock all over her face. She knows she has been a naughty little slut and she needs to receive her punishment from her boyfriend, both her and her hot lesbian lover for being her accomplice. As long as he punishes them both with that big hard cock, they are fine with it! He puts his sexy girlfriend down on all fours and bangs her doggy style from behind, like the dirty bitch in heat that she is. This will remind her that a cock can do stuff a pussy just can't! His huge cock makes her cum like crazy, giving her impressive leg-shaking orgasms. She screams, laughs and cries at the same time, experiencing unbelievable orgasms that make her understand, no one tongue in her vagina can compare with her BF's hard-as-a-rock dick. He gropes her big tits and pushes her body against his own and her dirty lesbian friend is sitting across them, rubbing and fingering her wet pussy, she's turned on watching her dyke lover getting fucked by a real man with a hard cock! The girlfriend tells her that she needs to drop this G/G crap too and take a dick already! Now she wants him to make her his bitch too, fuck her hard and cum all over them both! This is fucking amazing. How do you know if your girlfriend is a lesbian or not? Maybe she says you she's attracted to men, but routinely fawns over naked women on the internet?
THE HOTTEST GIRLFRIENDS CAUGHT FUCKING ON CAMERA IN THE BEST HARDCORE PORN:
Don't miss more cheating scenes! And getting busted at the end, and fucking around in house while BF/GF is in the house or the parents are at home! Nobody and I mean nobody does amateur porn like the guys at MOFOS! This is the home of the hottest babes, sexiest teens with smoking hot bodies, big tits and juicy bubble butts! This is a place on the web where young teen girls get crazy, naked and fucked hard in front of the cameras by huge cocks! Trust me, you have never seen teen porn like this before. These girls turn into sex crazed, cock craving sluts in a second when they see a big throbbing erection.
|
I was sitting on the couch in the living room and found my stepsister's phone with some nude selfies. Fuck, I knew she was kinda hot, but I never realized just hot until I saw her naked on the pictures! Her tits looked so big and her pussy resembled a dripping wet pussy burger, yummy! When she came around looking for her phone in her tight top and denim shorts, I couldn't help picturing her naked. Hey, not that I had too! I told her I found her phone and her nude selfies and she let me make sure her boobs were as big and her pussy as tasty as they looked on her phone! With a naughty smile on her face, she pulled her top over her tits and let me play with them. I was surprised by the sudden display of my stepsister's naked tits. Her tits were just so damn beautiful! They were perfect round melons, with pink erect nipples and big areolas. "Ah, that feels good when you touch me" she said. She seemed happy that I found her phone and her pictures, almost as if she would have taken them expecting me to find them! She sat on my lap and felt the hard bulge of my erection under my jeans and made me undress so she could suck and stroke my hard cock and lick my balls! I was in heaven with those sensations. She traveled around my dick, continuously licking and sucking, touching the head of my dick with her tongue. The entire time, she kept up her stroking with one hand and fondling my balls with the other, kneading them, caressing them gently. I couldn't believe I was getting blown by my very own stepsister, and we were just getting started! She pulled down her thong, spread her legs and masturbated for me and I began to jerk on my step sister too. My slutty stepsister stared at my hard dick and smiled. I could see her wet and pink pussy lips were parted, and beneath that, her pink rosebud of an asshole. I began to lick her wet slit as quickly as I could. I ate her dripping wet pussy out before popping my fat cock inside her and fucking her hard on the couch! Her pussy was warm and wet. She moaned with pleasure spreading her pussy lips with her hands and I could see her clit between them. Then my slutty naked step sister straddled herself atop my cock and rode me as I laid on the rug, grinding her tight ass and pussy against me and begging me to pound her as hard as I could and to blow my creamy load all over her! The view of her big tits bouncing up and down in front of my face was stunning.
|
My girlfriend is such a horny little slut and she loves my huge cock so much, even having her parents at home doesn't stop her from teasing my cock silly when they are not watching. The naughty girl twerks her sexy little ass and makes sure her parents are watching TV as she gets down on her knees, wrapping her pretty lips around my dick. She stops for a moment to serve them cold drinks and jumps right back to sucking my dick right behind them. We almost get caught, I tell her to stop because I'm afraid they'll will turn around and see her, but that doesn't stop her. I love looking down at her and seeing her face when she swallows my cock and licks my balls with her parents next to us. She sneaks into the kitchen and takes off her shorts and rubs her pussy over her panties while sitting on the kitchen counter. She smiles at me and tells me to relax, it is very hard to relax when your girlfriend masturbates next to her dad and mom! Without worrying about being caught she pulls her panties soaked with pussy juice to aside so I can pop my hard cock into her dripping wet pussy and fuck her while she rubs her cunt and my cock. She bites her lips and holds on tight to the kitchen cabinets as I pound her as hard as I can without alerting her parents to what's happening in the kitchen. I love the expression on my girlfriend's face when her pussy takes my shaft balls-deep and she tries to hold the moan! Of course her parents still think she is a virgin and lecture her about having unmarried sex at her age from time to time… My girlfriend is so wet and tight I almost came in her pussy. Since her dad and mom are busy watching TV, we sneak into their bedroom, my sexy girlfriend strips naked and jumps into the bed, down on all fours while strolling my hard cock and drooling all over my balls. Now fully naked she straddles herself on top of my cock and impales her dripping wet pussy on it, squatting on top as she rides my erection. She pushes her sexy naked body up and down my rod, licking the palm of her hand and using it to rub her wet muff as she rides me harder and faster. She loves the fact that any of her parents could walk into their bedroom in any moment and catch us naked and fucking on their bed, it makes her so fucking horny! She arches her body back as she keeps riding my stiff dick and I want her to get down on all fours and shake her juicy bubble butt for me while I rub my cock against her pussy lips and she bangs me some more in reverse cowgirl, grinding and twerking that delicious ass. Her legs are shaking from all orgasms she has as I pumps my cock into her adorable pussy at a furious pace with her sexy ass bouncing in front of me. She looks over her shoulder and keeps humping me and I can feel my hot cum boiling in my balls and ready to fill her up like the dirty fuck slut that she is!
SEXY TEEN GIRLFRIENDS DOING INCREDIBLE THINGS ON CAMERA:
This is why MOFOS is the #1 TEEN PORN site ever – the hottest teens, the biggest cocks, the craziest scenarios!!! Hot, naked, sexy girls in the best amateur sex videos you've ever seen before! MOFOS is the hottest place for you to discover real girls exposed for the first time ever in the raunchiest sex action available on the web. Watch these young sexy teens in all their glory, stripping naked, trying the biggest cocks ever, eating friend's pussy, having huge cocks crammed up their tight pussies and get their cute faces, sexy bodies, big tits and juicy butts covered in loads of hot cum!
|
When this tiny 18 year old babysitter shows up at her client's door, she has no idea that she has been hired to baby sit his huge cock! Yeah, as big and as hard as it may seems the kind of tender love and affection that only she can provide! At first glance, this tiny girl looks like a sweet girl-next-door type. But when this guy pulls his huge cock out of her pants you'll see a glint in her eyes when that promises something much naughtier. She cradles herself between his legs and starts sucking that big throbbing member, feeling how much bigger and harder it's still growing in her wet mouth. His cock is so big that only one head is placed in her mouth. This teen girl never had to babysit a huge cock before, but she already likes it so much more than having to look after bratty spoiled kids! He puts her down on all fours on his couch, pulls down her sexy pants and slowly penetrates her more and more deeply as her teen pussy becomes wetter and wetter. She tries to take it all in and after a few strokes her tender, tight pussy is relaxed enough for full penetration. He rams his huge cock deep inside her and pounds her hard. It's just so big and thick, she's afraid he might break her pussy in half! Still, she takes it like a pro, she has a reputation as a babysitter that never says no to a job. Her sexy little ass with that beautiful bulging anus looks absolutely amazing. Watching this huge cock going in and out of her body I just want to know how this huge cock could fit into this tiny girl? She has to remove her thick glasses before they fall off from the way he's pounding her muff and he just keeps plowing her pussy while she's down on her hands and knees. He flips her over and spreads her legs wide open, holding them apart by her ankles while he fucks her in missionary position and she grabs her firm breasts and pushes them together. The naughty girl squeezes her titties in her hands, just as hard as he is fucking her tight pussy, already getting stretched out and loosened up by his fabulous king sized cock! He pays no regard to her dimensions and simply keeps fucking her small pussy with his huge cock. He fucks her so hard, and she's been fucked by many guys already but none has ever fucked her so hard or much less with such a big dick! She loves the way it feels anyway, she just wants him to fuck her deeper, harder and faster! Petite naked girl straddles herself on top, already feeling more confident, and rides his erection, bouncing up and down his rod, totally filled up by his cock meat. He flips her over, holds her by her hips and pushes her up and down his hard cock, ready to fill her up with his hot cum! His dick begins throbbing and twitching inside her and she feels him sprays his load inside her. Best babysitting gig ever!
THE SMALLEST, YOUNGEST AND SEXIEST GIRLS GET CRUSHED BY HUGE COCKS:
If you love watching young 18 year old girls sucking massive cocks and getting their small pussies stretched out then ExxxtraSmall is just the site for your viewing pleasure! The smallest, youngest and sexiest girls enjoy sucking huge cocks, getting fucked and filled with cum, and enjoy every single moment! These girls may be small in size, but they are eager to take on the biggest, largest, thickest, hardest cocks in the industry!
|
CHECK OUT RECENT VIDEOS ON THE MAIN PAGE !!!