Shy
Guys, I have a confession to make… I have a little secret and keeping from my girlfriend and it's that I'm banging her sexy little sister! Ever since she turned 18 she's been sucking and fucking my cock every time my girlfriend is not around and I just love it! She knows she turns me on, with her long curly dark hair, her slutty face and her tight teen body and pussy! Taking advantage that my girlfriend is out shopping, her little sister takes me by the hand to the swimming pool, where she strips naked and skinny dips. This young girl looks incredible and I like her perky titties with erect nipples! She knows what I'm looking at so she asks "do you like them?". The girl steps out of the pool drenching wet and totally nude, walking provocatively towards the house. We don't quite get there, as I pull her naked body against me on the patio and start fondling her juicy tits and rubbing her dripping wet snatch as she presses her tight bubble butt against my throbbing erection. We are making out and she is rubbing my dick, the little teen slut can't wait until she can get it in her mouth. She gets down on her knees and pulls my swimming trunks down, popping my hard cock in her wet mouth and giving me head. I'm a bit worried that her sister might return and catch us in the act, but at the same time the probability of getting caught makes this even more exciting! This young girl sucks cock so much better than her sister! Her pussy is also much tighter, that's why I enjoy banging her behind my girlfriend's back so much! I put her against the wall and started pounding her from behind and in that moment I hear noises at the door, my girlfriend is back! I do my best to pretend nothing's going on while trying to conceal both my erection and her naked sister hiding behind the door. I managed to make her go away and get back to her little sister, laying flat on the floor as she deepthroats my cock. She then slides her tongue down my shaft to my balls and starts to gently suck on them! The tiny naked girl straddles herself on top, takes my dick and holding it with her hand slowly lowers herself onto it. She is very tight, moves slowly at first, gradually getting faster and faster, moving her hips back and forth on my cock , making it very hard not to cum. She goes up to the very tip of the head and then slams herself onto my hard cock! I continue to suck her succulent breasts, that bouncing up and down against my face. She is so good. She keeps going up and down, grinding and grinding. She squats on top of my cock and pushes her body up and down, then my girlfriends' little sister gets down on her hands and knees so I can fuck her tight cunt doggie style from behind. She pushes her ass onto me, fucking my dick with her teen pussy herself, harder and harder. I flip her over to missionary position and keep fucking her until I'm ready blow my load all over her face. I can hold back no longer, I pull out and begin shooting my cum into her open mouth. At this very moment my girlfriend returns!!! She's crying which makes me cum even harder.
THE HOTTEST YOUNG GIRLS IN THE BEST PORN YOU HAVE EVER SEEN BEFORE:
With hot teens in every single video MOFOS is the King of amateur teen porn on the web! This network of amateur smut is loaded with thousands of real girls, user submitted videos, exclusive footage. They specialize in teens of all kinds! They have shy, outgoing, amateur, experienced, adorable, sexy and nerdy teens ready for you. The site is filled with beautiful slutty amateurs stripping naked in front of the camera, sucking big hard cocks, getting their dripping wet pussies and airtight assholes pounded hard and receiving creamy cumshots and fabulous facials! Come inside and watch more the craziest sneaking and getting caught sex scenes, enjoy their variety of high quality real amateur XXX content!
|
This horny guy has a very tiny teen sister and he also has a very big friend with a huge cock and when he asked all that up in his dirty mind the result is a scorching hot homemade sex video! The girl looks so shy and innocent but trust me, she will like this huge cock in her small pussy. She doesn't mind to flirt a little bit with her brother's handsome friend. She's kind of into it, getting down on her hands and knees on her bed and pulling her cotton panties down her thighs while fingering her dripping wet pussy, in anticipation of that massive cock stretching her tight snatch out. His motherfucking dick is almost as big as her small body! As turned on as he is filming them, her horny brother can't help worrying that his friend might break his sister with his big member, LOL! He rubs the tip up and down her wet slit so her little pussy can get used to something so big that will soon be rammed it deep inside her. He pops it inside her and she is so fucking tight that his thick member only makes it halfway through squeezed by the tightness of her orifice. Her pussy is really tight, and it doesn't want to go in. She tells him go ahead and push it in. With both hands he grasps her by the waist, pulling her whole body tight against him, while she squeals and moans with pleasure and pain. He starts pumping her slow and soft, picking up speed and intensity as he feels her tender pink pussy lips giving into his engorged erection and stretching out to accommodate it inside her. Suddenly, deep in her belly, she feels the round head of his huge cock pushing up against the hardness of her womb. You even can feel her vagina stretched tight around his shaft as it slides in and out, deeper with each thrust. Girl closes her eyes and bits her lower lip to keep from crying out loud, and the only noise she hears is the wet, squishy, sound of his sex organ plunging in and out of her dripping well vagina. He begins thrusting faster now, in and out, and she's taking the full length of his huge penis inside. This tiny girl is so turned on that when he stops fucking her she pushes her juicy tight bubble butt back against his hard cock, urging her big lover to keep plowing her hard. She has her ass up in the air and her face buried between the sheets as he presses her entire body against the bed and pounds her very hard from behind while on top of her. He cradles her in his arms and fucks her in standing position before lying flat on his back, straddling her on top and impaling her on his massive meat sword, making her tiny little body bounce up and down his shaft. Tiny naked girl loves it, grinding and twerking her pelvis and bubble butt against his hard cock and she stops so she can stroke and suck it in front of her brother's camera. He pulls her against the edge of the bed, spreads her legs and power fucks her pussy until he comes all over her body! Watch tiny teens getting their tight pussies pushed by impossible big cocks to their fucking limit:
YOUNG NAKED GIRLS GET THEIR SMALL PUSSIES DESTROYED BY HUGE COCKS:
That's stunning hot stuff. Awesome cute petite girl and a big boy. Let's see more of her and other tiny girls. You love small woman. The smaller the better. The sexy teens at Don't Break Me are so small and tiny you could put them in your pocket, but that doesn't stop them from sucking and fucking some of the biggest and hardest cocks in porn! These petite teen whores love feeling how their airtight pussies and assholes get stretched out inch by inch as they get penetrated and pounded hard by their lovers' massive erections and receive creamy cumshots, delicious facial and sticky creampies! The tinier the chick and larger the cock, bigger the challenge and these dirty sluts love them as big and hard and thick as they come! THIS IS LIKE NOTHING YOU'VE SEEN BEFORE!
|
This guy is absolutely sick and tired of having his slutty stepsister spending the money from his bank account without his permission, but when the dirty little bitch uses the money from the business account he has with his best friend, he decides she needs to get punished to learn a lesson, and since the account belongs to his best friend and him, the punishment will be bestowed by both of them! They force her to take off all her clothes while she's struggling to get free. The guys strip her naked on her bed and he holds her by the neck and slaps her dirty face while his friend rubs and slaps her dripping wet snatch. Her step brother knows she likes rough n dirty sex coz she always watches extreme porn. They cover her mouth with their hands, slapping her tits and the rest of her body as he stuffs her cock hungry mouth with his big fat cock while she's down on all fours and getting fucked from behind by his friend. The dirty little blonde teen slut begins to scream when they spit roast her, stuffing her by both ends and pumping her good. She grimaces with pain and pleasure, gasping, moaning and arching her back. While he is fucking his stepsister he can tell that she's enjoying this punishment but he hopes that anyway the lesson will get through her thick head that it's not okay to spend other people's money. Worst case, at least they can keep double teaming her every time she does it! The guys switch positions and put her flat on her back and with her legs spread wide open. His best friend fucks her dripping wet snatch in missionary position while he fucks her mouth with his throbbing erection. The stepbrother gets on his back and straddles his stepsister on top, impaling her dripping wet pussy on his hard cock while she sucks on his best friend's meat pole, her naked body bouncing up and down his hard shaft. At some point he feared he would feel guilty about double penetrating his own stepsister with his best friend, but quite contrary, it actually feels great and his stepsister may very well be the hottest fuck slut he's ever banged before. They switch places again so she can ride his best friend's cock while giving him head, stroking his member and licking his balls before they put her on her back again and keep spit roasting her pussy and mouth. They fuck this slut hardcore for one hour until they are ready to cum, blowing their loads all over her face and mouth! Lesson learned!
GIRLS SCREAM GETTING THEIR LITTLE PUSSIES FUCKED IN EXTREME HARDCORE PORN:
WARNING EXTREME TEEN PORN! When teens behave badly, they need to be disciplined, punished and corrected, and the right place for such harsh sexual punishment takes place right here at Punish Teens! Don't miss
these vids if you like extreme, hardcore, rough, borderline abusive sex. Watch these teen girls get fucked in the ass, pussy, tits, and mouth. They experience their first huge monster cock in ways they never imagined. Their pussies are wet and tight too because they never did it before. Virgins get deflowered in the most extreme style, shy innocent young naked girls get manhandled, tied up, their pussies get stretched out and destroyed by huge cocks, their assholes get punished, see them abused, face-fucked, brutally slapped, fish hooked, analized till their fresh pussies are fully used!
|
Are there any fans of small naked girls, redheads and huge cocks? Ever since he started dating this sexy tiny redhead girl, this guy's been wondering if his huge cock can fit inside her. Now he's finally ready to know, and despite his initial doubts and concerns, the spunky redhead seems to be having no problem at all as he pounds her deliciously tight snatch with his massive erection! Lying flat on her back, she keeps her legs spread wide open so she can give that huge cucumber dick more room to move. This small girl can feel his hot cock going deeper and deeper into her belly. As she watches it sink completely inside her cunt, it seems almost like some sort of magic trick to her, she can't believe it can fit entirely! When her mom thinks she's in class, he spreads her tender pink meaty pussy lips with his fingers and continues stabbing her with his meat sword. He pushes her pussy lips together like a pink clam and she tries to regain her breath every time his massive boner slips out of her cunt for a few seconds. It's so big, so long, so hard and thick; every time it pops out of her pussy it leaves a gaping wet sex orifice. He gives her snatch a rest from his dick and proceeds to tongue fuck her, licking and sucking her fleshy mound and tugging and nibbling at her pussy lips. This young girl has very nice, bald, wet, pink pussy. He uses his tongue all over her, in her hole, on her lower lips, on her clit, deep in her vagina. His tongue wanders down the crack of her ass and into her tender asshole, stretching it wide open in anilingus. Tiny naked girl straddles herself atop his hard cock and impales her pussy on it, bouncing up and down and then he makes her bend over by the edge of the bed and fucks her doggy style from behind, holding her long pigtails as if they were her reins, before cumming all over her cute face! Watch more small naked girls getting their tiny pussies stretched out by the biggest cocks ever.
|
Being the new girl in class sucks. This poor girl is shy and introverted, and when she finds herself all alone after classes in the classroom with two of her new fellow students, she fears she's going to get bullied by them, but these girls want to get to know her better and unleash her potential for becoming their new BFF, best friend forever! The girls know by experience that behind every shy, timid girl lurks a freaky, kinky slut just waiting to be found! They take off her geeky glasses and place her facing the black board, spreading her arms and legs, lifting her plaid skirt and pulling her cotton panties down! She has a sexy little bubble ass, this girl has potential! The young lesbians bend her over the teacher's desk and while one of the girls holds her face against the desk, she can feel the other girl's wet, warm, silky tongue digging into her snatch, spreading her tender pussy lips and wriggling inside her, caressing her engorged clit! It feels so hot! She opens herself to her and she kisses her there. She lets the girls undress her, she has never felt so excited before, better yet, so accepted, wanted, desired! The girls lick, kiss and bite her soft neck, caressing her breasts, stimulating her erect nipples with their soft fingers. She never even dared fantasized with being with another girl, much less with two! The girls caress her hair and arms, stripping naked as they spread her legs so they can keep licking her warm moist pussy. The girls get naked too. While one of the girls spreads her legs and eats her out, the other stands and squats over her, so she can learn how to eat pussy too! She sticks her tongue deep inside. Instantly, her pussy juices rush into her mouth. This is so new, she never tasted another girl's twat, she had no idea it tasted and felt so good! She loves the way a pussy smells, it makes her dizzy. Her tongue is in her pussy licking her as she rocks back and forth and her nose is up her arse. When her tongue is exploring her vagina, and the friend's tongue is fucking her own vagina, her mind is completely on her backdoor. She's lost in the feeling of it. She loves it. She does what the other girl does to her. She kisses around her lips and on her inner thighs, using lots of tongue. The new girl in class slurps all over her cunt with her lips and tongue. She was always worried about boys and now she doesn't have to worry anymore, she already has two girls to fuck with! She is trembling now as the tempo of her tongue is bringing her to the peak of pleasure. One of her new lesbian friends bends over and gets her soaked pussy licked by the other, and the new girl dares to rim her asshole! She's a fast learner! Two naked girls trib and the third girl sits on one of them, getting her pussy licked and fingered. The young lesbians eat her pussy and lick her little ass from both sides, making her moan and squirm with pleasure. Soon she experiences the first of many incredible orgasms with her two new friends and hot lesbian lovers! At the end three naked girls spread their legs and masturbate on the teacher's desk!
YOUNG NAKED GIRLS IN A THREESOME, FOURSOME AND MORE-SOME SEX:
BFFS is the place to check out, view and enjoy the hottest naked girls in the best threesome, foursome and more-some orgies. These naughty young girls discovered that sex and fucking just wasn't the same without their Best Friends Forever, that's why BFFs brings you the hottest teen porn featuring sexy girls stripping naked, masturbating together, trying lesbian sex for the first time and having sex with their boyfriends together.
|
Science class is over and the students have left for the day, except for this sexy geek girl, she couldn't leave without finishing her chemistry test! Her teacher values a girl that like science, so he stays after class with her, correcting some tests while she works by herself. All of the sudden, there is a huge splash! She measured one of the chemicals wrong and provoked a reaction, splashing chemicals all over her clothes! The teacher instructs the girl to immediately take off her clothes to avoid chemical burn! She's okay, just naked, but he wants to make sure she didn't get any area of her beautiful naked body exposed to the dangerous chemicals! Her horny teacher closes the door and watches at her as she stands fully naked in the middle of the class room. He must inspect her thoroughly, paying extra attention to her beautiful titties and her lovely pussy. Nobody has never seen her pussy before and now, here she is, completely naked with her teacher. Meanwhile, the old fart has a huge hard on and the young naked girl is looking directly at it. She can feel her pussy getting wetter, especially when the teacher puts his hand between her thighs and it touches her pussy lips. It's dripping wet as he rubs it and fingers her pussy slit. She's out of danger, but now she's terribly aroused by the way her teacher is touching her! At first she acts all shy, but her nipples are erect and her pussy is wet, and you can tell she is into it. Naked girl leans against one of the desks in class, spreads her legs and lets the teacher get a better look at her little young pussy, clean her pussy up with his tongue, lick and rub her drenched twat. Nobody has never licked her pussy before, and now she experiences new sensations when his tongue goes between her pussy lips and touches her sensitive clit. He pulls her to the edge of his desk and stuffs her tight pussy with his big hard cock. I love the expression on young girls' faces when their little pussies take the partner's shaft balls-deep for the first time. This tiny girl can't believe she's getting fucked by her very own teacher and he always wanted to fuck one of his sexy schoolgirls, make one of them his own slut! The naked schoolgirl gets down on her knees so she can suck and stroke the teacher's big throbbing member, she had no idea her teacher was so well endowed! She deepthroats his dick all the way down to the base and he bends her over his desk and bangs her from behind. She presses her face and tits against his desk while he kisses her back and gets on the table, lying flat on his back so she can straddle herself atop and impale her tight cunt on his boner. Young girl continues to explore her sexuality and sticks her finger in her ass while riding his cock, so hot! She rides her teacher like a dirty fuck slut and he puts her sideways and bangs her from behind. It doesn't take a long time to reach a climax and it's her first orgasm in her life. He gets her back on top and keeps pounding her pussy in reverse cowgirl and he admires her juicy little bubble butt. I love the mixture of her look, with a tight body, yet with attractive curves all over, these perky tits, and her beautiful face and her lovely pussy. He thought this sexy geeky girl had brains for science, but he's happy to know her brain is perfectly wired for sex too and he can't wait to blast his cum all over her sexy face and mouth! He blew the big load in her little mouth and said "You know you already had an A right?"
THE SMALLEST AND YOUNGEST GIRLS GETTING THEIR PUSSIES STRETCHED OUT BY HUGE COCKS:
Don't miss the smallest and youngest naked girls getting their pussies stretched out to the limit by huge cocks in the best hardcore scenes. At ExxxtraSmall, these tiny, pint sized 18 year old teen girls are about to have the biggest experience in their lives when they discover the massive cocks beneath their guys' boxers! They have never seen cocks so big, thick and hard, but that won't stop them from getting their mouths crammed with them, gagging and choking on these massive erections and getting their tight pussies and assholes stretched out, pounded hard and filled with loads of hot sticky semen! Cum inside and watch the sexiest tiny teen girls getting banged and slammed and cummed on by the biggest dicks in porn!
|
This guy's sexy stepdaughter is a gymnast and she just came home from her daily practice and she is so fucking wet and turned on, she wants to play with her little pussy a bit. She spreads her legs and pulls her drenched leotard aside, caressing her pussy slit and her juicy swollen lips. The naughty girl rubs her clit and fingers herself when her stepdad comes in and sees her young step daughter masturbating on the couch. She is not shy, she wants her stepdaddy's big dick inside her before her mom comes back from work! She just begins to rub her pussy faster, showing him how wet her pussy is, aching for his big dick. She rubs it while grinding her hips and straddles herself atop stepdaddy's lap so he can pull down her gymnast outfit and suck on her puffy wet nipples. She gets down on her knees and pulls his pants down, his huge cock springs to life like a Jack in the Box, it never ceases to surprise and amaze her, it's just so fucking big! As she sucks it and strokes it, drooling all over it, she gets why her mom is so in love with him, it has to be that cock! She sucks and licks his big balls too, no matter how hard she tries to deepthroat it, she can hardly fit it halfway down her throat! This cute teen with a perfect little butt is ready to get stuffed. He straddles the tiny naked girl atop his huge member and makes her ride it, she bounces up and down his long shaft and pushes herself against his dick so she can take it all in and then sits on his face so he can eat her out, lick her pussy and tongue fuck her. She really knows her way around the dick with some serious skills. Trust me, you won't miss one moment of this smoking hottie getting nailed with what she loves the most, huge cock. This sexy teen lets him do to her all the dirty things her mom doesn't let him and she loves squatting over his dick after he fucked her doggy style and get down on her knees so he can blow his load, spraying hot sticky semen all over her dirty face and naked body before mom comes back!
|
My stepsister has a crush on me ever since we met for the first time after our parents got together. I think the idea of getting banged by her very own stepbrother turns her on, but I usually just ignore her and pretend she's just playing games with me or pushing my buttons. Problem is, it's getting pretty hard to ignore her, since she's getting more and more provocative with each encounter we have, and since we live under the same roof with our parents, you can imagine the sexual tension at this point; you can cut it with a knife! My step sister always has a little grin on her face that says, "I have dirty thoughts and I know you do too". We're sitting on the living room couch and the flirting begins again. It feels like a game of who will make the first move. And finally she gets up and her skirt is hiked up and I can see her naked juicy bubble ass!!! She's not wearing any panties!!! I just can't resist, grabbing her meaty ass cheeks! My step sister's ass is absolutely amazing, two big round buttocks and a little pussy between them. I can stare at her naked ass and I certainly take the opportunity. She's so turned on and I just want to see how far she can go. She spreads her legs and starts rubbing her dripping wet muff in front of me, telling me she can't resist this any longer, and honestly, neither can I! Then she leans over and unzips my jeans, pulling out my throbbing cock and taking it to her wet mouth, sucking it hard like a dirty little slut. This teen slut gives great head! We go to her bedroom and she strips naked and gets in her bed, masturbating herself for me and showing me how wet her pussy is. She keeps sucking my hard cock and stroking it slow and gentle. I don't think my dick has ever been so fucking hard, man! There is no turning back, my sexy naked step sister gets down on her hands and knees, spreads her hot, tight, fleshy ass cheeks and I instantly move so that my prick touch the hot wetness of her slit. I ram my hard cock deep inside her wet cunt, grabbing her tight bubble butt as I fuck her doggy style from behind. I can't believe it, I'm sliding in and out of my naked little sister and I know I'm about to cum at any moment. She straddles herself atop my lap and impales her snatch on my dick, riding it, then leaning back and spreading her legs so I can keep plowing her pussy in missionary position. We've both been waiting so long for this moment! I grab her titties while I'm fucking her and she gets back on top, this time in reverse cowgirl, so I can check out her juicy butt bouncing up and down my hard rod until my dirty little slut stepsister is ready to swallow my creamy cum as I blow my load!
THE SEXIEST AND HOTTEST YOUNG SISTERS GOT CAUGHT FUCKED: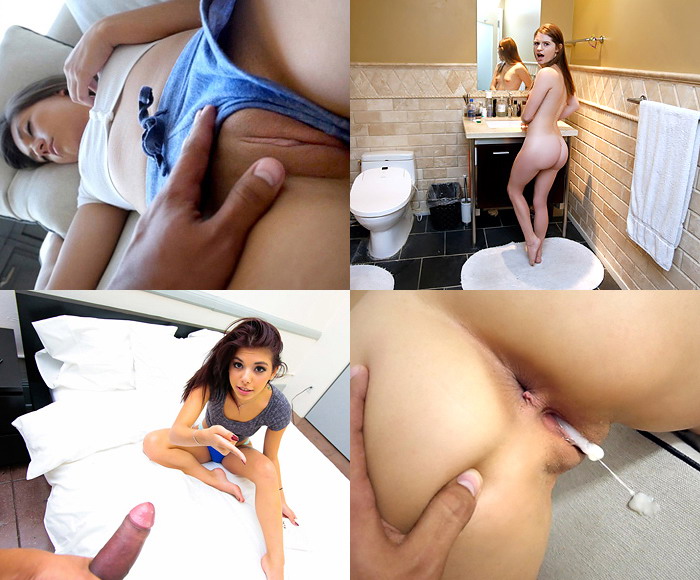 These horny brothers and sexy sisters have a dirty little family secret they want you to know all about! That's right; SisLovesMe is all about horny brothers seducing and fucking their hot sisters! These guys spy on their naked sisters in the bathroom and then fuck them hard; brothers and sister masturbate together and have sex for the first time; the guys sneak in the sister's room and stuff their tight pussies with their big throbbing cocks while the girls sleep and cum inside their virgin pussies; the girls get caught masturbating and now let their brother fuck their wet pussies and gaping assholes and blow their loads all over their faces! As long as their moms and dads don't find out, everything is okay!
|
My sexy girlfriend's father invited me over to their place so he could cook us a barbeque and my girl dressed up in those sexy ripped denims that make her ass look so fucking hot, man! I had a hard time hiding my boner under my pants with her dad around! I was getting fucking turned on, and so was she, and every time her dad turned around to attend to the grill, she teased me, talking dirty to me, twerking, teasing and rubbing her ass against my crotch and shit like that, fuck, what a tease! After he served us some sausages, she whipped my cock out and started sucking and stroking it! If her dad turned around at the wrong time, or my crazy girlfriend didn't react fast enough, we'd be really screwed! She acted like the good little daughter when her dad was around, but as soon as he turned his back, my naughty fresh-faced cutie took my cock in her mouth. He went inside to get some stuff and she pulled her denims down and teased me with her juicy bubble butt in a pink thong touching herself and getting on her knees, sucking my cock and licking my big balls. My girlfriend deepthroated my cock all the way down to the base and popped my balls in her mouth and sucked them thoroughly. She rubbed my balls and my cock against her face, smiling on camera and moaning because I was going to fuck her harder than I had ever fucked her. Then she pulled her thong down her thighs, showing off her amazing sexy ass, bent over and pushed her dripping wet pussy against my cock, letting me fuck her from behind. She started to move her hips slowly back and forth then she told me to push my dick deeper and deeper inside of her twat. I fucked her so fucking hard and fast, worried that her dad would return and catch us fucking! She spread her ass cheeks apart so my dick could burrow even deeper inside her and grinded her ass against my crotch. She had this glorious smile on her face as I fucked her, she was loving this situation in which we could get busted any moment! Her dad was taking his time, so we got daring, stripping naked and letting her suck my cock some more. She told me that she wanted to be on top, straddled herself atop my hard cock, impaling her wet pussy on it and riding me hard. I pushed her tight body against my own and felt her tight pussy muscles wrapping against my shaft and she flipped over so I could see her juicy bubble butt twerking, grinding and bouncing up and down my rod as she rode me in reverse cowgirl. Yes, my girlfriend can twerk and she adores doing it when we have sex. I almost came in her when she spread her sexy ass with both hands and squeezed my cock with her pussy muscles. My hot girlfriend wanted to fuck me in every position she could think of, even in a tree! I was ready to cum inside, splatter my hot cum in her and watch as the cum run out her juicy snatch and drip down her lips, before her daddy came back to flip the burgers!
HOT GIRLFRIENDS GETTING THEIR PUSSIES FUCKED WITH THE PARENTS AROUND:
Don't miss more hot teens and more sneaking, cheating and the almost getting caught scenarios like this one! MOFOS, the best site in the Porn industry, specializes in hot teens of all kinds! They have shy, sexy, amateur, experienced and nerdy teens ready for you. MOFOS is all about super hot girls having sex! These crazy girlfriends do incredible things on camera you would never think of doing. They love huge cocks, public sex and never miss an opportunity to get their pussies fucked hard like there's no tomorrow. Deepthoating, twerking, squirting, creampie… These teens are so hot, be ready to come without jerking off. When most young girls just dream of what they want to be when they grow up, these teen sluts already know, they want to be a pornstar!
|
I'm continuing my quest to bring you the most passionate and hottest content possible. Two naked girls, a hot MILF and her sexy step daughter sharing a huge cock in a threesome! Don't miss this video. Since her stepmom is away, this naughty teen invites her boyfriend over so they can fuck! It's been so long since the last time they were able to do it, they don't have any other place to go, and her stepmom is always in the way! Her boyfriend has a huge cock and she can't wait to take it in her mouth and fill his hot cock throbbing and spraying cum inside. The girl mounts him on the living room couch and without wasting time he rams his hard cock up her dripping wet pussy and she rides him with her thong pulled aside and her top pulled over her big tits! She takes off her top and kisses him, pushing herself against his cock before leaning over the couch so he can fuck her from behind. While they are busy fucking, her stepmom unexpectedly returns and discovers her stepdaughter and her boyfriend fucking right in the living room! She's never seen her stepdaughter like this; she looks so sexy, so hot, so sexual! And her boyfriend, what a body, what a cock! She hikes up her skirt, pulls her panties down her thighs and starts to masturbate while watching the teens fuck! The boyfriend fingers her stepdaughter's pussy, eats her out, slaps her wet slit with his huge cock, and rams it deep into her body, so sexy! The MILF pulls her bra down, fondling her big tits and pinching her erect nipples while rubbing her wet muff, but just watching is not enough, she feels the urge to join them! This mature woman can't resist the temptation to try this young hot cock. The guy is all about it but the girl is a little hesitant. It doesn't matter cause this hot MILF is too busy getting her way. She takes stepdaughter's boyfriend's hard cock in her hands and starts sucking on it while her stepdaughter watches, totally blown away! She always though her stepmom was a frigid bitch, but she's a hot slut! Yay! The boyfriend masturbates his girlfriend while her sexy stepmom blows his hard cock and licks his balls, straddling herself atop and impaling her adult pussy on his erection. The naked woman rides him and her big tits bounce up and down as she watches her stepdaughter masturbating to the hot scene! This guy has never had sex with a mature woman bevore. There is something quite sexy having sex with an older woman. Moreover, despite her age, she has amazing body, sexy ass and firm boobs. He and his girlfriend are both so excited and turned on; their relationship is going to be much more different now, so much more intense, raw, sexual and fun! Naked girls look into each other's eyes when one of them rides dick and the other masturbates. Stepmom's body is drenched in sweat as she rides that young dick faster and faster and finally cums hard. The girls positions and she lets her stepdaughter take her boyfriend's dick up her twat in missionary. He rubs his huge dick over her meaty pussy and the MILF kisses her tits and nipples, rubbing her boobs and making out with her. Hot lesbian sex with her stepdaughter while having a threesome with her boyfriend was not in her agenda for the day, but she loves the fact that their day has turned out this sexy way! Thanks RK! Perfect MILF with big tits, a guy with huge cock and a sexy ass teen girl. Keep this formula. Sexy naked girls deserve BIG cocks!
EPIC PORN OF HOT TEENS AND THEIR SEXY MOMS GET BUSTED AND FUCKED:
Reality Kings specialize in teens of all kinds! They have shy, outgoing, amateur, experienced, adorable, sexy and nerdy teens ready for you. All of them in their prime getting fucked by huge cock in unbelievable threesome scenes with their sexy moms. Watch more Reality Porn with parents, boyfriends or girlfriends are home! More sneaking at home around in the house, caught fucking scenes. Step into a world where girlfriends and their hot moms share a dick in the best threesomes ever. These girls make the guy's kinky dreams of fucking older women come true! I've seen a few comments about how unbelievable it is, but I like the fantasy concept. It makes me think "This could happen to me" even if deep down I know this could never happen to me.
|
If you've been waiting to see a group of hot young naked college girls in dorm room orgy, then your chance is coming up. This college guy threw a wrestling party with sexy naked coed girls in his dorm room and forgot to warn his roommate about it. Imagine his surprise when he walks min and finds two naked girls wrestling each other to submission on a make shift ring! He was ready to sit down, make a cup of tea and cram all night for a big test, so he should be upset, but you know… sexy naked coed babes wrestling! Hello! After the sexy brunette pins her hot blonde friend, the match is over, but they're not done! They start to make out and touch each other while the guys watch. Now the blonde is on top, spreading her friend's legs and licking her little twat. Both naked girls are glistening with baby oil and… and… can you believe the roommate that just came in is actually trying to stop the party? I think even he realizes this is ridiculous, so he shuts up, grabs a beer and enjoys the lesbian pussy lick fest going on in the makeshift ring, that's the spirit! The brunette gets the upper hand and takes over the pussy licking while the blonde caresses her slippery big oiled up tits and feels that wet tongue squirming inside her! It gets even better when the shy Asian exchange student show's her wild side, stripping naked and joining the other girls! See! People come out of their shelves in parties like this! The brunette grabs one of the blonde's tits and the Asian girl the other and they both suck on her nipples while the party's organizer strips naked and shows the Asian hottie his oiled up dick! The first idea most girls get when they see a big naked dick is to lick and blow it. That's exactly what this teen does. While two naked girls 69 each other, the third girl oils up her body and spreads her legs so she can get fucked by that big hard cock! She didn't come all the way here just to study! Her parents told her to take in the culture, and that's exactly what she's doing, taking it all in! Riding that hard cock, the Asian slut becomes the center of attention, the life of the party! She rides that dick with two sexy girls having lesbian sex next to her, eating each other's pussy and ass in 69, scissoring and fingering. They start to moan loudly turning this Asian teen babe on even more. The girls even suck on her tits and rub her clit, making her cum like crazy. The roommate will have a great excuse for not studying… he was getting laid! This little fun wrestle fest turns into a hot and slippery fuck party with three naked girls. Don't miss this amazing college sex tape, showing how much fun it is to be in college.
HOT NAKED COEDS AT THE WILDEST SEX PARTIES, CAMPUS ORGIES AND DORM ROOM ROMPS:
100% uncensored college amateur action! Cum inside right now and watch these naughty college vixens running wild, baby! Tons of naughty naked coeds enjoy fantastic sex action in depraved college parties, sex fests, orgies and dorm room romps filled with cock sucking, anal fucking, lesbian sex, masturbation, sex toys, facials, cumshots, squirting and anything else that can happen behind the dorm room walls! Cute and innocent college girls turn into sex crazed, cock craving sluts when they move into the dorm and you can watch them all right here at Dare Dorm!
|
They say the apple don't fall far from the tree and it looks like my son's got my taste in hairy bushes, because I caught his beautiful teen girlfriend masturbating in the living room while he was away! This beautiful young girl was lying on her back on my couch, with no panties on, with her legs spread apart and her hand massaging her big tits and the other rubbing her fuzzy pussy! I couldn't help noticing her hairy bush as she rubbed it and played with her big tits! That was a wonderful looking pussy. Her beautiful pussy deserved a nice bushy creampie! When she realized I was watching her, the dirty little slut just smiled and stretched her pink pussy lips with her fingers, and kept playing with herself. Shameless I tell you, shameless! The sexy teen was giving me a hard-on as I sat by her side and rubbed her hairy muff while she kissed me. I groped her big tits and caressed her soft thighs while rubbing her really hairy pussy and tasted her wet tongue in my mouth. I spread her legs and ate her out, I love eating out a hairy unshaved vagina, kissing pubic hair and licking her hidden slit. I eat her out and the young girl got down on her knees and sucked my hard dick, playing with my balls and jerking my rod with her soft and tiny hands. I stripped her naked and penetrated her hairy pussy in the couch, fucking her hard and watching her sexy tits bounce about as she moaned and panted, telling me how much bigger and thicker my cock was. I lay on my back and made her squat on my cock, impaling her hairy muff on it with her juicy bubble butt facing my way as she pulled her body up and down my long dick. She really did enjoy that ride and so did I. Girls with hairy pussies turn me on so much. Totally nude is nice, but if there's a nice tuft of hair hidden down there it makes it more sexy. I kept pumping that hairy 18 year old pussy until I was ready to blow my load, cumming all over her hairy pubes and promised to keep fucking her when my son wasn't around as long as she kept her pussy bushy!
|
I met these two sisters on their way back home after classes at college and I offered the teen girls some easy cash if they were willing to flash their perky butts and wet pussies for me! I knew I just needed to get one of them going and the other would jump in. The first sister said she was kinda shy, but soon when I gave her some cash she had her sweater and bra pulled up and I was getting a glimpse of her beautiful tits. Since it was a cold day, her nipples were fully erect, delicious! I couldn't get her sister to show me hers, but she was willing to show me her ass. She pulled jeans down and her ass looked so sexy, and I asked her to pull down her pink panties too so I could get a better view, her tender pink pussy included! I offered the teens more cash to suck my dick and while the first sister said no right off the bat, the other was into it, letting me know that she was a crazy girl. Crazy girls are exactly my type! I took her to a quite place where nobody would interrupt us and she got down on her knees and gave me a fantastic blowjob, this naughty sister knew how to suck a hard cock like mine! I made her stroke my dick too and I offered her more cash to fuck her pussy. She said it was okay, but not to tell her sister. She pulled down her soaked in pussy juices panties and bent over. I started caressing her breasts her nipples were full on erect and she could feel me rub the head of my hot thick cock against her moist pussy lips. I popped my hard sausage inside her hot, tight little pussy and fucked her very hard. I was too excited, too turned on having sex with a random girl. The teen slut got on top of me and started to fuck me. She loved bouncing up and down my hard cock and taking my dick from behind! We fucked that way for about 20 minutes. At the end she sucked on my dick for about 15 minutes before i blew my load in her mouth.
|
Who will fail to resist this young horny teen girl and end up on MOFOS cameras? These guys let one more their horny teen slut out to find a random guy for their next porn movie. Sex with a stranger often falls in everyone's top 5 fantasy list. This girl gets turned down by some guys at first, believe it or not! Finally she finds her guy and she takes him back to the set so they can get hot and dirty in front of the cameras. She gets down on her knees and starts sucking and stroking his hard cock and lifting it so she can access his balls and suck and lick them too. Some guys get dick shy in front of the camera, but not this one, his dick is as hard as a rock and he strokes it as she gets naked in front of him and makes him suck on her tits and nipples while rubbing her wet snatch. The teen slut straddles herself on his lap and impales her dripping wet pussy on his throbbing member so she can ride it, pushing her juicy bubble butt up and down, twerking and taking it all in. He slaps her spunky ass and she's having a great time on top of his dick, flipping over so he can drill her in reverse cowgirl. While he does so, she rubs her pussy and they switch position. This sexy naked girl bends over the couch so her co-star can penetrate her from behind and pound her juicy butt. She spreads her legs as far apart as she can so he can go even deeper inside her dripping wet pussy. This guy may be an amateur, but he fucks like a pro and she's delighted that she picked him and just can't wait to see if he cums as good and hard as he fucks! This is a really hot scene and I could not take my eyes of Kimmy Granger, she is so fucking hot and nothing turns her on more than fucking with a complete stranger. Don't miss more crazy teen sluts fucking with a stranger, in public places, for cash and many more amazing sex scenes.
|
Thank the Gods for those "crazy mums" who "keep licking those teens"! This sexy blonde wakes up and makes sure that her stepsister sleeping in the bunk above her in the bunk bed they share is asleep, because she feels the urge to masturbate. The little girl is so concentrated in rubbing her wet pussy that she doesn't notice when her beautiful long legged brunette stepmom walks into the bedroom and sneaks up on her, placing one hand over her mouth while she rubs her pussy and ass with the other. She turns her over and strips her naked while kissing her. The sexy MILF makes her lean against the bunk bed ladder and licks her pussy and asshole. She teaches her her teen stepdaughter how to eat pussy right, lick ass, how to finger herself, and shows her what the scissoring position is. The naked woman places herself with her shoulders against the rug and her petite naked stepdaughter above her and begins to pussy-to-pussy stimulation. Naked girls rub their wet pussy against each other, rub their clitoris against each other, it's so HOT! I love the size comparisons beautifully done. The size difference in these two women is kind of hot! The naughty little blonde gets so turned on rubbing her wet muff against her stepmom's and admiring her big breasts. Having hot lesbian sex with her very own step mother right next to her sleeping sister is so much more fun than masturbating all alone. She spreads her stepmother's long legs and sinks her silky wet tongue between her fleshy pink pussy lips, parting them open while her stepmom rubs and squeezes her own big hits and caresses her stepdaughter's soft thighs. It's amazing watching this tiny naked girl with her face buried in mom's big ass. They stand and her stepmom is so much taller than her that her big tits are at face level, perfect for sucking and licking her nipples. The sexy naked woman sits on her stepdaughter's face so the teen girl can keep licking and tongue fucking her dripping wet gash and then places her knees over her shoulders and lifts her in a power bomb position, eating her out. Having her naughty stepmother as her lesbian lover is the best thing that could have happened to this naughty little blonde teen, she is so happy that she caught her masturbating! Soon the third girl wakes up, gets naked and shows them how to lick that pussy.
|
This sexy blue eyed girl is doing homework with her best friend when she notices her brother walking into the kitchen for a second and she gets all flustered, the guy's so damn hot and sexy! The teen girl can't help thinking about how big, hard and tasty his dick must be, how deep it can go in her wet pussy and how it would be great to feel that throbbing hard cock in her ass! She excuses herself for a moment and ventures into the nearby den, where her best friend's brother is sitting and she approaches him. She knows that he knows what she wants, and he wants to give it to her! This girl knows how to seduce guys. The hot teen strips down to her sexy blue lingerie with garters and white stockings and by the bulge growing between his legs, she can tell he likes what he's seeing. Her best friend probably knows what she's up to, but she's okay with it, what better than having your bestie hook up with your brother? They start making out and she massages his bulge as she feels his wet tongue inside her mouth and he goes down her chest, sucking on her erect nipples and putting her down on all fours, pulling her thong down and munching on her asshole and pussy! Her ass looks fabulous as she bends over and spreads her ass cheeks with her hands. The little teen slut wiggles her ass against his face as he tongue fucks her wet holes and he eats her out before ramming his hard cock deep inside her tight cunt. He plows her and finger fucks her pussy until he makes her squirt! Then he pops his huge dick deep inside her tender asshole and gives her the most intense anal pounding she has ever received in her life! Her best friend's brother is turning her into a squirting anal whore… and she loves it! She begs him to fuck her asshole and to fill it up with hot cum! An anal creampie is all what this teen slut wants now! Teens love anal, don't miss the main anal sex web site by the link under the video! first anal sex, anal massage, ass rimming, deep anal fucking, double anal threesome, anal creampie… it's a paradise for all anal lovers.
|
CHECK OUT RECENT VIDEOS ON THE MAIN PAGE !!!