Roof
After watching her young teen stepdaughter slacking off for months, this beautiful blonde cougar decides it's time for a change. She knows her husband has spoiled her stepdaughter, but it's time to grow up! She assigns her a long list of house chores and checks on her while she's cleaning the pool. The spoiled brat complains, arguing that she's an adult and should be free to do whatever she wants, whenever she wants. Her stepmom makes her understand that if she wants to live under her roof and rent free she's going to have to start earning it, and decides to teach her some poolside discipline. She bends the sexy redhead slut over her knee and pulls down her denim shorts, exposing her delicious bubble butt and spanking her! She drags her to her bedroom, sitting her totally naked on her bed. She wants her stepdaughter to understand that she can be strict, but also very, very loving. She kisses her soft lips, making her lie on her back, spreading her legs and licking her dripping wet cunt. It looks like that spanking really got her pussy gushing! She has no idea that her teenage body is capable of the sensations that it is experiencing. The feeling of her stepmom's tongue between her pussy lips makes her eyes roll back into her head. She's kissing and licking her sensitive clitoris, fondling her little asshole, lapping up the juices that are flooding out of her. The sexy blonde cougar takes off her black dress, sitting on her stepdaughter's face so she can eat her out too. She is going mad with her pussy in her mouth, the first time she tastes a pussy. The redhead masturbates while licking her stepmom's muff and the blonde massages her big tits, moaning and grunting with pleasure as her stepdaughter devours her pink clam. She puts the sexy redhead on her belly, so she can kiss and lick her slit and her tight asshole, it tastes delicious! There is nothing more erotic than seeing a girl's gorgeous face and soft tongue servicing a delicious moist squirming pussy. She can tell how much she likes it, who knows maybe some tender lesbian love and affection goes a longer way with her than a spanking. The stepmom retrieves a big strap on cock from her drawer, strapping it around her waist and using it to fuck her stepdaughter in missionary position. She puts her down on all fours, her sexy little butt jutting up as she penetrates and fucks her doggie style from behind, pulling on her hair as if they were reigns. She lets her straddle on top and ride her strap on cock, the naughty redhead is delighted with finally receiving the right type of discipline and enjoys getting her tight pussy fucked hard by her stepmother's strap on cock. She promises to behave as long as he keeps fucking her! Amazing scene!!!! Dont miss more intense long nonstop strapon sex, lesbian hardcore sex, mature women and young teens in pussy licking and ass rimming scenes!
|
This sexy blond teen can't believe how fit her next-door neighbor is. She's a hot blond cougar, and she has an incredible figure. After asking her for some fitness tips, she invites the young girl to come over and work out with her. The blond teen is excited, she knows her sexy next door neighbor will get her in shape in no time, her hot mature body is living proof that she knows what she's doing! The cougar puts her on the static bike and as she works out, she notices her hands around her shorts, pulling them down and exposing her bubble butt and snatch! She thinks it's all part of the method, until she feels her ass cheeks getting spread and the cougar's slick tongue playing with her asshole! She just has this overwhelming desire to lick her ass crack from top to bottom, spread her cheeks and give her an ass rimming she will never forget. The girl keeps pedaling, while the cougar eats her out from behind, but she wasn't counting with the hot MILF's stepson walking in on them in the middle of their sexy routine! He's quite shocked at first, until his naughty stepmother invites him to join them for a kinky threesome fuck about which his father doesn't need to find out, it can be their little dirty secret! The hot teen neighbor gets on her knees and begins sucking and stroking his juicy cock. His horny stepmom also wants to get a taste of that big cock and joins the neighbor, giving him a double handjob and blowjob combo that almost makes him blow his load on the spot, but they are just getting started. Watching his very own stepmom latched on to his cock while massaging the teen's tits turns him on so much and they fondle and suck his balls, drenching them in drool. The sexy blond teen lies back on the yoga mat and spreads her legs, so her neighbor can pound her dripping wet cunt with that big juicy cock. While doing so, she massages her cunt and the naughty cougar plays with her big tits and sucks on her perky nipples. She's been in a threesome before, a long time ago with her ex-boyfriend, but never with a stepmom and stepson, that's so hot! The cougar sits on her face so she can eat her out, fondling her tits and her clam, watching how her handsome stepson fucks the next door neighbor. The blonde climbs back on the static bike and pedals while fucked from behind by the stepson, who also rubs her slit and gropes her tits, squeezing them like grapefruits. His stepmom straddles herself on his hard cock and rides it, it feels so good fucking his dad's wife! After fucking them both and watching them have hot lesbian sex he shares his hot and creamy cum with his stepmom and neighbor! This is the best fitness program ever and the sexy blonde teen promises to return the next day, as long as the hot cougar's stepson also joins in on the class!
THE HOTTEST MILFS SHARE THEIR SEXUAL EXPERIENCE WITH YOUNG TEENS:
It's every guys fantasy, getting to fuck your girlfriend and her smoking hot mature mom in a steamy threesome and it happens right here! MomsBangTeens is a place of wisdom and experience, after all, these sexy mature mothers have learned a lot from years of fucking and now they want to share their sexual wisdom with their sexy teen stepdaughters and their hot boyfriends! This is a place of lust and wild sex, as the hot MILFS seduce these young and innocent teen girls in search of new experiences, taking part of the hottest and wildest threesome sex parties with their boyfriends!
|
My besties have been telling me for weeks how much they miss our sleepovers so I have finally decided to invite him over so they could spend the night, and I explained to them why I had put our sleepovers in hiatus, since I found out that my step brother walks in his sleep. He doesn't know it, but I had decided to get it on film, so I had proof! My besties were more than happy to help me out, and quite curious about this, since the girls had only heard about sleepwalking in the movies. A few hours into our sleep over, my sleepwalking stepbrother showed up, walking around in his tight boxer briefs and with his big hard cock showing through! You know when guys sleep they get these really rock hard erections, right? He was parading around the house like a dreaming idiot, and his hard cock was hanging out of his undies! The girls could not stop giggling, or thinking about how juicy it was. He sat on the couch and kept sleeping and my friends couldn't resist getting a closer look. After making sure he wouldn't wake up upon touching his cock, one of them took it in her hands and began sucking and stroking it. It was so wild watching my best friends blowing my very own stepbrother, but very kinky at the same time. I must confess my panties were drenched because of how wet I was! I got close so I could watch my friend sucking his cock but unfortunately he got up and sleep walked back. He threw himself on one of the couches, still totally asleep. This time, the girls decided get to work on his dick. One of my besties got it so fucking big and hard and it was glistening with her saliva, precum dripping from its tip. My friend saw the way I was looking at my stepbrother's cock and offered me to get a taste! I didn't even think twice, I just grabbed his cock in my hands and devoured it! This was the kinkiest shit I had ever done in my life and I had never felt so fucking horny, excited and turned on! While I ate his cock my friend lick and suck his balls. She stripped naked and straddled herself on top, riding it in reverse cowgirl while another one of my besties played with her big tits and rubbed her wet muff. Not even in his dreams could he get pussy this good, or conjure up a load of epic proportions like he did. Her pussy was sliding up and down "Oh fuck," I said. Of course I was getting all this on video like I promised, just the footage was turning out totally not like I expected… so much better! I wanted that cock to slide in and out until it exploded with cum and passion deep inside my hungry body. I was actually getting jealous of her. I straddled myself on top. I could feel the big head at the opening of my pussy. It was rubbing against my clit. I felt my own pussy dripping. I lowered myself down so that the head disappeared into my pussy and felt my stepbrother's huge cock inside me "Oh my god," I said. "That feels so good." I felt the big cock stretch my pussy. The girls began sucking on my nipples and rubbing my clit, it was amazing! I arched up to accept the full length of him inside me. His enormous cock was pulsing inside me.
YOUNG NAKED GIRLS IN A THREESOME, FOURSOME AND MORE-SOME SEX:
My sleeping step bro fucked all of us, rather, we fucked him! We took turns riding his cock and he even fucked us doggie style from behind in his sleepwalking trance. "I want his cum in my mouth" my girls panted. "taste, lick and suck his huge cock clean" they commanded. We pointed his cock directly at our faces and cum splashed across my face and into her mouth. Jet after jet of cum filled our mouths. I swallowed as fast as I could but I couldn't swallow all of it. Looking at my besties I open my mouth and let the hot cum run out of my mouth and in her mouth. Wew were kissing and cum swapping. I couldn't wait until the next morning so I could show my stepbrother the video and he could see how he fucked me in his sleep and blew his hot cum all over my face! Maybe he would do it again now that he was awake and could actually enjoy it!
|
My girl's best friend is finally getting married and she decided to host her bachelorette party in the rooftop of the building where we live together! Her friends are a sexy brunette and a gorgeous blond and I was more than happy to let her host a party for her friends and hope it wouldn't get out of hand! This was going to be a bachelorette party to remember! My girlfriend started making out with her friends on the rooftop where they were hosting the party. The girls pulled her big tits over her top and gave her this big dildo to suck, placing it between her juicy boobs and making her fucking with them. They put a blindfold over her eyes and made her suck on the toy and in that exact moment I wandered into the rooftop I realized all the mayhem that was going on! This wasn't the kind of party I had in mind, and I must confess that I was a bit upset and angry at my girlfriend, but all that vanished when she told me that she wanted me to fuck her slutty friends at her bachelorette party! Not that's the kind of party that I can get into it, LOL! While she watched, her friends pulled down my pants and took a hold of my throbbing member, popping it into their mouths and taking turns sucking and stroking it with dirty looks on their faces. While the brunette drooled all over my shaft, the blonde was sucking my balls dry! Man, what a fantastic experience! These two sluts sucked my cock and my balls greedily as they moaned and shivered in delight. They moaned and stroked my cock faster. I thought I would cum in a second. But he stopped, just as I was ready. "I want to see you fuck my friends"! Fuck, my girlfriend wanted to see her slutty friends being fucked by me! The bride spread her legs wide open and I rammed my hard sausage deep inside her dripping wet cunt and plowed her hard while making out with the hot brunette slut, who was sitting on her face so she could get her twat licked and sucked by her. Her pussy started to gush with her juices. I began to fuck her harder faster, giving my girlfriend and that bitch just what they wanted. The slut began to buck her hips harder and faster and I could tell she was going to cum, she bit her lip, closed her eyes. Bucked her hips up and held it there, "I am cumming, Fuck… Me…HARDER!!….. Oh…yes.. yes…yesss…." She wanted me to really feel her. I was balls deep in the hot, wet pussy. I straddled the next slut on top and impaled her wet cunt on my rock hard cock, banging her hard while the bride kissed and groped her. I lay motionless, letting this bitch ride my cock. I was enjoying the feel of her pussy around my cock. Her muscles were going crazy. Squeezing my dick, I wondered how long I was going to last. The girls spread her legs wide open and while I fucked the dirty brunette doggy style from behind, my girlfriend masturbated the blonde with the big rubber cock, making her cum over and over like a bitch in heat! The brunette rubbed her muff and even made her squirt, gushing pussy juices all over the place. She screamed in ecstasy. When her orgasm subsided, she got of my cock and announced: "girls, he is all yours." Their pussies couldn't stop squirting while I took turns banging each one of them in many different positions. I hadn't known that women could cum so hard, shooting out of their pussies.
HOT GIRLS IN THE BEST POV, RISKY, SNEAKY, CHEATING AND ALMOST CAUGHT SEX:
The feeling of being inside of three pussies, the feeling of their mouthes on my cock, seeing naked women squirted was too much to handle. I was so fucking turned on that I knew I would not be able to hold my cum in my balls much longer and the dirty sluts got down on their knees, surrounding me as I let go, blowing wads of hot and sticky cum all over their sexy faces and her open mouths. It was an amazing foursome! Well, the girls had the bachelorette party they had dreamed of and at the same time they made one of my dirtiest sex fantasies come through too! Like most men, I have always fantasized about having sex with more than one woman. So, when I ended up having sex with my girlfriend and two of her slutty friends, I thought I had died and gone to heaven.
|
This sexy brunette babe sneaking into the rooftop of my building caught my eye, so I followed her on her way up. She looked really hot, so I told her I was an agent for an international modeling agency. Girls always eat that up, LOL! She wanted to see some credentials, but I showed her what really matters, a fistful of cash! I wanted to see how far this sexy chick with really willing to go for some extra cash. I offered her $100 to see her tits. If she accepted the first hundred bucks, I knew I could take her all the way, and accept she did! She had a nice set of 32D tits and even managed to make her pull down her panties and hike up her skirt, showing me her juicy bubble butt and her snatch. She was a bit afraid that she might be seen, but nobody could see us from up here on the rooftop. 400 bucks made her pull my dick out, and the few extra bills got her sucking and stroking my big hard cock. She was really good at it, by the way. She even started to rub her muff while she blew me so I took her back to my place so she could continue eating my cock like a dirty slut. She sucked my cock like a champ, swallowing the whole shaft, my huge cock went straight down her throat and she didn't even flinch. These 18 year old teens know what real deepthroat fucking is. I put her down on her hands and knees, ramming my cock deep inside her dripping with pussy, fucking her doggie style from behind. She started screaming like crazy as I pumped her faster and faster and harder and harder with my big dick. JUST FUCK IT FUCK MY CUNT FUCK IT! She liked it so much that she even let me finger her asshole. She laid on her back, with her legs in the air and her ass cheeks spread wide open, and her juicy pussy and her anus stuck out right in my face. I fingered her asshole and soon I was banging her anally. She started cumming and she moaned and screamed so loud when my huge cock began to pound her virgin ass. She loved riding my dick with her pussy and her asshole and eating all my creamy spunk like a pro!
|
My girlfriend is one of the hottest girls I have ever met, she's always looking hot and constantly teasing me with her juicy bubble butt and her smoking hot body and she loves to tease me, flash her tits and her naked pussy and have sex in unexpected places! We are coming back from the pool and she's wearing the skimpiest bikini, shaking her sexy ass and enticing me as she takes me to the rooftop where we are totally alone. By the look in her face I know she has something very dirty and naughty on her mind. She pulls her bikini bottom down her sexy thighs and flaunts that beautiful bubble shaped derrière as I whip out my throbbing hard member and shove it between her butt cheeks, penetrating and fucking her dripping wet pussy from behind as she leans over. I bang her hard and she looks over her shoulder to enjoy the expression of lust and pleasure on my face as I bury my member deep inside that tasty wet snatch. My naked GF gets down on her knees, sucking and stroking my hard rock hard erection, swallowing it whole, licking and sucking on my balls, they are a succulent snack for her. We go back to our apartment and I walked behind her as she strips naked on her way to the bedroom. She crawls over the bed, teasing me with that perfect butt and that juicy slit formed by her cunt. My babe has very nice pussy. I slapped her ass, penetrating and fucking her doggie style from behind, making her scream with pleasure. I grab her by her shoulders, pushing her against me, burying my hard cock deep inside her cunt, hearing her moan and grunt and scream out loud. I lie flat on my back so she can straddle herself on top, impaling her dripping wet pussy on my hard cock and making her heavenly body bounce up and down my erection as she rides me hard and fast. I love watching her reflection against the closet mirrors when she is on top of my dick, she looks so fucking hot and sexy! I fuck her in reverse cowgirl, rubbing her snatch as her big tits bounce up and down and finish her off in missionary, squeezing her tits while I blow my load into her. Lots and lot of cum shot out of me and into her hot twat it is all over her belly. I gave her so much plesure and we fell asleap with my penis inside her.
|
My sexy brunette stepsister swears that I sleep walk, visiting her at night. I don't believe her so she decided to set up a camera and proof to me that I was sleepwalking! As I watched the footage the next day, all I so was my stepsister in a sexy pair of panties talking with a friend on the phone. Yeah, she looked hot as fuck, but that doesn't make her any less of a liar. Right when I was about to call her up on her shit, the bedroom door opens and there I am… fucking shit, she wasn't lying! I sleep walked my way to her bed and started groping her juicy bubble ass! I pulled her top and grabbed her titties as she continued walking her friend through the happenings on the phone! I leaned over and started sucking on her nipples, pulling out my throbbing member and popping it in her wet, hot mouth! As shocked as I was watching the footage, I couldn't help noticing that it wasn't like my stepsister wasn't enjoying it! She was going down on my cock like it was the most delicious piece of meat on the house! Still on the phone with her friend, she sucked my dick with her eyes closed, moaning and making loud sucking noises as she gave me head. Still in my sleep, I turned her over, down on her hands and knees, pulling out her pink lace panties which were soaking wet and ramming my hard cock between her dripping wet pussy lips, fucking her hard from behind. Her pussy juice dripped off of my dick as I plunged it in and out of her. There was a squishing sound every time I humped her. I was motherfucking fucking my very own stepsister and she was motherfucking enjoying it! While I fucked her from behind I reached under her tank top, groping, fondling and squeezing her big tits. After fucking her from behind, I flipped her over like a pancake, pulling her against me as I fucked her in missionary position. The dirty little slut rubbed her clit while I pounded her tight pussy, telling her friend on the phone how big and hard my cock felt inside her how much she enjoyed getting fucked by me! As I fucked her harder, deeper and faster I realized that I was going to cum but i continued to fuck her, unable to stop, blowing my load inside her!!! She said she could feel my cum hitting her belly inside and she liked it. I came into her leaving a sticky creampie oozing from her pussy! She let it drip down her body and then spread it all over her skin like jam. Hey, at least she didn't asked me to stop visiting her bedroom in my sleep, LOL!
THEY FUCK THEIR SEXY STEP SISTERS, CUM INTO THEM AND FILM IT:
Sis Loves Me gives you all exclusive and uncensored access to the best selection of stepsibling sex videos featuring naughty young girls doing it all with their horny step brothers' hard cocks! These cock craving, cum loving stepsisters get caught on film while stripping in front of their step brothers, jerking them off, masturbating with their step brothers, sucking their stepbrother's cocks, getting bent over and fucked in all their wet, tight holes and swallowing all the hot cum their stepbrothers have to give them! Don't miss all these sneaky sex scenes with these girls getting fucked in the middle of the night when everybody is sleeping and waking up in the puddle of cum in the morning. You won't believe all these naughty step sisters are willing to do to pleasure their step brothers!
|
This sexy girl and her best friend are going out on a road trip and all they wanna do is have fun, hot and nasty lesbian fun! As they drive, her friend and her are doing all sorts of naughty stuff, like flashing their big tits at the red lights and rubbing their dripping wet pussies along the way. The girls make a pitstop in a nice quiet place so her friend can lean over the sunroof while she pulls down her shorts and panties, giving her tight asshole and dripping wet pussy a good licking. She's been wanting to eat her out since they left earlier in the morning and she definitely can't wait until they reach their destination. She sinks her wet tongue deep into her dripping snatch, tasting every drop of her delicious pussy juices flowing from her slit. She spreads her ass cheeks with her hands, so her tongue can explore her tight, asshole, stretching that delicious sphincter and tongue fucking her anal cavity. Good thing they rented a 4 x 4 for this trip, so they have ample cabin space for a raunchy lesbian romp. The girls get naked and one of them spreads her legs and invites her friend to cradle her face between her crotch and eat her out. Now she's fucking and licking her pussy with her pink tongue and once she is done with her, her friend gets behind her, spreading her legs wide open and pressing her hot body against hers while finger fucking her dripping wet clam, making her moan and grunt with pleasure. There's nothing better then great lesbian pussy and ass licking sex! One of the girls lies on her back and the other sits on her face, spreading her pink pussy lips with two finergs so her friend's tongue can slide right in her vagina! She softly caresses her slit, sucks on her clit, fucks her with her tongue. Her hips starts moving back and forth over her face, so sexy! These two naked girls are so horny so they start scissoring together, with their juices flowing they become one. Their legs are intertwined so their vaginas pressed against each other, and while the girls kiss, they rub their clits against each other! One of the naked girls goes outside and the other sticks her naked ass out of car window so her lesbian friend can fuck her with her mouth. There is nobody around so they can scream as loud as they like as they take turns licking and finger fucking each other's tight holes and experiencing multiple orgasms in this wild and kinky road trip!
|
I love hanging out in the rooftop of my building because I have a beautiful view of the city but this morning I was welcomed by an even better view: this tiny girl with a flexible little body doing some exercises on the rooftop! I recognized her as my next-door neighbor, dead ringer for Anne Hathaway! I chit chatted with her as she stretched out. She asked me to help her with some stretches and pretty soon my hands were all over her tight little flexible body and they took her back to my place so we could both keep "working out" together! There she got down on her knees and pulled down my pants, totally amazed at the size of my huge throbbing erection. She confessed she wasn't expecting it to be that big, with a big smile on her face as she stroked it and admired how hard I was. She stripped naked and I put her in a standing 69, so I could eat out her tender pink twat while she sucked hard on my dick. Thick ropes of drool dripped down her mouth and onto the floor as she devoured my boner and I put her down on her knees so she could lick and suck my balls. I spread her long legs and she pulled them behind her shoulders as I rammed my hard cock deep inside her tight cunt and fucked her very hard. She could actually twist her feet behind her head and I had never banged such a flexible slut in my life, this was incredible! I pins her shoulders to the rug and kept pounding her dripping wet pussy, putting her flexibility to the test. Dirty little bitch kept begging me to pound her harder, faster and deeper. I thought this tiny girl would not be able to take my huge cock, but she was handling it like a pro! I lied flat on my back and she straddled herself on top, squatting over my dick and impaling herself on it while masturbating herself with a magic wand vibrating toy. This was the kind of workout this tiny little bitch really needed and pretty soon I was pulling my hard cock out of her tight pussy and blowing my load all over her dirty face and naked body!
|
They say that the tiniest chicks dig the biggest dicks, and in this girl's case, it's totally true! She loves dating and hooking up with big guys with huge dicks! She gets off on the thrill of not knowing how well endowed they are, the anxious anticipation as they pull down their pants and boxers and the priceless sensation when she finds herself face to face with a massive throbbing erection! This guy's cock is as big as she wished and imagined, if not bigger! She loves breaking her own records and she feels this is a new one that will take a lot to beat, her date is huge! Her young pussy becomes wet with the guy standing there in front of her with his pulsing boner. After admiring it she begins to suck it hands free, doing her best to deepthroat this huge cock. She loves gagging and choking on it, it makes her drool and she likes to use her saliva to lube that big dick up and she grabs on to the outdoors roof rafters so her date can eat out her little pussy before flipping her over into a pile driver so she can suck his cock while getting her twat tongue fucked. The small girl shows off her deepthroat skills hanging upside down. Thick ropes of warm drool drip from her mouth and all over the floor as she devours that dick and holds on tight to her lover's body. He sits her and spreads her legs, finger fucking her wet pussy before ramming his huge sausage deep inside her tight cunt in missionary position. I love the expression on girls faces when they try to fit these massive cocks inside their little pussis and when their pussies finally take it balls-deep. She rubs her muff while getting fucked, she loses herself in the sensation of being stuffed by a huge cock that fills her up entirely to the limit. Nothing makes these young teen girls happier than a big dick. He pins her shoulders to the floor and keeps pounding her bald pussy while rubbing her clit. It's so cool to watch as her tummy moves up and down when his big cock goes in and out of her petite body. He pushes in with all his might and as deep as he can. This tiny girl feels his balls slapping her ass, all his power and strength ramming into her. This guy is going to check out, how deep her love is, lol! Then he fucks her sideways from behind. She has to spread her ass cheeks apart so that big dick can fit inside her tight pussy, before her lover lies on his back on the floor and makes her straddle herself atop, squatting over his towering member and impaling her dripping wet pussy on it, her tiny body bouncing up and down his massive boner. The small naked girl doesn't mind how hard he wants to fuck her; she just begs him not to break her with that big dick as he pulls out of her tight fuck holes and blows a massive load of hot cum all over her! She's just a teenage girl that loves the simple things in life like watching Twilight, playing video games, or getting fucked by huge cocks. Watch more skinny, petite, young naked girls get fuck by monster dicks, you will see positions you never thought were possible:
YOUNG GIRLS GETTING THEIR SMALL PUSSIES DESTROYED BY HUGE COCKS:
These young teen girls just can't believe the massive size of the throbbing members about to stretch their tight little mouths, pussies and asses at Don't Break Me! This is the place where tiny girls cum over so they can suck, choke and gag on massive cocks, drooling all over them as they get their pussies and asses filled with hard cock meat, begging their lovers not to break them as they fuck them the hardest they have ever been fucked! These slutty teens never imagined dicks so big and loads this thick could fit in them!
|
My stepsister has a crush on me ever since we met for the first time after our parents got together. I think the idea of getting banged by her very own stepbrother turns her on, but I usually just ignore her and pretend she's just playing games with me or pushing my buttons. Problem is, it's getting pretty hard to ignore her, since she's getting more and more provocative with each encounter we have, and since we live under the same roof with our parents, you can imagine the sexual tension at this point; you can cut it with a knife! My step sister always has a little grin on her face that says, "I have dirty thoughts and I know you do too". We're sitting on the living room couch and the flirting begins again. It feels like a game of who will make the first move. And finally she gets up and her skirt is hiked up and I can see her naked juicy bubble ass!!! She's not wearing any panties!!! I just can't resist, grabbing her meaty ass cheeks! My step sister's ass is absolutely amazing, two big round buttocks and a little pussy between them. I can stare at her naked ass and I certainly take the opportunity. She's so turned on and I just want to see how far she can go. She spreads her legs and starts rubbing her dripping wet muff in front of me, telling me she can't resist this any longer, and honestly, neither can I! Then she leans over and unzips my jeans, pulling out my throbbing cock and taking it to her wet mouth, sucking it hard like a dirty little slut. This teen slut gives great head! We go to her bedroom and she strips naked and gets in her bed, masturbating herself for me and showing me how wet her pussy is. She keeps sucking my hard cock and stroking it slow and gentle. I don't think my dick has ever been so fucking hard, man! There is no turning back, my sexy naked step sister gets down on her hands and knees, spreads her hot, tight, fleshy ass cheeks and I instantly move so that my prick touch the hot wetness of her slit. I ram my hard cock deep inside her wet cunt, grabbing her tight bubble butt as I fuck her doggy style from behind. I can't believe it, I'm sliding in and out of my naked little sister and I know I'm about to cum at any moment. She straddles herself atop my lap and impales her snatch on my dick, riding it, then leaning back and spreading her legs so I can keep plowing her pussy in missionary position. We've both been waiting so long for this moment! I grab her titties while I'm fucking her and she gets back on top, this time in reverse cowgirl, so I can check out her juicy butt bouncing up and down my hard rod until my dirty little slut stepsister is ready to swallow my creamy cum as I blow my load!
THE SEXIEST AND HOTTEST YOUNG SISTERS GOT CAUGHT FUCKED: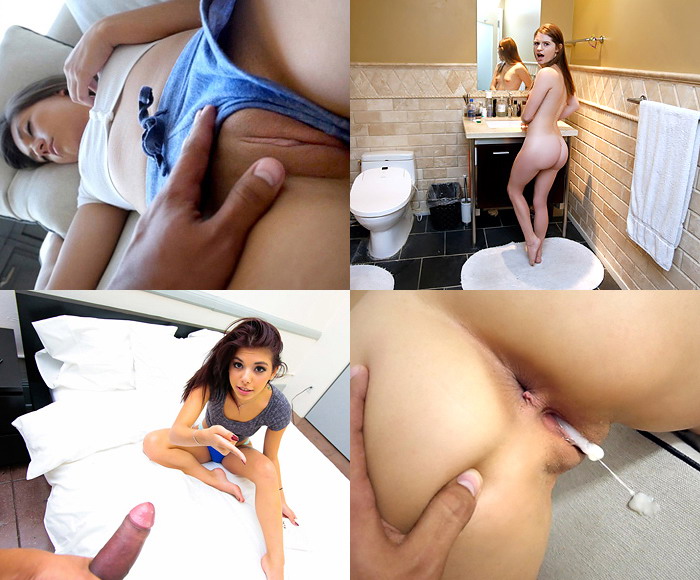 These horny brothers and sexy sisters have a dirty little family secret they want you to know all about! That's right; SisLovesMe is all about horny brothers seducing and fucking their hot sisters! These guys spy on their naked sisters in the bathroom and then fuck them hard; brothers and sister masturbate together and have sex for the first time; the guys sneak in the sister's room and stuff their tight pussies with their big throbbing cocks while the girls sleep and cum inside their virgin pussies; the girls get caught masturbating and now let their brother fuck their wet pussies and gaping assholes and blow their loads all over their faces! As long as their moms and dads don't find out, everything is okay!
|
This blonde teen girl thought she could outsmart the store security and tried shoplifting and got busted! The security guard takes her outside and orders her to empty her pockets and the teen, seeing him off guard, kicks him in the nuts and runs off! She sees a guy watching the action unfold from his car and runs to it. The young teen slut gets lucky, because he lets her in and they flee the scene! The guy likes how daring and hot she is, and he wonders how much more daring she can be! She's more than happy to show him, and thank him for helping her out, by giving him head while he drives! She strokes and sucks his rock hard huge cock and it's so fucking good, he has to find a place to pull over before he crashes his car against a tree or something. He finds a nice quiet spot and she strips naked on the passenger seat, spreading her legs and rubbing her pussy while he watches, with a dirty look on her slutty face. She straddles herself atop him on the driver's seat and impales her dripping wet pussy on his hard cock, squatting as he pounds her from underneath her. She leans back and spreads her legs so he can fuck her in missionary too, pulling her top over her tits, groping, squeezing them as he munches on her perky nipples. Getting fucked in a stranger's car really turns this filthy bitch on! They move to the back seat so they have more space to move around as they fuck and young naked girl straddles herself back on top of his throbbing member and rides him, making her juicy bubble butt bounce up and down his lap as she moans and grunts and begs him to fuck her deeper, faster and much harder! He slaps his huge dick against her tender pussy lips and rubs her muff, popping his dick back inside her and fucking her in reverse cowgirl, reaching over to squeeze her titties and pound her so hard, her head keeps banging against the car roof! This dirty little shoplifting slut can't wait for her rescuer to blow his load and splatter hot sticky cum all over her face and tits! DON'T FORGET to DOWNLOAD the full 50-minute video!!! MOFOS proves yet again why it is the BEST Adult site on the Web. This babe is perfect, what a performer. Keep it up guys!
|
Yet another new, fine, perky body, raven, tiny tit, yet curvvy beauty!!! When her parents hired a professional chef to cook Christmas dinner this petite teen never imagined that the turkey on the kitchen counter wasn't the only thing getting stuffed, but she was about to find out! As well as her parents never even considered the possibility that the old pervert stuffed their young daughter with a huge load of his sticky cum. The teen girl decided to keep an eye on the new chef to make sure he knew what he was doing. She went to the kitchen to serve herself some snacks, curious about the chef's turkey stuffing technique. He told her he'd be please to show her his technique, but she had to do exactly as he told her, no questions asked! She agreed and soon found herself down on all fours over the kitchen counter, right on top of the turkey tray, with the pervy cook finger fucking her pussy! There was definitely stuffing going on, just not the way she figured! Wanting to get stuffed with something bigger and thicker than the chef's finger, the naughty teen slut straddled herself atop his throbbing member and guided it into her tight muff, impaling herself on it and grabbing on to the roof as she bounced up and down his turkey baster! The chef held petite naked girl by her hips as she rode his erection, holding on tight as he pounded her faster and deeper or stood still, letting her grind her pussy against his virile member. She flipped over so she could keep riding him in cowgirl position, shaking her tight juicy bubble butt. The old pervert put the young teen girl on her back and pulled her body to the edge of the kitchen counter, penetrating and fucking her in missionary position. The chef's throbbing member felt so good, his stuffing technique was indeed flawless and she was happy that he decided to share it with an young sexy teen. He made her stand and lean over the kitchen counter, holding on tight as he penetrated and fucked her little pussy from behind in standing position. Her legs could barely hold her and that dick kept stuffing her pussy better than any of her sex toys ever had, too bad Christmas is only once a year! She pressed her titties and face over the kitchen counter and begged the chef to blow his load inside her, feeling him cum, flooding her pussy with semen and leaving a sticky creampie oozing from her pink pussy lips! Love this girl.. She is gonna be a star.. DON'T MISS more of her here:
THE YOUNGEST GIRLS IN THE BEST HARDCORE SEX VIDEOS ON THE WEB:
Young, fun and full of cum girls!!! Are you in the mood for hot creampied, extra small, young naked girls? Then come on over to Extra Small, where the hottest teens enjoy huge cocks and creampies! These small girls love huge cocks, hardcore sex and the feeling of a sticky creampie oozing form their pussies and dripping down their hot naked bodies after getting fucked hard in front of the cameras while you watch and enjoy!
|
We've got another threesome for you. Boyfriend filming and fucking his hot girlfriend and her sexy best friend! When this guy walks in and finds his sexy tiny girlfriend hanging out with her friend and having the hottest lesbian make out session, he doesn't hesitate to take out the camera and start filming them! This shit doesn't happen every day so you need proof, you know? As the girls strip each other out of their sexy lingerie is a great start to this homemade sextape The best friend, a tall, spunky brunette, is a bit shy at first, but the girlfriend, a sexy petite blonde, cheers her on and soon the girls are both sucking the boyfriend's throbbing member together while he films them! Gf's best friend enjoys his hard cock and then the girlfriend shows her how she swallows her bf's cock. After these two teen sluts suck his dick they make out, tasting his hard cock on their lips and tongues and the hot little blonde gets down on her hands and knees, lifting her juicy bubble butt so her boyfriend can plow her from behind while her best friend watches them! He bangs her hard and the best friend plays with her body and the blonde flips over into missionary position so she can have her friend sit on her face and so lick her twat while her boyfriend continues fucking her tight pussy. After such a great fuck, it's only fair that her best friend gets a chance to know what that cock feels like, so she invites her to straddle up on top of his hard cock and ride him in reverse cowgirl while they both make out! Now the girls are taking turn riding on his dick and masturbating while watching the other have fun on his rock hard cock! He always fantasized with getting the chance to fuck his girlfriend's hot best friend, but he never imagined he'd be able to do so, not only with his girlfriend's permission and blessing, but in the same room, watching them have hot lesbian sex together and even letting him get it all on film! He just hopes that this isn't one of those "one time only" events and that this becomes something regular, because it sure is fun to fuck that spunky brunette babe that her girlfriend calls her best friend and he wishes he can keep on doing so. I think my favorite part is when naked girls are on their backs with legs spread open letting him pick which pussy to pound! After fucking them both, the naughty girls lie on their back and open up wide as the boyfriend blows his load all over their bodies, splattering hot and creamy cum into their mouths and all over their cute faces, their tits and their hot naked bodies!
REAL TEEN GF'S HOMEMADE VIDEOS AND AMATEUR SEX TAPES GET LEAKED:
Real teens get exposed at GF Leaks and you can come inside and watch it happen! These raunchy real life girlfriends are wild, sexy and they love to fuck! That's why they let their friends and boyfriends take their pictures and film them as they take off their clothes, play with themselves, have hot lesbian sex with their girl friends, suck their boyfriends' hard cocks and get fucked very hard and covered in hot, creamy cum! When their homemade videos and amateur sex tapes get leaked, well, you know where to come and find them! New girlfriends and leaks added regularly!
|
This video is fantastic. Two of the hottest (dirtiest) chicks in porn! The mom is a fucking machine and the teen is damn hot enough said. The two bushes are a plus! I just loved every single minute of this extremely hot threesome. These crazy girls fuck his dick so hard with their mouth and twat over and over again that he can't stop cumming.
My girlfriend decided to move back in with her dad and his new wife, and I decided to tag along and help her unpack her boxes, but it seems like one of her stepmom's boxes got shuffled in the mix, and it turned out to be a very special box! It was loaded with dildos and vibrators and we just started goofing around with them, when she walked in! She was a bit upset at first that we opened her private box, but also curious as to what we thought about it, and when my girlfriend told her that some of her toys were bigger than my cock, she said she needed proof, that dirty bitch, what a tease she turned out to be! I could tell she was turned on, so was my girlfriend and you can imagine how hard my cock was as my girl pulled it out and compared it to some of her stepmom's toys. She wrapped her hands around my throbbing member and soon she was sucking hard on my cock while my girlfriend licked my balls. The girls licked and sucked my shaft together, kissing passionately when their lips met! The mature babe spread her legs and rubbed her twat while I fucked her and my girl stood spread legged over her face so she could eat her out while getting pounded hard! My girlfriend kissed my lips while her crazy stepmom sucked my rod, lubing it up so her stepdaughter could straddle herself atop my lap and impale her pussy on my cock, riding me in reverse cowgirl, leaning back as I munched on her tits and her horny stepmother played with her pussy! She masturbated and licked her pussy drenched fingers, then kissing my girl so she could taste her daddy's wife's pussy! I pounded my girlfriend while her stepmom ate her out simultaneously and I made two naked girls get into a 69, eating each other out, with the mature slut on top, bent over as I plowed her pussy doggie style! I felt like a motherfucking porn star, fucking my girl and her stepmom at the same time! She told me my dick could pleasure her in ways my girlfriend's dad just couldn't! I fucked my girlfriend's mouth and her stepmom's pussy and blew my creamy load all over their faces and bodies, it was the real sperm rain for both girls at the end, so fucking hot!
THE HOTTEST WOMEN SHARE THEIR SEXUAL EXPERIENCE WITH YOUNG TEENS:
It's every guys fantasy, getting to fuck your girlfriend and her smoking hot mature stepmom in a steamy threesome and it happens right here at Moms Bang Teens! These girls are hot and sexy, but their stepmothers are even hotter, far more experienced and very, very horny! These hot women enjoy seducing their teen stepdaughters so they can have lesbian action with them, and also seduce their boyfriends, suck their hard cocks and get their mature fuck holes stuffed, pounded and glazed with loads of hot, sticky cum in sensational hardcore threesomes! Cum check out all the videos!
|
Dam girls you are hot!!! These sexy teens shaking their juicy bubble butts by the pool love fun, parties and huge cocks, and that's pretty much what they're going to get here! The girls are having lots of fun at this pool party, so the only missing element in the equation are the huge cocks and after flashing their tits and making out in the pool, the girls are ready for dick! This guy pulls his swimming trunks down and one of the girls goes under water so she can give him a blowjob, she just looks so fucking sexy eating dick under water! It's not easy holding your breath while stuffing your mouth with a massive sausage, believe me! She gets her bikini bottom pulled down her thighs and the guy finger fucks her pussy under the water and the action moves above water, with one of the naughty chicks eating dick while the girls play with each other in the background. A sexy blonde with big dicks straddles herself atop another guy's throbbing member and rides him, dripping water pouring down her sexy body as she gets fucked hard under the sun! She presses her hot, wet body against her man's and feels his big dick penetrating her while he slaps and spanks her ass, so sexy! The girl that was sucking dick right by her side now leans over the pool's edge so she can get fucked from behind by her stud and another one of the girls uses a water proof video camera to capture all the hot fucking action going on in this naughty pool sex party! Two naked girls are both getting doggie style fucked by their guys and their huge cocks and the girl filming is eager to have her chance to play with their big dicks too! Fucking in the pool is so much fun, and you can tell the guys and girls are very much into it, cumming is the last thing on their minds because they want this hardcore fuck to last! The guys move out of the pool and lie down on the patio floor so the base can straddle up and get their pussies impaled on their hard cocks as they ride them cowgirl style! Watch these teen sluts get fucked sideways and covered in sticky hot cum at the end! Great scene thanks mofos! The hottest girls, group sex, underwater blowjobs! Wish my pool party were like this!
|
CHECK OUT RECENT VIDEOS ON THE MAIN PAGE !!!