Moms
This beautiful mature blond is practicing her daily yoga routine by the windowsill overlooking a marvelous natural background. It's the perfect place for her to stretch and tone her body with her yoga drill. Unfortunately, the quiet peace and harmony becomes shattered by her stepson in the garage, shredding on his electric guitar. She goes over and yells at this little dork, sending him to his room. She's so pissed off that he interrupted her meditating that two woman blurts out that he probably likes being yelled at just like his dad and it probably gets his dick hard too! When she says this, she instinctively grabs at his groin, and that's when she realizes that her stepson has a raging erection under his jeans! Who would have thought about it, despite his short complexion (she so much taller than him) the boy has what seems to be a huge cock! The MILF gets down on her knees and unzips his jeans, whipping out his long cock and taking it in her hands. This changes everything! His young cock is so big and his balls hang down, it really turns the mature babe on. She cups his balls in her hands while sucking his cock with a dirty smile on her face! She knew that kid had talent hidden somewhere inside him, she just didn't know it was between his legs! She wraps his sausage between her huge tits, massaging it with them while sucking and licking the tip. The MILF knows what to do with the cock and it's much better than jerking off! For sure he often dreamed of having sex with a mature woman. Especially with such hot and sexy woman like she is. Beautiful big muscular ass and legs, big boobs, she's the Queen of porn throne! The boy is happy rubbing his virgin cock all over her face and between her boobs. He's so much shorter than her, that the muscular naked woman can actually lift him and hold him in her arms while sucking his cock! She looks like a body builder, lifting him like she is doing curls. Then she lies on her back on the rug and spreads her muscular legs so the dork can fuck her in missionary position with his long cock. These two look amazing! A big hot babe and a skinny teenage heavy metal fan. She is so hot that the kid has to fight back the urge to cum immediately into her mature pussy. To keep him from shooting off she makes him eat her pussy and ass while she's down on her hands and knees, then lifting him and holding him in her arms again, performing standing invert 69. I tried to find out what sex positions these are, but even kamasutra doesn't know them. Then she gets on her knees and commands him to fuck her big ass doggie style from behind! They look like a little dog humping a big dog, LoL! The MILF licks his balls while he strokes his cock and her big tits bounce up and down as she rides him. This blonde babe looks amazing! She fucks him until he's ready to blow his load on her face and tits! His stepmom is usually a bitch with him, so this is quite a change and he's enjoying it! Perhaps this is the beginning of it totally new relationship for them! After all, she probably won't mind him shredding on his axe while she does her yoga as long as he lets her shred on his sausage when she's done!
HOT WOMEN TEACHING TEENS HOW HARDCORE FUCKIN IS DONE:
Don't miss more hot women teaching teens how hardcore fuckin is done! Moms Bang Teens is filled with horny kids that love it when a woman is in control and there's nothing hotter for them than a sexy bit tit MILF slut who craves hard cock and loves to devour as many as she can with gusto! Cum watch the horniest mommies seduce their big dick step sons and luscious lesbian step daughters with glee. These seasoned mature jezebels are always ready to dominate any and all lovers daring enough to engage in their steamy role-play sex games. Experienced pussy is a delicacy and these naughty teen girls and guys know it! Watch more reality porn, sneaky, risky and caught sex videos.
|
Wife and housekeeper have lesbian sex behind her husband's back! This sexy brunette housewife convinced her husband into hiring a housekeeper and since he let her pick her, she chose a smoking hot blond and she loves checking out her beautiful bubble shaped ass every time she has a chance! Her husband has no idea that she is by sexual an incredibly drawn to hot blond girls, but he's about to find out, LOL! The brunette makes her move and starts making out with the beautiful housekeeper in the kitchen. The housekeeper doesn't hold back, letting her hands explore the mature wife's gorgeous body. To make things even kinkier, her husband is in the dining room! If he comes back right now, he might catch his hot wife having a lesbian make out session with the housekeeper! As he turns to his wife, the hot blonde dives under the kitchen counter so she remains unseen, but not still! She lifts the wife's dress, munching on her juicy bubble butt while she talks with her husband. She digs her wet tongue deep into the crack of her ass, teasing her tender little asshole and licking her already dripping wet slit! What a fucking turn on! The husband leaves and his wife takes the housekeeper to the living room, spreading her legs wide open on the couch so she can finger fuck her luscious pussy while making sure she doesn't get caught by her husband, who is still wandering around the house! This is so exciting for her, not just having hot lesbian sex with her blond housekeeper, but doing it behind her husband's back at an extra kink that really turns her on! The hot blond continues licking her pussy and her asshole, kissing, sucking and caressing every inch of her gorgeous ass crack. Another super hot lesbian scene! She sreads her beautiful ass cheeks with her hands to let her tongue go deeper in her ass! After an ass licking orgasm the horny brunette straddles herself on top of her housekeeper's face, squatting and sitting on her so she can get tongue fucked in all her nasty fuck holes. The beautiful housekeeper is doing things to her pussy and ass with her tongue that her husband never could with his cock! She runs her tongue between her labia and tastes the slippery sweetness of her, literally eating her vagina for dinner, sucking on her swollen clitty and running her tongue along the length of her slit. She swirls her tongue around her pussy in a circular motion. Her lover is moaning in pleasure as her mouth drinks her juices. A girl knows how another girl likes it and where she likes it. She keeps up her oral action on her pussy, slowly and gently, until her whole body trembles in a massive orgasm, flooding her mouth with her pussy juices. She cums all in her mouth as well and she licks it all up, every drop. She is very hot. Loves to eat pussy and loves to fuck girls. The naked blonde lies on the floor and the naked brunette sits over her, her wet vagina is right over her vigana. Naked girls are rubbing their dripping wet cunts one against the other as if they were fucking, thrusting their hips and pelvises together. There's nothing more exciting then watching two naked babes in a scissoring dyke scene, their wet pussy lips and clits rubbing against each other, their juices mixing and their tits bouncing up and down.
YOUNG TEEN LESBIANS CAUGHT FUCKING IN THE BEST GIRL-GIRL VIDEOS:
The girls are totally turned on and the thrill of potentially getting caught is a major turn on. They both play with their clits and push themselves to climax. Imagine her husband's surprise when he walks in just as his wife is having an explosive orgasm with her new beautiful lesbian housekeeper lover! Don't miss more risky, sneaky and almost caught girl-girl sex scenes! Young lesbians, teens, moms and girls… There's a reason why this site has been voted the World's Best Lesbian Site and now you can discover why as you surf their breath taking HD videos.
|
This sexy blond is really excited because today her stepbrother gets back from college! She's missed him so much she just can't wait to have some alone time with him so she can really show him how much she's been thinking about him and his big hard cock lately! As their mom goes upstairs to fix up his room the naughty teen decides this is the right time to get rekindled with his gorgeous erection, sucking and stroking it on the living room couch. The teen slut licks and kisses his long shaft and doesn't want to stop, even when their mom comes back down. He uses the lead of his suitcase to conceal her while talking with their mom and hopes she doesn't realize that he's getting his dick sucked by his stepsister right there in the middle of the living room while talking to her. The teen girl can really feel her juices starting to soak her panties and her pussy lips are getting really slippery. After their mom leaves to get him something to eat he strips his sexy stepsister naked, sits her on one of the kitchen counter stools, spreads her legs and rams his hard cock deep inside her lovely pussy, fucking her hard. She has been waiting for that big dick inside her all semester! When he's all the way in she starts to moan and quiver. His balls hitting her cunt, make her moan loudly. She tries her best not to scream! The mom comes around again so her naked daughter hides behind the kitchen counter and continues sucking her stepbrother's big juicy cock. His cock gets even harder inside of her little mouth. The naughty girl knows he is going to cum right in her mouth, but she doesn't want to let him cum so fast. He is smart enough to lead mom away, and she is smart enough to not stop sucking his cock while he covers for her. When the mom leaves, he bends his horny naked step sister over the stool and shoves his tongue deep inside her little asshole and her dripping wet snatch, licking her pussy and ass and eating her vagina out. It's very risky as their mom can walk in at any minute. He lies flat on his back and the young naked girl straddles herself on top, holding on to the kitchen counter while impaling her tight pussy on his rock hard erection and making her sexy little naked body bounce up and down his shaft. Her ass looks amazing! He spreads her delicious butt cheeks with his hands, exposing the crack of her ass and asshole as he fucks her very hard and presses her sexy naked body against his. When their mother comes around the kitchen again he's still fucking his dirty little stepsister from behind and she actually starts wondering where his sister is! Fortunately their mom can't see her slutty daughter hiding under the kitchen counter. If she knew where she was, and what she was doing with her stepbrother it would definitely get interesting, hopefully she doesn't find out! The girl covers her mouth with her hand, trying not to moan when his cock is deep inside her vagina and her mom is next to them. This is sooo risky. He will have to finish their sudden sneaky sex, cumming in his step sister while their mom is washing the dishes next to them.
HOT TEENS IN THE BEST RISKY, SNEAKY AND ALMOST CAUGHT FAMILY PORN:
Family Strokes brings you the hottest and filthiest neighborhood stepmoms, older stepdads, barely legal stepsisters and their horny stepbrothers falling into some serious family fun. Nothing is taboo behind closed doors for these sexy stepsiblings and stepparents that love mixing it up, taking off their clothes and sucking and fucking each other in the wildest sneaky and almost caught action. Beautiful mature stepmoms suck their stepson's cocks and lick their stepdaughter's pussies, have hot threesomes with them and more! Stepsisters seduce their stepbrothers and have sex with their stepdads and get their faces and bodies blasted with cum! Don't miss these sexy MILFs and hot teens in the best reality porn. Very surreal family situations that might seem impossible, but surely they've happened somewhere in our planet…
|
Stop jerking off on iPhone 7, check out this wedding orgy! It's something incredible! This hot blond MILF with big tits and a smoking hot mature body overheard her soon to be stepdaughter arguing with her boyfriend while she was getting dressed for her wedding. As it turns out, weddings make the poor guy horny, but his girlfriend is not putting out right before her dad's wedding. Her soon to be stepdaughter may be very respectful, but she's not, and she is horny as fuck too and wants to have a last go at a young virile hard cock before marrying this old fart, so she grabs the boy as he passes by and drags him into her room. This woman looks smoking hot in her wedding lingerie! He is nervous and tries to resist at first but the half naked bride convinces him to have a quickie right before the ceremony. She gets down on her knees, grabs his cock and starts sucking and stroking his big juicy cock. When he sees how bad this woman needs it, he begins fucking her face really good. It may very well be the last time this bride has one so big in her hands and in her mouth, though she wants to enjoy it. His cock is so big, she can't even deep throat it the whole way, and she's deep throated some big cocks in her lifetime! She licks and sucks on his balls, they are so nice and tight. Soon all she would be licking and sucking our shriveled raisins, LOL! Unfortunately, his girlfriend interrupts them, she caught them red handed when she finally decides to please her boyfriend, but it's okay, because the slutty bride convinces her into joining them for a steamy pre-wedding threesome orgy! Teen makes out with her boyfriend while her new stepmom sucks on his big hard cock, that's such a motherfucking turn on! Now it's her turn to show off how she can suck a dick. She's only 18 and doesn't know how to swallow a cock and the MILF is going to teach her. The girls blow his cock together and the naughty MILF bride squats on top and impales her cunt on his big throbbing erection, making her juicy bubble shaped ass and her big tits bounce up and down as she rides his member, with her bridal veil caressing his balls! This woman is so fucking amazing, a wonder MILF with a toned body, juicy ass and a sexy smile. She is a walking wood maker! Beautiful, sexy, all natural woman with a great unadulterated body. I hope my wife has a body like hers when my wife ages to MILF status. She rides his dick with her little naked stepdaughter watching them and masturbating. This hot naked woman also has hot lesbian sex with her, sits on her boyfriend's face while she rides on his big juicy cock. Then it's the girl turn to get her young pussy fucked hard and the MILF is ready to share her mature sexual experiences and teach the teens how to pound pussy hard and make his girlfriend cum like crazy. I really enjoy watching these hot naked girls as they take turns climbing on him and planting their pussies on his cock. The bride loves the fact that her new step daughter is a filthy slut and her boyfriend is a total pervert, this means she will have a lot of fun in bed with them one her old man is not around! Naked girls ride his dick all over the bedroom and then get their faces splattered with jizz. He blows his creamy load all over their dirty faces and her big tits! Hot cum all over her face is the best wedding gift for her! Them getting caught by the dad is a whole other story! Awesome scene! Brandi brings it every time!! She brings every scene to life in ways that others don't, with her incredible body, but more than that with her verbal ministrations, both in terms of her wishes and desires, as well as encouraging and suggesting to others. Outstanding scene!
NAKED GIRLS AND NAKED WOMEN CAUGHT FUCKING IN THE BEST SNEAKY SEX VIDEOS:
WATCH THE REAL FUN INSIDE! Watch more sneaky sex and almost caught scenes with hot naked women and girls and boys having sex! These naughty moms with big tits and juicy bubble butts are okay with their step daughters bringing their boyfriends over and fucking them as long as they let them join them in steamy threesome fucks were they get to have hot lesbian sex with their stepdaughters while taking turns banging their boyfriends, sucking their big juicy cocks and getting their dirty faces and big tits blasted with their hot and creamy cum!
|
This sexy blond catches her beautiful brunette stepmom with a lover while her daddy is out on a business trip. She takes her smart phone and gets footage of her stroking and sucking the lover's big juicy cock. Her initial plans are showing this to her daddy so he can realize the kind of dirty cock craving cheating slut he married, but as she continues filming, and watching, she can't help notice that her cotton panties are soaking wet with her pussy juices. Watching her stepmom and her lover has got her terribly turned on and what she really wants to do is join them for a smoking hot threesome fuck! When her stepmom leaves the room for a moment, she takes her place, grabbing her stepmother's lover's meaty sausage and deep throating it all the way down to his balls. She can understand her stepmom, this guy's cock is so fucking big, thick and hard! There's a bit of a standoff when her stepmom comes back to the room, but it's easily resolved when she joins them for the threesome! After all, the idea of watching this sexy blond teen girl bouncing up and down her lover's hard cock really turns her on too! This will be their dirty little secret the girls can keep from her daddy! She passes her hands all over her stepdaughter's body and masturbates herself while watching her get fucked. While her lover fucks her on the couch, she licks and fingers her step daughter's pussy and asshole! Naked girls take turns getting their pussies drilled by his huge cock in all possible positions, eating each other's twats, sucking on each other's tits and masturbating each other. When the lover finally blows his load all over their faces, the naughty girls swap his hot cum and lick each other clean!
|
My stepmom decided to take my stepsister and me on a family bonding vacation. We would be staying in a single room and our stepmom told us to get ready to hit the pool while she took a shower. That meant we had to change in the same room and we did our best to do so without seeing each other. I guess curiosity got the best of her, as I heard her cry out "Oh, my God!" as she got a glimpse of my cock. She told me she had never seen such a big dick in her life and without any hesitation, she dropped to her knees, took it in her hands and began stroking it, watching it get bigger and harder in her hands. I couldn't believe my very own stepsister was giving me a handjob, and with our mom showering in the bathroom right next to us! Next thing I knew, she had my cock in her mouth, giving me head! I was so excited it took me just seconds to blow my load inside her mouth! I shot jet after jet of hot sperm into her little mouth while she continued to bob her head up and down on my cock. It was like I couldn't stop cumming and she couldn't get enough. Her little mouth was full of my cum and my crazy swallowed all my spunk!!! She also helped me up and licked the cum off my cock. By the time our stepmom got out of the shower we already had our swimming suits on, and we acted like nothing happened. After hitting the pool and having lunch, we sneaked behind our mom's back and headed straight to the room so we could fuck! I was pounding her dripping wet pussy when our mom came back inside, fuck! We covered our soap with the sheets but we were so fucking turned on we had to keep on fucking as our mom sat on the adjacent bed and talked on the phone, can you fucking believe that!? I kept fucking her with our mom in the same room and when I was ready to cum she told me to cum in her! This time I blew my load inside her pussy, giving her a creampie! Yes, I fucking creampied my stepsister, and she grabbed the notebook to write about it to her friends. I left for a while and when I returned, my stepmom was fully naked and passed out on our bed! What the fuck, we just got next to her and I licked my stepsister's pussy and began fucking her hard, making her ride on my dick and cumming inside her one more time before our stepmom woke up from her bender! This is what I call a bonding trip!
HOT TEENS IN THE BEST RISKY, SNEAKY AND ALMOST CAUGHT FAMILY PORN:
Family Strokes brings you the hottest and filthiest neighborhood stepmoms, older stepdads, barely legal stepsisters and their horny stepbrothers falling into some serious family fun. Nothing is taboo behind closed doors for these sexy stepsiblings and stepparents that love mixing it up, taking off their clothes and sucking and fucking each other in the wildest sneaky and almost caught action. Beautiful mature stepmoms suck their stepson's cocks and lick their stepdaughter's pussies, have hot threesomes with them and more! Stepsisters seduce their stepbrothers and have sex with their stepdads and get their faces and bodies blasted with cum! Don't miss these sexy MILFs and hot teens in the best reality porn. Very surreal family situations that might seem impossible, but surely they've happened somewhere in our planet!
|
This scene has everything you could ask for in a lesbian scene: two gorgeous women, ass licking, ass play, pussy licking, toys, squirting and great camera work. Put these together with two women who really enjoy having sex together and you have maybe the best WLT scene ever. Thank you RK! After trying on a sexy latex outfit, this hot stepmom seduces her stepdaughter! Dad's new wife is trying on a sexy latex outfit while her naughty stepdaughter spies on her and takes a couple of pictures. She thinks it's very fun to sneak in on her half naked stepmom, until the tables get turned on her, when her stepmom surprises her from behind! Looks like she got distracted! She wonders why her stepdaughter was spying on her, maybe she likes the way she looks in that sexy latex outfit. She can tell how much the naughty teen likes the outfit on her stepmom, but she will probably like it even more off her! Both naughty girls strip totally naked and the mature stepmom moves her way down her body, kissing and licking everywhere, kissing her inner thighs as she approaches her pussy mound. The MILF runs her fingers up and down her stepdaughters dripping wet slit. She leans over her and the girls kiss passionately, entwining their wet, silky tongues and exchanging their saliva. The girl has a tight little body. They get into a 69, with the stepmom on the bottom and her sexy stepdaughter on top, exploring the terrain of her hot teenage cunt with her mouth. Young naked girl grinds and twerks her cute little butt over her stepmoms face, making her tongue fuck her vagina. She's tonguing, licking and sucking her pussy lips, running her tongue as deep as she can into her dripping vagina, and giving her clit just the right amount of attention. The experienced stepmom also stimulates her stepdaughter's tender little asshole with her fingers, while making her cum with her tongue up her snatch. Naked girl switch positions and the stepmom sits on her stepdaughter's face, so she can get her pussy eaten out by her while grinding her crotch against her mouth. Using her fingers, the dirty stepmom fucks her stepdaughter's pussy until she makes her cum again, this time squirting and using her tongue to catch the delicious pussy juices emerging from her stepdaughter's cunt. She loves her father's big hard cock, but she's delighted to know that when she gets tired of it, she can enjoy her stepdaughters sweet teen pussy and have some hot girl on girl fun with her too! The girls are both awesome and I love the surprise squirt. Both very very hot!!! You have two beautiful women licking their asses, fingering and stimulating each other's pussies till a squirting orgasm. Don't forget about some sex toys. The magic wand always guarantees great orgasms! Unfuckingbelievable! Lesbian porn perfection!
|
This hot girl is licking extra sexy today, since she booked a session with a professional photographer, and her beautiful mature stepmom just can't stop complimenting her on her good looks and incredible body. She feels flattered, and a little bit aroused, there has always been sexual tension ever since her stepmom and her met for the first time. She's surprised and shocked when her stepmom makes her move, leaning over and kissing her on the lips. Whoa, Nelly, she wasn't expecting that! It doesn't mean she doesn't like it, she actually feels a warm and wet tingle in her pussy as the hot mature woman un-knots her blouse, exposing her breasts, touching her, pressing her against her body and kissing her on the lips like no woman had ever done before. Her stepmom starts licking and sucking on her nipples, they are so fucking hard and erect, she just can't hide how turned on she is, her body betrays her! The young girl gets down on all fours on the couch, feeling her stepmother's wet tongue exploring her dripping wet pussy and even her tight asshole, that is so wild and kinky! She can't believe she's having hot lesbian sex with a woman! She's so turned on that she totally forgets about the photographer and the guy is already here and watching the action from outside the living room balcony window! When the girls realize he's there, the naughty stepmom brings him inside so he can join them in a steamy threesome fuck. They all strip naked and she gets down on her knees along with her stepmom so they can both suck and stroke the photographer's juicy hard cock. The girls squeeze his big cock between their mouths and fuck his shaft together. These girls are so hot that watching this clip you will gush with cum and girls will squirt evertywhere! The teen never imagined that her stepmother could be such a filthy slut. Matter of fact, she never imagined that she could be such a filthy slut, having hot lesbian sex with her very own stepmother and a threesome with her and the photographer she hardly knows! What a whore! She loves it! Naked girl straddles herself on top of the photographer's lap and impales her dripping wet pussy on his big hard member, making her body bounce up and down as her stepmother watches her, sitting on the photographer's face so he can lick her dripping wet twat while banging her stepdaughter! The MILF spreads her ass cheeks and licks her asshole, making her shiver with pleasure. This girl is a true gem, so sexy ass! Her horny stepmom can't wait for him to ram his cock in her twat too. Naked woman jumps on him and makes him pound her as hard as he can and her stepdaughter rubs her clit as fast as she can. She moans and almost screams, enjoying every sensation and stroke of his hot cock that makes her cum. He fucks their mouth and pussy, putting naked girls in 69. This video is amazing, it's nonstop pussy drilling in all poses, so much physical energy, moans and screams, sound of balls slapping against wet pussies, and nonstop mind blowing orgasms! One of the hottest scenes EVER! The way the young naked girl licks his balls while he's fucking the MILF is out of this world. She takes his dick and literally fucks her stepmom's twat with it. Naked girls take turns getting their pussies rammed and they get man juice all over them. The girl imagines what would happen if her daddy would walk in on the right now and that image almost makes her cum on the spot!
HOT WOMEN TEACHING YOUNG GIRLS HOW HARDCORE FUCKIN IS DONE:
This website is loaded with smoking hot mature stepmoms with big tits and juicy bubble butts craving to lick their stepdaughters dripping wet pussies and to suck their boyfriend's big hard cocks in steamy stepmom on stepdaughter on boyfriend threesomes that will make you blow your load all over your screen and keyboard! When their boyfriends walk in on their girlfriends and find them getting their pussies and assholes licked by hot naked women they get so turned on that they can't resist joining them, taking turns banging their pussies and cumming all over them!
|
This geeky blonde young slut with thick glasses is studying with her best friends but her attention is somewhere else, as she looks out the window and watches her friend's hot mature dad mowing the lawn. He had an incredible body, covered in tattoos and he looks so handsome she can feel her cotton panties getting drenched as her pussy gets wet just thinking about him. The slut runs her hand across the front of her panties and then slips down to her mound and her wet pussy slit and begins to rub it right in front of her girlfriends. The young girl masturbates thinking about her friend's dad how he fucks the shit out of her mom! When he comes back inside, she finds herself unable to resist spying on him, so she leaves her friends studying in the living room and sneaks into the bathroom. There, she watches her friend's dad showering naked, masturbating herself while checking out his huge cock. It's so big! She has never seen a big dick before. She gets so caught up in her masturbatory fantasies that her friend's dad catches her watching him. The teen girl feels so embarrassed and excited at the same time, as her friend's dad gets close to her, caressing her tight body and tits over her schoolgirl uniform. He reaches between her legs, under her skirt, pulling her pink cotton panties aside, rubbing and fingering her wet pussy. When his hand starts to slid between her thighs, up her pussy mound, she starts to breathe more heavier, her clit gets harder and her pussy begins to drip, she instinctively parts her thighs to give him better access. He takes her to his bedroom, putting her against the wall, pressing his naked body against her, fondling her tits and ass while taking off her school uniform. A bald pussy, cute little butt, perky titties… the girl is so hot!!! Half naked, she drops to her knees, taking his throbbing member in her hands, guiding it to her open mouth so she can suck it. It's the first cock in her little mouth, she has never even touched a man's cock before. She's just 18 and so young but she deep throats it all the way down to the base, slobbering it with her drool. Her best friend's dad's cock is so big, thick and hard. She gets down on all fours on his bed and he penetrates her from behind, his throbbing erection sinking into her wet snatch as he fucks her doggie style. He grabs her juicy butt, slapping it hard as he fucks her. She wonders if her best friend in the living room knows that she is getting fucked by her dad, it kind of turns her on if she does. By now she is totally naked, straddling herself on top of her mature lover's hard cock, impaling her tight pussy on it and riding him in cowgirl position. I love the way this young naked girl rides his dick and her bald pussy takes his cock, her pussy lips are wrapped around it and massage his balls. She flips over to reverse cowgirl and makes her body bounce up and down his hard pole until her best friend's dad is ready to blow his load all over her face. With her face covered in dad's sperm she can back to her friends and continue to do her homework.
HOT YOUNG GIRLS CAUGHT FUCKING IN THE BEST PORN VIDEOS:
At Reality Kings nothing turns these hot young girls on more than creeping behind their parents, boyfriends, and almost caught while sucking and stroking their lover's big hard cocks and getting their dripping wet pussies and tight asshole pounded hard, and you can check out all those amazing and exclusive XXX videos right here! Sexy teen sluts and their sexy moms with big tits and juicy round bubble butts sharing hard cocks and explosive cumshots or enjoying the hottest masturbation, pussy licking and tripping lesbian fun! The danger of getting caught is what turns them on the most, come check them out right now!
|
While their moms are chatting somewhere else, this sexy blonde lesbian teen is making out with her best friend. The girls are just wearing their tops and thongs, so they can feel each other up over their clothes and, if necessary, get dressed fast enough so their mothers don't catch them. However, the young lesbians get so caught up in their make out session that they don't realize that their moms, a sexy mature blonde and a ravishing hot brunette cougar, have already spotted them! Matter of fact, the girls are getting so excited that they are already taking off their sweaters and it's already too late when they realize their moms are right next to them. Busted! The blonde's mom is besides herself, but her brunette friend reminds her that they were ones young too and also enjoyed experimenting, and maybe their girls just need a little bit of guidance, so the women decide to swap their daughters! The blonde teen gets her panties slipped off her body by her friend's hot brunette mom, while her own mom does the same to her friend. The mature babes pass their hands all over the sexy teens hot bodies, making their nipples get hard and their pussies drip wet. Two young naked girls spread their legs so their moms can lick their teen pussies and spread their pink pussy lips with their soft fingers. The women are going to teach their lesbian daughters how to satisfy a woman, how to eat a pussy right, how to lick a clit and how to bring her lesbian partner to a mind blowing multiple orgasms! The teen girls are getting finger fucked and eaten out by each other's hot mom, they can hardly believe that this is really happening and that it feels so fucking hot! You can see the white pussy juice oozing out of their pussies [3:05], awesome! The girls are eager to return the favor, switching places with their naked moms and eating them out, tasting their delicious pussy juices in this hot mature on teen lesbian foursome. Then all four naked girls go into a hot double tribbing/scissoring foursome! Young and mature lesbians rub their vaginas together in a humping motion, it looks fantastic! Nothing has ever felt better than mom's warm pussy against theirs, their juices mixing and their tits bouncing up and down.
|
This naughty blond and her boyfriend can't keep their hands off each other! Just look at them making out and rubbing their genitals right outside of her home! Since her daddy is working in the garden, this teen slut sneaks her boyfriend inside, and they start taking off their clothes right there in the living room couch! Totally naked, she straddles herself atop his rock hard cock and rides him, making her juicy bubble butt bounce up and down his long, hard shaft! This teen babe is simply fabulous is all aspects face, tits, pussy, ass. With his face buried between her big tits he keeps her ass cheeks spread as wide as possible to pound her pussy deeper. She's moaning so loud and even isn't afraid her parents might hear them and they will be busted. Their fucking gets interrupted when her daddy comes into the kitchen and she hides her naked boyfriend under the couch and since the couch is facing back from the kitchen it conceals her nudity and her daddy doesn't even have a clue about what's going on! While he refreshes himself, her boyfriend spreads her legs and goes down on her, fucking her wet clam with his tongue while she tries to act like nothing's going on! The chance of being caught turns her on even more. Her daddy leaves and she straddles herself back on top of her boyfriend's cock, this time with her juicy bubble ass facing him as she rides that big cock in reverse cowgirl. She rubs her clit and his balls while riding him and it brings her to orgasm. They hear the kitchen door swing open again, this time it's her stepmom and dad, and while they are there, the naughty blonde gives her boyfriend a footjob! Her daddy is still clueless, but not her stepmom! She finds out what they're up to and threatens her stepdaughter to tell on her dad… unless she lets her join them for a hot threesome fuck! The MILF removes her thong and spreads her legs so her stepdaughter's boyfriend can lick her snatch too while she makes out with her own stepdaughter and the dirty blonde teen licks and sucks on her big bubble tits! When her dad walks in again, he thinks his girls are just bonding. Well, they are, kinda! Lol! The blonde sits on her boyfriend's face while her naked step mom sits on his big hard cock and they ride him together! The naked girls give him a shared blowjob, sucking his cock and balls. He pounds his girlfriend's beautiful mature stepmom, while she eats out his girlfriend's pussy and then his girlfriend licks her anus and his balls, making him fuck her step mom harder and harder. The girls go in 69 position and he fucks them, putting his dick between stepmom's wet twat and gf's mouth. The teen licks her clit and the woman begins cumming like crazy. The girls take turns fucking his cock together until he's ready to cum, blowing his creamy load all over their dirty faces and the stepmom's big tits!
HOT WOMEN TEACHING YOUNG GIRLS HOW HARDCORE FUCKIN IS DONE:
Moms Bang Teens is the home of hot women, naughty mature babes, cougars, MILFs and sexy moms with big tits and juicy bubble butts, totally exposed online in the hardest hitting, raunchiest, uncensored XXX action as they get it on with teen guys and girls! These horny mature sluts love getting naked, sucking dick, eating twat, masturbating, fucking, taking it up the ass, playing with dildos and sex toys and getting their faces and naked bodies blasted with cum! When these dirty matures seduced their stepsons, stepdaughters and their boyfriends and girlfriends they never imagined they would have so much fun and cum so hard!
|
As this sexy teen girl uses the swing in the patio and watches her dad's new wife sunbathing in a tiny bikini, she gets mixed feelings. Thing is, she finds herself terribly turned on by her new stepmom's incredible body! She can't keep her eyes off her sensual curves, her big tits and that perfect bubble shaped ass! When the hot woman asks her to apply some tanning lotion over her skin, she's so nervous and excited at the same time! What if she notices? After rubbing lotion all over her back and perfect ass, she lies by her side and the girls sun bathe together and she can't help complimenting her on her body like a broken record, lol! Her stepmom is actually flattered, so much so, that once inside, she can't help looking at herself in the mirror, touching herself softly as she gets naked, not knowing her stepdaughter is watching her from the door! As her stepmom touches herself, this teen girl touches herself too. The mom is voluptuous and gorgeous too. When she realizes her stepdaughter is masturbating herself to her, she sneaks in on her , pulling her towards her hot body and letting her know it's okay to feel this way towards another woman! The girls get comfortable in the couch and stepmom's body is turning her on and she can't resist to slide some fingers into her mature pussy. The woman spreads her legs in front of the girl so she can play with her dripping wet pussy, licking, sucking and tongue fucking her slit! The girl finally has seen her step mom's twat. Her pussy lips are so meaty and moist, she dives right between them, sticking her nose in the bush. The girl sticks her soft tongue between these pussy lips and begins eating out her vagina. I love when it switchs to POV mode when the girl licks this hairy pussy. Wonderfull! Love the pussy eating and staring in each other eyes. Finally she can touch, kiss, suck, or lick any part of this hot body. Then the mature naked woman puts her down on all fours and shoves her smooth silky tongue down her tight asshole, spreading it wide open as she introduces her stepdaughter to anilingus! The teen girl gettin that pretty peach chewed on doggy style is a sight to behold. Luv how the young naked girl arches her back n pokes out her yummy. She has a very suck-able pussy! The hot woman eats her out against the couch and makes her cum several times, fucking this young pussy is so much hotter than having sex with her dad! The MILF literally fucks her pussy with her tongue, dipping it so deep into the vagina. Naked girls embrace and rub their wet pussies together, kissing passionately as they trib each other. Watching turns into kissing, kissing turns into pussy licking, pussy licking turns to ass rimming, ass rimming leads to tribbing and everything combined makes the young girl squirt!!! The girl's orgasm is so intense that she begins to squirt, cumming excessively and leaving the bed all in puddles. The sexy teen is happy to know her new mom is more than just a friend, she's her new lesbian lover and she loves how she makes her cum and squirt! BRILLIANT!!! Perfect combination, having a busty mild and a tiny teen. Their chemistry really came through too. Keep having girls that can squirt!
HOT NAKED WOMEN TEACHING YOUNG GIRLS HOW TO EAT PUSSY RIGHT, CUM AND SQUIRT:
Bonding with your stepmom can be pretty hard, but not for these sexy teens, especially when their new moms are smoking hot mature lesbian babes with big tits and juicy bubble butts, ready to seduce their very own teen step daughters and lick their dripping wet pussies and tight assholes in the hottest teen daughter on mature mother lesbian action that can only be seen and enjoyed right here at Moms Lick Teens! Watch these horny dykes kissing, making out, masturbating with sex toys, squirting, tribbing and making each other cum hard in steamy lesbian sex action with exclusive videos, teens and mature babes!
|
This beautiful girl is so excited as her stepmom snaps some pictures of her in her ravishing new outfit, she's dressed to impress for her dance! She can't wait to see how handsome her boyfriend will look in the tuxedo she rented out for him; they will be the heart of the dance! Thing is, when he shows up at her home, he's looking like a bum. She's mega pissed off because he didn't dress up and he's upset that she doesn't let him be himself! Fortunately her stepmom is used to these relationship issues and she knows how to reconcile them. The MILF takes them to her bedroom so they can get comfy and talk it out, smooth things up and pretty soon things are getting pretty sexy between the three of them! The sexy girl is rubbing her wet twat while she watches her hot stepmom sucking her boyfriend's rock hard cock. She joins in on the picturesque double blowjob. You see, the lesson here applies to every argument they may have as a couple, it's all about reaching a compromise where everybody benefits and is happy! This opens them up to new experiences and this is definitely one of them! The hot woman and the teen girl suck his dick together and the girlfriend straddles herself atop his hard cock and rides it with her stepmom watching them fuck. She licks and sucks her stepdaughter's nipples and makes out with her. When the girl rides her bf's dick, her stepmom kisses her asshole and tickles it with her tongue, awesome. The boyfriend can't believe he just had a fight with his girl and now he's banging her and her very own stepmom in a threesome! More double blow job, more fucking, more anal play. Yes there are many fun ways how to have sex with two naked women. After blowing his creamy load all over his girlfriend's ass crack and stepmom's face, of course he has no problem at all pleasing his girlfriend and putting on that tuxedo!
|
Don't miss the most crazy hardcore scene of last few updates. These girls, the hot teen slut and the MILF, do incredible thing with the BF's big cock, using their twats, mouthes and assholes. There's a lot of ass fucking, squirting, pussy fisting, deepthroating in this insane threesome scene. This sexy teen slut has been waiting all day long for her mature stepmom to finally leave the house so she can call her boyfriend over and fuck with him! He arrives and she takes him to her parents' room, since it's the one with the biggest bed and she strips naked, getting down on her hands and knees so he can lick her dripping wet pussy and tender asshole before fucking her hard doggy style from behind. She pushes her juicy bubble ass against his hard sausage but no matter how hard he fucks her, he just can't make her cum! Maybe if he tries entering by her backdoor it will do the trick! But just as he is trying to pop his hard cock into her ultra tight asshole, her stepmom comes in through the bedroom door! She doesn't know what she's more upset about, them choosing to fuck in her bedroom having so many other places in the house, doing it behind her back, his failed attempts at making her stepdaughter cum or even being able to fuck her ass or maybe the fact that they are doing all this shit without her! These two newbies need to learn how it's done! The MILF fishhooks her stepdaughter and urges her boyfriend to fuck her mouth and throat with his big dick and watches the thick ropes of saliva dripping down her lips and chin. Now that's hot!!! This hot woman gets underneath so she can catch all that warm drool while licking his balls and teaches the teen girl how to deepthroat a cock! Soon she's getting her wet pussy rubbed by her stepdaughter, who's getting her gaping asshole anally fucked by her boyfriend while the stepmom sucks his dick and tastes her stepdaughter's ass on his cock! Now they all indulge in a sordid three way anal romp. The girls are all dripping wet with sweat as they fuck in a hardcore styled threesome and he takes turns fucking his girlfriend's and her stepmom's pussies and assholes! He fucks the MILF in her ass and the teen fucks her twat with her fist!!! He makes the mature slut squirt while the slutty stepdaughter opens up wide so she can taste her gushing squirt juices! Pussy fisting, squirting twats, insane anal drilling, it's something amazing! He keeps hammering their twats and assholes with his huge cock, in and out, in and out, so much harder, and harder, making them cum again and again. The young girl had no idea her stepmom could fuck like that and squirt, and she enjoys licking her pussy and asshole and can't wait for her boyfriend to blow his load all over their mouths so they can swap it!
THE HOTTEST GIRLS, THE BIGGEST COCKS, THE BEST HARDCORE PORN EVER:
The summer is Brazzers and you can enjoy the hottest hardcore porn and the sexiest teen girls right here! These guys are the most famous in the world and they are trendsetters in the Adult biz, offering you the most exclusive downloadable and streamable adult HD videos on the web! If you are looking for the craziest porno you only need to look in one place and one place only, Brazzers! Watch these teen sluts as they strip naked, grab a huge cock, swallow it completely, get their little pussies and assholes destroyed by huge cocks, even together with their hot stepmoms in a threesome, and finally receive the most amazing creamy facials and massive cumshots. From raunchy standalone scenes to blistering hot ongoing series and parodies, Brazzers has all the porn you want and need. Don't miss out, man!
|
Blondes going down on blondes and the younger older aspect is magic stuff to eyeball! You won't want to miss these naked blondes in a hot girl-girl lesbian scene. This sexy blonde teen is eager to meet her new stepmom, she's heard so many good things about her from her dad, and by the looks of it, her hot stepmom just can't wait to meet her new husband's hot daughter either! She receives her in sexy pink lingerie and gets really close to her as they talk, caressing her with her soft hands. She can tell she's getting hit on… by her very own stepmom! Well, it's actually kinda hot, and she's pretty hot too, so what the fuck! Daddy doesn't need to know! The sexy woman kisses her, softly at first, more passionately afterwards, until the girls are making out hot and heavy and she helps her out of her tiny panties, they are drenched in her pussy juices already anyway! The combination of blonde hair, pale skin and those delicious pink pussy lips, mmmm… She feels her stepmom's hands all over her naked body as she touches hers too, her tits are so big and firm in comparison to her tiny breasts! As she cups them in her hands, her stepmom rubs her dripping wet muff, masturbating her while ramming her smooth wet tongue down her throat! Teen girl spreads her legs and gets her little pussy eaten out by her new mom, her silky tongue laps up her pussy juices as they flow between her tender pink pussy lips. Naked girls masturbate facing each other and the naughty teen fucks her stepmom's twat with her toes while she licks the ones on her free foot! She sits on her face so she can ride her while she's eating her out. Her gorgeous long blond hair, tiny waist, small titties, young pussy, flawless skin, this girl looks ridiculously hot riding her stepmom's face. She also gets to taste her stepmom's dripping wet pussy and her deliciously tight asshole too! Naked woman parks her big juicy ass right over girl's face for a good pussy and ass licking. What a MILF goddess! She's gorgeous and has amazing sexual energy. Her body and overall look is incredible. She needs to sit that lovely ass on my face! After riding each other faces, naked girls begin scissoring, bumping their clits and rubbing their wet pussies against each other, bring themselves to an orgasm! Great scene with two hot naked blondes, plenty of licking, kissing, finger plaing, tribbing and even big toe pussy fucking. This teen loves this first meeting with her new stepmom and hot lesbian lover and can't wait for the next one!
|
My stepsister has a crush on me ever since we met for the first time after our parents got together. I think the idea of getting banged by her very own stepbrother turns her on, but I usually just ignore her and pretend she's just playing games with me or pushing my buttons. Problem is, it's getting pretty hard to ignore her, since she's getting more and more provocative with each encounter we have, and since we live under the same roof with our parents, you can imagine the sexual tension at this point; you can cut it with a knife! My step sister always has a little grin on her face that says, "I have dirty thoughts and I know you do too". We're sitting on the living room couch and the flirting begins again. It feels like a game of who will make the first move. And finally she gets up and her skirt is hiked up and I can see her naked juicy bubble ass!!! She's not wearing any panties!!! I just can't resist, grabbing her meaty ass cheeks! My step sister's ass is absolutely amazing, two big round buttocks and a little pussy between them. I can stare at her naked ass and I certainly take the opportunity. She's so turned on and I just want to see how far she can go. She spreads her legs and starts rubbing her dripping wet muff in front of me, telling me she can't resist this any longer, and honestly, neither can I! Then she leans over and unzips my jeans, pulling out my throbbing cock and taking it to her wet mouth, sucking it hard like a dirty little slut. This teen slut gives great head! We go to her bedroom and she strips naked and gets in her bed, masturbating herself for me and showing me how wet her pussy is. She keeps sucking my hard cock and stroking it slow and gentle. I don't think my dick has ever been so fucking hard, man! There is no turning back, my sexy naked step sister gets down on her hands and knees, spreads her hot, tight, fleshy ass cheeks and I instantly move so that my prick touch the hot wetness of her slit. I ram my hard cock deep inside her wet cunt, grabbing her tight bubble butt as I fuck her doggy style from behind. I can't believe it, I'm sliding in and out of my naked little sister and I know I'm about to cum at any moment. She straddles herself atop my lap and impales her snatch on my dick, riding it, then leaning back and spreading her legs so I can keep plowing her pussy in missionary position. We've both been waiting so long for this moment! I grab her titties while I'm fucking her and she gets back on top, this time in reverse cowgirl, so I can check out her juicy butt bouncing up and down my hard rod until my dirty little slut stepsister is ready to swallow my creamy cum as I blow my load!
THE SEXIEST AND HOTTEST YOUNG SISTERS GOT CAUGHT FUCKED: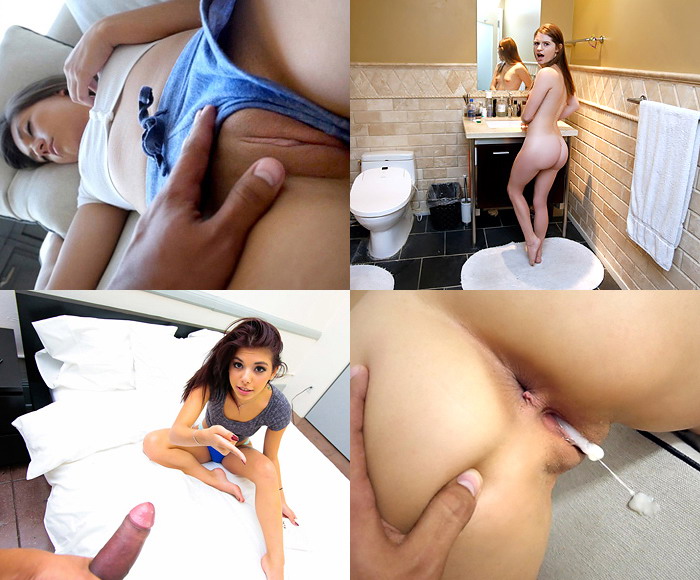 These horny brothers and sexy sisters have a dirty little family secret they want you to know all about! That's right; SisLovesMe is all about horny brothers seducing and fucking their hot sisters! These guys spy on their naked sisters in the bathroom and then fuck them hard; brothers and sister masturbate together and have sex for the first time; the guys sneak in the sister's room and stuff their tight pussies with their big throbbing cocks while the girls sleep and cum inside their virgin pussies; the girls get caught masturbating and now let their brother fuck their wet pussies and gaping assholes and blow their loads all over their faces! As long as their moms and dads don't find out, everything is okay!
|
CHECK OUT RECENT VIDEOS ON THE MAIN PAGE !!!