The public library is the place to learn some new things like how to not get caught fucking! The blonde influencer had a bright idea. She wanted to be naughty at the public library but she didn't want to get caught. It was a lame idea since she was broadcasting this via her phone so she is live already but whatever. She began flashing her round and juicy tits on her camera, the local jock was there looking for some books. He didn't look for anything particular but he was there more to check out the nerdy chicks. Just his luck that he had this blonde ditsy slut cross his path. He saw what she was doing and he couldn't believe his luck. The sexiest, the hottest teen babe was playing with her pussy right there in the public library! That made his cock rise up and make him do dirty stuff. He was pretending to be reading a book but he was actually jerking his long cock off to this sexy babe. He spied on her until she was alerted by an audience member, crafty slut used that opportunity to recruit the voyeur for her livestream! She grabbed his hard cock and kept jerking him off! Very fast she made him jizz in a book! What the two didn't know was that the librarian was a cum-addicted slut! A lonely, cum-addicted librarian decided to check what was happening under her professional roof. The jock wasn't there anymore but the book with his semen was. She took the book, opened it, and had a sight to see. The jizz was dripping down the floor and she knew exactly what it was and whose was it. Meanwhile he sneaked up behind her, pulled down her thongs and pushed his cock balls deep in her cunt! The cock felt amazing and the horny librarian began pushing her huge ass back, making him fuck her deeper.

THE HOTTEST, SEXIEST AND HORNIEST GIRLS: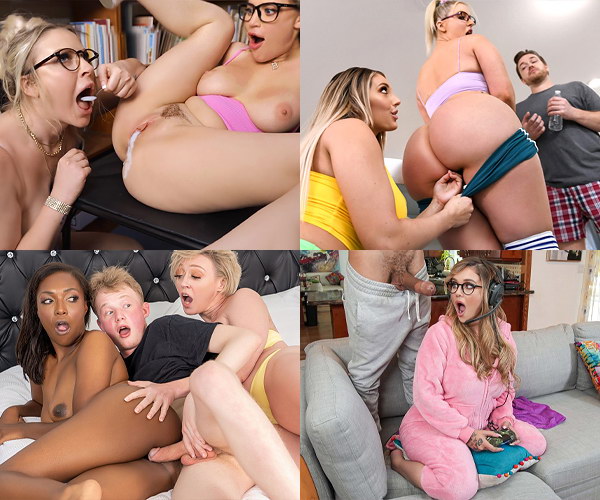 Her amazing ass made him cum fast, filling her pussy to the brim. But she wanted to taste it, she told the guy to scoop the cum out of her vagina and giver her to suck it. The blonde found that crazy scene, a librarian eating cum out of her own cunt on the floor between the library isles, and just couldn't miss the opportunity to join them! So the two slutty bimbos are now in the library isles, with their tops down, boobs out and the girls are sucking the jock's cock as he is recording all of this on the influencer's phone. That cock got one sloppy gobble and he was ready for more and so were they. The cum-addicted librarian sat on top of his erect cock and started riding it like a crazy nut. Her boobs were flying up in the air as she was fucking him intensely. The dude then wanted to rail the big ass she had. He took her blue panties off and slid inside of her pussy which was tight and wet. She even rode him cowgirl so her giant soft boobs were in front of him making him do something with his mouth. Then, the other blonde wanted some action. This was one day that the jock won't forget. She was on her back and he entered her missionary style. He ravaged her deep and hard and she loved the deep strokes he gave her. Then, he couldn't hold it in much longer so he came inside of her. The librarian took a spoon and let the sperm drip inside of it. She was literally eating his sperm out of a cunt with a spoon!