Beautiful, sexy blonde is feeling horny and wants to have sex with her boyfriend while staying at his parents' house. He turns her down feeling tired and goes to sleep so she pulls her panties aside and starts touching her pussy. She quickly realizes that she is too horny to masturbate alone and leaves the room to wander around the house with her tits out, wearing only panties, looking for something more. She ends up in the room of his sister who was not there at the moment so she decides to snoop around. A bunch of dildos catch her eye and make her even more excited so she opens a drawer, finds a vibrator and turns it on out of curiosity. At that moment, smoking hot, black-haired Latina sister wearing the tightest dress and sexy high heels comes back into the room and starts yelling at her for going through her stuff, trying to kick her out of the room. Startled, the half naked girl quickly tries to leave. But seeing that hot body naked with those perky tits and perfect, pierced nipples gets her boyfriend's sister all worked up too. She grabs the girl from behind as she was walking out, throws her back on the bed, spreads her legs as wide as possible, pulls her panties to the side and starts dominantly licking her already wet pussy! She has never been with a girl before and now this slut is kissing her pussy, sucking on her clit, tongue fucking her slit! But despite her shock she doesn't pull away, she begins to go along with it. It doesn't take long before she is screaming with pleasure, with sister's hot, tongue sloppily licking her all over, moaning while doing it. Soon enough, horny sister gets completely wet too from licking her brother's girlfriend. The horny lesbian gets undressed and sits on her face and fucks her mouth and tongue with her cunt. The lesbian wants nothing more than to soak this bitch's face with her juices as she cums. She is grinding on her face and moaning erratically. The naked girls end up in a passionate 69, screaming and moaning into each other's cunt. Even that was not enough so the blonde takes a vibrator and starts sucking on it and deepthroating it to get it all wet while the sister licks her tight asshole and rubs her pussy from behind. When the vibrator gets wet enough she puts it in her pussy and starts fucking her hard from behind with it, forcing her to scream in pleasure.

LESBO SLUTS CAN'T GET ENOUGH PUSSY AND LOVE GIRL ON GIRL ACTION: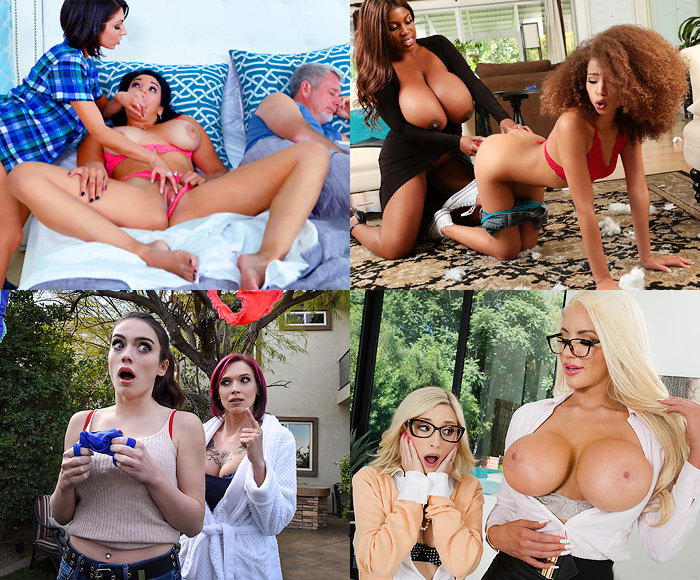 When she cums she decides to repay so she spreads sister's legs wide, lies down and starts licking her dripping pussy all over. As she is licking her she starts fucking her pussy with both finger and tongue simultaneously. Sister gets so turned on she grabs her hair and rubs herself on face very roughly. She forces her brother's girlfriend slap her cunt and her clit. She makes her slap her tits and squeeze them too, this shit turns her on so much. Orgasm after orgasm wasn't enough for these two so the crazy lesbians start scissoring, grinding their hot, wet pussies. Slow at first, then harder and faster, both screaming in ecstasy as if they are in the house alone. After cumming again the naked girls make a break where the sister gets on all fours and puts her ass high up for the blonde to fuck her asshole with her tongue. The sister can't control herself from pleasure as she shakes her ass up and down to get licked all over. The girls continue fucking, scissoring and cumming for a long time after that.