Family
What if your stepmom is a hot woman with a juicy ass and a pair of amazing tits?! My blonde stepmom was doing the laundry in her sexy tight pink dress, highlighting her delicious curves, her juicy bubble shaped ass and her fabulous big tits. I got close to her, groping her perfect ass. My dad is a busy businessman and I couldn't tell that his love-making with this new wife was very satisfying. But my penis reacts immediately at the sight of my sexy stepmom. That piece of manhood was now resting against her ass, while I groped her amazing ass! When I thought she was going to teel on my father, she got down on her knees, pulling my pants down and deep throating my throbbing member! It felt fantastic! She worked her head up and down on my cock like a pornstar! She loved slurping and sucking my big hard sausage, spreading her drool all over my shaft and letting it drip so she could catch it with her wet tongue as she licked my balls!!! She sucked on my balls while stroking my hard cock, moaning with satisfaction and caressing her big tits over her bra. She took off her bra and let her beautiful big tits hang loose. All her clothes were on the floor and she was fully nude. As the naked blonde kept sucking my cock, she produced thick ropes of warm drool that dripped all over her bangers as she made me lie flat on the laundry room floor, squatting over my face so I could eat out her shaved cunt. My naked step mom sat over me, began to rub my balls, holding my erection she said Put your dick inside me! She slowly lowered her onto my cock, she was very wet and hot. She began to move up and down, slowlly squeezing my cock with her vagina, pushing her sensual body onto my cock, grinding and making her big basketball tits bounce while telling me how she loved my dick inside. She flipped over so her big tits were facing my way as she kept riding my cock. She started bucking her hips, she wanted it deeper and deeper "oh YES, yes OH FUCK YES!!" she screamed, bucking with an incredebly intense orgasm! The hot naked woman fucked me as hard as she could, riding up and down! After banging her over the washing machine, I blow my load, splattering her slutty face and her big tits with my hot cum as she licked my cock clean! After that initial sexual encounter, it was hard to stop. It had been so enjoyable. And it hasn't stopped to this day. Every time my dad is away on a business trip we take advantage of our time alone and fuck all over the house like rabbits in heat.
|
I love the 4th of July! It's the perfect opportunity to get together with my family and especially my sexy stepsister! After greeting and catching up with my dad and my stepmom I finally get a chance to spend some time alone with my stepsister. She gets down on her knees and starts sucking and stroking my rock hard cock, it's been so long since the last time this dirty bitch gave me head! She tells me how much she missed sucking my dick and licking my balls, but unfortunately we get interrupted by our parents and we have to stop. They are so happy to see the whole family reunited and to see us getting along so well, if they only knew! While we enjoy our Fourth of July barbecue, she's jerking me off under the table and I'm masturbating her wet pussy. She's giving me dirty looks and flirting with me and our parents don't have a clue of what's going on. Since we already know our parents stay chatting at the table for hours I excuse myself, followed by my sexy stepsister in her skimpy star-spangled bikini. She gets down on her knees and finishes what she started. She pulled my trunks down and my cock came slapping out, she grabbed it and put it in her warm mouth and started to suck on it greedily, each time allowing it to go deeper in her mouth. She told me how she loved my cock, sucking and stroking it and rubbing it all over her dirty face. If my slutty step sister didn't stop I would cum in her mouth. She looked up at me and said it was ok. She pulled down her panties, exposing me her amazing ass and her wet pussy lips, spread her buttocks and told me push it in. She bends over the living room table, shaking her juicy bubble butt while I pound her dripping wet pussy from behind, so fucking hot! I pulled her whole body back tight against mine. My hard cock was sunk to its fullest depth in her twerking ass, I grasped and squeezed her breasts, jerking and pulling at them as I fucked her from behind. When I stop fucking her, my slutty stepsister pushes her ass against my cock, urging me to keep banging her. The way she was moving, twerking her ass, pushing her body against me was stunning! I thought I would cum inside her. We can actually see our parents from the window, good thing they can't see us! I sit on the couch and my naked step sister straddles herself on top of my lap, squatting over my dick and impaling her dripping wet pussy on it, pushing her body up and down my rod. With my dick still inside her, she flips over, grinding her crotch against my own while I groped and fondle her delicious tits as if they were pizza dough. As she begs me to fuck her harder and faster she confesses that she would love to get caught by our parents right in the moment when I am blowing my load and blasting creamy cum all over her face and mouth!
TEENS IN THE BEST FAMILY ORGIES YOU HAVE EVER SEEN:
If you fantasize with banging your slutty sister, eating out your stepdaughter's young pussy or having your gf's sexy mom suck your hard cock, or all of this together in one family orgy, here at FamilyStrokes, all those dirty fantasies cum true right in front of your eyes! In this age of the extended family, nothing is taboo behind closed doors. These hot naked women seduce teens and make them fuck them hard, these horny guys sneak into the sister's room and fuck them when the girls sleep, brother and sister taking shower together, these pervert stepdad enjoy their young step daughters' pussies. Watch it all in the most crazy, threesome, foursome, sex family orgies!
|
My sexy little stepsister is such a dirty slut, she'll do anything to get her hands on my credit card and she knows how to get it! One day, I noticed that she left the bathroom door open during her shower. I decided that I "needed" to use the bathroom too. I walked in quietly and stood spying on my step sister as she slowly pulled down her panties, revealing the prettiest ass I had ever seen. I could see her sexy ass and her little pussy. I couldn't help looking and she knew I was looking. Then she saw that I was spying and acted like nothing happened and she didn't care I saw her naked, wasn't embarassed at all. On the contrary, when I saw her beautiful naked body I got an instant erection! My step sister always loved walking around the house in her panties and I always dreamed about seeing where her sexy legs connected to her body. In fact, she wanted to go party with her friends and she was strapped for cash, so as she asked if she could burrow my credit card, she would do something for me into the shower. I teased her a bit, offering her the card and taking it away as she tried to grab it. She knew she was going to have to work to get it… work my dick! She got out of the shower and pulled apart her pussy lips, and let me touch her wet slit and juicy bubble butt. I thought I was going to cum in my pants. She got down on her knees on the bathroom floor, grabbed my cock and put it in her mouth and sucked it like crazy. I let her give me head, sucking my dick all the way down to the base, stroking my cock and licking my balls. That dirty little cock sucker gave me such a hard on! We went to the living room so she could keep sucking my cock comfortably and her soft, silky hair fell over my belly as she blow me. My naked step sister climbed on top of me took my hard cock and guided it between her moist pussy lips and lowered herself so that I went just in to her. The sight of her trimmed pussy with a "landing strip" was such a turn on. She rode me, bouncing up and down my shaft. I loved watching her pushed her naked body up and down my meaty pole wearing absolutely nothing but a sexy pair of fuck me heels. Yeah, she let me fuck her for my credit card, but that didn't mean the dirty little bitch didn't enjoy it, she loved getting her pussy banged hard. I made her lie flat on her back and spread her legs so I could fuck her tight cunt in missionary position. I rubbed her clit while I'm fucking her and I enjoyed the sexy expression on her face as she begged me to give her my hard cock, and my creamy cum and finally… my credit card, lol! I pounded her snatch in several different positions and made her suck my hard cock and big balls some more. Once I got my fill I was ready to cum, blowing my creamy load all over my slutty stepsister's dirty face and open mouth, watching her swallow my cum as I lend her my cred card!
THE SEXIEST AND HOTTEST YOUNG SISTERS GOT CAUGHT FUCKED:
If they are family after all, what wrong can there be in these horny guys spying on, seducing and banging their step sisters? When these guys see their half naked sisters walking around in just the panties, displaying their sexy legs and their sexy bubble butts, indecent thoughts come. SisLovesMe is full of smoking hot girls with big tits, juicy butts and dripping wet pussies that are simply irresistible to their perverted stepbrothers. That's okay! These guys sneak in sisters' room at night and fuck them while they sleep, convince them to pose fully naked for them, watch porn and masturbate together, cum inside after pounding their tight pussies and even lose virginity with them!
|
I just love spying on my sexy little 18 year old stepsister when she's in the bathroom; totally naked and checking herself out in the mirror. Every time she catch me she covered herself up and told me to leave, but not before I got to play a bit with her shaved pussy and soft butt. My step sister let me touch her wet pussy slit, her pussy lips and her clit, and she didn't protest. She also liked it. Her nipples hardened up as I touched her breasts and her clean shaven smooth pussy got so wet as she got turned on by the situation! My step sister had never let me nothing more than just look and touch before but that day she was really hot. She asked me if she could see my big cock. I let my step sister touch my balls ans stroke my penis. She was getting into it and she set on the toilet seat, taking my throbbing erection in her hands and popping it into her wet mouth, giving me head. I decided to see if she would let me fuck her pussy. We got back to her bedroom and she got down on all fours by the side of her bed, raising her juicy bubble butt as I was ready to stuff her tight pussy with my big dick, filling her up and pounding her hard doggy style! My naked step sister spread her round ass cheeks with both hands and the head of my cock was at the entrance to her dripping wet vagina, my erection was aching. She pushed her juicy ass against my dick and she opened her eyes wide as my cock slipped in. Her pussy was hot, and so tight! I held her beautiful butt-cheeks. She was smiling, her eyes looking back at me, I pushed a little harder, and my sexy step sister started to go "mmmm", I kept pushing, harder and harder, that bubble butt jiggled like vanilla pudding, baby! She kept tightening her vagina, so I kept pushing harder. She had me lay down on her bed and got on top of me, started to rub her pussy against my dick and then lowered herself on it. It felt so good as she bounced up and down on my cock. I was starting to feel my dick ready to cum after about a minute but she kept ride me, making her bubble butt bounce up and down my rod. I love it when a girl rides my cock in reverse cowgirl, since I get a great view of a hot ass! I squeezed it and spanked my step sister's sexy ass and she flipped over, bouncing up and down my rod, showing me her sexy little tits and her slutty little face. She was so horny by this point, her cunt was all covered in her juice and she just screamed "Cum inside me! Cum inside me! Please!". She looked me right in the eyes when I was cumming! The thick, heavy load thumping again and again into her. I did empty my balls into her! I pulled out and it was starting to leak out of her pussy onto the bed sheet. She keeps tell me we have to stop doing this, but she's ready for my dick the very next day, she can't get enough of my hard cock and my creamy cum and I can't get enough of my stepsister's juicy cunt and delicious cock sucking mouth! I fuck her several more times during the day, in the den, the living room, the kitchen, the garage, just follow the semen marks all over the floor left behind after I blow my load all over my sexy stepsister! I still remember the first time we fucked, after she caught me spying on her in the bathroom, and ever since we do this every single day, it's our own dirty little sex secret and we just love it!
THE SEXIEST AND HOTTEST YOUNG SISTERS GOT CAUGHT FUCKED:
When these guys see their half naked sisters walking around in just the panties, displaying their sexy legs and their sexy bubble butts, indecent thoughts come. If they are family after all, what wrong can there be in these horny guys spying on, seducing and banging their sisters? These horny guys sneak in the sister's room at night and fuck them while the girls sleep, convince them to pose fully naked on cam for them and their friends, watch porn together and masturbate to each other and even have sex for the first time, cum inside after pounding their tight pussies and assholes while their parents are at work!
|
When you have a beautiful girlfriend and you love and admire her so much, you are always showing her off in front of friends, coworkers and family and sharing her pictures all over your social networks. Well, this guy takes it even further, because he wants to share his girlfriend having sex with him on video all over the web, show off her perfect bubble butt, and she likes the idea! His sexy girlfriend strips naked in bed and shakes her delicious bubble shaped ass while down on her hands and knees as he keeps his huge cock motionless, letting her twerk her ass, literally swallowing his cock inside. She keeps twerking her sexy ass, pushing and impaling herself on his erection. The way she twerks her ass is absolutely amazing, I've never seen anything like this before and I love that her bum is big with relatively small thighs. Her BF rams his hard cock up her dripping wet pussy and starts fucking and filming her! She looks over her shoulder so the camera gets a good look at her face, she doesn't want anybody to confuse her perfect ass with somebody else's, lol! She jiggles her juicy bubble ass while he fucks her, twerking it and pushing it back against his hard dick. After pounding her pussy he lies on his back and she cradles herself between his legs, sucking and stroking his hard sausage. His naked girlfriend sits on his cock and lets it sink inside her wet muff, driving her ass up and down his shaft. As she sits on his dick, he passes the camera over to her, so she can give the audience a sexy close-up of his hard cock stuffing her twat. She squats over his member and he grabs her ass with his hands before she gets on her back so he can grope and fondle her big tits and erect nipples while popping his fat cock back inside her wet twat and fucking her in missionary position. She gives the camera her naughtiest and sexiest looks, she's so fucking hot, she was made to fuck on camera! He rubs her pussy lips and she spreads them wide open with her fingers while he continues drilling her twat. She passes hers oft fingertips all over her sexy body, from her belly to her breasts and enjoys having her boyfriend inside her while they make their sex tape. She just can't wait for the best part, the money shot, where her boyfriend gets to pop his dick out of her dripping wet twat and blow his creamy load of hot semen all over her lovely face, her open mouth and her delicious tits in front of the camera!
THEY FUCK THEIR CRAZY SEXY GIRLFRIENDS AND RECORD THE BEST AMATEUR PORN:
After dumping or cheating on their boyfriends, these dirty girlfriends thought they'd get off easy, but now it's time for revenge and their boyfriends are submitting all those homemade sex tapes and amateur porn videos for everybody to watch and jerk off to online, exposing their ex-girlfriends as the real life fuck sluts and cock sucking bitches they are! Help them get revenge by busting a nut to these hot teen sluts! GF Revenge brings you 100% real amateur porn with the most hot and sexy teen girls. These girlfriends do incredible thing on camera, they suck a cock for the first time, let their bfs fuck their little pussies on camera, and even cum on the face, try lesbian sex, threesome and group orgies with best friends!
|
My stepsister has a crush on me ever since we met for the first time after our parents got together. I think the idea of getting banged by her very own stepbrother turns her on, but I usually just ignore her and pretend she's just playing games with me or pushing my buttons. Problem is, it's getting pretty hard to ignore her, since she's getting more and more provocative with each encounter we have, and since we live under the same roof with our parents, you can imagine the sexual tension at this point; you can cut it with a knife! My step sister always has a little grin on her face that says, "I have dirty thoughts and I know you do too". We're sitting on the living room couch and the flirting begins again. It feels like a game of who will make the first move. And finally she gets up and her skirt is hiked up and I can see her naked juicy bubble ass!!! She's not wearing any panties!!! I just can't resist, grabbing her meaty ass cheeks! My step sister's ass is absolutely amazing, two big round buttocks and a little pussy between them. I can stare at her naked ass and I certainly take the opportunity. She's so turned on and I just want to see how far she can go. She spreads her legs and starts rubbing her dripping wet muff in front of me, telling me she can't resist this any longer, and honestly, neither can I! Then she leans over and unzips my jeans, pulling out my throbbing cock and taking it to her wet mouth, sucking it hard like a dirty little slut. This teen slut gives great head! We go to her bedroom and she strips naked and gets in her bed, masturbating herself for me and showing me how wet her pussy is. She keeps sucking my hard cock and stroking it slow and gentle. I don't think my dick has ever been so fucking hard, man! There is no turning back, my sexy naked step sister gets down on her hands and knees, spreads her hot, tight, fleshy ass cheeks and I instantly move so that my prick touch the hot wetness of her slit. I ram my hard cock deep inside her wet cunt, grabbing her tight bubble butt as I fuck her doggy style from behind. I can't believe it, I'm sliding in and out of my naked little sister and I know I'm about to cum at any moment. She straddles herself atop my lap and impales her snatch on my dick, riding it, then leaning back and spreading her legs so I can keep plowing her pussy in missionary position. We've both been waiting so long for this moment! I grab her titties while I'm fucking her and she gets back on top, this time in reverse cowgirl, so I can check out her juicy butt bouncing up and down my hard rod until my dirty little slut stepsister is ready to swallow my creamy cum as I blow my load!
THE SEXIEST AND HOTTEST YOUNG SISTERS GOT CAUGHT FUCKED: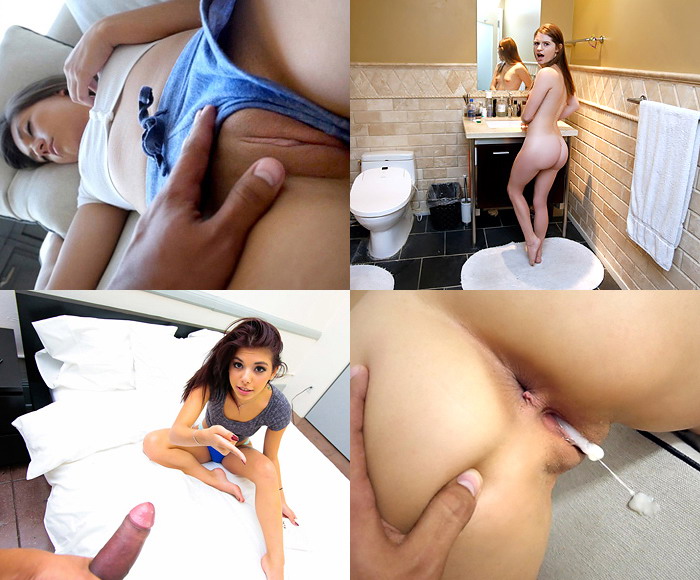 These horny brothers and sexy sisters have a dirty little family secret they want you to know all about! That's right; SisLovesMe is all about horny brothers seducing and fucking their hot sisters! These guys spy on their naked sisters in the bathroom and then fuck them hard; brothers and sister masturbate together and have sex for the first time; the guys sneak in the sister's room and stuff their tight pussies with their big throbbing cocks while the girls sleep and cum inside their virgin pussies; the girls get caught masturbating and now let their brother fuck their wet pussies and gaping assholes and blow their loads all over their faces! As long as their moms and dads don't find out, everything is okay!
|
It was Mother's Day and since I was visiting my girlfriend, I decided I'd drop by her beautiful blonde stepmom's bedroom and congratulate her for the occasion. I didn't bring any gifts so I asked her if she would like anything special for the occasion. She told me she would love a back rub, I thought that was innocent enough, but when she pulled down the sheets, I noticed she was wearing the sexiest lingerie, highlighting her smoking hot body and big magnificent tits! She turned over and I saw her gorgeous ass… mouth watering and juicy. I started rubbing her back but she said me that I could rub her down there. She said it would make her feel nice. When my hands touched her big soft ass, I felt tiny shocks flow through my body. I squeezed her juicy buttocks with my hands and the hot woman closed her eyes and starting breathing really hard. I was getting an erection from touching her sexy body and her meaty sexy ass! She noticed it and she suggested we do something about it!
Could you do something else for me? Maybe put your dick inside of me!?
I couldn't believe I was there in bed with this half naked woman, but before I could really say anything she pulled down her sexy lingerie and got down on her hands and knees and showed me her naked ass. I was now looking straight up onto her ass and pussy. She was so hot, big ass, huge milk tits and that lovely smiling face. I took off my clothes too, came closer, spread her buttocks and kissed her pussy from behind, it was very warm and damp. I penetrated her on the spot, fucking her mature pussy from behind with my throbbing member doggy style! She started moaning and moving her butt back and forth, saying it felt really nice. I was so concentrated banging her, I didn't notice when my girlfriend walked in on us! I guess she appreciated my Mother's Day gift for her stepmom, because when I realized she was there, she had her hands down her shorts and was masturbating herself while watching us fuck! She joined us in bed and she had her own little gift for her stepmom, getting down on all fours and eating her out along with me! I licked her pussy and ass while she ate her stepmom out and as she straddled herself on top of her, I started fucking her doggy style from behind too! I couldn't believe I was doing a threesome with two naked girls, my girlfriend and her sexy stepmom! I switched from my gf's pussy to her stepmom's, fucking the girls both in tandem while they had hot lesbian sex between each other; they looked so hot and beautiful! The naked girls made me lie flat on my back and sucked my cock and licked my balls together and as my girlfriend sat on my hard cock, her stepmom sat on my face and I ate her out and fucked my girl as they kissed and rode me! My girlfriend and her sexy stepmom took turns fucking me. Then the stepmom told me to cum all over their faces. The girls licked my balls together while I was blowing my load all over their sexy faces. At the end I watched them swap my cum, Happy Mother's Day!
HOT NAKED WOMEN AND YOUNG TEEN GIRLS IN THE BEST FAMILY ORGIES YOU HAVE EVER SEEN:
If you fantasize with banging your slutty sister, eating out your stepdaughter's young pussy or having your gf's sexy mom suck your hard cock, here at Family Strokes, all those dirty fantasies cum true right in front of your eyes! Step-family relations take a turn for the kinky as mature stepmoms, horny stepdad, sexy stepsisters and stepbrothers strip naked and get it on! These hot naked women seduce their daughter's boyfriends and make them fuck them hard, these horny guys sneak into their stepsister's room and fuck them when the girls sleep, these pervert stepdad enjoy their young step daughters' pussies. Watch it all in the most crazy, threesome, foursome, sex family orgies!
|
Family sticks together through the good and the bad, and since his stepsister is going through a bad patch, her boyfriend cheated on her, he wants to be there for her and support her! He embraces her and tells her everything is going to be okay, that's she's a great girl, that's she's beautiful, that's she's so hot… while he tells her all this, he feels her tight, hot body against his, and his dick getting harder and pressing against her pelvis! They start to kiss and he takes off her top and bra, feeling up her gorgeous breasts! Rebound sex is what she needs to get back at her stupid boyfriend and feel empowered, and having rebound sex with her very own stepbrother and knowing his lust for her makes her feel so hot, filthy, powerful and irresistible! She gets down on her knees and sucks her stepbrother's rock hard erection, filling her mouth with his manly meat right there in the kitchen! The little girl drools all over his member as she sucks and strokes it. "You… you… you wouldn't tell mom and dad about this?" She strips naked so he can rub her pussy lips and her hard nipples on her young breasts. This teen girl has absolutly amazing, young beautiful pussy, so smooth, bald and sweet little pussy. She's got so wet just thinking about her stepbrother's dick in her! He lies on his back in the middle of the kitchen and his young naked step sister straddles herself on top, squatting unto his cock and impaling her cute pussy on it, making her tiny body bounce up and down his shaft as she rides him. She should be an instant favourite with fans of pretty pussies. You do get a pretty get look at her pussy lips wrapped around step brother's cock. After riding his sausage he puts his naked step sister down on all fours so he can fuck her doggy style from behind. Now that she has her stepbrother to fuck her and make her feel like a woman, she doesn't need to suffer about her stupid ex-boyfriend! Her stepbrother's cock is much better!
|
I had never seen my sexy brunette stepsister so pissed off! Turns out she found out that her ex-boyfriend started dating one of her best friends and she wanted to get back at him! She asked me to help her make a revenge video for her ex, and since those opportunities don't come around often, I agreed! She asked me if she could take a picture of my dick in her mouth for her ex boyfriend and how could I say no? I was amazed as she grabbed her phone, turned the video camera on, dropped to her knees and started sucking my dick! Yeah, it was awkward since she's my stepsister and shit, but so fucking hot at the same time! If we wouldn't be related I would fuck her, but I didn't have to worry about that anyhow! I could tell that she was quite surprised with my dick, she said she had no idea it was so big, hard and thick, much better, since it's bigger than her ex's! Lol! She sucked my cock like a pro, even salivating over it to get it all nice and wet. When I said I was about to cum, she continued to jerk me off and suck my dick even faster and deeper. I ejaculated in her little mouth, and seemed she loved it. The crazy teen slut didn't let go of my dick, continuing to slowly suck sperm out of me and drink it. My sexy step sister swallowed every last drop and licked the swollen mushroom head of my cock till it was clean. After we were done, that was it, but I couldn't get her off my head, so the next day I asked her for a favor! Since I helped her get her revenge on her ex, maybe she could help me fulfill my fantasy of banging her young pussy! After all, I had a raging hard-on since she sucked me and it wasn't going down! It was her responsibility! She got by the edge of the bed, pulled her panties down and got down on all fours! What a fine bubble butt and what a gorgeous teen pussy! She was awfully soft and warm down there. Her pussy was so wet. I popped my throbbing cock between her moist pussy lips, deep inside her tight vagina and began fucking her doggy style. When I fucked my hot step sister from behind she continued to read her school book. She asked me to hurry up, but I was taking my time, just enough time for her to get into it. When she began moaning and grunting, I knew she was into it! I pumped her faster, harder and deeper, and felt that her pussy was very narrow. I flipped her over, spread her legs and kept fucking her in missionary while she kept playing the role of annoyed stuck up bitch but deep inside was loving it. Finally my hot step sister took off her top and fully naked straddled herself atop my dick, telling me how big my dick was and how good I was, now the slutty teen was into it! I felt that I was about to come, and told her this. She just begged me to keep pumping her faster, because she was very close to a climax too. She rubbed her twat as I blew my load in her! When she felt my hot cum filling her vagina, her pussy tighten up around my cock and she began to shudder with an orgasm.
SIS LOVES ME, THE HOTTEST AND RAUNCHIEST STEP-SIBLING HOOKUPS ON THE NET:
When these guys see their half naked stepsisters walking around in just the panties, displaying their sexy legs and their sexy bubble butts, indecent thoughts come. If they are family after all, what wrong can there be in these horny guys spying on, seducing and banging their stepsisters? These guys sneak in the sister's room at night and fuck them while the girls sleep, convince them to pose fully naked on cam for them, watch porn together and masturbate to each other and even have sex with them for the first time and cum inside after pounding their tight pussies and assholes while their parents are at work!
|
This sexy redhead's boyfriend came over while she was out buying groceries with her grandmother so her stepmother decided to entertain him in the meantime, and boy, did she entertain him! When the redhead stepdaughter returns along with her grandma, she finds her stepmom down on her knees, sucking her boyfriend's dick! It's an awkward moment for everybody, grandmother is disgusted! But after granny leaves, the sexy blonde cougar tries to fix things up between her and her boyfriend. She begins to explain that she is only teaching her boyfriend to be a better lover for her. After all, he's still hard as a rock, and she is still dripping wet, and she feels curious, so why not make the best of it? They sit on the couch and the teen girl starts sucking her boyfriend's hard cock with her stepmom, it feels so hot and sexy, especially when their lips and tongues meet! The girls lick the head of his cock with their tongues and lick his big balls together. The teen girl strips naked and straddles herself atop her boyfriend's hard cock, impaling her dripping wet twat on his cock and riding it while her stepmom observes and takes off her clothes too. This MILF has a beautiful body and big, ripe tits, and a perfect ass and legs as for a mature woman. She loves having her stepmom kiss her and touch her body while she's getting fucked by her boyfriend, it's a new sensation and it's awesome. She sucks her boyfriend's hard sausage while her stepmom sits on his face so he can eat her out as she straddles herself back on top and keeps riding him. She feels her stepmom's hands all over her tits and she flips over so she can keep making out with her while riding her boyfriend's dick. She is so turned on, she rubs her wet muff as she bounces up and down her boyfriend's rod, but she wants to see him fucking her stepmom! While they are fucking in the living room, grandma comes down with her suitcase, this is too much for her, but they don't stop fucking to bid her farewell, lol! I mean, she's more than welcome to join them! Her stepmom lies on her back and spreads her legs and she plays with her big tits while her boyfriend pumps her dripping wet pussy in missionary position. He pounds his girlfriend's stepmom so hard that makes her to remember what an orgasm is! This girl always thought she'd be jealous watching him fuck another woman, but it's actually a turn on, more so since that other woman is her stepmom and they are sharing her in this amazing threesome fuck that will surely become a new family routine! Then lying on her back on the floor with her ass up and her legs spread open, she sucks her bf's dick while her crazy stepmom sits over her in a scissoring position and begins rubbing her mature pussy over her young teen pussy! Awesome! Young naked girl and sexy naked woman both get their pussies pounded hard, bending over on their knees with their asses in the air next to each other. These naked girls get fucked hard in such amazing sex positions that you might never have thought possible. Would love to see this sexy mom holding teen's legs open for a juicy creampie and then eating the creampie out of her pussy? Don't miss the full video here:
YOUNG NAKED GIRLS AND HOT NAKED WOMEN IN AMAZING THREESOME ORGIES:
If you love watching sexy mature women with big tits and juicy asses having sex with their hot teen daughters and seducing their boyfriends come check out Moms Bang Teens! These naughty cougars are definitely passing on their knowledge of sex to the younger generation, showing these teens the proper way to suck dick, lick pussy, squirt, fuck hard and swallow cum! See them take off their clothes and have sex in hardcore threesome action! These horny moms and dirty teens love to fuck and they do it in the most amazing way possible.
|
After realizing the effect she has on her stepfather and stepbrother, this spunky brunette girl knows how to ask for whatever she needs and get it! Right now she needs some cash, so she asks her sweet step daddy for it… totally naked! The teen slut lets him rub her body and finger her ultra tight pussy with his stubby fingers and gets down on her knees so she can suck his hard cock. She knows her mom doesn't give him any of this! She drools all over his dick while she plays with it and her stepdad cums right in her mouth, leaving her with a big gob of cum that oozing out of her mouth, and with money. Since she also needs to borrow her stepbrother's car, she pays him a visit in his bedroom and sucks his dick too! The sexy teen girl deepthroats his big juicy dick and drools all over it, swallowing his rod and massaging his balls, making him cum in her mouth too! She swallows step brother's cumshot and gets the keys! Welcome to FamilyStrokes – you know these days ordinary families simply do NOT exist, lol! This little teen slut has even more fun when she gets to suck their hard cocks together at the same time during the morning while they are having breakfast and she knows they have morning wood and she doesn't want those magnificent, powerful erections to go to waste. While she sucks one, she jerks the other and can't decide which she likes most, she loves these two cocks both and wants them inside her so bad! They strip her naked and placed her over the table. She sucks her stepdaughter's hard cock while getting her tight pussy fucked very hard by her stepbrother. She enjoys getting spit roasted by them so much! They put this young naked girl down on all fours and her stepbrother fucks her doggie style from behind while she keeps sucking her stepdad's big dick. Her stepbrother pushes her face against his cock and makes her gag on it. She can't wait for them to cum all over her dirty face, open mouth and juicy tits!
|
I love watching my stepsister when she sleeps. I know it sounds creepy, but she looks so sexy in her pink lace panties and tank top, I just can't resist touching her and feeling up her big breasts under her top! As I touch her soft tits I can feel her nipples getting hard and erect and by the way she moans and grunts during sleep, I can tell that she is enjoying it. I whip out my throbbing cock and put it close to her lips and when she wakes up she acts all annoyed and shit, but I know what she really wants is for me to keep playing with her. I take her hand and put it on my hard cock and she begins to stroke it gently as I caress her thighs, her pussy and her tits. She lets me pull her tits over her tank top and remove her drenched panties and she gets to work on my throbbing erection, popping it into her mouth and giving me head with this dirty look on her sexy face. My hand reaches her pussy and I start rubbing her clit ohh yesss "You are already wet. You're enjoying this aren't you, you crazy little slut." I put her down on all fours and slowly pull down her pink panties, revealing her beautiful pussy! Standing doggy style with her ass in the air my naked step sister grabs her ass with both hands, spreads her ass cheeks wide and tells me that our parents will not be home til late and we have the house to ourselves. She spreads her pussy lips and tells me to lick her down right there and shove my throbing cock deep inside. I penetrate her from behind, fucking her hard doggy style and feeling hot wet, hot and tight her pussy is. She has a beautiful bubble shaped ass and I just love playing with it while I'm banging her in bed. Now she is totally into her role and looks like a dirty little bitch, down on her hands and knees and taking my dick up her pussy real hard. I flip her over, spread her legs and keep fucking her in missionary position. It's so hot we both look down and watch my hard cock sliding in and out of her lovely pussy. She used to have a boyfriend, but ever since we started fucking she ditched him, she definitely prefers her stepbrother's hard cock to anybody else! I rub her twat while I'm fucking her and I squeeze her succulent big tits. She always tells me that having sex with her very own stepbrother makes her feel so dirty and hot, she loves it and so do I. She strips naked and straddles herself atop my cock, she rides it hard and fast, begging me to fill her up with my dick and urging me to blow my load all over her! I tell her to slow down, I don't want to cum too quick, but some time later I forget about having her rotate her ass and start pumping her deep, cumming inside her pussy.
THE SEXIEST AND HOTTEST YOUNG SISTERS GOT CAUGHT FUCKED:
At SisLovesMe family takes a whole new meaning for these horny guys when they receive the unconditional love from their stepsisters, cute, sexy, naughty teen girls with big tits, juicy butts and dripping wet twats that love being seduced by their very own stepbrothers! Watch these horny guys sneaking into the stepsister's room, touching their wet pussy and fucking them while the girls sleep. They spy on them while the girls strip naked in the bathroom and masturbate and then fuck them hard. When the parents aren't home, these sexy young girls suck their hard cocks, get banged hard by them and get creamy facials and sticky cumshots!
|
I was sitting on the couch in the living room and found my stepsister's phone with some nude selfies. Fuck, I knew she was kinda hot, but I never realized just hot until I saw her naked on the pictures! Her tits looked so big and her pussy resembled a dripping wet pussy burger, yummy! When she came around looking for her phone in her tight top and denim shorts, I couldn't help picturing her naked. Hey, not that I had too! I told her I found her phone and her nude selfies and she let me make sure her boobs were as big and her pussy as tasty as they looked on her phone! With a naughty smile on her face, she pulled her top over her tits and let me play with them. I was surprised by the sudden display of my stepsister's naked tits. Her tits were just so damn beautiful! They were perfect round melons, with pink erect nipples and big areolas. "Ah, that feels good when you touch me" she said. She seemed happy that I found her phone and her pictures, almost as if she would have taken them expecting me to find them! She sat on my lap and felt the hard bulge of my erection under my jeans and made me undress so she could suck and stroke my hard cock and lick my balls! I was in heaven with those sensations. She traveled around my dick, continuously licking and sucking, touching the head of my dick with her tongue. The entire time, she kept up her stroking with one hand and fondling my balls with the other, kneading them, caressing them gently. I couldn't believe I was getting blown by my very own stepsister, and we were just getting started! She pulled down her thong, spread her legs and masturbated for me and I began to jerk on my step sister too. My slutty stepsister stared at my hard dick and smiled. I could see her wet and pink pussy lips were parted, and beneath that, her pink rosebud of an asshole. I began to lick her wet slit as quickly as I could. I ate her dripping wet pussy out before popping my fat cock inside her and fucking her hard on the couch! Her pussy was warm and wet. She moaned with pleasure spreading her pussy lips with her hands and I could see her clit between them. Then my slutty naked step sister straddled herself atop my cock and rode me as I laid on the rug, grinding her tight ass and pussy against me and begging me to pound her as hard as I could and to blow my creamy load all over her! The view of her big tits bouncing up and down in front of my face was stunning.
|
Ever since she joined the family when her mom married his dad, this guy's fantasized with fucking his very own stepsister. After all, she's hot, but he's decided to wait, since she's a virgin and he thinks that losing her virginity to her very own stepbrother is just too weird. However, this is about to change, since he just found a discarded pregnancy test in the bathroom wastebasket, which means his sexy stepsister stopped being a virgin some time ago! He knows her mom won't be too happy to see such test, but he's willing to keep his stepsister's secret if she's willing to satisfy his fantasy, and boy, is she! They go to his bedroom and she strips naked while he watches her. This sexy girl is that special combination of youthful sexuality and a girl who deserves a good pussy pounding. Teenage innocence and a fuck-me attitude all in one shoot. What a lovely pretty face with a super sexy body. Long blonde hair, charming smile, pretty little breast and nice ass with pussy. She is so sexy! Her step brother always dreamed about seeing where her slender long legs connect to her body. Looking at his naked step sister he strokes his hard cock into full erection so she can straddle herself atop his member and ease into it. It's weird having her stepbrother's cock inside her, but it's kinda hot and sexy too! He places his cock between her meaty pussy lips and begins rubbing it back and forth over her clit. Very fast the head of his dick slips inside her wet slit. You won't be able stop cumming for her tight young body. Her vagina is extremely tight, squeezing her stepbrother's dick firmly. Naked girl bounces up and down his hard cock and he makes her get down on her hands and knees, dragging her to the edge of the bed and admiring her perfect bubble shaped ass while he fucks her doggy style! She has a pair of studs on her lower back and that's just so fucking sexy as he grabs that ass and spanks her, feeling how that tiny girl pushes her juicy ass against his dick. Yeah, his stepsister likes getting her pussy plowed by her dirty stepbrother! After banging her from behind, she flips over on his bed and spreads her legs so he can fuck her some more in missionary position. She just wants to see his face while he's banging her and show him with her dirty facial expressions how much she likes having her stepbrother's thick dick pounding her dripping wet pussy and making her feel like a fucking slut. He rubs her clit while he's banging her, and his dick is bigger than any of the guys she's fucked so far so she won't mind him visiting her bedroom every night and fucking her hard. She begs him to fuck her faster, deeper and harder, because right now the only thing she can think of is having her stepbrother's sticky cum blasted all over her body! At the beginning her teen pussy was tight and sensitive and now it's big, juicy, swollen and deep!
SIS LOVES ME, THE HOTTEST AND RAUNCHIEST STEP-SIBLING HOOKUPS ON THE NET:
When these guys see their sexy stepsisters walking around in just their panties, displaying their smooth long legs and ass, indecent thoughts come. If they are family after all, what wrong can there be in these horny guys spying on their naked stepsisters in the bathroom, jerking off on their underwear, watching porn and masturbating together, sneaking into their room at night and fucking the girls while they sleep, seducing and banging them while the parents are not around? These sexy young girls love sucking their stepbrother's morning wood, licking their balls and getting a taste of their creamy cum when they blow their loads all over their open mouths and dirty faces or cum inside.
|
Who said being a plumber is a bad job? Check this guy out! This dude is a plumber and he loves his job, despite the fact that his friends and family think he could have found a better job. He knows something they don't. First of all he can fuck all these women who call the plumber. The hot women that don't have a man in the house to fix their plumbing so they need him to get the job done! Then he can fuck their sexy teen daughters while the parents are not around. Chewing gum and eye-fucking him, this teen babe is definitely hot and wet. This sexy Latina babe shows the world what a naughty little badgirl she is as soon as her dad leaves the house. He just finished unclogging their kitchen sink and she is so turned on by his physical aptitudes, the most primitive part of her brain tells her this is the kind of male you want to breed with and that makes her teen pussy tingle and her nipples get hard! She guides his strong hand to her breast so he can fondle it and pinch her nipple and takes it between her legs, there's something hot and wet there that needs urgent unclogging with a very big tool that can pound her very hard! The naughty girl drops to her knees, pulls out his huge cock and takes it to her sweet little mouth, sucking it and licking his balls; after all, the tool needs to be well lubricated to get the job done and her plumbing needs it so bad! She is so busy sucking his delicious dick that she doesn't even notice how her father comes back. Love the almost getting caught plot scenarios, her daddy is making small talk with the plumber, having no idea that his daughter gives a blowjob to the plumber right behind the counter! Her daddy goes and his naughty daughter strips naked and bends over the kitchen sink so the plumber can penetrate and fuck her hard from behind. He lies flat on the kitchen floor and young naked girl squats over his dick and impales her tiny pussy on it. She rubs her muff while riding his erection and she can already feel the effects of his manly plumbing tool in her clogged up pussy and hopes he can unclog her throat with his cum too!
|
Since her mom and stepdad are not home, this sexy tiny 18 year old brunette babe decides to take a shower in their bedroom bathroom; it's so much bigger and cozier than hers. There's some excellent footage as the naked girl soaps up her titties and pussy and lets streams of water flow down through her ass crack and her pussy slit. Her body is so tight, tiny and petite. What this girl doesn't know is that her stepdad is still around, and since he doesn't know the bathroom is occupied, he barges in and is so surprised to find his naked stepdaughter there, that he drops his towel, exposing his huge throbbing erection! She's in awe, this is the first time she sees her step daddy naked and she had no idea his dick was so big, so hard, so enticing… She makes sure her mom did leave the house and starts stroking her stepdad's cock and drops to her knees so she can suck that delicious big cock hard and lick his balls. After slapping his sausage against her cheeks he sits her on the bathroom counter, spreads her legs and penetrates her tight, dripping wet twat with his thick cock. His dick is so much bigger than her boyfriend's, and her pussy is so much tighter than her mom's! He makes her stand against the counter, bends her over and fucks her from behind, admiring her tight bubble butt while he nails his very own stepdaughter's pussy! Teen girl gets back on her knees so she can keep sucking his dick and taste her pussy mixed with his salty precum and he fucks her tiny mouth with his big member, then lays flat on the bathroom floor as she squats over him and impales her tight slit on his big boner. The tiny naked girl riders his dick in reverse cowgirl and flips over, begging her dirty stepfather to blow his load all over her body! Watch more young teen girls getting crazy and wild in the best family orgies with dads, moms and brothers.
|
CHECK OUT RECENT VIDEOS ON THE MAIN PAGE !!!