Dad
As this sexy teen girl uses the swing in the patio and watches her dad's new wife sunbathing in a tiny bikini, she gets mixed feelings. Thing is, she finds herself terribly turned on by her new stepmom's incredible body! She can't keep her eyes off her sensual curves, her big tits and that perfect bubble shaped ass! When the hot woman asks her to apply some tanning lotion over her skin, she's so nervous and excited at the same time! What if she notices? After rubbing lotion all over her back and perfect ass, she lies by her side and the girls sun bathe together and she can't help complimenting her on her body like a broken record, lol! Her stepmom is actually flattered, so much so, that once inside, she can't help looking at herself in the mirror, touching herself softly as she gets naked, not knowing her stepdaughter is watching her from the door! As her stepmom touches herself, this teen girl touches herself too. The mom is voluptuous and gorgeous too. When she realizes her stepdaughter is masturbating herself to her, she sneaks in on her , pulling her towards her hot body and letting her know it's okay to feel this way towards another woman! The girls get comfortable in the couch and stepmom's body is turning her on and she can't resist to slide some fingers into her mature pussy. The woman spreads her legs in front of the girl so she can play with her dripping wet pussy, licking, sucking and tongue fucking her slit! The girl finally has seen her step mom's twat. Her pussy lips are so meaty and moist, she dives right between them, sticking her nose in the bush. The girl sticks her soft tongue between these pussy lips and begins eating out her vagina. I love when it switchs to POV mode when the girl licks this hairy pussy. Wonderfull! Love the pussy eating and staring in each other eyes. Finally she can touch, kiss, suck, or lick any part of this hot body. Then the mature naked woman puts her down on all fours and shoves her smooth silky tongue down her tight asshole, spreading it wide open as she introduces her stepdaughter to anilingus! The teen girl gettin that pretty peach chewed on doggy style is a sight to behold. Luv how the young naked girl arches her back n pokes out her yummy. She has a very suck-able pussy! The hot woman eats her out against the couch and makes her cum several times, fucking this young pussy is so much hotter than having sex with her dad! The MILF literally fucks her pussy with her tongue, dipping it so deep into the vagina. Naked girls embrace and rub their wet pussies together, kissing passionately as they trib each other. Watching turns into kissing, kissing turns into pussy licking, pussy licking turns to ass rimming, ass rimming leads to tribbing and everything combined makes the young girl squirt!!! The girl's orgasm is so intense that she begins to squirt, cumming excessively and leaving the bed all in puddles. The sexy teen is happy to know her new mom is more than just a friend, she's her new lesbian lover and she loves how she makes her cum and squirt! BRILLIANT!!! Perfect combination, having a busty mild and a tiny teen. Their chemistry really came through too. Keep having girls that can squirt!
HOT NAKED WOMEN TEACHING YOUNG GIRLS HOW TO EAT PUSSY RIGHT, CUM AND SQUIRT:
Bonding with your stepmom can be pretty hard, but not for these sexy teens, especially when their new moms are smoking hot mature lesbian babes with big tits and juicy bubble butts, ready to seduce their very own teen step daughters and lick their dripping wet pussies and tight assholes in the hottest teen daughter on mature mother lesbian action that can only be seen and enjoyed right here at Moms Lick Teens! Watch these horny dykes kissing, making out, masturbating with sex toys, squirting, tribbing and making each other cum hard in steamy lesbian sex action with exclusive videos, teens and mature babes!
|
This sexy brunette teen and her blonde friend are sneaking out of her house to a party, dressed like sluts in skimpy schoolgirl outfits but the girls get busted by the brunette's dad before they manage to make it out the door! He told her daughter she was not going anywhere dressed like a slut! He grounds them both and the girls are forced to spend the night in lock down! Sure, her daughter is pissed, but the blonde is actually turned on! Her friend's dad is so strict and handsome; his cock must be so big, hard and tasty; she can't get him off her mind as she reaches under her lace panties and rubs her dripping wet muff! The dad comes in to check on the girls and make sure they didn't sneak out the window and likes what he sees. The slutty blonde is definitely a tease! He goes back to his bedroom and while his wife sleeps, he masturbates himself, stroking his dick and fantasizing with his daughter's best friend! Meanwhile, the slutty blonde teen crawled from his daughter's bedroom to his and watches him jerking off his cock, wagging her ass and licking her lips. The teen slut grabs his hard cock with two hands and starts sucking it while his wife keeps sleeping! They can't do much, he takes his daughter's slutty blonde friend to the bedroom, bends her over the bed, pulls her cum soaked panties down her knees and starts railing her dripping wet pussy from behind! This is what this slutty schoolgirl loves most of all, the feeling of a big throbbing cock balls deep in her twat, the feeling his tight nut sack ready to fill her up!!! He gropes her big tits and slaps her ass, then rams his dick down her throat and fucks her mouth! He straddles her atop totally naked and pounds her dripping wet pussy while fingering her cunt. He fucks her so fast and hard that even makes her squirt, he brings her to one squirting orgasm after another! The girl cums, squirts and screams when his hot cock stuffs her young pussy more and more, and finally he blows his load all over her slutty face and tits! Watch more crazy teen sluts getting fucked by huge cocks in the best hardcore porn!
|
This guy's sexy stepdaughter is a gymnast and she just came home from her daily practice and she is so fucking wet and turned on, she wants to play with her little pussy a bit. She spreads her legs and pulls her drenched leotard aside, caressing her pussy slit and her juicy swollen lips. The naughty girl rubs her clit and fingers herself when her stepdad comes in and sees her young step daughter masturbating on the couch. She is not shy, she wants her stepdaddy's big dick inside her before her mom comes back from work! She just begins to rub her pussy faster, showing him how wet her pussy is, aching for his big dick. She rubs it while grinding her hips and straddles herself atop stepdaddy's lap so he can pull down her gymnast outfit and suck on her puffy wet nipples. She gets down on her knees and pulls his pants down, his huge cock springs to life like a Jack in the Box, it never ceases to surprise and amaze her, it's just so fucking big! As she sucks it and strokes it, drooling all over it, she gets why her mom is so in love with him, it has to be that cock! She sucks and licks his big balls too, no matter how hard she tries to deepthroat it, she can hardly fit it halfway down her throat! This cute teen with a perfect little butt is ready to get stuffed. He straddles the tiny naked girl atop his huge member and makes her ride it, she bounces up and down his long shaft and pushes herself against his dick so she can take it all in and then sits on his face so he can eat her out, lick her pussy and tongue fuck her. She really knows her way around the dick with some serious skills. Trust me, you won't miss one moment of this smoking hottie getting nailed with what she loves the most, huge cock. This sexy teen lets him do to her all the dirty things her mom doesn't let him and she loves squatting over his dick after he fucked her doggy style and get down on her knees so he can blow his load, spraying hot sticky semen all over her dirty face and naked body before mom comes back!
|
Well what can you say about this hot teen babe that would do her justice! How about she is FUCKING AMAZING! This nice sir decided to bring his stepson and daughter along on a vacation so the teens could bond together and it seems to be working wonderfully! While they take breakfast at the pool deck, he catches up with his email, not realizing that behind his screen and underneath the table, his daughter is giving her stepbrother a helping hand! Looks like he has a case of morning wood and this teen slut enjoy stroking his rigid member behind daddy's back. He's so busy answering calls and checking mail, he doesn't have a clue what's going on! He leaves for a while and she takes the opportunity to strip down to her sexy panties and bra, spreading her legs and pulling the panties to the side so she can masturbate herself while her horny stepbrother watches and jerks his hard cock! She removes the panties and exposes her delicious bubble butt, her naked ass looks nothing less than spectacular in this position. This girl is so hot! She walks around the pool area and gets into the water, with her stepbrother joining her so they can make out. Unfortunately her dad comes around and the naughty hot girl pushes his head under water. He continues to lick her pussy and ass under water, burying his head deep between her beautiful ass cheeks. If he just takes one step forward, he will see his daughter is without panties and his step son eating her pussy and ass! The guy is forced to hold his breath, lol, imagine him drowning while trying to toss his stepsister's salad! They go inside to her bedroom where they will have more privacy and she takes off her sexy bikini, showing him her flawless body. He pulls out his hot throbbing cock, shoves it in her face to lick, fondle and suck, which she does with pleasure. His naked step sister sucks and strokes his big hard cock, rubs her wet slit and her clit against his cock. The way she jerks off her step brother, massaging his cock and his balls with her pussy is absolutely amazing. Without doubt this girl has one of the most delicious bodies, those legs especially, that butt, those sweet titties, pretty face and that lovely pussy. Prime Grade A! She plays with his cock straddling herself atop and letting it sink inside her dripping wet pussy so she can ride him. She squats over his erection and rubs her muff while he fucks her, it feels so good, so nasty, so dirty, so filthy, she loves it! She flips over still on his dick and keeps riding it, making her juicy bubble butt bounce up and down his lap while he fondles her soft buttocks. Naked girl arches her back in an orgasm, as waves of pleasure come over her body again and again. Fucking with her very own stepbrother feels fantastic and though they're not really related, she knows her daddy wouldn't approve so they keep it a secret and fuck behind his back, which turns this nasty little bitch on even more! Every time they fuck, there's a chance they will get caught and she imagines her daddy opening the door as her stepbrother is blowing his load all over her dirty face and her big tits while she can't stop from climaxing even with her dad there!
YOUNG HOT TEENS CAUGHT FUCKING ON CAMERA:
Thats exacly what I was asking for. Thank You MOFOS for this amazing video, keep doing more amateur videos with hot teens in sneaking, cheating and the almost getting caught scenes! And it's always great when they bring these amazing POV-scenes. I hope the community shares my opinion. Hot teens and amazing amateur porn, public sex, thats what these guys are famous for and why I love what they do. MOFOS is all about super hot girls having sex in the most unexpected places and provocative situations. These babes, teens and cheating girlfriends get their pussies fucked hard and their faces covered with a thick layer of sperm, without worrying about being caught by their parents or boyfriends.
|
When this sexy blonde girl finds out that her stepmom is cheating on her father, she doesn't take it lightly. Her dad is a stand up guy, and this sneaky bitch needs to learn a lesson! This can not go unpunished. Late at night, while she is sleeping in the nude, her stepdaughter sneaks into the bedroom to tie her up. When she wakes up, she's lying flat on her belly and with each of her extremities tied to a corner of the bed! This hot naked woman doesn't understand what's happening until her stepdaughter enters the room with a flog in her hands. She understands she's been found out and now she will have to accept the consequences for her actions and the punishment for her wrong doing! Something tells her it's going to hurt, and she's going to love the pain! The young girl flogs and spanks her delicious bubble butt until it turns red, watching her stepmom squirm with pain and pleasure. She also starts smacking her twat for every single guy shes ever cheated on her dad with. While pulling her by the hair, she puts her down on all fours and rams a huge strap-on cock up her hot pussy, fucking her hard from behind doggy style in complete bondage. After thoroughly fucking her pussy to a pulp that no man can ever want again, she unties her stepmom, but that doesn't matter, she's already her bitch by now! The girl pushes her juicy bubble butt against her strap-on cock, telling her she's been a bad girl and needs to be punished by her stepdaughter! She flips her over so she can grope and squeeze her big tits while fucking her with the strap-on cock and then licks her twat and finger and tongue fucks her stepmom! While this hot blonde straddles herself atop her stepdaughter's strap-on cock she promises to never cheat on her dad again, as long as she promises to fuck her regularly with her big strap-on dick! If she doesnt want daddy to find out about her devious ways, she will do whatever the fuck her step daughter says whenever she says it. Don't miss the full video and watch these two hot naked girls getting fucked by each other in a hot lesbian scene.
|
This sexy little petite teen should know better than to drive her daddy's big car! Looks like she just ran over the next door neighbor while backing up on the parkway! Fortunately, it's nothing serious, looks like he just got all shook up and hurt his knee a bit, but she still feels so bad about it, she invites him back inside her house so she can tend to his booboo. As she softly caresses his knee she notices a secondary reaction, as a huge bulge grows under his shorts, pitching a tent! What a boner! She's impressed and curious, so the teen slut reaches under his shorts and whips out his huge cock. He's so engorged, seems like he also needs a little bit of help there, so she begins stroking and sucking his throbbing member. This tiny girl is super sorry and feels so bad, she tries her best pleasuring his big dick with her little mouth. She gets down on her knees, giving him head, licking his long shaft and big balls and letting the next door neighbor slap her face with his big schlong! Then small girl strips naked and he slaps her juicy bubble butt as she straddles herself atop his lap and impales her dripping wet cunt on his massive erection, it feels so fucking good! He cradles her in his arms and lifts her, fucking her in standing position, flipping her to missionary and then banging her hard from behind before pinning her shoulders to the floor and pile drive fucking her! He starts plowing her petite body all over the living room, being sure to go as deep as he can within her minuscule little pussy. She's so happy to know she didn't impair his erectile functions when she ran over him by mistake, she would have hated to lose the chance to ride this delicious dick, and she's much better riding cock than she is riding her daddy's car, lol! Don't miss more young naked girls getting fucked by huge cocks by the link above.
|
Blondes going down on blondes and the younger older aspect is magic stuff to eyeball! You won't want to miss these naked blondes in a hot girl-girl lesbian scene. This sexy blonde teen is eager to meet her new stepmom, she's heard so many good things about her from her dad, and by the looks of it, her hot stepmom just can't wait to meet her new husband's hot daughter either! She receives her in sexy pink lingerie and gets really close to her as they talk, caressing her with her soft hands. She can tell she's getting hit on… by her very own stepmom! Well, it's actually kinda hot, and she's pretty hot too, so what the fuck! Daddy doesn't need to know! The sexy woman kisses her, softly at first, more passionately afterwards, until the girls are making out hot and heavy and she helps her out of her tiny panties, they are drenched in her pussy juices already anyway! The combination of blonde hair, pale skin and those delicious pink pussy lips, mmmm… She feels her stepmom's hands all over her naked body as she touches hers too, her tits are so big and firm in comparison to her tiny breasts! As she cups them in her hands, her stepmom rubs her dripping wet muff, masturbating her while ramming her smooth wet tongue down her throat! Teen girl spreads her legs and gets her little pussy eaten out by her new mom, her silky tongue laps up her pussy juices as they flow between her tender pink pussy lips. Naked girls masturbate facing each other and the naughty teen fucks her stepmom's twat with her toes while she licks the ones on her free foot! She sits on her face so she can ride her while she's eating her out. Her gorgeous long blond hair, tiny waist, small titties, young pussy, flawless skin, this girl looks ridiculously hot riding her stepmom's face. She also gets to taste her stepmom's dripping wet pussy and her deliciously tight asshole too! Naked woman parks her big juicy ass right over girl's face for a good pussy and ass licking. What a MILF goddess! She's gorgeous and has amazing sexual energy. Her body and overall look is incredible. She needs to sit that lovely ass on my face! After riding each other faces, naked girls begin scissoring, bumping their clits and rubbing their wet pussies against each other, bring themselves to an orgasm! Great scene with two hot naked blondes, plenty of licking, kissing, finger plaing, tribbing and even big toe pussy fucking. This teen loves this first meeting with her new stepmom and hot lesbian lover and can't wait for the next one!
|
My stepsister has a crush on me ever since we met for the first time after our parents got together. I think the idea of getting banged by her very own stepbrother turns her on, but I usually just ignore her and pretend she's just playing games with me or pushing my buttons. Problem is, it's getting pretty hard to ignore her, since she's getting more and more provocative with each encounter we have, and since we live under the same roof with our parents, you can imagine the sexual tension at this point; you can cut it with a knife! My step sister always has a little grin on her face that says, "I have dirty thoughts and I know you do too". We're sitting on the living room couch and the flirting begins again. It feels like a game of who will make the first move. And finally she gets up and her skirt is hiked up and I can see her naked juicy bubble ass!!! She's not wearing any panties!!! I just can't resist, grabbing her meaty ass cheeks! My step sister's ass is absolutely amazing, two big round buttocks and a little pussy between them. I can stare at her naked ass and I certainly take the opportunity. She's so turned on and I just want to see how far she can go. She spreads her legs and starts rubbing her dripping wet muff in front of me, telling me she can't resist this any longer, and honestly, neither can I! Then she leans over and unzips my jeans, pulling out my throbbing cock and taking it to her wet mouth, sucking it hard like a dirty little slut. This teen slut gives great head! We go to her bedroom and she strips naked and gets in her bed, masturbating herself for me and showing me how wet her pussy is. She keeps sucking my hard cock and stroking it slow and gentle. I don't think my dick has ever been so fucking hard, man! There is no turning back, my sexy naked step sister gets down on her hands and knees, spreads her hot, tight, fleshy ass cheeks and I instantly move so that my prick touch the hot wetness of her slit. I ram my hard cock deep inside her wet cunt, grabbing her tight bubble butt as I fuck her doggy style from behind. I can't believe it, I'm sliding in and out of my naked little sister and I know I'm about to cum at any moment. She straddles herself atop my lap and impales her snatch on my dick, riding it, then leaning back and spreading her legs so I can keep plowing her pussy in missionary position. We've both been waiting so long for this moment! I grab her titties while I'm fucking her and she gets back on top, this time in reverse cowgirl, so I can check out her juicy butt bouncing up and down my hard rod until my dirty little slut stepsister is ready to swallow my creamy cum as I blow my load!
THE SEXIEST AND HOTTEST YOUNG SISTERS GOT CAUGHT FUCKED: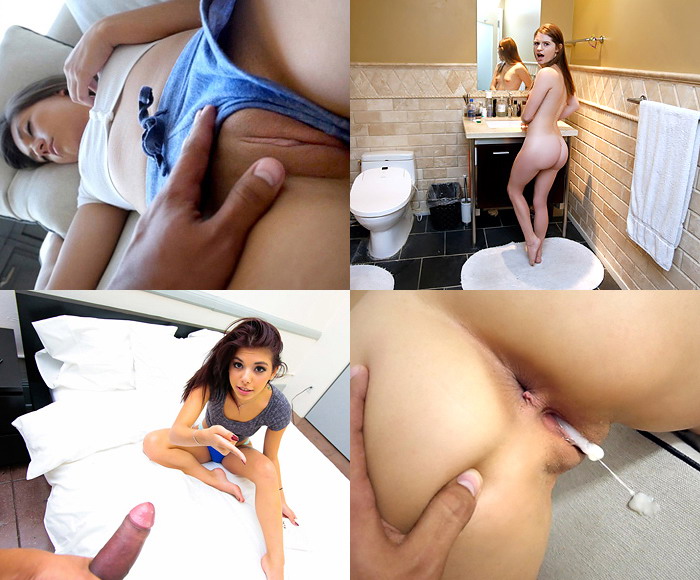 These horny brothers and sexy sisters have a dirty little family secret they want you to know all about! That's right; SisLovesMe is all about horny brothers seducing and fucking their hot sisters! These guys spy on their naked sisters in the bathroom and then fuck them hard; brothers and sister masturbate together and have sex for the first time; the guys sneak in the sister's room and stuff their tight pussies with their big throbbing cocks while the girls sleep and cum inside their virgin pussies; the girls get caught masturbating and now let their brother fuck their wet pussies and gaping assholes and blow their loads all over their faces! As long as their moms and dads don't find out, everything is okay!
|
My sexy girlfriend's father invited me over to their place so he could cook us a barbeque and my girl dressed up in those sexy ripped denims that make her ass look so fucking hot, man! I had a hard time hiding my boner under my pants with her dad around! I was getting fucking turned on, and so was she, and every time her dad turned around to attend to the grill, she teased me, talking dirty to me, twerking, teasing and rubbing her ass against my crotch and shit like that, fuck, what a tease! After he served us some sausages, she whipped my cock out and started sucking and stroking it! If her dad turned around at the wrong time, or my crazy girlfriend didn't react fast enough, we'd be really screwed! She acted like the good little daughter when her dad was around, but as soon as he turned his back, my naughty fresh-faced cutie took my cock in her mouth. He went inside to get some stuff and she pulled her denims down and teased me with her juicy bubble butt in a pink thong touching herself and getting on her knees, sucking my cock and licking my big balls. My girlfriend deepthroated my cock all the way down to the base and popped my balls in her mouth and sucked them thoroughly. She rubbed my balls and my cock against her face, smiling on camera and moaning because I was going to fuck her harder than I had ever fucked her. Then she pulled her thong down her thighs, showing off her amazing sexy ass, bent over and pushed her dripping wet pussy against my cock, letting me fuck her from behind. She started to move her hips slowly back and forth then she told me to push my dick deeper and deeper inside of her twat. I fucked her so fucking hard and fast, worried that her dad would return and catch us fucking! She spread her ass cheeks apart so my dick could burrow even deeper inside her and grinded her ass against my crotch. She had this glorious smile on her face as I fucked her, she was loving this situation in which we could get busted any moment! Her dad was taking his time, so we got daring, stripping naked and letting her suck my cock some more. She told me that she wanted to be on top, straddled herself atop my hard cock, impaling her wet pussy on it and riding me hard. I pushed her tight body against my own and felt her tight pussy muscles wrapping against my shaft and she flipped over so I could see her juicy bubble butt twerking, grinding and bouncing up and down my rod as she rode me in reverse cowgirl. Yes, my girlfriend can twerk and she adores doing it when we have sex. I almost came in her when she spread her sexy ass with both hands and squeezed my cock with her pussy muscles. My hot girlfriend wanted to fuck me in every position she could think of, even in a tree! I was ready to cum inside, splatter my hot cum in her and watch as the cum run out her juicy snatch and drip down her lips, before her daddy came back to flip the burgers!
HOT GIRLFRIENDS GETTING THEIR PUSSIES FUCKED WITH THE PARENTS AROUND:
Don't miss more hot teens and more sneaking, cheating and the almost getting caught scenarios like this one! MOFOS, the best site in the Porn industry, specializes in hot teens of all kinds! They have shy, sexy, amateur, experienced and nerdy teens ready for you. MOFOS is all about super hot girls having sex! These crazy girlfriends do incredible things on camera you would never think of doing. They love huge cocks, public sex and never miss an opportunity to get their pussies fucked hard like there's no tomorrow. Deepthoating, twerking, squirting, creampie… These teens are so hot, be ready to come without jerking off. When most young girls just dream of what they want to be when they grow up, these teen sluts already know, they want to be a pornstar!
|
Wow, excellent sneaking and the almost getting caught scene from start to finish! The teen slut is stunning, perfect body, wonderful deepthroat, great fucking. This sexy blonde babe has a new boyfriend and he has a really big dick and her mom is really happy for her… because she doesn't know that it's her new husband! While she asks to use her daughter's bathroom, the sexy blonde teen strips naked and gets under the cover, waiting for her "boyfriend's" daily visit! Her juicy naked ass looks fantastic sticking out from under the blanket. He comes over, sees this lovely ass and dives right in between her ass checks, sticking his tongue in her moist slit and his nose in her ass hole. When he finds out his wife, her mom, is in the bathroom he gets a bit anxious, but that won't stop him from banging this wet pussy! He knows his wife can stay hours on the toilet anyway! He spreads her legs and rams his hard cock deep inside her tight wet pussy, fucking her hard on her bed. The girl rubs her clit while he bangs her hard, he stuffs her tight little pussy with his huge cock like mad, making her moan and scream. He puts his hand over her mouth to muffle her screams.
Be quiet, your mom might hear us!
Mom is right next to them in the bathroom, suffers from constipation when he puts her slutty daughter down on her hands and knees and fucks her young pussy doggy style from behind. Naked girl put her hands over her mouth when the fat and long cock penetrates into the deepest regions of her body. Wide hips, tiny waist, round ass, perfect pussy, this teen girl has it all. He fucks her harder and harder, watching his dick go in and out of her cunt and watching her ass cheeks bounce. In the bathroom, her mom can hear the sex noises and can't help wondering what's going on. Maybe her daughter is having hot phone sex with her new boyfriend! Matter of fact, she's getting her pussy and ass licked by her stepfather! She twerks her juicy bubble butt while he keeps banging her from behind and she strokes and sucks his massive cock squeezing his balls with her hands. In the meantime, her mom is still in the toilet, and she ran out of toilet paper! He asks for her daughter to fetch her some, but the teen slut is too busy bouncing up and down her husband's huge dick! I really enjoy seeing these big tits shaking and his balls slapping against her pussy when the girl is really getting nailed. Her whole body is shaking and quivering as an orgasm rips through her body. What an amazing leg shaking orgasm! She straddles him in cowgirl position and rides his dick, getting her ass cheeks slapped and her asshole fingered by her horny pervert stepdad and presses her hot body against his own, she just loves getting fucked hard every day by her mom's husband! She can feel all that hot cum boiling inside his balls and she can't wait for him to cum, blowing his hot and creamy load all over her face and her tits, just as her mom is stepping out of the bathroom! OMG, they're so fucking busted!
HOT TEEN SLUTS CAUGHT FUCKING IN THE BEST PORN VIDEOS:
Your erection will gush with cum watching these hot teens being fucked in all these craziest sneaking and getting caught scenes. The thrill of potentially getting caught is a major turn on. Love sneaking scenarios? Love a little pussy and a huge cock combo? Love a MILF and a teen combo? It's every guys fantasy, getting to fuck your girlfriend when her parents at home, or even better getting to fuck your girlfriend and her smoking hot mom in a steamy threesome! It all happens right here.
|
If you've ever fantasized about having sex with your hot girlfriend when her parents at home, then you'll really enjoy our next video. This sexy teen chick just came back from school and still has her tight uniform when she hears some noises outside the bathroom. It's probably her dad, but before she gets a chance to figure it out, somebody grabs her from behind and puts their hand over her mouth, hiking up her mini skirt, pulling down her cotton panties, exposing her juicy bubble butt and biting on her ass cheeks! After getting over the initial shock and surprise, she realizes it's her naughty boyfriend, who sneaked into her place for a surprise fuck! Her daddy calls from across the bathroom door to see if all is okay since he heard her scream, and she invents some bullshit excuse. Her daddy doesn't approve of her boyfriend and doesn't like him coming in the house, much less unannounced and to fuck his daughter! He spreads her legs while fingering her dripping wet pussy and when I say her pussy is wet, it's really wet! He spreads her pussy lips and fucks her vagina with his finger and her pussy juice pulsing out of her hole. Then he inserts his tongue inside and all her pussy juices rush into his mouth. His girlfriend is so turned on, she drops to her knees so she can suck and stroke his rock hard cock. Naked schoolgirl spits all over his cock and spreads it along his shaft with her hands, giving him a sloppy blowjob and handjob combo. He fucks her mouth as she cups her tits in her hands and she lets her saliva drip down her lips and over her cleavage as her boyfriend fucks her tits with his big dick. She keeps blowing him, bending over as he leans against the bathroom counter. Then he bends naked girl over and starts banging her from behind. He nails her over the counter and lets her ride his dick on the bathroom floor. His girlfriend even doesn't think about her parents who can come into the bathroom and catch them in the act. If her daddy asks to use the bathroom, they're in trouble! She just enjoys her bf's hard dick deep in her pussy, riding him and twerking her sexy ass up and down. He stuffs her pussy faster and faster, she gets an orgasm and her eyes roll back! She has several amazing orgasms before he cums all over her dirty face!
|
This girl hates going to school. She decides to trick her mom and her step dad that she leaves for school, when she actually just stays home, playing video games, watching TV and playing with her little pussy. She sneaks into the house after her step dad goes to work. But she's not counting on him returning back from work earlier than usual! She's not supposed to be there in the first place and she tries to hide and sneak out behind his back. Good thing she's such a small girl, shes able to hide under the table or under the kitchen cabinet but her stepdad finally finds her hiding in the kitchen! He pulls out his phone to send pictures to her mom to prove how much of a truant she has been. If he tells her mom she will be in big trouble, so she uses her seduction skills on him, rubbing his throbbing cock under his slacks and feeling it getting bigger and harder as she touches it! Small girl drops to her knees and begins sucking his hard cock, she's a nasty little cock sucker! He fucks her mouth and rubs his dick all over her slutty face as she removes her top and plays with her nice tits while he keeps banging her throat! The girl strips naked and straddles herself on top of his hard dick, impaling her dripping wet snatch on it and bouncing up and down his dick. She's young but her tits are so ripe. He's admiring her youthful breasts while she squeezes them and jiggle them for him. She had no idea the stepfather's cock was so big and hard and he had no idea his stepdaughter was such a dirty little slut! She turns over and keeps riding his hard dick, watching her bubble but bouncing up and down on his dick. He stuffs her small mouth with his big cock, making her gag and choke. Then the naked girl lies on her back in the middle of the living room, raises her legs together high in the air, so that her stepdad can eat her pussy and ass and fucks her in pile driver and reverse pile driver positions. He beats up her teen pussy like there's no tomorrow. He makes his slutty step daughter squat over his throbbing erection some more, before blowing his load all over her cute face and her succulent teen bobbies!
|
Well one day my girlfriend came back from school, she was so hot and began to tease me in her bedroom. She was wearing a sexy pullover, thigh high socks and pink lace panties, pulling the pullover over her big delicious tits and showing me her juicy bubble butt to get my dick hard. She lay on her back, spread her legs and pulled her pink panties aside so I could rub her dripping wet pink slit. I was rubbing her moist pussy lips, caressing her sensitive clit and her slit and at that very moment we heard the door open. It was her dad downstairs, she quickly grabbed me and hid in the bathroom! While he was talking to her through the bathroom door, I was eating out her dripping wet pussy and ass from behind! I just couldn't help myself when I saw my girlfriend's naked ass and her little pussy between her juicy buttocks. My cock swelled in my pants but we could be caught by her dad any moment. This fact made the experience all that more exciting. Finally he left and My hot girlfriend dropped to her knees in the bathroom so she could stroke and suck my throbbing member. When her lips touched my dick I thought I would explode right in her mouth, this little mouth almost made be blow. She lifted her pullover so she could massage her big tits while giving me head. She swallowed my thick sausage whole and pressed her tits together. Then she slid down her tiny panties, bent over and spread her perfect ass cheeks with both hands so I could fuck her dripping wet pussy from behind while sitting on the toilet. Absolutly amazing, perfect, flawless ass! She pushed her juicy bubble butt against my hard cock and felt my thick rod stuffing her super tight pussy. She just wanted my dick, and she wanted it so bad, she didn't give a fuck if her dad was still in the house! I was fucking her from behind next to the bathroom sink, so we could see our reflection in the mirror and I striped her totally naked and restrained her arms behind the small of her back while I kept pounding her hard. The old fart came around again and opened the bathroom door, fuck, he didn't even knock! I kept banging her amazing pussy from behind while she talked with him and when he left again, I went back to fucking her pussy full throttle. It only increased my arousal. Then my naked girlfriend went out and made sure daddy was gone so we could fuck in her bed, where she sucked my hard dick, drooling all over it. She got down on all fours in front of me, showing off her perfect ass, rubbing her wet slit, shaking that sexy little bubble butt and spreading her ass cheeks wide open so I could fuck her deeper and harder doggy style. I spread her ass cheeks, put my dick between her pussy lips and fucked her as hard as I could, making her moan with pleasure and push her ass against my dick. Then my crazy girlfriend straddled herself atop my erection and rode me, dirty little cunt got so excited when we fucked with her daddy around, I bet she fantasized with getting caught by daddy with my dick in her pussy! We fucked for about half an hour before I was going to cum in her mouth. Her tongue was swirling around my cockhead gathering up all the sperm as it oozed out of it. Her sweet lips tightened around my cock and she sucked hard as I continued to shoot a huge amount of cum in her mouth filling it more and more.
HOT TEENS IN THE CRAZIEST AMATEUR PORN YOU HAVE EVER SEEN:
More sneaky scenes like this? And more getting caught scenes? The hottest teenage girls in porn, the craziest scenes, see them only on MOFOS! Don't miss these hot teens in the best amateur sex videos you have ever seen before!!! This is not your average porn site! This is #1 amateur teen porn site in the world! MOFOS is filled with real girls getting naughty and naked in front of the cameras, getting their teen pussies fucked hard by huge cocks and their cute faces covered with cum. They are real cock hungry teen sluts!
|
It was Mother's Day and since I was visiting my girlfriend, I decided I'd drop by her beautiful blonde stepmom's bedroom and congratulate her for the occasion. I didn't bring any gifts so I asked her if she would like anything special for the occasion. She told me she would love a back rub, I thought that was innocent enough, but when she pulled down the sheets, I noticed she was wearing the sexiest lingerie, highlighting her smoking hot body and big magnificent tits! She turned over and I saw her gorgeous ass… mouth watering and juicy. I started rubbing her back but she said me that I could rub her down there. She said it would make her feel nice. When my hands touched her big soft ass, I felt tiny shocks flow through my body. I squeezed her juicy buttocks with my hands and the hot woman closed her eyes and starting breathing really hard. I was getting an erection from touching her sexy body and her meaty sexy ass! She noticed it and she suggested we do something about it!
Could you do something else for me? Maybe put your dick inside of me!?
I couldn't believe I was there in bed with this half naked woman, but before I could really say anything she pulled down her sexy lingerie and got down on her hands and knees and showed me her naked ass. I was now looking straight up onto her ass and pussy. She was so hot, big ass, huge milk tits and that lovely smiling face. I took off my clothes too, came closer, spread her buttocks and kissed her pussy from behind, it was very warm and damp. I penetrated her on the spot, fucking her mature pussy from behind with my throbbing member doggy style! She started moaning and moving her butt back and forth, saying it felt really nice. I was so concentrated banging her, I didn't notice when my girlfriend walked in on us! I guess she appreciated my Mother's Day gift for her stepmom, because when I realized she was there, she had her hands down her shorts and was masturbating herself while watching us fuck! She joined us in bed and she had her own little gift for her stepmom, getting down on all fours and eating her out along with me! I licked her pussy and ass while she ate her stepmom out and as she straddled herself on top of her, I started fucking her doggy style from behind too! I couldn't believe I was doing a threesome with two naked girls, my girlfriend and her sexy stepmom! I switched from my gf's pussy to her stepmom's, fucking the girls both in tandem while they had hot lesbian sex between each other; they looked so hot and beautiful! The naked girls made me lie flat on my back and sucked my cock and licked my balls together and as my girlfriend sat on my hard cock, her stepmom sat on my face and I ate her out and fucked my girl as they kissed and rode me! My girlfriend and her sexy stepmom took turns fucking me. Then the stepmom told me to cum all over their faces. The girls licked my balls together while I was blowing my load all over their sexy faces. At the end I watched them swap my cum, Happy Mother's Day!
HOT NAKED WOMEN AND YOUNG TEEN GIRLS IN THE BEST FAMILY ORGIES YOU HAVE EVER SEEN:
If you fantasize with banging your slutty sister, eating out your stepdaughter's young pussy or having your gf's sexy mom suck your hard cock, here at Family Strokes, all those dirty fantasies cum true right in front of your eyes! Step-family relations take a turn for the kinky as mature stepmoms, horny stepdad, sexy stepsisters and stepbrothers strip naked and get it on! These hot naked women seduce their daughter's boyfriends and make them fuck them hard, these horny guys sneak into their stepsister's room and fuck them when the girls sleep, these pervert stepdad enjoy their young step daughters' pussies. Watch it all in the most crazy, threesome, foursome, sex family orgies!
|
I love excitement, and few things in life are as exciting as having my girlfriend's sexy little blonde slut of a sister sucking my big hard cock when she's not around the house, but their dad still is! She was drooling all over my big cock and the idea of getting caught by her dad got us both so fucking turned on! The little slut tried to fit more of my 8-inch cock into the back of her mouth, swallow my dick all the way down to the balls, when we heard footsteps. Her dad actually came down and stood by the door talking to me while I was sitting at the table, from his place he just couldn't see his beloved little daughter down on her knees and stuffing her mouth with my dick without stopping while we talked! I felt that I was about to come right in her mouth when her father was next to us. What made it more frightening were the chances of being caught in the act. When he walked away she set next to me and stroked my sausage while telling me how bad she wanted it inside her, fucking her hard. Her dad came around again and while she talked to him, she rubbed my cock and my balls with her bare feet! He left and she ran to the living room, taking off her clothes on her way and tossing them on the floor. My girlfriend's crazy sister bent over the couch's armrest and asked me if I wanted to fuck her little pussy! I started fucking her from behind, on the very same couch her dad decided to lie down and take a nap on! Can you imagine what would happen if he were to wake up and see us? Damn! Fucking hot! I pushed my cock against that tender dripping wet twat and she put her hand over her mouth to muffle down her screams. We didn't want daddy waking up in the middle of us fucking! I kept plowing her from behind and her pussy was so tight and hot and wet. I started to pump a little faster, we knew it was wrong, but that fact that her dad could caught us didn't stop us. I raised one of her legs so I could stuff my throbbing erection even deeper inside her 18 year old pussy. It was hard for her to hold the moan when my dick drilled into her narrow vagina harder and harder and my balls were slapping against her clit. I lay flat on my back over the dinner table so the crazy little slut could suck my dick and squat over my hard cock, impaling her dripping wet twat on it and riding me, making her tight tiny body bounce up and down. I made sure her dad was still sleeping while his younger daughter was on top of my rod and covered her mouth so she didn't scream too loud. This turned her on so much, she flipped over while still riding me so she could see her sleeping dad and I could see her cute little butt! Her petite sexy body drove me to fuck her harder. I couldn't wait to blow my load all over her, hopefully before her daddy woke up and saw us! Then we fucked on the couch right next to her dad. The small naked girl wrapped her legs around me and began moving her hips, pushing her hot pussy towards my rock hard cock, to further stimulate me and her pussy. I couldn't believe this girl was 18 year old. She kept on having orgasms as she fucked my cock to make me cum as well. As her movements began to increase in speed I could feel my cum start to make the journey to the head of my cock. I began cumming, the thick, hot goo was sprying all over her face, huge jets of sperm were squirting in her face, she liked it… at this moment her daddy woke up and saw it but I couldn't stop and kept cumming over his daughter's face when he watched!
CRAZY GIRLFRIENDS HAVE SEX IN THE MOST UNEXPECTED PLACES AND PROVOCATIVE SITUATIONS:
These sexy girlfriends caught fucking in the best sextapes you've ever seen. Sneaky stuff is cool! So hot! Don't miss more amazing sneaking at home around in the house! While parent/s Boyfriend/GF are home! More close call scenes! These girls have sex in the most unexpected places and provocative situations without worrying about being caught. You won't want to miss the most hottest sextapes and the craziest girlfriends!
|
It's nice to see men involved in their daughter's life, just check this guy out! He's making some snacks for his beautiful daughter and her best friend while the teens are studying together for a hard test! What he doesn't know is that his daughter's best friend is snapping some selfies of herself rubbing and fingering her twat underneath the table and sending them to his daughter! The naughty girl spreads her pussy lips with two fingers and takes photos of her open pussy, her wet slit and her clit close up and friend's father cooking at the back ground. She is so surprised when she gets them! The pussy pics make her blush, but most importantly, they make her pussy start dripping under her panties! She just can't help reaching under the table and rubbing that delicious soft, wet twat herself! She digs her fingers inside it and her friend places her hand over hers, guiding her as her father keeps prepping snacks behind their backs! That makes the situation even kinkier; he could turn around and catch the girls in the act! Her best friend tugs down on her top, exposing one of her breasts, her nipples fully erect as she licks the daughter's shoulder and since it looks like her dad's on his way upstairs, she sneaks under the table as her friend places her legs over it and spreads them wide open so she can finger fuck and lick her dripping wet twat! The best part of this is how her young pussy naturally juices up with pussy juice running down her ass crack and dripping on the floor. Unfortunately, her dad comes back down and the girls have to stop! This whole start and stop shit is making these two young lesbians both even hornier! As soon as he leaves they race to the living room, where her best friend gets down on all fours on the couch so she can rub her snatch while tongue fucking her delicious asshole. Love the ass licking! She imagines her dad walking in on her while she has her tongue up her friend's asshole, that would be so awkward! The naughty girls start tribbing each other, rubbing their wet pussies together and grinding their bodies on the couch. These teens are so hot, especially during scissoring. Could watch these two teen lesbians rubbing their young pussies against each other forever! The dirty daughter loves having her hot friend on top, almost as if she was fucking her with her pussy while kissing her lips and tasting her wet tongue in her mouth. Two naked girls rub their dripping wet pussies together harder and faster, she can hear her father's footsteps as he comes down the stairs and she needs her friend to make her cum like a filthy whore with an explosive shared orgasm before he walks in on them! Watch the full video to see what happens when the teens lesbians getting caught in the act!
|
CHECK OUT RECENT VIDEOS ON THE MAIN PAGE !!!