Brother
Sometimes girls, even best friends, have their difference and arguments and when this sexy girl can't resolve an argument with her friend regarding who can take the most dick in her mouth, she calls her friend's stepbro in so he can mediate. Since actions speak louder than words, she decides to prove her point, pulling the stepbrother's big hard cock from under his pants and going down on him! She sucks and strokes his throbbing cock in front of his upset stepsister. After all, since they are stepsiblings, she can't do much to beat her friend… unless she's willing to suck her very own stepbrother's big, hard, thick, delicious cock! After some hesitation, the teen slut pushes her friend aside and goes down on her stepbro's huge erection, deepthroating it like a true porn star! Soon he's getting his dick and balls licked and sucked by both teen sluts at the same time! Lucky for these two girls, he is more than willing to be the judge. The girls do their best, drooling all over his huge cock and they are both so good, he couldn't pick one above the other even if he wanted to, so he decides he'll be able to tell who's better by fucking them! He strips their pants and panties and piles two naked girls on top of each other, licking their dripping wet pussies and ripe assholes and the girls are so fucking turned on by this, they start making out together! Is there something better than double pussy licking, running the tongue up and down their juicy pussy slits? These two hot naked blondes can't help but ride his dick! Laying him down on the bed, they crawl on top of him. One of the girls rides his hard dick while his stepsister rides his face and after fucking her best friend, he fucks his slutty stepsister too! The lucky guy alternates his attention between both naked girls, fucking them both in all those positions that he has seen in porn. One of the girls lays back on the bed to welcome his cock back into her weeping pussy. While he pounds her with his huge cock, the other girl keeps her mouth busy by positioning herself with her dripping pussy over her face so she can pleasure her with her tongue. She lets him pick her up and settle her on his hard dick so that she can bounce up and down while her friend sucks on his balls and her ass, buring her face between her ass checks. These two young naked girls are fuckin crazy! He makes out with them and while he blows his load all over them, he's so happy they had this argument in the beginning!
|
This is perhaps one of the best videos in amateur porn – if not the best. A couple of months ago, my stepsister and I went to a party together and came back so drunk that we woke up next day naked and sleeping in the same bed together! We thought nothing serious happened until I found a video on my smartphone, not only had we fucked, she begged me to film us doing it! Nasty! Ever since I got that provocative video of us fucking, my stepsister lets me fuck her whenever I get the urge, like this morning! I woke up with a huge morning wood and went over her bedroom, waking her up. As soon as she spotted my massive erection, she knew what was up, in more than a sense, lol! I tugged down on the sheets and then on her panties, revealing her sexy shaved pussy. Her lips so pink and soft just made me want to get a little closer look. My sexy step sister took her panties off and got down on all fours, looking at me over her shoulder as I played with her juicy butt and meaty pussy lips. She turned over, looked at me and took my morning wood in her soft hands, and moved the tip of my swollen member to her sweet lips, looked up into my eyes and said, you taste really nice and have a beautiful cock. She covered my purple mushroom with her lips and darted her tongue around it, sucking and stroking it. Her mouth was warm and moist and felt wonderful on my swollen manhood. I know she loves how big and tasty it gets in the morning, but I just wanted that pussy around my hard cock. My stepsister took off her top, got on top of me, took my dick in her hand and led it into her warm pussy. She smiled, her eyes were aglow with pleasure as she tightened her pussy lips around my cock and her vagina swallowed my entire dick. My naked step sister just started bouncing up and down and I just lay there watching her fine little titties and her lovely pussy. She bit her soft pink lips as she rode my erection and turned over, getting down on her hands and knees by the edge of her bed so I could fuck her doggy style from behind. Her juicy bubble shaped ass looked fine from this angle, and when I stop banging her, the dirty little fuck slut pushes her sexy ass against my cock while grunting, begging me for more of her stepbrother's hard cock! I fuck her from behind and flip her over like a flap jack so I can keep banging her in missionary. By now she's enjoying this as much as I am, and I rub her clit as I continue penetrating her meaty pussy. She tells me how big and hard my cock feels inside her and how bad she wants me to blow my creamy load all over her face and her tits! Now my step sister always tells me she prefers when I wake her up at the crack of dawn then in the middle of the night.
THE SEXIEST AND HOTTEST YOUNG SISTERS GOT CAUGHT FUCKED:
Sibling relationships have never been so hot and sexy, because at SisLovesMe, these horny step brothers have a serious sex crush on their smoking hot step sisters. These guys spy on their naked step sisters as the girls shower and they spy on the naked girls when they're masturbating in their room, the guys fuck their young sisters while they sleep, the girls watch porn together with them and jerk off together, these naughty young girls are free to show their love to their horny step brothers by sucking their hard cocks and swallowing their creamy cum after getting their teen pussies fucked very hard.
|
My sexy blonde stepsister was walking around the house half naked, wearing just a sexy pair of bra and panties with thigh high socks and it got me so fucking turned on! I was just staring at her and when she realized I was there, she couldn't avoid noticing I was pitching a tent under my pants! She was going to cover herself up, but I wanted to keep seeing her, she was so gorgeous and sexy! She liked getting all that attention from me and making me so hard, so she teased me back to her bedroom, where she got down on all fours on her bed as I pulled down on her panties, exposing her delicious bubble shaped ass and dripping wet pussy. She was 18 with a very well developed body. You know, nice boobs and a curvy ass. Her ass was the prettiest thing I had ever seen. We are both single, haven't fucked for months and the idea of having sex with each other felt so forbidden and hot, it was irresistible! My naked step sister spread her legs and played with her twat for me, rubbing it all round the opening and inside the lips, and I rubbed her slit, feeling how wet, soft and hot it was as I stimulated her. She get back on her hands and knees, spread her delicious ass cheeks, I was hard as a rock by then. She raised up her ass and was rubbing my member along her ass crack and pussy. Now put your dick here, she directed, and guided my throbbing erection into the folds of her pussy. Her young pussy was squeezing my dick tighter than anything else could ever do! She began to moan softly and as I fucked her warm moist pussy faster and faster. I pounded her hard from behind and she pushed her delicious ass back against my cock, moaning and grunting with pleasure for my hard sausage. She pulled her bra up so I could see her flawless youthful titties and her puffy, fully erect nipples as she straddled herself atop my burgeoning erection, she grabbed it and pushed herself onto me, forcing my cock deep into her vagina. My step sister was fucking hot like really hot like super hot! She bit her lip and begged me to fuck her pussy harder, deeper and faster. She flipped over and kept riding me, SO fast and SO intense, making her delicious bubble shaped ass bounce up and down my lap, it was the hottest shit I ever seen! She squatted and kept pushing herself up and down, her buttocks resembled basketballs bouncing on the court and I could feel myself getting closer and closer to the point of no return. The best part came when she began tickle her anus with her finger right in front of my face, riding me with such force that her whole ass flew up and down with every stroke! It was mesmerizing! I couldn't wait to pull out of my stepsister's young pussy and blow my load, splattering hot, sticky semen all over her beautiful face and her open mouth and watch it dripping down her chin and all over her little tits, fucking hot! After several minutes of her desperate fucking, I felt myself beginning to come. In a few minutes my balls gave that familiar twitch and my cock spruted a huge load all over her cute face. My step sister smiled and said, we would continue as often as possible.
THE SEXIEST AND HOTTEST YOUNG SISTERS GOT CAUGHT FUCKED:
Sister love is great, but nothing beats step sister love! Discover why right here at SisLovesMe, where naughty young girls are free to show their love to their horny step brothers by sucking their hard cocks and swallowing their creamy cum after getting their dripping wet pussies and tight assholes fucked very hard by them in hardcore stepsibling XXX action! After catching their step brothers spying on them while they shower in the bathroom, or after sneaking in their bedroom at night while the girls sleep naked or masturbate under the blanket in their bedrooms, these beautiful teen girls are ready to become their brother's sluts! They even have sex for the first time with them.
|
School was over and I was the only girl in my class that was still a virgin! I was afraid summer would be over before I got a chance to get my cherry popped, but I met a hot guy during a weekend getaway and I had the most intense deflowering experience! My parents were out of town and trusted me to be home by myself. Well all my friends that had done it before said lick and suck a guy's dick and he will like it so I thought ok here goes. I had seen several penises before when sneaking peeks at my brother, and once when the boy next door and I were experimenting, but I had never seen an erect cock and so close to my face. I got down on my knees, I was so excited and turned on! I put my hand around it and it was hot, I slowy slid my tongue up and down his dick and took the head in to my mouth. His eyes rolled back in his head so I guessed this was right. His cock tasted wonderful, it was delicious, so big and hard, and the heat of him in my mouth was a big turn on for me. I was fully naked, I sucked his dick for awhile then he got up and laid me back on the bed. Just as I was getting on my back and was about to spread my legs so he could fuck me, I noticed a worried look on his face as he looked through his jean pockets, he forgot to bring a rubber! He noticed my expression but he said he would pull out before he came. Well, I was turned on and ready to get my cherry pop and I wasn't about to let a rubber get in the way, I urged him to fuck me anyway and just cum outside me! He put it between my pussy lips and I felt his penis touched my clit. Then as he started to push I felt his penis spreading my lips. His dick was so big, I could feel it stretching my tight pussy lips as he began to penetrate me, pushing through my hymen and deep inside me, finally, I was no longer a virgin! He started fucking me slow and gentle, picking up speed as my ex-virgin pussy got used to his cock! He continued pumping in and out of me. I was turned on by the idea of my little pussy being fully penetrated for the first time. After fucking me in missionary, I sat on top of him, and lowered my pussy onto his dick, riding him like those girls in porn! This was my first time, but since I love watching porn and spent many Friday nights masturbating to smut while my friends were getting laid, I had some vicarious experience! He placed me sideways and penetrated me again, pumping me with his delicious cock meat while I rubbed my dripping wet muff, his dick just felt so good inside me! He put me down on my hands and knees and fucked me doggy style from behind while pulling my hair back, switching me to missionary and then letting me ride on top before putting me sideways again. He was fucking me faster and harder and I could tell he was about to cum and as I was about to tell him to take it out, that's when I felt it! A thick stream of his hot cum flooding my insides, he exploded inside me! When he came inside me I could feel his cock getting soft and slowly slipping out of me. He must have shot a pint of his cum into me and it began to leak out between my pussy lips. I had had never seen cum before and I was afraid to get pregnant. I guess this was my first time getting fucked… and creampied too!
SMALL AND YOUNG GIRLS GET THEIR VIRGIN PUSSIES DESTROYED BY HUGE COCKS FOR THE FIRST TIME:
Don't you wanna see the full video? My short verdict of this scene is that it's a supremely hot scene and one of the hottest young girl I've ever watched. Only at ExxxtraSmall the smallest, youngest and sexiest girls enjoy sucking huge cocks for the first time, getting their virgin pussies fucked and filled with cum! Slim, petite, tiny and tight teen girls love huge cocks and they love getting their little pussies destroyed and creampied in hardcore sex scenes. Their mouths, pussies and assholes will get stretched out of proportion and their bodies will get drenched in cum! Take a young sexy girl, match her up with a huge cock, and let the fun commence.
|
This guy's stepsister is always taking his laptop without his permission and she's done it again, so he's ready to scold her for it when she makes a startling confession that leaves him thunderstruck! Since she believes he already saw what she was using his laptop for, she confesses that she has been watching stepbrother/stepsister porn on it! Turns out she's very curious about it, and she's had some fantasies and wet dreams regarding him! Not only does he understand, he wants to help his sexy stepsister make those fantasies cum true! The naughty girl gets down on her knees and rubs the throbbing bulge under his pants, terribly curious to see her stepbrother's endowment! The young girl takes his hard cock in her soft hands, stroking it as she stuffs her wet mouth with it and gives him a hummer. He can't believe he's actually getting head from his very own stepsister, it's the kinkiest fantasy ever! She pulls her panties aside and he finger fucks her dripping wet twat and she strips naked and masturbates her shaved pussy for him in bed. She shows her step brother how she likes to play with her little pussy before straddling herself atop his hard cock and impaling her tight cunt on it. His dick is so thick and she's so tight, she slides down his pole inch by inch until she hits the base and leans back so she can ride his cock. He puts his naked step sister on her back and spreads her legs, fucking her in missionary and rubbing her clit with his thumb, watching her squirm with pleasure as he becomes her lover. She strokes his hard throbbing cock with her soft little hands and makes him empty his balls over her belly! So sexy! Next day they meet again in the bathroom after she showers, now that the ice is broken she just wants to suck and fuck his cock every chance she gets! Young naked girl gets down on her knees and gives her step brother a blowjob, then spreads her ass cheeks with both hands and asks him fuck her from behind and cum right in her mouth.
|
Well what can you say about this hot teen babe that would do her justice! How about she is FUCKING AMAZING! This nice sir decided to bring his stepson and daughter along on a vacation so the teens could bond together and it seems to be working wonderfully! While they take breakfast at the pool deck, he catches up with his email, not realizing that behind his screen and underneath the table, his daughter is giving her stepbrother a helping hand! Looks like he has a case of morning wood and this teen slut enjoy stroking his rigid member behind daddy's back. He's so busy answering calls and checking mail, he doesn't have a clue what's going on! He leaves for a while and she takes the opportunity to strip down to her sexy panties and bra, spreading her legs and pulling the panties to the side so she can masturbate herself while her horny stepbrother watches and jerks his hard cock! She removes the panties and exposes her delicious bubble butt, her naked ass looks nothing less than spectacular in this position. This girl is so hot! She walks around the pool area and gets into the water, with her stepbrother joining her so they can make out. Unfortunately her dad comes around and the naughty hot girl pushes his head under water. He continues to lick her pussy and ass under water, burying his head deep between her beautiful ass cheeks. If he just takes one step forward, he will see his daughter is without panties and his step son eating her pussy and ass! The guy is forced to hold his breath, lol, imagine him drowning while trying to toss his stepsister's salad! They go inside to her bedroom where they will have more privacy and she takes off her sexy bikini, showing him her flawless body. He pulls out his hot throbbing cock, shoves it in her face to lick, fondle and suck, which she does with pleasure. His naked step sister sucks and strokes his big hard cock, rubs her wet slit and her clit against his cock. The way she jerks off her step brother, massaging his cock and his balls with her pussy is absolutely amazing. Without doubt this girl has one of the most delicious bodies, those legs especially, that butt, those sweet titties, pretty face and that lovely pussy. Prime Grade A! She plays with his cock straddling herself atop and letting it sink inside her dripping wet pussy so she can ride him. She squats over his erection and rubs her muff while he fucks her, it feels so good, so nasty, so dirty, so filthy, she loves it! She flips over still on his dick and keeps riding it, making her juicy bubble butt bounce up and down his lap while he fondles her soft buttocks. Naked girl arches her back in an orgasm, as waves of pleasure come over her body again and again. Fucking with her very own stepbrother feels fantastic and though they're not really related, she knows her daddy wouldn't approve so they keep it a secret and fuck behind his back, which turns this nasty little bitch on even more! Every time they fuck, there's a chance they will get caught and she imagines her daddy opening the door as her stepbrother is blowing his load all over her dirty face and her big tits while she can't stop from climaxing even with her dad there!
YOUNG HOT TEENS CAUGHT FUCKING ON CAMERA:
Thats exacly what I was asking for. Thank You MOFOS for this amazing video, keep doing more amateur videos with hot teens in sneaking, cheating and the almost getting caught scenes! And it's always great when they bring these amazing POV-scenes. I hope the community shares my opinion. Hot teens and amazing amateur porn, public sex, thats what these guys are famous for and why I love what they do. MOFOS is all about super hot girls having sex in the most unexpected places and provocative situations. These babes, teens and cheating girlfriends get their pussies fucked hard and their faces covered with a thick layer of sperm, without worrying about being caught by their parents or boyfriends.
|
I just love spying on my sexy little 18 year old stepsister when she's in the bathroom; totally naked and checking herself out in the mirror. Every time she catch me she covered herself up and told me to leave, but not before I got to play a bit with her shaved pussy and soft butt. My step sister let me touch her wet pussy slit, her pussy lips and her clit, and she didn't protest. She also liked it. Her nipples hardened up as I touched her breasts and her clean shaven smooth pussy got so wet as she got turned on by the situation! My step sister had never let me nothing more than just look and touch before but that day she was really hot. She asked me if she could see my big cock. I let my step sister touch my balls ans stroke my penis. She was getting into it and she set on the toilet seat, taking my throbbing erection in her hands and popping it into her wet mouth, giving me head. I decided to see if she would let me fuck her pussy. We got back to her bedroom and she got down on all fours by the side of her bed, raising her juicy bubble butt as I was ready to stuff her tight pussy with my big dick, filling her up and pounding her hard doggy style! My naked step sister spread her round ass cheeks with both hands and the head of my cock was at the entrance to her dripping wet vagina, my erection was aching. She pushed her juicy ass against my dick and she opened her eyes wide as my cock slipped in. Her pussy was hot, and so tight! I held her beautiful butt-cheeks. She was smiling, her eyes looking back at me, I pushed a little harder, and my sexy step sister started to go "mmmm", I kept pushing, harder and harder, that bubble butt jiggled like vanilla pudding, baby! She kept tightening her vagina, so I kept pushing harder. She had me lay down on her bed and got on top of me, started to rub her pussy against my dick and then lowered herself on it. It felt so good as she bounced up and down on my cock. I was starting to feel my dick ready to cum after about a minute but she kept ride me, making her bubble butt bounce up and down my rod. I love it when a girl rides my cock in reverse cowgirl, since I get a great view of a hot ass! I squeezed it and spanked my step sister's sexy ass and she flipped over, bouncing up and down my rod, showing me her sexy little tits and her slutty little face. She was so horny by this point, her cunt was all covered in her juice and she just screamed "Cum inside me! Cum inside me! Please!". She looked me right in the eyes when I was cumming! The thick, heavy load thumping again and again into her. I did empty my balls into her! I pulled out and it was starting to leak out of her pussy onto the bed sheet. She keeps tell me we have to stop doing this, but she's ready for my dick the very next day, she can't get enough of my hard cock and my creamy cum and I can't get enough of my stepsister's juicy cunt and delicious cock sucking mouth! I fuck her several more times during the day, in the den, the living room, the kitchen, the garage, just follow the semen marks all over the floor left behind after I blow my load all over my sexy stepsister! I still remember the first time we fucked, after she caught me spying on her in the bathroom, and ever since we do this every single day, it's our own dirty little sex secret and we just love it!
THE SEXIEST AND HOTTEST YOUNG SISTERS GOT CAUGHT FUCKED:
When these guys see their half naked sisters walking around in just the panties, displaying their sexy legs and their sexy bubble butts, indecent thoughts come. If they are family after all, what wrong can there be in these horny guys spying on, seducing and banging their sisters? These horny guys sneak in the sister's room at night and fuck them while the girls sleep, convince them to pose fully naked on cam for them and their friends, watch porn together and masturbate to each other and even have sex for the first time, cum inside after pounding their tight pussies and assholes while their parents are at work!
|
My stepsister has a crush on me ever since we met for the first time after our parents got together. I think the idea of getting banged by her very own stepbrother turns her on, but I usually just ignore her and pretend she's just playing games with me or pushing my buttons. Problem is, it's getting pretty hard to ignore her, since she's getting more and more provocative with each encounter we have, and since we live under the same roof with our parents, you can imagine the sexual tension at this point; you can cut it with a knife! My step sister always has a little grin on her face that says, "I have dirty thoughts and I know you do too". We're sitting on the living room couch and the flirting begins again. It feels like a game of who will make the first move. And finally she gets up and her skirt is hiked up and I can see her naked juicy bubble ass!!! She's not wearing any panties!!! I just can't resist, grabbing her meaty ass cheeks! My step sister's ass is absolutely amazing, two big round buttocks and a little pussy between them. I can stare at her naked ass and I certainly take the opportunity. She's so turned on and I just want to see how far she can go. She spreads her legs and starts rubbing her dripping wet muff in front of me, telling me she can't resist this any longer, and honestly, neither can I! Then she leans over and unzips my jeans, pulling out my throbbing cock and taking it to her wet mouth, sucking it hard like a dirty little slut. This teen slut gives great head! We go to her bedroom and she strips naked and gets in her bed, masturbating herself for me and showing me how wet her pussy is. She keeps sucking my hard cock and stroking it slow and gentle. I don't think my dick has ever been so fucking hard, man! There is no turning back, my sexy naked step sister gets down on her hands and knees, spreads her hot, tight, fleshy ass cheeks and I instantly move so that my prick touch the hot wetness of her slit. I ram my hard cock deep inside her wet cunt, grabbing her tight bubble butt as I fuck her doggy style from behind. I can't believe it, I'm sliding in and out of my naked little sister and I know I'm about to cum at any moment. She straddles herself atop my lap and impales her snatch on my dick, riding it, then leaning back and spreading her legs so I can keep plowing her pussy in missionary position. We've both been waiting so long for this moment! I grab her titties while I'm fucking her and she gets back on top, this time in reverse cowgirl, so I can check out her juicy butt bouncing up and down my hard rod until my dirty little slut stepsister is ready to swallow my creamy cum as I blow my load!
THE SEXIEST AND HOTTEST YOUNG SISTERS GOT CAUGHT FUCKED: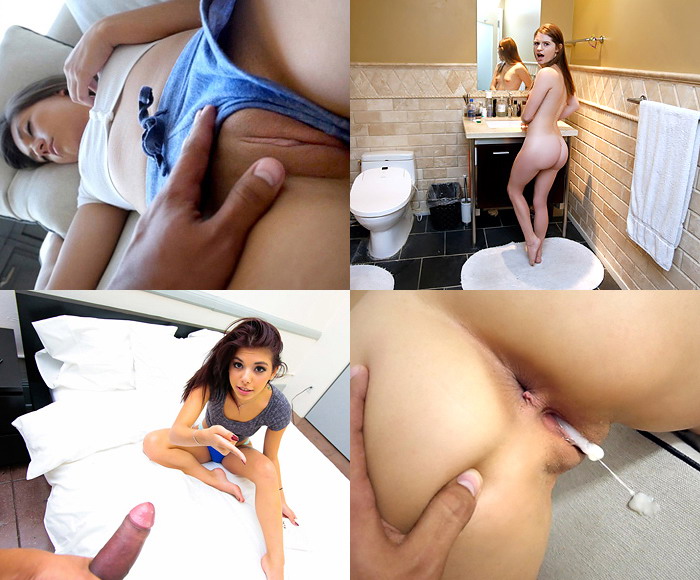 These horny brothers and sexy sisters have a dirty little family secret they want you to know all about! That's right; SisLovesMe is all about horny brothers seducing and fucking their hot sisters! These guys spy on their naked sisters in the bathroom and then fuck them hard; brothers and sister masturbate together and have sex for the first time; the guys sneak in the sister's room and stuff their tight pussies with their big throbbing cocks while the girls sleep and cum inside their virgin pussies; the girls get caught masturbating and now let their brother fuck their wet pussies and gaping assholes and blow their loads all over their faces! As long as their moms and dads don't find out, everything is okay!
|
Sit back, relax and watch this tiny naked girl getting her pussy stretched out in hardcore sex scene! This guy is checking out his sexy stepsister while she's in the kitchen trying to reach for a bowl on the kitchen cabinet and when she jumps trying to grab it, he notices that she's not wearing any panties under her short skirt! Getting a glimpse of her perfectly shaved clam makes his dick get hard as a rock! This girl has one of the most beautiful pussies ever, and a gorgeous ass in addition. He goes over to give her a hand and she notices the massive bulge throbbing hard between his legs under his denims and she takes her stepbrother to the living room couch, so she can play with his erection while he plays with her dripping wet clam! The teens kiss as she spreads her legs and lets her step brother stick a finger in her wet, warm pussy. He pulls her sexy tits over her top and sucks on her pierced nipples. Then he takes out his hard cock and she smiles as she takes his throbbing cock into her mouth. She kisses, licks and sucks his big cock slowly, caressing it gently with her lips and tongue. They strip naked and she's so fucking tight and petite, beautiful! There are many advantages in sex with a small sized girl, one of them is Standing 69 position! He lifts the petite naked girl and puts her in a pile driver, placing her head between his legs and her legs onto his shoulders so he can eat her delicious pussy and she can suck his hard rod hanging upside down. Then he spreads her legs on the couch and eats her out, squeezing her tits while tongue fucking her tight clam and it feels so fucking good. He follows up with his hard cock, her pussy is just too tight, but he tries to push it in further into her body. He begins pounding her wet snatch faster and faster and she's surprised he can actually get it all inside her! Naked girl bites her lip, she rubs her clit furiously, her eyes roll back as her step brother drives in and out of her madly and his balls slapping against her crotch. His huge cock is making her cum like no other guy has ever made her cum before! The shorty screams with pleasure having one wild orgasm after another. Then she squats over his dick and impales her pussy on it, bouncing up and down his long shaft, still rubbing her muff while he's banging her. She flips over on his cock and keeps riding him, her juicy bubble butt rising up and down before she gets down on her hands and knees so her horny stepbrother can fuck her wet pussy doggy style! She starts shaking and moaning really loudly, her body is quivering with orgasms, her pussy lips squeeze tightly around his cock. This feels so good, she doesn't want it to stop, but at the same time, she wants to feel his hot cum all over her face and body when he cums!
THE SMALLEST, YOUNGEST AND SEXIEST GIRLS GET THEIR PUSSIES DESTROYED BY HUGE COCKS:
You won't want to miss the youngest, smallest and sexiest 18yo young naked girls taking on the biggest dicks in porn! Slim, petite, tight and smoking hot teen girls love huge cocks and they love getting their little pussies destroyed in hardcore sex scenes. Their mouths, pussies and assholes will get stretched out of proportion and their bodies will get drenched in cum! Take a young sexy girl, match her up with a huge cock, and let the fun commence.
|
What a conundrum! This sexy blonde's stepbrother knows that she had sex with her boyfriend last night and that she wants to keep it a secret from the parents, but if she wants that to happen, she's going to have to convince him into keeping her dirty little secret, maybe with a dirty little secret of their own! It's an awkward proposition, but she's seen her stepbrother masturbating several times and he has a pretty big cock, and she prefers having her own stepbrother fuck her before having her parents find out her boyfriend is banging her on a regular basis. His slutty step sister grabs his throbbing cock and gets to work on it, sucking and stroking it, feeling it getting bigger and harder in her wet, hot mouth as she gives him head. She's a bit surprised at just how much she is enjoying it! Her pussy is already dripping wet, she would have never imagined that sucking her own stepbrother would turn her on in such a way! The girl pulls down her shorts, revealing him her sexy ass. He puts her down on all fours and slaps her juicy bubble butt while admiring the beautiful crack of her ass, her tender asshole and her tight snatch. Her naked ass looks incredible. The horny guy puts his dick between her moist pussy lips and then rams his hard dick deep inside it and fucks her doggy style. Yeah, he's turning his stepsister into his bitch! She pushes her ass against his cock and begs him to lie on his so she can straddle herself atop and ride his big hard cock! If she would have know her stepbrother's cock was so fucking hot she would have been banging him all this time instead of her boyfriend! She rides his dick and the view of her ass cheeks bouncing up and down in front of his face is so sexy. His sexy naked step sister turns over and continues to ride his dick, now he can play with her cute titties and suck on her pink nipples. Awesome! She can't wait him to cum in her open mouth! Watch more amateur sex tapes with sexy step sisters getting fucked on camera.
|
It was Mother's Day and since I was visiting my girlfriend, I decided I'd drop by her beautiful blonde stepmom's bedroom and congratulate her for the occasion. I didn't bring any gifts so I asked her if she would like anything special for the occasion. She told me she would love a back rub, I thought that was innocent enough, but when she pulled down the sheets, I noticed she was wearing the sexiest lingerie, highlighting her smoking hot body and big magnificent tits! She turned over and I saw her gorgeous ass… mouth watering and juicy. I started rubbing her back but she said me that I could rub her down there. She said it would make her feel nice. When my hands touched her big soft ass, I felt tiny shocks flow through my body. I squeezed her juicy buttocks with my hands and the hot woman closed her eyes and starting breathing really hard. I was getting an erection from touching her sexy body and her meaty sexy ass! She noticed it and she suggested we do something about it!
Could you do something else for me? Maybe put your dick inside of me!?
I couldn't believe I was there in bed with this half naked woman, but before I could really say anything she pulled down her sexy lingerie and got down on her hands and knees and showed me her naked ass. I was now looking straight up onto her ass and pussy. She was so hot, big ass, huge milk tits and that lovely smiling face. I took off my clothes too, came closer, spread her buttocks and kissed her pussy from behind, it was very warm and damp. I penetrated her on the spot, fucking her mature pussy from behind with my throbbing member doggy style! She started moaning and moving her butt back and forth, saying it felt really nice. I was so concentrated banging her, I didn't notice when my girlfriend walked in on us! I guess she appreciated my Mother's Day gift for her stepmom, because when I realized she was there, she had her hands down her shorts and was masturbating herself while watching us fuck! She joined us in bed and she had her own little gift for her stepmom, getting down on all fours and eating her out along with me! I licked her pussy and ass while she ate her stepmom out and as she straddled herself on top of her, I started fucking her doggy style from behind too! I couldn't believe I was doing a threesome with two naked girls, my girlfriend and her sexy stepmom! I switched from my gf's pussy to her stepmom's, fucking the girls both in tandem while they had hot lesbian sex between each other; they looked so hot and beautiful! The naked girls made me lie flat on my back and sucked my cock and licked my balls together and as my girlfriend sat on my hard cock, her stepmom sat on my face and I ate her out and fucked my girl as they kissed and rode me! My girlfriend and her sexy stepmom took turns fucking me. Then the stepmom told me to cum all over their faces. The girls licked my balls together while I was blowing my load all over their sexy faces. At the end I watched them swap my cum, Happy Mother's Day!
HOT NAKED WOMEN AND YOUNG TEEN GIRLS IN THE BEST FAMILY ORGIES YOU HAVE EVER SEEN:
If you fantasize with banging your slutty sister, eating out your stepdaughter's young pussy or having your gf's sexy mom suck your hard cock, here at Family Strokes, all those dirty fantasies cum true right in front of your eyes! Step-family relations take a turn for the kinky as mature stepmoms, horny stepdad, sexy stepsisters and stepbrothers strip naked and get it on! These hot naked women seduce their daughter's boyfriends and make them fuck them hard, these horny guys sneak into their stepsister's room and fuck them when the girls sleep, these pervert stepdad enjoy their young step daughters' pussies. Watch it all in the most crazy, threesome, foursome, sex family orgies!
|
This guy has always fantasized with banging a sleeping girl, so when he catches his beautiful stepsister taking a nap on the couch, he just can't help himself, she is so fucking gorgeous! Their parents aren't at home, so he begins to rub her muff over the soft fabric of her tight shorts and tugs on them to reveal that not only is she napping without her panties on, her pussy is drenched from his touch! He rubs her slit with his thumb and introduces it in her wet pussy. Her pussy is all shaven, warm and slippery. Since she still seems asleep, he tries something a bit more risky popping out his big throbbing cock and placing it in her mouth after fondling her soft breasts! She instinctively reacts to it, opening her mouth and sucking and licking his member! He rubs her pussy over her shorts while she eats his dick during sleep. He decides to see if his step sister is a virgin and pulls her shorts down her thighs, spreading her legs and rubbing his cock up and down her wet slit. He rubs his dick over her pussy and then slowly inserts his penis inside her! He pushes his dick deeper wondering if his sleeping naked step sister wakes up and she doesn't. He fucks her dripping wet pussy harder and faster, enjoying the feel of her young nubile body. He keeps it until he is buried into her balls deep. Then he pops his cock out of her cunt and places it back in her mouth so his sleeping step sister can suck and lick it some more, getting a taste of her pussy juices mixed up with his salty precum. He fucks her mouth and it's so wet, so hot, so tight that he just can't help himself and blows his load inside her sleeping step sister! He can fill her mouth filling up with his creamy semen and after he pulls out, his sticky jizz drips from the side of her lips and drips down her chin, so fucking sexy! A few hours later, she's already up and decides to pay him a visit in his bedroom! She wants to enjoy that big dick on her stepbrother fully awake to see if it feels as good as it did when he was fucking her during her nap! She is now fully naked, straddles herself atop and rides him, her young perky breats bouncing up and down in front of his face. So sexy! Then the young naked girl bends over so her horny step brother can fuck her tight pussy doggy style. She urges him to give it to her deep, hard and very fast and not to pull out of her when he's about to cum! He already blew his load inside her mouth and now she wants him to do the same inside her pussy and leave a sticky creampie oozing from her tender pink lips! What a wonderful stream of white goo flowing out of her pussy slit! DON'T MISS the full length video here:
THE SEXIEST AND HOTTEST YOUNG SISTERS GOT CAUGHT FUCKED:
Enjoy uncensored exclusive sister on brother hardcore smut you can find here! Hot teens with big tits, juicy asses, tight pussies trying a blowjob with their brothers for the first time in their life. The young girls receive intense fucking after their horny brothers spy on them naked in the bathroom. The guys sneak in the sister's room and fuck them while the girls sleep and cum inside their pussies. The girls get their faces and bodies splattered with hot cum and see sperm for the very first time after they were caught masturbating. These teen girls shouldn't have worn a shirt that was too short, they shouldn't have walked around in just the panties, show off their sexy legs and their sexy bubble butts and display their sexuality. You don't want to miss out on this porn overload, so cum inside and watch these sexy sisters get fucked hard by their horny bros!
|
This guy just found out that his small 18 year old stepsister doesn't know how to swim, and since he's one hell of a guy, he decides to give her some classes and teach her! While he holds her and she paddles in the water on their pool he can't help notice just how fucking hot and tight his younger stepsister is. The attraction seems to be mutual, by the way she presses her body against his while he teaches her the basics and when he pulls her bikini bottom down and exposes her tender lithe tight ass, she doesn't seem to mind at all. Looks like she wants to learn a lot more than just swimming from her big stepbrother! He takes off her bikini bottom and sinks his tongue between her juicy pink pussy lips, eating her out as she paddles! His small step sister bites her lips as she feels his tongue exploring her wet pussy and ass, it feels so fucking hot! Swimming classes just got interesting, really interesting! He nibbles on her clit, sending spasms of pleasure up and down her spine and making her nipples fully erect. There's some considerable segments of pussy licking in this video as he eats her wet pussy out in the pool, tongue fucking it, sucking on her pussy lips, moving up and down her delicious slit and making circles around her sensitive clit. This girl is so fucking tiny! Who wouldn't want to eat that little pussy? The girl removes her bikini top and he carries her out of the pool and to a nearby lounge chair, where she gets down on her hands and knees so she can suck and stroke his tremendous throbbing erection. She can't believe her stepbrother has such a huge cock, she loves it! She drools and slobbers all over his beautiful long sausage and he even fishhooks her and pounds her mouth with it! What a dick sucking I love it it for the sound. She is so wet and all this petite girl wants to do is ride that big dick! She straddles herself on top of his cock and gets her pussy impaled on it, bouncing her body up and down his shaft while his hands are rubbing and squeezing her lovely breasts. The teen slut squeezes his balls with one hand, making him pound her even harder. She knows what they are doing is wrong, so wrong! He is, after all, her very own stepbrother, but that's what makes it so hot and kinky! That and the fact that his dick is so big and feels so good plowing her! He puts her down on all fours and fucks her doggy style from behind, taking dirty to her ear as he draws her naked sweaty body close to his. His fat dick makes her orgasm several times in a row without stopping. Then the tiny naked girl gets into missionary position and he pounds her hard, makes her his slut, she loves it! She wants his hot creamy cum drowning her mouth and throat! Another successful ExxxtraSmall episode! Small naked girls gets fucked hard by big dicks, this is so pleasing for the eye. You won't want to miss the full 50 minute movie here:
THE SMALLEST, YOUNGEST AND SEXIEST GIRLS GET CRUSHED BY HUGE COCKS:
How the fuck this huge cock could fit into this tiny girl? It will be only one you question while watching all these small naked girls getting their pussies stretched out in the best young porn videos! Small, petite, tiny, pint sized, call 'em what you want, these sexy 18 year old teen sluts are ready to suck and fuck the biggest cocks right here at Exxxtra Small! See these teens taking off their clothes, getting down on their knees so they can suck their lover's massive cocks and lick their balls before taking their extra large erections up their tight pussies and assholes and getting their mouths, faces and naked bodies sprayed with loads of hot cum! The tiniest teen girls on the net get pounded hard by the biggest dicks, don't miss!
|
Family sticks together through the good and the bad, and since his stepsister is going through a bad patch, her boyfriend cheated on her, he wants to be there for her and support her! He embraces her and tells her everything is going to be okay, that's she's a great girl, that's she's beautiful, that's she's so hot… while he tells her all this, he feels her tight, hot body against his, and his dick getting harder and pressing against her pelvis! They start to kiss and he takes off her top and bra, feeling up her gorgeous breasts! Rebound sex is what she needs to get back at her stupid boyfriend and feel empowered, and having rebound sex with her very own stepbrother and knowing his lust for her makes her feel so hot, filthy, powerful and irresistible! She gets down on her knees and sucks her stepbrother's rock hard erection, filling her mouth with his manly meat right there in the kitchen! The little girl drools all over his member as she sucks and strokes it. "You… you… you wouldn't tell mom and dad about this?" She strips naked so he can rub her pussy lips and her hard nipples on her young breasts. This teen girl has absolutly amazing, young beautiful pussy, so smooth, bald and sweet little pussy. She's got so wet just thinking about her stepbrother's dick in her! He lies on his back in the middle of the kitchen and his young naked step sister straddles herself on top, squatting unto his cock and impaling her cute pussy on it, making her tiny body bounce up and down his shaft as she rides him. She should be an instant favourite with fans of pretty pussies. You do get a pretty get look at her pussy lips wrapped around step brother's cock. After riding his sausage he puts his naked step sister down on all fours so he can fuck her doggy style from behind. Now that she has her stepbrother to fuck her and make her feel like a woman, she doesn't need to suffer about her stupid ex-boyfriend! Her stepbrother's cock is much better!
|
The other day I was passing by my stepsister's bedroom and since she left the door ajar, I couldn't help getting a glimpse of her taking off her clothes! Of course I got an instant erection, even more so when she got on her bed and began to masturbate while talking to a friend on the phone! I stared at her perfect bubble ass and her young pussy with a landing strip. The door swung open and she caught me! Odd thing is, she seemed more intrigued and curious than upset! Since I already saw her naked and masturbating herself, she made me come closer to get a better look at her spanking hot body! She asked me if I wanted to keep watching her get herself off and made me close the door so we wouldn't have any more interruptions! My slutty sister got down on all fours and began stroking my hard cock and licking it with this dirty look on her face. Blowing my dick turned her on. She drooled all over my dick and asked with a smile "Do you want to fuck me?"! She bent over, showing me her fabulous bubble shaped ass and inviting me to fuck her dripping wet pussy from behind with my big cock. She didn't have to invite me twice! I grabbed her from behind. My hands were around her waist and her round buttocks. My sexy step sister has an incredible, round, jiggly butt, with a deep crack between those luscious ass cheeks. Her big buttocks were like two soccer balls. I looked down at her pussy. It was wet. She took my hard dick with her hand and placed it between her moist lips. My dick slid into her slippery twat. I fucked her so hard, watching her juicy bubble ass bouncing and shaking until she pulled me away because she was having an orgasm! Getting fucked by her step brother made her cum like a filthy slut! She smiled, rubbed her pussy a bit and straddled herself atop my hard cock, ready for a second round, this time riding my dick! I rubbed her clit while banging her and she did the same and I told her I was ready to cum and just about when I was ready to pull out, she told me to continue because she wanted her dirty step brother to cum inside her and creampie her! I blew my load in her and when I pulled out I looked at her cunt – she was dripping with cum, the sticky creampie oozing from her spread pussy lips! Then we fucked. And fucked. And fucked some more. Ever since that day and now that I've seen my stepsister naked and fucked her, she makes me cum in her every time! I love it! I catch her in the bathroom, she sucks my dick, drags me to her bedroom and rides my cock until I'm ready to blow my load in her pussy and creampie her over and over. Every time she makes me cum inside her and it's so hot!!! When it gets close to sleepy time it's always polite to allow a goodnight kiss. Not on the lips, but on my cock! DON'T MISS THE OTHER VIDEOS with this sexy sister here:
SIS LOVES ME, THE HOTTEST AND RAUNCHIEST STEP-SIBLING HOOKUPS ON THE NET:
Only SisLovesMe can give you total access to hardcore footage featuring sexy teen sisters stripping naked in front of their brothers and doing it all on camera! The girls masturbate in front or together with their brothers after they were spying on them in the bathroom. The guys sneak in the sister's room at night and fuck them while the girls sleep and cum inside their pussies. The girls walking around in just the panties, displaying their sexy legs and their sexy bubble butts, seducing and then banging their younger brothers without worrying about getting in trouble. The guys catch their younger sisters in compromising situations and convince them to get down and dirty to stay out of trouble. Shit! They will do anything to keep from Mommy and Daddy from finding out.
|
After realizing the effect she has on her stepfather and stepbrother, this spunky brunette girl knows how to ask for whatever she needs and get it! Right now she needs some cash, so she asks her sweet step daddy for it… totally naked! The teen slut lets him rub her body and finger her ultra tight pussy with his stubby fingers and gets down on her knees so she can suck his hard cock. She knows her mom doesn't give him any of this! She drools all over his dick while she plays with it and her stepdad cums right in her mouth, leaving her with a big gob of cum that oozing out of her mouth, and with money. Since she also needs to borrow her stepbrother's car, she pays him a visit in his bedroom and sucks his dick too! The sexy teen girl deepthroats his big juicy dick and drools all over it, swallowing his rod and massaging his balls, making him cum in her mouth too! She swallows step brother's cumshot and gets the keys! Welcome to FamilyStrokes – you know these days ordinary families simply do NOT exist, lol! This little teen slut has even more fun when she gets to suck their hard cocks together at the same time during the morning while they are having breakfast and she knows they have morning wood and she doesn't want those magnificent, powerful erections to go to waste. While she sucks one, she jerks the other and can't decide which she likes most, she loves these two cocks both and wants them inside her so bad! They strip her naked and placed her over the table. She sucks her stepdaughter's hard cock while getting her tight pussy fucked very hard by her stepbrother. She enjoys getting spit roasted by them so much! They put this young naked girl down on all fours and her stepbrother fucks her doggie style from behind while she keeps sucking her stepdad's big dick. Her stepbrother pushes her face against his cock and makes her gag on it. She can't wait for them to cum all over her dirty face, open mouth and juicy tits!
|
CHECK OUT RECENT VIDEOS ON THE MAIN PAGE !!!