Banged
This guy is filming a group of four sexy Latina soccer players facing off two versus two in a friendly game of soccer. It's a hot, sunny day, and the girls look smoking hot in their tight uniforms. The game ends in a tie and the girls decide to celebrate with him, pulling their T-shirts up, exposing their big beautiful tits as they rub their hot bodies and juicy bubble butts against him and his crotch, producing a massive bulge throbbing hard between his legs. The hot Latinas get down on their knees, stroking and sucking his big hard cock while he films them. The girls want to see if they can break the tie by making him choose which one is the best cock sucker. Both teams do a really good job sucking, stroking and licking his member, making sure to also lick his balls with their wet, smooth tongues. After giving him a swell blowjob, the naughty girls get next to each other with their backs facing his way, pulling their shorts down, twerking and shaking their juicy bubble butts. It's a Brazil versus Argentina and it looks like the Brazilian girls have an edge in the booty shaking department! He is still undecided and figures out that the only real way to break the tie is picking which girl is the very best fuck. He lies flat on his back and while one of the girls in the Brazilian team holds the camera, her teammate straddles herself up on top of his hard cock, impaling her dripping wet pussy on it and driving her body up and down his long shaft, riding him in reverse cowgirl. While she's riding that big cock, the girls in the Argentinian team take care of licking and sucking their erect nipples crowning her big tits. The girl with the fattest ass, the blonde member of the Argentinian team takes her turn on his cock, sitting her juicy bubble butt on his lap and making it bounce along with her big tits. While she does this, the member of the Brazilian team that took her place before sits her wet muff over his face so he can eat her out. This guy has the time of his life taking turns fucking each of the naked babes until he is ready to blow his load all over them!
|
This cute girl walks into a hot dog joint and orders their special and she is a bit surprised when they tell her that her order is ready since she didn't expect to see a big throbbing cock in a hot dog bun splattered with ketchup and mustard, no wonder they are so popular! She did order a wiener after all, she just wasn't expecting it to be so big and hard, yet she is eager to take a bite, sucking and licking the hot dog vendor's delicious sausage while his manager, a smoking hot ebony babe watches them. He bends her over the counter, raising one of her legs and jams his big hard cock deep inside her dripping wet pussy, pounding her hard from behind. This is what they call the total customer satisfaction experience! The cute girl is delighted, her tight pussy feels like the hot dog buns for his big meaty kielbasa and it fits so snug inside her. He flips cute naked girl over the counter and keeps fucking her in missionary position with her long legs spread wide open. A customer could walk in at any moment and find her totally naked and getting fucked by the vendor like a dirty little slut and that makes her feel so turned on! He lies flat on his back on the floor and the young girl squats over his dick, making her tight body bounce up and down his shaft, getting banged behind the counter while customers walk in and get their hot dogs, unaware of what's going on behind the counter! This is one of the best cock riding scenes ever! She looks amazing sliding up and down on his hard cock. His balls are slapping against her clit as his cock fucks her harder and harder, making her moan and scream from pleasure. He pays no regard to any visitors and just keeps pounding her tight pussy. After he comes in her mouth more customers walking eager to get a taste of the vendor's meaty hot dog! They have many people decline but some girls and couples accept the challenge.
|
I love hanging out in the rooftop of my building because I have a beautiful view of the city but this morning I was welcomed by an even better view: this tiny girl with a flexible little body doing some exercises on the rooftop! I recognized her as my next-door neighbor, dead ringer for Anne Hathaway! I chit chatted with her as she stretched out. She asked me to help her with some stretches and pretty soon my hands were all over her tight little flexible body and they took her back to my place so we could both keep "working out" together! There she got down on her knees and pulled down my pants, totally amazed at the size of my huge throbbing erection. She confessed she wasn't expecting it to be that big, with a big smile on her face as she stroked it and admired how hard I was. She stripped naked and I put her in a standing 69, so I could eat out her tender pink twat while she sucked hard on my dick. Thick ropes of drool dripped down her mouth and onto the floor as she devoured my boner and I put her down on her knees so she could lick and suck my balls. I spread her long legs and she pulled them behind her shoulders as I rammed my hard cock deep inside her tight cunt and fucked her very hard. She could actually twist her feet behind her head and I had never banged such a flexible slut in my life, this was incredible! I pins her shoulders to the rug and kept pounding her dripping wet pussy, putting her flexibility to the test. Dirty little bitch kept begging me to pound her harder, faster and deeper. I thought this tiny girl would not be able to take my huge cock, but she was handling it like a pro! I lied flat on my back and she straddled herself on top, squatting over my dick and impaling herself on it while masturbating herself with a magic wand vibrating toy. This was the kind of workout this tiny little bitch really needed and pretty soon I was pulling my hard cock out of her tight pussy and blowing my load all over her dirty face and naked body!
|
This guy is absolutely sick and tired of having his slutty stepsister spending the money from his bank account without his permission, but when the dirty little bitch uses the money from the business account he has with his best friend, he decides she needs to get punished to learn a lesson, and since the account belongs to his best friend and him, the punishment will be bestowed by both of them! They force her to take off all her clothes while she's struggling to get free. The guys strip her naked on her bed and he holds her by the neck and slaps her dirty face while his friend rubs and slaps her dripping wet snatch. Her step brother knows she likes rough n dirty sex coz she always watches extreme porn. They cover her mouth with their hands, slapping her tits and the rest of her body as he stuffs her cock hungry mouth with his big fat cock while she's down on all fours and getting fucked from behind by his friend. The dirty little blonde teen slut begins to scream when they spit roast her, stuffing her by both ends and pumping her good. She grimaces with pain and pleasure, gasping, moaning and arching her back. While he is fucking his stepsister he can tell that she's enjoying this punishment but he hopes that anyway the lesson will get through her thick head that it's not okay to spend other people's money. Worst case, at least they can keep double teaming her every time she does it! The guys switch positions and put her flat on her back and with her legs spread wide open. His best friend fucks her dripping wet snatch in missionary position while he fucks her mouth with his throbbing erection. The stepbrother gets on his back and straddles his stepsister on top, impaling her dripping wet pussy on his hard cock while she sucks on his best friend's meat pole, her naked body bouncing up and down his hard shaft. At some point he feared he would feel guilty about double penetrating his own stepsister with his best friend, but quite contrary, it actually feels great and his stepsister may very well be the hottest fuck slut he's ever banged before. They switch places again so she can ride his best friend's cock while giving him head, stroking his member and licking his balls before they put her on her back again and keep spit roasting her pussy and mouth. They fuck this slut hardcore for one hour until they are ready to cum, blowing their loads all over her face and mouth! Lesson learned!
GIRLS SCREAM GETTING THEIR LITTLE PUSSIES FUCKED IN EXTREME HARDCORE PORN:
WARNING EXTREME TEEN PORN! When teens behave badly, they need to be disciplined, punished and corrected, and the right place for such harsh sexual punishment takes place right here at Punish Teens! Don't miss
these vids if you like extreme, hardcore, rough, borderline abusive sex. Watch these teen girls get fucked in the ass, pussy, tits, and mouth. They experience their first huge monster cock in ways they never imagined. Their pussies are wet and tight too because they never did it before. Virgins get deflowered in the most extreme style, shy innocent young naked girls get manhandled, tied up, their pussies get stretched out and destroyed by huge cocks, their assholes get punished, see them abused, face-fucked, brutally slapped, fish hooked, analized till their fresh pussies are fully used!
|
My sexy little stepsister is such a dirty slut, she'll do anything to get her hands on my credit card and she knows how to get it! One day, I noticed that she left the bathroom door open during her shower. I decided that I "needed" to use the bathroom too. I walked in quietly and stood spying on my step sister as she slowly pulled down her panties, revealing the prettiest ass I had ever seen. I could see her sexy ass and her little pussy. I couldn't help looking and she knew I was looking. Then she saw that I was spying and acted like nothing happened and she didn't care I saw her naked, wasn't embarassed at all. On the contrary, when I saw her beautiful naked body I got an instant erection! My step sister always loved walking around the house in her panties and I always dreamed about seeing where her sexy legs connected to her body. In fact, she wanted to go party with her friends and she was strapped for cash, so as she asked if she could burrow my credit card, she would do something for me into the shower. I teased her a bit, offering her the card and taking it away as she tried to grab it. She knew she was going to have to work to get it… work my dick! She got out of the shower and pulled apart her pussy lips, and let me touch her wet slit and juicy bubble butt. I thought I was going to cum in my pants. She got down on her knees on the bathroom floor, grabbed my cock and put it in her mouth and sucked it like crazy. I let her give me head, sucking my dick all the way down to the base, stroking my cock and licking my balls. That dirty little cock sucker gave me such a hard on! We went to the living room so she could keep sucking my cock comfortably and her soft, silky hair fell over my belly as she blow me. My naked step sister climbed on top of me took my hard cock and guided it between her moist pussy lips and lowered herself so that I went just in to her. The sight of her trimmed pussy with a "landing strip" was such a turn on. She rode me, bouncing up and down my shaft. I loved watching her pushed her naked body up and down my meaty pole wearing absolutely nothing but a sexy pair of fuck me heels. Yeah, she let me fuck her for my credit card, but that didn't mean the dirty little bitch didn't enjoy it, she loved getting her pussy banged hard. I made her lie flat on her back and spread her legs so I could fuck her tight cunt in missionary position. I rubbed her clit while I'm fucking her and I enjoyed the sexy expression on her face as she begged me to give her my hard cock, and my creamy cum and finally… my credit card, lol! I pounded her snatch in several different positions and made her suck my hard cock and big balls some more. Once I got my fill I was ready to cum, blowing my creamy load all over my slutty stepsister's dirty face and open mouth, watching her swallow my cum as I lend her my cred card!
THE SEXIEST AND HOTTEST YOUNG SISTERS GOT CAUGHT FUCKED:
If they are family after all, what wrong can there be in these horny guys spying on, seducing and banging their step sisters? When these guys see their half naked sisters walking around in just the panties, displaying their sexy legs and their sexy bubble butts, indecent thoughts come. SisLovesMe is full of smoking hot girls with big tits, juicy butts and dripping wet pussies that are simply irresistible to their perverted stepbrothers. That's okay! These guys sneak in sisters' room at night and fuck them while they sleep, convince them to pose fully naked for them, watch porn and masturbate together, cum inside after pounding their tight pussies and even lose virginity with them!
|
Science class is over and the students have left for the day, except for this sexy geek girl, she couldn't leave without finishing her chemistry test! Her teacher values a girl that like science, so he stays after class with her, correcting some tests while she works by herself. All of the sudden, there is a huge splash! She measured one of the chemicals wrong and provoked a reaction, splashing chemicals all over her clothes! The teacher instructs the girl to immediately take off her clothes to avoid chemical burn! She's okay, just naked, but he wants to make sure she didn't get any area of her beautiful naked body exposed to the dangerous chemicals! Her horny teacher closes the door and watches at her as she stands fully naked in the middle of the class room. He must inspect her thoroughly, paying extra attention to her beautiful titties and her lovely pussy. Nobody has never seen her pussy before and now, here she is, completely naked with her teacher. Meanwhile, the old fart has a huge hard on and the young naked girl is looking directly at it. She can feel her pussy getting wetter, especially when the teacher puts his hand between her thighs and it touches her pussy lips. It's dripping wet as he rubs it and fingers her pussy slit. She's out of danger, but now she's terribly aroused by the way her teacher is touching her! At first she acts all shy, but her nipples are erect and her pussy is wet, and you can tell she is into it. Naked girl leans against one of the desks in class, spreads her legs and lets the teacher get a better look at her little young pussy, clean her pussy up with his tongue, lick and rub her drenched twat. Nobody has never licked her pussy before, and now she experiences new sensations when his tongue goes between her pussy lips and touches her sensitive clit. He pulls her to the edge of his desk and stuffs her tight pussy with his big hard cock. I love the expression on young girls' faces when their little pussies take the partner's shaft balls-deep for the first time. This tiny girl can't believe she's getting fucked by her very own teacher and he always wanted to fuck one of his sexy schoolgirls, make one of them his own slut! The naked schoolgirl gets down on her knees so she can suck and stroke the teacher's big throbbing member, she had no idea her teacher was so well endowed! She deepthroats his dick all the way down to the base and he bends her over his desk and bangs her from behind. She presses her face and tits against his desk while he kisses her back and gets on the table, lying flat on his back so she can straddle herself atop and impale her tight cunt on his boner. Young girl continues to explore her sexuality and sticks her finger in her ass while riding his cock, so hot! She rides her teacher like a dirty fuck slut and he puts her sideways and bangs her from behind. It doesn't take a long time to reach a climax and it's her first orgasm in her life. He gets her back on top and keeps pounding her pussy in reverse cowgirl and he admires her juicy little bubble butt. I love the mixture of her look, with a tight body, yet with attractive curves all over, these perky tits, and her beautiful face and her lovely pussy. He thought this sexy geeky girl had brains for science, but he's happy to know her brain is perfectly wired for sex too and he can't wait to blast his cum all over her sexy face and mouth! He blew the big load in her little mouth and said "You know you already had an A right?"
THE SMALLEST AND YOUNGEST GIRLS GETTING THEIR PUSSIES STRETCHED OUT BY HUGE COCKS:
Don't miss the smallest and youngest naked girls getting their pussies stretched out to the limit by huge cocks in the best hardcore scenes. At ExxxtraSmall, these tiny, pint sized 18 year old teen girls are about to have the biggest experience in their lives when they discover the massive cocks beneath their guys' boxers! They have never seen cocks so big, thick and hard, but that won't stop them from getting their mouths crammed with them, gagging and choking on these massive erections and getting their tight pussies and assholes stretched out, pounded hard and filled with loads of hot sticky semen! Cum inside and watch the sexiest tiny teen girls getting banged and slammed and cummed on by the biggest dicks in porn!
|
My stepsister has a crush on me ever since we met for the first time after our parents got together. I think the idea of getting banged by her very own stepbrother turns her on, but I usually just ignore her and pretend she's just playing games with me or pushing my buttons. Problem is, it's getting pretty hard to ignore her, since she's getting more and more provocative with each encounter we have, and since we live under the same roof with our parents, you can imagine the sexual tension at this point; you can cut it with a knife! My step sister always has a little grin on her face that says, "I have dirty thoughts and I know you do too". We're sitting on the living room couch and the flirting begins again. It feels like a game of who will make the first move. And finally she gets up and her skirt is hiked up and I can see her naked juicy bubble ass!!! She's not wearing any panties!!! I just can't resist, grabbing her meaty ass cheeks! My step sister's ass is absolutely amazing, two big round buttocks and a little pussy between them. I can stare at her naked ass and I certainly take the opportunity. She's so turned on and I just want to see how far she can go. She spreads her legs and starts rubbing her dripping wet muff in front of me, telling me she can't resist this any longer, and honestly, neither can I! Then she leans over and unzips my jeans, pulling out my throbbing cock and taking it to her wet mouth, sucking it hard like a dirty little slut. This teen slut gives great head! We go to her bedroom and she strips naked and gets in her bed, masturbating herself for me and showing me how wet her pussy is. She keeps sucking my hard cock and stroking it slow and gentle. I don't think my dick has ever been so fucking hard, man! There is no turning back, my sexy naked step sister gets down on her hands and knees, spreads her hot, tight, fleshy ass cheeks and I instantly move so that my prick touch the hot wetness of her slit. I ram my hard cock deep inside her wet cunt, grabbing her tight bubble butt as I fuck her doggy style from behind. I can't believe it, I'm sliding in and out of my naked little sister and I know I'm about to cum at any moment. She straddles herself atop my lap and impales her snatch on my dick, riding it, then leaning back and spreading her legs so I can keep plowing her pussy in missionary position. We've both been waiting so long for this moment! I grab her titties while I'm fucking her and she gets back on top, this time in reverse cowgirl, so I can check out her juicy butt bouncing up and down my hard rod until my dirty little slut stepsister is ready to swallow my creamy cum as I blow my load!
THE SEXIEST AND HOTTEST YOUNG SISTERS GOT CAUGHT FUCKED: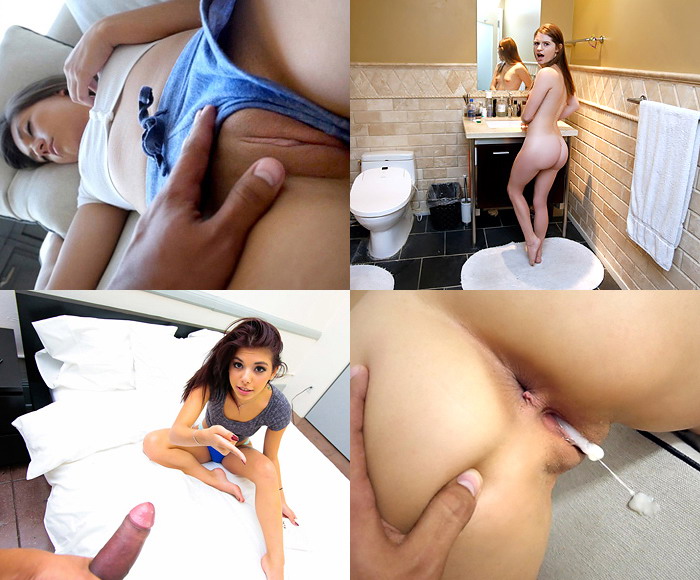 These horny brothers and sexy sisters have a dirty little family secret they want you to know all about! That's right; SisLovesMe is all about horny brothers seducing and fucking their hot sisters! These guys spy on their naked sisters in the bathroom and then fuck them hard; brothers and sister masturbate together and have sex for the first time; the guys sneak in the sister's room and stuff their tight pussies with their big throbbing cocks while the girls sleep and cum inside their virgin pussies; the girls get caught masturbating and now let their brother fuck their wet pussies and gaping assholes and blow their loads all over their faces! As long as their moms and dads don't find out, everything is okay!
|
My neighbor's cute teen girlfriend is so fucking hot, I can't help spying on her when he's away! I crept out and snuck into their place and watched her as the naked girl took a shower and lathered up her big tits and smoking hot body. She was absolutely incredible. She's got great features: cute face, amazing tits, ass and wonderful tan! She stood there naked and wet. Wow, I just staired at her amazing tits and so sweet young pussy. She dried herself off and went to bed in sexy lingerie, sexting with her boyfriend and pulling her laced thong aside as she did so, so she could finger her dripping wet pussy. I was so fucking turned on, stroking my hard cock to her, and I blew my cover! I tried really hard to apologize for making her uncomfortable, but she was not pissed so much because I was spying on her, but more so because I interrupted her just when she was about to cum! The little teen slut wanted me to make it up to her and make myself useful, ordering me to take off my pants as she rubbed my bulging erection over it! I was instantly rock hard. She took a good look at my hard dick and popped it into her wet mouth, moaning and sighing as she sucked it. She kinda giggled as I reacted to her cock sucking and deepthroated my member all the way down to the base. Then the cute teen pulled her thong down her thighs and got down on her hands and knees, showing me her sexy bubble butt, ass crack, asshole and her lovely teen pussy. Holding her sexy ass with both hands she spread her ass cheeks and asked me if I liked what I saw. With one big thrust I burried my throbbing cock deep inside her cunt and began fucking her from behind. She was really tight. Her ass was perfectly carved. She was looking over her shoulder and giving me the dirtiest looks as I banged her hard. She took off her bra and showed me her tits. They were so big and juicy, so enticing. My cock was cement hard by now pulsing hard. She made me lie on my back and straddled herself atop my cock so she could ride it with her tities in my face. I fucked her in all possible positions and I didn't stop until she made me blow my load all over her cute face and her big tits!
|
My petite Mexican mamacita with a sexy ass made my dream cum true today, dressing up in sexy lingerie and playing the role of naughty maid for me! This little slut had no panties on again. She hiked her skirt up and showed me her naked pussy and her amazing bubble ass, twerking it in front of my face. I put her down on all fours and licked her dripping wet twat. I tickled her little clit, licked up and down at the entrance to her vagina and my tongue slipped deep into her lovely pussy. I love eating a girl out before doing it. She got down on her knees and sucked my big hard cock, drooling all over it and stroking it while saying "Que rico!" She deep throated it all the way down to the base and licked and sucked my balls while jerking my rod. Her soft tiny hands and her little mouth fondling my balls and kissing the head… what a wonderful feeling! I oiled up her juicy bubble butt and pounded her hard from behind, doggy style, like the dirty Mexican bitch she is! I loved the way she moaned and panted as I banged her tight pussy with my huge cock, she says it's the biggest and hardest she's ever had! She pushed her juicy ass against my dick, shaking and grinding it like a filthy Mexican stripper slut would. I lied flat on my back and the dirty whore straddled herself atop and impaled her juicy cunt on my big dick, bouncing up and down my erection and letting me pound her as hard as I could. Her juicy oiled up and slick bubble ass looked so fucking hot as I drilled her tight pussy. "Oh my God, you're going to make me cum!" the bitch screamed as I gave it to her good! I flipped her over and made her keep riding my hefty meat sausage before putting her down on her back, spreading her legs and fucking her in missionary position. She got down on her knees and opened up wide, ready for me to cum inside her mouth and watch my cum dripping down her lips and chin! I filled her little mouth, she swallowed my sperm two or three times and still ended up with a full mouth and some on her chin. She always swallows, she loves it.
|
I love watching my stepsister when she sleeps. I know it sounds creepy, but she looks so sexy in her pink lace panties and tank top, I just can't resist touching her and feeling up her big breasts under her top! As I touch her soft tits I can feel her nipples getting hard and erect and by the way she moans and grunts during sleep, I can tell that she is enjoying it. I whip out my throbbing cock and put it close to her lips and when she wakes up she acts all annoyed and shit, but I know what she really wants is for me to keep playing with her. I take her hand and put it on my hard cock and she begins to stroke it gently as I caress her thighs, her pussy and her tits. She lets me pull her tits over her tank top and remove her drenched panties and she gets to work on my throbbing erection, popping it into her mouth and giving me head with this dirty look on her sexy face. My hand reaches her pussy and I start rubbing her clit ohh yesss "You are already wet. You're enjoying this aren't you, you crazy little slut." I put her down on all fours and slowly pull down her pink panties, revealing her beautiful pussy! Standing doggy style with her ass in the air my naked step sister grabs her ass with both hands, spreads her ass cheeks wide and tells me that our parents will not be home til late and we have the house to ourselves. She spreads her pussy lips and tells me to lick her down right there and shove my throbing cock deep inside. I penetrate her from behind, fucking her hard doggy style and feeling hot wet, hot and tight her pussy is. She has a beautiful bubble shaped ass and I just love playing with it while I'm banging her in bed. Now she is totally into her role and looks like a dirty little bitch, down on her hands and knees and taking my dick up her pussy real hard. I flip her over, spread her legs and keep fucking her in missionary position. It's so hot we both look down and watch my hard cock sliding in and out of her lovely pussy. She used to have a boyfriend, but ever since we started fucking she ditched him, she definitely prefers her stepbrother's hard cock to anybody else! I rub her twat while I'm fucking her and I squeeze her succulent big tits. She always tells me that having sex with her very own stepbrother makes her feel so dirty and hot, she loves it and so do I. She strips naked and straddles herself atop my cock, she rides it hard and fast, begging me to fill her up with my dick and urging me to blow my load all over her! I tell her to slow down, I don't want to cum too quick, but some time later I forget about having her rotate her ass and start pumping her deep, cumming inside her pussy.
THE SEXIEST AND HOTTEST YOUNG SISTERS GOT CAUGHT FUCKED:
At SisLovesMe family takes a whole new meaning for these horny guys when they receive the unconditional love from their stepsisters, cute, sexy, naughty teen girls with big tits, juicy butts and dripping wet twats that love being seduced by their very own stepbrothers! Watch these horny guys sneaking into the stepsister's room, touching their wet pussy and fucking them while the girls sleep. They spy on them while the girls strip naked in the bathroom and masturbate and then fuck them hard. When the parents aren't home, these sexy young girls suck their hard cocks, get banged hard by them and get creamy facials and sticky cumshots!
|
I walked into the bathroom when my sexy step sister was taking a shower and watched her drying up without her knowing, but she saw me! She was a bit pissed at first, but by the way she smiled and giggled, I could tell she loved being the object of my desires! She let me remove the towel and twirled so I could see her hot naked body and her pussy was dripping wet as much as my cock was as hard as a rock! We were naked face to face and she started jerking me off with both her little hands. I probably had seen my step sister naked dozens of times before, but this was the first time she rubbed my dick and I touched her pussy and her lovely titties. She gave me a look that said, fuck me, fuck me hard! I bent her over and wasted no time in penetrating and fucking her from behind and she just smiled! Her pussy was so wet and tight and my step sister has one of the most sexy ass ever! I nearly blew my load in her but she slowed down. We moved to the other room and she got down on her knees and sucked my cock until she made me blow my load in her mouth! Watching my sticky cum dripping from her lips and chin was awesome! My slutty step sister giggled and laughed saying she can't believe she allowed me to cum in her mouth. But she was still horny and I was still hard so she got down on all fours and I penetrated her from behind, pounding her wet pussy doggy style. I guess knowing that we were stepsiblings made the sex kinkier and hotter! Her ass was so big and juicy and it jiggled like jelly as I banged her hard from behind and she begged me to fuck her harder and deeper! She grabbed on tight to the sheets and sweat poured down her sexy body as I kept pumping her with dick meat and I couldn't to pull out of her pussy and blow my load inside her! I held out as long as I could, but her beautiful young body, and her sexy little ass eventually won out. I filled her up with my hot semen and as I pulled out, cum dripped down her leg. I watched my sticky creampie oozing from her semi parted pussy lips, it was unbelievable. I had already blown my load twice in a row and the sexy babe asked me if I had another load inside me, because she wanted it! With my cum still inside her, she flipped over and told me to fuck her pussy in missionary. She rubbed her pussy as I hammered her, my dick pushing my own cum deeper inside her and I really plowed her this time! We were both so fucking turned on, it didn't take me long to blow my third load inside her again! It only took a few strokes and I said I am going to cum and she smiled and I shot my load in her mouth again. The cumshot blew so hard into her throat that she almost choked on cum. Probably it is not the last time I fuck my sexy step sister.
THE SEXIEST AND HOTTEST SISTERS GOT CAUGHT FUCKED:
When these guys see their half naked stepsisters walking around in just the panties, displaying their sexy legs and their sexy bubble ass, indecent thoughts come. These horny stepbrothers sneak into their stepsisters' room and rub their wet pussy and fuck them while the girls sleep. They spy on them while the girls bathing and masturbating and then fuck them right in the bathroom. When the parents aren't home, these sexy girls start sucking and riding their step brother's hard dicks. What happens if a guy and his sexy stepsister move in together?
|
I recently got hired to make surveys for money, but I was having a hard time convincing my target population to participate, so I decided to cut on my earnings and start offering them some cash in exchange for their participation. Even this way I was getting turned down, until I approached this sexy blonde with big tits in a sexy pink bikini. She didn't think twice about taking money for the survey and that really got me thinking… what else might she be willing to do for more cash? As I walked her to her place, I offered her some extra money if she'd flash me her tits… and she did! They were so big and juicy! I wanted to see more, and for an extra prize she spread her legs and let me play with her dripping wet twat! Pretty soon the busty blonde babe was sucking my throbbing member and I took her to a nearby motel so we could check into a room and she could show me even more! She stripped naked and went back to sucking my hard rod and I spread her legs and began fucking her tight pussy. Yeah, I wasn't getting any surveys done, but I was having so much fun with this chick! She played with her big tits as I nailed her in bed and rubbed her clit and I could see her boobs jiggling like pudding as I banged her. I laid flat on my back and she squatted on top of my dick and impaled her dripping wet cunt on it, sliding all the way down to my balls and riding my cock, her big tits bouncing about like basket balls! I just wanted to keep playing with her huge melons and feeling her tight pussy squeezing my dick inside of her. She asked me if I wanted to cum in her mouth or on her tits! She told me that she usually didn't take cash for sex, but in my case, she would have screwed me for free. I just kept pumping her with my cock meat, watching her bounce up and down on my cock with her big tits until I couldn't hold it anymore. I was cumming so she grabbed my balls and my cock with her hands and put it in her mouth, the first stream of cum was in her mouth, she kept jacking me over her tits, four more large streams of cum landed all of her sexy face, her naughty mouth and her big tits!
|
These sexy blonde and brunette teens are cheerleaders and when they heard the local store was giving away cash prizes for talented girls such as them, they rushed over to showcase and highlight their spectacular cheerleading abilities on their way to their practice at the training camp. The store clerk and the contest's hostess are so far impressed by the girls' flexibility and moves, but if the girls wanna win the big cash prize, they're going to need to show more… The sexy cheerleaders talk it over and give it a go, flashing their tits and juicy butts! The girls get their prize, and it's so fun and sexy to make easy money, that when the blonde is offered to go to the back of the store for some kinkier stuff that will earn her even more cash, she doesn't hesitate! After all, the clerk got a big hard-on from watching the young girls flashing and he needs the blonde cheerleader to take care of it with a blowjob! Sexy teen takes his dick with her tiny hands and begins to suck and strokes it while the hostess watches and joins her! The girls lick his dick and their tongues meet and entwine. The cheerleader pulls down her shorts and gets spread legged over the clerk's desk and he fucks her dripping wet pussy while the hostess licks and sucks on her young breasts and nipples! The MILF makes out with the teen girl while her tight pussy gets stuffed and she gets bent over the desk and fucked from behind while the hostess spreads her legs over the desk so she can eat her out while getting banged. The hostess rides the clerk's cock too and when he's about to cum, the teen takes his dick in her hands, stroking it so he gives her a creamy facial cumshot! These guys find good looking, cash hungry young teens on the street and see how far they're willing to go for cold, hard, cash.
|
I love sleeping over at my girlfriend's because I get the chance to spy on her slutty little sister! She's so fucking hot, slim with amazing big tits and a nice ass! She was in the bathroom in a sexy thong and bra, talking selfies while I checked her out and played with myself. She took the lingerie off and snapped some nude selfies, her body is so tight and her tits are bigger than her sister's! She got in the shower and soaped herself up and her naked body was beautiful and her juicy titties were standing out in front of her. I was beating my hard cock like a drum, man! Matter of fact, I beat it too hard, because the noise alerted her of my presence! Fuck, I thought I was in trouble and I could imagine my girlfriend's face after her sister told her I was spying on her and jerking my rod to her naked body! Instead, the teen slut seemed quite turned on by the fact that her girlfriend's boyfriend was turned on by her! She pulled the towel down revealing her young naked body and let me feel up her sexy tits. She touched my cock and it grew harder in her small hands. While touching me she used her free hand to place my hand between her legs and I began fingering her pussy. Girlfriend's young naked sister got down on her knees so she could suck my huge cock. Her warm mouth and tantalizing tongue really felt good on my cock. After sucking and stroking it, I slapped her cute face with my member and she spread her legs so I could penetrate and fuck that dripping wet tight teen twat! I loved how this girl's little asshole moved in and out in time with my cock as I fucked her doggie on the bathroom counter. I lied down on my back on the bathroom floor, the young naked girl stood over me and my throbbing cock was pointing towards her dripping pussy. This teenage girl had large breast, probably a good 34C, a small waist, and very tight pussy. She rubbed her muff as I banged her and asked if she was tighter than her sister, hell yeah she was! She said she wanted me to fuck her as hard as I fucked her sister every single night, confessing she could hear us through the wall and she would masturbate to our love making, fucking her pussy with a big dildo and pretending it was my cock! Fucking hot! After banging her all over the bathroom I blew my load all over her! The little slut moaned as she sucked every drop of cum out of my balls and licked it all off the head.
|
These five naked girls are having a party, playing naked twister, but it's getting boring without any guys around, so the girls decide to invite some friends over. By the time the guys arrive the girls are already wet and very horny! One of the teens gets down on her knees and gives her guy a wet blowjob, while the other one close to her is also sucking on her guy's hard cock and licking his big balls, while the rest of the naked girls are watching and snapping pictures and videos with their cellphones so they can share on their sexy social networks and watch later! The teen slut strokes her man's package and spreads her saliva all over his tight balls, slapping his cock against her face and rubbing it all over, smearing it with his precum. He shoves the dick in her mouth and fucks her throat and she just loves having such a big, thick erection gagging her. The guy sits on the couch by the rest of the girls and the slut straddles herself atop his boner and impales her dripping wet snatch on it so she can bounce up and down as if it were a pogo stick. It's a pretty fun ride and the other girls are waiting in line for their turn to ride it, lol! Her blonde friend is bending over the couch and getting fucked doggy style from behind by her guy. They switch positions so he can sit on the couch while the blonde gets on top and rides his hard cock. The brunette is put down on all fours and keeps getting her tight muff drilled by her guy and the blonde is put into the same position by her lover. The rest of the teen girls have taken position on another couch from which they can keep snapping pictures and videos. This will be great advertising for the next party they throw and they are sure that many more hot guys with big dicks will show up ready to get their cocks blown and to fuck the sexy girls' pussies and assholes! Meanwhile, two teen sluts continue getting their wet pussies banged and changing positions until their lovers are ready to pull out of their hot cunts and to blow their creamy loads all over their open mouths, sexy faces and big tits! Teen sluts swap cum kissing, licking sperm off each other, while the friends just giggle and record the shit that is happening in front of them with their iPhones.
YOUNG NAKED GIRLS IN A THREESOME, FOURSOME AND MORE-SOME SEX:
Beautiful young naked girls in the best teen sex orgies ever! BFFs is the porn site dedicated and devoted to sweet, cute, sexy, naughty Best Friends Forever that share it all, from makeup and lingerie, to sex toys and boyfriends! These teen sluts do everything together, go shopping, partying and dancing, as well as stripping naked, showering, having hot lesbian sex, sucking cock and getting fucked hard and receiving delicious facials and cumshots from their shared lovers and boyfriends in kinky group sex action! Naked schoolgirls, sleepovers, soccer girls, sexy ballerinas, bachelorette parties, prom! Its all here! Come inside right now and watch their adventures on crispy clear HD videos and blow your load!
|
It's Valentine's and I'm single, so I hit the local nightclub and hooked up with this smoking hot slut and I took her to the restroom so she could get down on her knees and suck my dick. As she smoked my pole, her dirty friends sneaked inside so they could watch and take some pictures and videos with their phones. I like being watched while I fuck so I told that slut to keep sucking my dick so her friends could get a preview of what they could have after I was done with her! She had a pair of sexy crotchless red lace thongs and she spread her long legs on the bathroom counter so I could ram my throbbing member deep inside her dripping wet snatch and fuck her hard. She rubbed her pussy as I banged her and her friends' jaws were dropping as she rubbed her clit and I made her suck my thumb. I was making this girl my bitch, man! I made her get down on her hands and knees on the filthy bathroom floor and penetrated her from behind, plowing her cunt doggy style while she squealed like a pig! She had a sexy bubble butt and she pushed it against my dick like a dirty porn slut, using both hands wrapped around behind her ass to spread everything open. She grabbed my dick and began to swallow my dick like crazy. These sluts know how to manage with huge cocks. The crazy slut stroked and sucked my huge cock and I fucked her throat, then naked girl squatted over my erection and impaled her tight pussy on it so I could plow her! The girls got closer so they could have a better look at the way I as banging their friend and I was pretty close to blowing my load, I wanted to spray a load of jizz all over this bitch's face and tits!
|
CHECK OUT RECENT VIDEOS ON THE MAIN PAGE !!!