The couple was trying to have a baby for quite a long time. They would spend hours every day fucking just to get his cum deep inside the vagina. One morning they started having sex, determined to make it work this time. The hunk was face fucking his wife to get the tool ready to fill that fertile cunt to the top with his semen. But then his mom called and told him she would pay them a visit. His balls were just about to blow up and he had to let it out. He came inside her mouth as the old lady was at the door. But his wife didn't want to waste his sperm and she decided to keep it in her mouth and save it for later. While they start fucking every time they get the chance, they're somehow always interrupted by his nosy mom popping in unexpectedly. They were all in the kitchen and she couldn't hold it like that for long so she spat it all into a glass. Her pussy was so wet as he didn't get to give it that fat cock. And he was horny as a bull, so they couldn't really wait for his mother to go. The wife bent over the kitchen island and he got her pants down. He was behind her and he shoved his big cook inside that warm pussy. Mom was talking as he started nailing the cum hunry slut right behind her back. His balls were slapping her fat ass as she was doing her best to stay silent and not scream. He was hitting her hard, but then his mom turned around and saw her son banging his wife. The old lady fainted and fell to the floor from shock.

THE HOTTEST TEENS CAN'T CONTROL THEIR SEX DRIVE: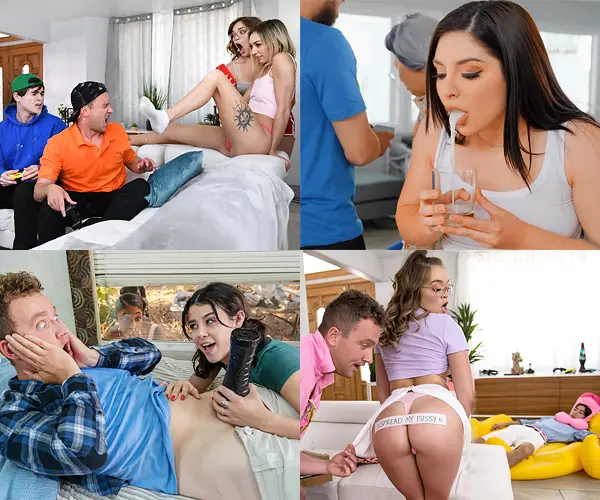 The horny couple decided to leave her like that as they finally had the time to finish off their fuck session. They ran back to the bedroom and he got his cock inside her wet snatch once again. His babe was in the doggy and he was pounding her hard and deep with his hands on her round ass. She loved choking, so he started being all rough with the nympho. Her big tits were swinging with each thrust. He was spanking her as his cock was getting deep down that magic hole. His busty naked wife got on top of him and he was nailing her from below. It was going fast and soon, the busty lady squirted all over the sheets. But he wasn't done yet. His balls were still full and he needed to empty them into her. He face fucked her before he started banging her again. Her pussy was soaked and he finally let that jizz out and filled the pussy. It was dripping out of it, but the slutty skank wanted more. Her snatch was craving another orgasm, so she kept playing alone. She was fingering herself until a heavy shower of sticky liquid exploded from that pussy. Her juice squirted out with such force! She got her squirting orgasm but unfortunately, his white cream flew out too. She desperately needs another load in her, even if it means getting it on right behind his mom's back.