Kelsi is a TV host, and a producer of the naughtiest street shows in Florida. This time she is in Miami, searching for beautiful, daring girls who would do something really dirty for a couple of green bills. The first in line were two horny girls who agreed to flash their magnificent boobs in the middle of the street. Then they joined Kelsi on the naughty bus, where she teased their tight buttholes. She wanted to see what nasty things she could talk naked girls into doing for a few bills. It all went well, and Kelsi had to move on. The next star of the show was a totally fuckable, Asian-American babe with blooming lips. Kelsi presented her with an interesting glory hole. She even joined by her for an exciting round of Tap the Dick. The babe swiped left on the first two tiny cocks, then swiped right on a huge one. She was playing innocent, but as soon as a delicious cock appeared in the glory hole, she greeted it with her juicy lips. Sucking that cock, was the best thing she did that month, she said. It made Kelsi a bit horny too, so she bent over, getting ready to take a couple of thrusts. Having a perfect ass, Kelsi is a magnet for horny guys. So when she bends over, it makes an extra arousing sight. But this time, Kelsi got a bit carried away. She took the glory hole wall because she wanted to ride that wonderful pleasure stick in a reversed cowgirl style. The naughty Asian-American babe helped her get on it and was watching the entire time.

HORNY GIRLS LOOKING FOR HUGE COCKS: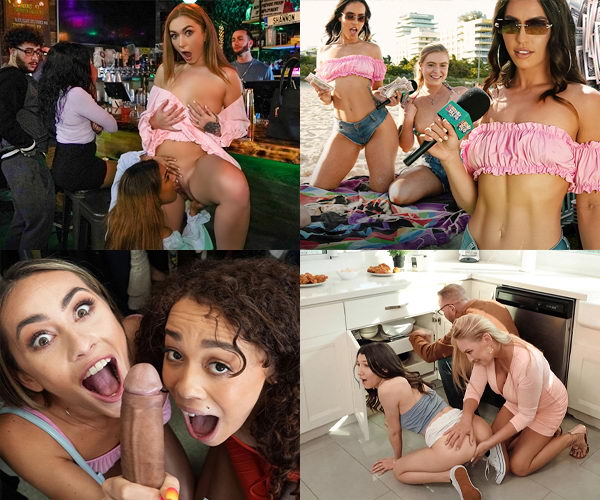 Her tight pussy was getting increasingly wet, up to the point where she begged Kelsi to let her ride the pleasure stick. Only when this hot girl got on a cock, her unbelievably perfect ass could be seen. The guy grabbed it with his strong, big hands and started pounding her sweet pussy from the downward position. Naughty Kelsi couldn't sit still. Her show turned into full-blown porn, so she might as well take the best of it. Spitting on the hard cock, she was lubricating the tight pussy, for better penetration. Pleased with her naughty actions, the horny guy wanted to fuck Kelsi again. Granting his naughty wish, the crazy slut got back on the cock, but this time her pussy was even wetter. One soft push was enough to make the big, hard cock slip into her pussy. The naked girls were kissing while riding the hard cock together. The girls were moaning out loud when their pussies started squirting all over him. The Asian babe was even spanking Kelsi's big ass, making her even hornier. The hot threesome would continue long into the night, but the naughty bus had to go to another location. But all that pleasure was driving her mad, and she simply couldn't stop. Her big bubble ass just couldn't stop bouncing up and down. The Asian babe couldn't leave without saying goodbye, so she got into an acrobatic position for a couple of strong farewell thrusts. Money doesn't just talk, it talks dirty!