Halloween is the time for girls to wear their sluttiest outfits without being judged. As the couple arrives at the party, the boyfriend can't stop eyeing his brunette girlfriend's juicy ass. Her outfit only covers her face, whereas the rest is laced in fishnet stockings and sensual lingerie. His attempt to flirt gets shut down, and the two continue on with getting to know the other guests. He doesn't realize that there's another stunning babe wearing the same outfit, and she's feeling naughty. As they cross paths, she seductively bends over, exposing her glorious booty to him. Seeing how he stares in awe, she decides to get even raunchier. The slut slowly backs up toward him and lays on his lap to grind on his huge bulge. The feeling of his meat rubbing against her aching pussy is too much for her to handle, so she takes him by the hand and guides him to an empty room. As soon as they get inside, she arches her back and slides her panties to the side. The view of her pink, clean, tidy, smooth cunt is absolutely amazing! This is the most beautiful little cunt you have ever seen! Without hesitation, he eats her out before thrusting his schlong into her with all of his strength. Feeling like something is wrong, the girlfriend searches for him, only to find him railing her in bed. She confronts him, but he's had no idea it is a different woman. Wanting to discipline her bestie for trying to steal her man again, the brunette spanks the aroused blonde, which makes her moan.

THE HOTTEST, SEXIEST AND HORNIEST GIRLS: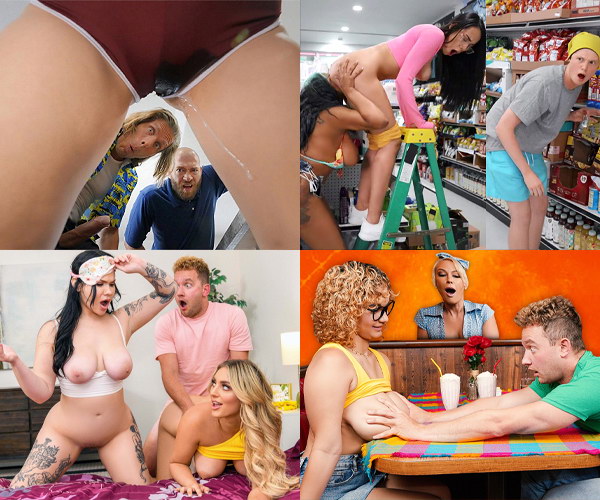 The sight of her giving up her body excites the brunette immensely, so she gets on top to have her pussy licked. The view of two naked girls having sex together makes him so hard! He joins in on the fun to turn it into a threesome, but this time putting more attention on his girl. While pounding her from behind, he makes out with the blonde to ensure she doesn't get bored. To make both girls happy, he switches to the blondie by spreading her legs wide and dicking her down in missionary. With each pump, he feels her insides pulsing and her hands holding onto the sheets, so he picks up the speed. Her tight twat causes his legs to go weak, so he lies down to rest, but they're not done with his throbbing rod. His girlfriend's lustful body crawls on top, and cowgirl riding begins. Two naked girls keep riding his cock and his face, cumming all over him together. He smacks her jiggly bum whenever she bounces, only to hear her moans become louder. Unable to take it anymore, she falls to the side, but the naked girls are ready for more action. As one crazy bitch rides him in reverse cowgirl, her clit gets rubbed, and her plump tits are licked by the other. The babes quickly begin to shake and quiver. Despite being exhausted, these girls must work hard to squeeze every drop of jizz from his meat, so they gulp and prepare for the hardcore plowing to continue. He fucks the couple of naked girls senseless before getting the treats he deserves: cumming on both of them!