Lana and her amazing ass made this video one of the most popular on Brazzers. So why not start DDD (Destroy Dick December) with this real anal pounding? To keep her curvy body in the best shape possible, Lana has her exercise ball to help her out. Instead of using it in the traditional way, she's attached a dildo to it to practice some of her other skills as well. As she oils up her fat ass, she's too excited to keep her gym leggings on, so she quickly rips them apart to play with her hot clit. Seeing her big bubble ass gave another gym goer an instant erection, so Lana switched her attention to his meat and began slobbering on it. Her blowjob starts off normal enough, but after she's sucked on his balls she begs to have her face fucked. Having a giant rod made it easy for him to reach the back of her throat, and she's such a pro that she doesn't even gag. His attention switches to her juicy tits, which she gladly lets him titty fuck before the real penetration begins. Unable to contain their thirst for sex, the two lay down on the mat and Lana's hands spread her cheeks for him to pummel her relentlessly. Each thrust stretches out that tight asshole of hers, and he also makes sure to rub her clit. Her succulent tits are bouncing wildly as he hammers up into her.

THE HOTTEST, SEXIEST AND HORNIEST GIRLS: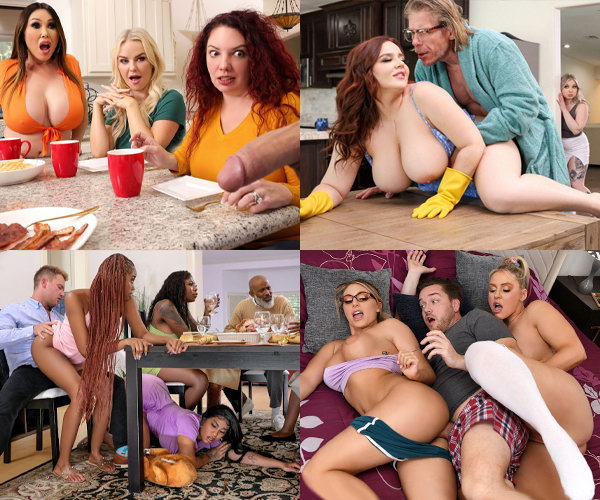 The tightness of her hole almost makes him bust, but he manages to pull out to rest. She's not letting him do so for long, as she's already rubbing her feet on his schlong before turning around to ride him in reverse cowgirl. Her fat booty's gyrating perfectly as his shaft is balls deep in her butthole. Whenever she feels him pulsate from inside, she slows down and edges him to last longer. The teasing becomes unbearable so he thrusts his hips to plow her tush with all of his strength, but both of their legs soon give out. Although both are exhausted, they're desperate to continue banging so they pleasure each other with their mouths and fingers until they regain some energy to move on. Now that they're somewhat rested, the busty babe bends over the exercise ball and jiggles her bubble butt and he follows her to drill her in doggy style. Being on top gives him all of the control and he can spank her ass and grab her by the hair as much as he wants. The harder his plowing is, the tighter her bum becomes, and as her moans become louder he speeds up to make her orgasm. Hardcore anal sex made Lana's booty twitch as her sweaty body's fallen on top of his, but he's still yet to cum. She uses the last bit of strength she's got left to suck and jerk his pulsating dick. The sight of her tired face trying so hard to make him jizz made him release his hot load on her lips. She ensures to grab it with her body and doesn't leave the gym until she's rubbed it over her tits.