Their best friend was throwing a birthday party, and when these beautiful lesbians were thinking of the gift, they couldn't figure it out. But then the busty blonde had an excellent idea, what about a flesh light pussy, she wondered. Her beautiful girlfriend loved that idea, and they got him just that. These girls never liked his stuck-up girlfriend, and they knew that their gift would be so much better than hers. So the girls showed up with their masturbator, just on time for the cake. He opened their gift, and it's safe to say that he was shocked. Good thing that his stuck-up girlfriend didn't know what their gift was. But she did make her boyfriend take a shower. The slutty lesbians were waiting for an opportunity to sneak off with their best friend and give him another present. He was in the bathroom, and the busty blonde decided she would be the first to sneak off. She took off her clothes and got on her knees. His dick was huge, and her slutty mouth was tiny. But she was aching to feel him stretch her mouth. So the naked lesbian wrapped her lips around his tip and sucked gently. But soon, she wanted more, and she tried to deepthroat him. Her lesbian girlfriend soon joined them, and the naked girls were both sucking him. One was sucking on his swollen balls, and the other was bopping her head up and down on his dick. But he heard footsteps coming at them, and fast. So he grabbed the huge towel and hid the naked girls before his girlfriend walked in. She was clueless, and she told him she had to go. So now they had the whole house for themselves. Once they were sure she was gone, they moved to the bedroom. The busty blonde was so horny, and she needed his dick in her soaking wet hairy pussy now. So he pushed his dick inside of her, and she begged for more. Her tight pussy was dripping on the bed, and her knees were up to her chest.

THE HOTTEST GIRLS WANT TO MAKE YOUR COCK HAPPY: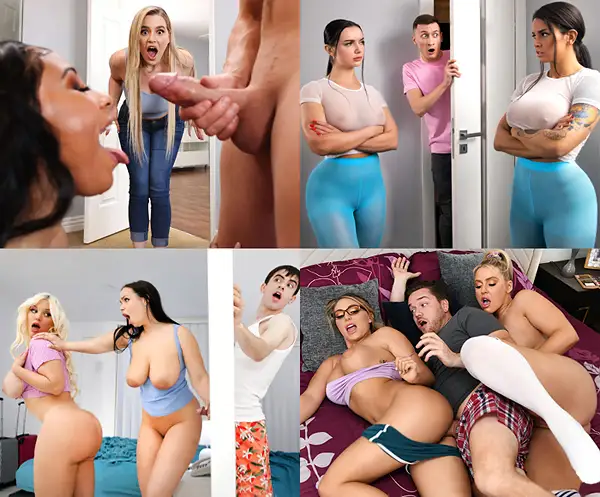 She let him drill her cunt, and have his way with her. This blondie loved how he fucked her like a slut, and seeing her girlfriend on the chair, stroking her pussy made her lose her mind. The brunette pushed him on the bed and climbed on top of him. Her blonde girlfriend took his dick in her hands, and pushed it in and out so fast that she couldn't grasp what she was doing. But she wanted her to cum, so she let her ride him like a slut she was. The busty naked girls took turns sucking his cock and each other big natural tits. The happy birthday boy kept popping his cock into both their tight pussies back and forth. It led to double cock grinding scissoring madness! The hot girls placed his cock between their wet cunts, moving it up and down between both of their folds. The hot girls placed his cock in between their slippery wet pussies and started grinding their clits into his swollen cock until all three of them came. Soon the blonde was sitting on his face, and the brunette was jumping on his dick. Until he came all over their big tits and faces, and maybe this was a present for all of them. The naked girls began kissing and licking his hot cum off each other's face. The three of them were having so much fun, changing positions, and getting railed together. Two hot busty girls, a double facial and cumswap make out… best birthday ever.