Gap
Ever since this hot teen slut saw her next door neighbor masturbating from across her bedroom window she has found herself infatuated by his huge throbbing member. Every night as she sleeps, images of her handsome neighbor vigorously stroking his big hard cock and spurting loads of hot creamy cum invade her mind, arousing her and making her furiously masturbate on her bed until she is exhausted after cumming many times leaving her bed sheets drenched in her sweat and her pussy juices. Tired and frustrated of just fantasizing with her neighbor's huge cock, this hot teen decides to do something about it, paying him a visit in her tightest and sexiest denim shorts. She shamelessly pulls up her top, exposing her beautiful tits while pulling down on her shorts and lace panties, showing off a few inches of her sexy bubble shaped ass. She can already see a big bulge throbbing under the neighbor's pants. She squats so he can get a better look at her ass, flips over and tugs on her panties, making them sink between her pussy lips. Girl plays with her pussy and her clit while he watches her. Her pussy is so wet; lips swollen; pink slit gaping, juices soaking the inside of her thigh. She's so horny. She wants him to fuck her so bad. After saying the magic words: "Please, can I have some cock?" her next-door neighbor spreads her legs wide open as she sits on the kitchen stool and rams his huge cock deep inside her dripping wet cunt! With one, fast motion his cock is all the way. This big cock fills her so deep she can feel his balls against her asshole! He grabs her legs and starts banging her tight, young pussy hard as she screams in delight. His cock slides into her, then out, then in. Over and over, faster and faster. He's pounding her in missionary position the hardest she has ever been pounded in her fucking life. The hot teen slut rubs and fingeres her tight snatch while getting fucked by her next-door neighbor, banging her harder and harder against the stool. Instantly she starts cumming and her juices are flowing onto his cock. He put her down on her hands and knees, penetrating and fucking her from behind while she spreads her ass cheeks wide open with her hands to show him her tight little asshole contracting with every thrust of his powerful member. She's in so much pleasure she cums again! This young little slut has never had anything that felt so good. She climbs on him, he immediately takes her in his arms and kisses her passionately, rubbing her back and her sexy ass with his hands and grinding his cock into her hot pussy. He grabs her ass checks and the hottest teen slut starts riding him while he munches on her tits and perky nipples. You can hear their bodies slapping together as he keeps fucking this teen slut faster and faster. His cock starts pounding her so hard that she can't help but scream in all of the passion and ecstasy. Still impaled on his cock, he flips naked girl over into reverse cowgirl, pushing her body up and down his long shaft as she continues rubbing her clit, cumming over and over on top of his dick until her next-door neighbor is ready to blow his load, blasting hot spunk all over her slutty face and tits. "Ohmygod . . . ohmygod!" she cries a final time as he cums, feels his hot sperm in her mouth; so much it starts dripping out.
THE SMALLEST, YOUNGEST AND SEXIEST GIRLS GET THEIR LITTLE PUSSIES FUCKED BY HUGE COCKS:
Download this amazing video to watch over and over and don't miss more young naked girl in the best hardcore scenes ever! ExxxtraSmall is all about young teen girls getting their tiny pussies fucked, destroyed, stretched out and creampied by huge cocks! These girls seem so tiny, small, petite and fragile, you would think that they would break or get split into as they get pounded hard by these cocks in outrageous big dick versus tiny chick young porn videos! How the fuck this huge cock could fit into this tiny girl? It will be only one you question while watching all these small naked girls. The bigger the cock and the tinier the girl, the better the action!
|
I really love my girlfriend, but her sexy blond roommate is such a slut, I just can't resist fucking her when my girl is not around! Thing is, it looks like today, my girlfriend got back from classes earlier than usual, walking in right when her roommate was done on her knees and sucking my big throbbing cock and licking my balls! We almost get caught, but I managed to trick her into going to our bedroom, telling her that I had a surprise for her in there! That got us off the hook, now I just needed to come up with something to surprise my girlfriend with! Good for me, my girlfriend was fucking horny, she masturbated all day in school thinking about my cock and it looked like she was more interested in fucking than getting a surprise. She always looks so sexy when she comes back from her classes, in her cute schoolgirl outfit she likes to wear, teasing me with her short skirt and panties. She made me lie on the bed, pulling down on my pants and grabbing my big juicy cock, sucking and stroking it. I was worried she might notice the lingering aftertaste of her roommate on it, but luckily that didn't happen! While my girlfriend sucked my dick, I could see her naughty roommate peeking through the door, teasing me, what a bitch! While my sexy girlfriend was sucking my cock her slutty friend was playing with her pussy and teasing me with her ass. The little bitch has a gorgeous ass! My girlfriend couldn't stop moaning with my delicious cock in her mouth when I was already struggling to keep from shooting off. The possibility of getting caught was the thrill! I asked my girlfriend to give me one minute, telling her I needed to go check on something. Her slutty roommate was waiting for me, sitting on the kitchen counter with her legs spread wide open and her panties pulled aside, rubbing and fingering her dripping wet pussy. I couldn't resist ramming my throbbing erection deep inside her tight slit. I felt her pussy pulling my dick in like it wanted to eat it. She covered her mouth with her hand when I started to rock back and forth inside her pussy. I had just begun fucking her, when my girlfriend walked in on us! She stormed off and I thought I was in really deep shit, but her roommate ran after her, not only able to console her, but she somehow managed to convince her into having a threesome, can you fucking believe that? Cheating on your girlfriend with her friend or roommate is usually a recipe for disaster, but when you're dealing with such teen sluts, it can only lead to threesome. When I walked into the bedroom, my girl had her legs spread wide open and she was getting her pussy licked by her roommate! She was kissing her clit and licking her lips wildly with her tongue, so hot! Then the girls made me lay on my back and kissed and liked me all the way down my body. They took my hard cock and began sucking and stroking it together, kept kissing with tongue into each others mouth's and the head of my cock between them. My girlfriend climbed on me, her friend took my dick and rubbed her pussy lips with it for a while and then pushed her ass cheeks onto me. My girlfriend has a round ass that I absolutely adore. I cupped her buttocks in each hand and squeezed them gently while her friend was still kissing her and her hands rubbing her tits and her sensitive little asshole. My girlfriend's ass bounced up and down when her friend licked her ass crack with her tongue, fucking hot! My cock and her tongue brought her to orgasm almost immediately. Her slutty roommate grabbed my cock and sucked it and licked my girlfriend's pussy lips, then straddled me and sat down on my cock. I was pounding her as hard and fast as I could, pulling her toward me while my girlfriend rubbed her clit furiously. She was trembling and screaming like crazy and her legs were shaking as I speeded up, I thrust my cock in and out of her faster and faster. Her orgasm was mind blowing! The girls took turns riding me and getting their wet pussies fucked hard.
TEEN SLUTS IN THE BEST POV, RISKY, SNEAKY, CHEATING AND ALMOST CAUGHT SEX:
I could feel that I was going to shoot. I pushed into my girlfriend's pussy as far as I could go, friend's hands squeezed my balls and I ended up nutting a ton of cum into her. Cum and juices were oozing out of her gaping vigina. Her crazy friend lashed her tongue about her dripping with cum slit and inside of her hole, fucking unbelievable! Love the cum kissing and sharing at the end. Ladies and gentlemen I present to you two of the hottest girls, Gia Paige and Marsha May! This video causes so much sexual tension! Mofos I applaud your site, everyday beautiful stunning women in the hottest amateur, POV, sneaky, cheating and almost caught sex scenes. Threesomes, foursomes, double blowjob, cum swap… this is why they are the world's best amateur porn site!
|
I love sneaking into the bathroom with my sexy girlfriend is taking a shower. She looks so fucking hot with her big tits and juicy bubble butt covered in soapy suds. She knows what I want to see, you see, my girlfriend is the queen of twerking, and I just love watching her twerking her juicy bubble butt in the shower, splashing water and lather all over the place as she shakes and grinds her fabulous ass. Watching her twerk gets my dick as hard as a fucking rock so she knows what comes next! My sexy naked girlfriend continues soaping herself up while twerking, and I reach out, fondling and groping her beautiful ass. After rinsing off under the hot water, she drops to her knees, unzipping my trunks so she can release my throbbing member, sucking and stroking it with a filthy expression on her face. She loves it when I fuck her mouth, making her choke and gag, drooling all over my dick and my balls. I make her stand and turn her over, raising one of her long legs as I ram my hard cock deep inside her dripping wet snatch, fucking her from behind standing in the shower stall. When I stopped fucking her, my dirty little bitch pushes her juicy bubble butt against my cock, urging and begging me for more. I love it when she does that shit! I keep fucking her in standing position. This time I have her facing my way, with one of her legs over my shoulders. I take her out of the shower and to the bedroom. I make her lie flat on her back on our bed, spreading her legs and ram my hard cock deep inside her gaping asshole, giving my slutty girlfriend an intense anal pounding. Hardcore anal action, it's what my girlfriend loves. It's always so fucking tight and I love feeling it stretch out as I penetrate her. I lie flat on my back and she squats on top of me, impaling her dripping wet pussy and her tight asshole on my dick, making those tits and that juicy bubble butt bounce up and down as she rides me anally and vaginally. I pin her shoulders to the floor and continue plowing her asshole until I'm ready to cum all over her! Don't miss more incredible POV girlfriend's porn!
|
It was my birthday and my girlfriend had a very special surprise for me. She told me we were going to have a quiet, romantic dinner at her dorm room but when I got there I was treated to a totally different experience, surrounded by her hottest friends, all ready to party and pleasure me! This was all orchestrated by my girlfriend who wanted to tease me until my balls turned blue! The sexy girls made me sit on the chair while some of her hot friends, who are actually part-time strippers, dressed up as beautiful police officers, frisking me and rubbing their big tits all over my face! These girls were hot, and their tits were fantastic and I was so happy that my girlfriend was okay with them smothering my face with their big boobs and puffy nipples! All the girls dressed as sexy police officers got naked, bending over, shaking, wiggling and twerking their juicy bubble shaped butts. The girls surrounded me, rubbing their hot naked bodies against me and dry humping me. I felt like my dick was going to burst out of my pants and my balls were definitely turning blue! I wasn't allowed to touch the girls so you can imagine my suffering, all I wanted to do was get my hands all over those big tits and juicy asses, even with my girlfriend sitting in front of me and watching! The girls told me that I had been a bad boy and this was my punishment, they quickly handcuffed me to a chair and tied me with crime scene tape! One of the naked girls got down on her knees and started sucking a dude's cock, while the other naked girl jumped into bed and started having hot lesbian sex, licking, kissing, sucking and fingering their dripping wet pussies and their tight assholes while I watched them. Naked girls formed a human centipede and licked each other's pussies. Girl's moans were enhanced by the police megaphone while the other girls were making her come. The cock sucking girl took to the other bed, getting her dripping with pussy pounded hard by her dude. Man, I wanted to be him so bad! While I watched them fuck, my beautiful girlfriend sat on my lap, grinding her delicious ass against my crotch, feeling my erection digging into the crack of her ass! She knows I love to watch, and her friends were putting on the hottest sex show ever and once she took me back to our place, you can believe we had a party of our own! This was a such a hot and sexy mess, you better watch for yourself.
|
One day my slutty stepdaughter was running around the house in a tiny bikini, and for the first time I realised she had an amazing pair of legs and nice titties for a 18 year old. I soon realised she kept hanging around me alot that day making sure I noticed her. At the time I thought I shouldn't do anything as she was my step daughter "relax, she's going to the bathroom.". She always masturbated herself in there, so I sneaked into the bathroom while she was taking a shower and filmed her with my smart phone. Surely enough, there she was, totally naked and using the shower massager on her pussy. Her young, sweet, bald, pink, lovely pussy looked amazing. When she saw me filming her, she realized that she was busted, but by the naughty smile on her face I could tell that she was also pretty turned on by the fact that her step daddy was perving on her. Matter of fact, I already had a raging erection from watching her naked and masturbating, she looked so fucking hot. She was rubbing her wet pussy and she didn't care I saw her naked, wasn't embarrassed at all. I was hard and I know she noticed it. I saw her look down at my dick. What a little naked slut! I slipped my hand between her legs and started to rub her pussy. By the smile on her face i could see she was loving it. I then slipped one finger into her now soaked pussy, she was so tight. I had been thinking about her petite naked body all day. I stuck my heavily erect penis against her cute little butt. We went back to her bedroom and she pulled down on my shorts, her jaw dropping to the floor when she got a glimpse of my cock. I was naked and my dick was hard and stuck straight out. Yeah, it was as huge as her mom had told her! My little naked step daughter began sucking and stroking it and I pushed her face against my crotch so she could deep throat my sausage, gagging and choking on it, so fucking sexy! She sat on the edge of the bed and she gave me the most amazing blow job ever. After giving me head and an awesome handjob, she pushed me back against the bed and climbed over on top of me. She spread her legs in front of my face, grabbed my hot throbbing cock with one hand, opened her pussy with the other and lowered her beautiful pussy all the way down onto my dick! She was tight and wet and my dick was big for her little pussy. She rode me cowgirl style and I could see her meaty pussy lips wrapped around my dick right in front of my face. She spread her legs ever wider, exposing me her clit. I made her lay on her back and sat on top of her, sitting on her tits while fucking her mouth. I almost came in her little mouth, it was so good. Then I put her down on her hands and knees and fucked her doggie style from behind. I was pounding her teen pussy like I never has before. She was trying not to moan when my big cock went deep into her tiny body. I fucked her in all the ways her bitch mom doesn't let me fuck her and topped it off letting me finger fuck her tight anus. I pumped her hard and pressed into her deep and spurt four times inside her putting my cum deep in her by her teen vagina. As I felt the sperm shooting into her, I felt her spasm, she came at the same time. I pulled out of her snatch and my cum was oozing out of her hole that looked red and open. We lay on the now cum soaked bed together. We continued to fuck like animals every chance we got, even with her mother at home. She really wanted to tell her best friends about us but I managed to convince her.
THE SMALLEST, YOUNGEST AND SEXIEST TEENS GET THEIR LITTLE PUSSIES FUCKED BY BIG DICKS:
At Exxxtra Small there is a saying regarding the dirty 18 year old teen sluts featured at the site, the tinier they come, the harder they cum! These hot young teens may be small in size, but the girls are eager to take on the biggest, largest, thickest, hardest cocks in the industry! There is nothing these petite girls enjoy more than feeling how these huge cocks penetrate their little pussies, how their tight fuck holes get stretched out and left gaping wide open by these gargantuan erection as they get pounded and filled with loads of hot cum! If you enjoy watching tiny teens fucked hard in young porn, this is it!
|
This sexy blonde teen's stepfather's cock is so huge and tasty, all her girlfriends are jealous of her! She loves being her step daddy's dirty little slut, and every time her mommy is not around, he comes over and strips her naked, groping and fondling her tiny titties, playing with her puffy nipples and telling her how bad he wants to fuck her. Her mom is frigid, but she's always horny, eager and ready for his huge cock. She bites her lips as she feels his hands all over her tight body. He pulls her long blond bangs back, giving her soft kisses while tugging on her nipples. He pulls her panties aside, exposing her tight pink clam and playing with it. His cock is in her hands. It is hot and hard and throbbing. The young girl sucks on his massive cock, thick ropes of drool dripping from her lips and all over his shaft and balls as he pushes her head against his crotch, making her deep throat his big dick. He puts her on her back on the couch, spreads her legs, shoves her rumpled up panties in her mouth and rams his hard cock deep inside her tight cunt, fucking her very hard in missionary position. He fucks her so hard while pulling on her hair and watching her mascara running down her face, her screams muffled by the panties gagging her mouth as that huge cock stretches out her tight pussy. Her young pussy is nice and soft and warm. He puts her back on her knees so he can fuck her mouth and throat, you know, make that dirty little bitch of the stepdaughter gag and choke on his throbbing erection and slobber more drool all over his cock so he can continue pounding her hard. He puts her back in missionary position, spreading her legs, pounding her tight muff, squeezing hard on her tiny titties, making her scream and cum. He straddles naked girl on top, grabbing her by her juicy bubble butt, impaling her gaping cunt on his meat sword, making her tiny body bounce up and down his shaft, pressing her titties against his chest. He puts her down on her hand and knees, grabs her ass and pushes up into her, forcing his cock deep into her vagina, jackhammering her snatch doggy style from behind, making this petite young lady cum several times before finally blowing his creamy cum all over her slutty face and her open mouth so she can swallow it all.
|
This beautiful blond teen is frustrated because all her life she has always been the tiniest girl in class and now that she's about to enter college she would love to grow at least a few inches so she doesn't and up in the same situation again. Imagine her surprise one the seller from a TV shop show she saw last night and called, comes knocking on her door ready to sell her these miracle grow pills. He is the living example of their miraculous action of these pills, since they have made his limbs grow and she can tell by how tall he is. However, she can't help wondering if these miracle grow pills have made every lamp in his body growth so large! He's more than happy to show her, and that tiny blond finds herself down on her knees, staring at his HUGE COCK! She's looking at this juicy cock and her mouth instinctively opens. She sticks her tongue out and guides his cock into her sweet little mouth. She even tries to fit it in her mouth but, to no avail. He tells her he used to be just like her, he was always the kid with the tiniest dick in the classroom, but now he has the biggest cock in the room anywhere he goes! She can't believe his dick grew so much, and hope the pills have the same effect on her. She licks and sucks his balls. The pills have obviously worked on him, so she's already sold on the product… and on his massive cock, LOL! She drools all over his throbbing erection while sucking it as he strips her naked on the couch. He pulls her cute white panties, spreades her little ass and gives her pussy a good licking from behind. He finger fucks her tight pussy while licking her tender little asshole and she bends over so he can ram his big hard cock deep inside her dripping wet cunt and fuck her very hard from behind. She's moaning with each move his big cock makes inside her vagina. Never ever in her life has she had something so big inside her, she can't believe it actually fits in her snatch, it's so fucking huge! She opens her mouth every time his dick comes deep in her tight pussy. He also fondles her anus and she likes it. The salesman fucks this tiny little blonde doggie style, then flips her over so he can keep banging her in missionary position. With her legs up and together her pussy becomes even more narrow! She rubs her muff while he fucks her, then cute naked girl straddles herself on top and impales her tight slit on his massive boner, making her tiny body bounce up and down his long shaft. She pushes her cunt into him driving his cock deep inside her little hole. It's always a pleasure to see a big cock moving in and out of a such sweet pink pussy. She rides him until the salesman is ready to blow his load all over her! The fat nut busted at the end shows all that pussy pounding was worth it… What a stunning young woman. Every inch of her screams out youthful sexiness. With her tight, beautiful body that earned her modeling careers at a young age, the girl looks absolutely amazing. A tiny teen girl and a big cock, who could ask for more?
THE SMALLEST, YOUNGEST AND SEXIEST GIRLS GET THEIR LITTLE PUSSIES FUCKED BY HUGE COCKS:
At Exxxtra Small there is a saying regarding the dirty 18 year old teen sluts featured at the site, the tinier they come, the harder they cum! These naughty teens may be small in size, but they are eager to take on the biggest, largest, thickest, hardest cocks in the industry! There is nothing these small naked girls enjoy more than feeling how their tight fuck holes get stretched out and left gaping wide open by these gargantuan erection as they get pounded and filled with loads of hot cum! If you enjoy watching tiny teens fucked hard in young porn, this is it!
|
This sexy blonde tiny teen girl always fantasized with having a boyfriend with a big cock, but this is just too fucking much! She never thought she would fuck a guy with such a huge cock as this and she is quite afraid that it just might be too big for her! After all, she wanted her tight pussy stretched out, not broken in half, LOL! Just the tip is so fucking thick, it looks like a motherfucking mushroom and she can hardly fit the head of his cock in her little mouth as she attempts to suck and stroke it. He holds her head still with his hands and fucks her mouth, ramming his huge erection deep down her throat, making her gag and choke on it as she attempts to deep throat such a gargantuan member. She's trying but she can't get it to fit in her mouth. He lies flat on his back and the tiny naked girl squats over his towering cock, her juicy bubble butt facing his way as she eases into it, feeling it sliding inside her, slowly impaling her, stretching out her tight pussy lips as it sinks inside her inch by inch. It's only halfway in, squeezed by the tightness of her orifice, too fucking big. Pretty soon the petite girl is totally impaled on it, her sexy tiny body bouncing up and down her lover's long shaft. This young naked girl is gorgeous, pretty face, perfect ass, nice titties, flawless pussy and asshole that looks like a fine piece of jewelry… What more can you want than to have a stunningly beautiful girl like her ride your cock? She flips over so she can face his way as he continues to pound her dripping wet cunt with his power tool of a cock. He puts the little girl down on her hands and knees, penetrating and fucking her very hard from behind, doggie style, making her his bitch! He holds her juicy bubble butt in his hands, spreading out her tender ass cheeks and exposing her semi gaping asshole, that seems to contract in synchronicity with her tight cunt every time he pounds her with his huge cock. He places her sideways on the floor, raises one of her long legs and keeps pumping her drenched pussy with his gorgeous erection. No man has ever made her feel so full before. Her pussy sucks his hard cock in, and she doesn't ever want to let it go and she can no longer hold back her orgasm. The teen girl begs her big dicked lover to keep fucking her harder, faster and deeper until he is ready to pull out of her stretched out snatch and to blow his load, splattering hot and sticky cum all over her face, her open mouth, her big tits and her hot naked body! How will this end? See for yourself right here:
TINY NAKED GIRLS GET THEIR SMALL PUSSIES DESTROYED BY THE BIGGEST COCKS EVER:
At BangBros18, the smallest, the youngest and the dirtiest 18-year-old teen girls in porn get down on their hands and knees so they can worship the biggest cocks ever! Sit back and watch as these petite naked girls spread their legs and fit in these juicy boners in their cock hungry mouths, tight pussies and little assholes! These teen sluts will get their hot, wet fuck holes stretched out by these throbbing members as they get fucked hard and covered in loads of hot sticky jizz! What the fuck just happened to my pussy, it will just their question, when they will go home with their pussies full of cum.
|
For the ass lovers we have this teen slut with a tight asshole, who wants about hardcore anal sex so much. When this guy opens up the door he is surprised to see his sister's best friend, a spunky blonde teen, especially since his sister is not in the house and she's not expected back until much later. He doesn't know that she's already aware of this. This teen slut wants her friend's brother's dick in her ass and this is the perfect opportunity for it! She tells her it's okay if she wants to stay and wait for his sister to come back, just like she planned it! When he leaves, she gets ready for his return, pulling her shorts down and bending over the living room couch, a butt plug stuffed in her ass and instructions for his dick scribbled on her juicy ass cheeks. INSERT COCK IN MY ASS The message can't be any clearer! When he returns and finds her like that, shaking her bubble shaped ass like a dirty little slut, he gets a raging erection. He takes the butt plug, pulls it out of her tight asshole and makes her suck it as he rams his huge cock deep inside her gaping asshole. To her surprise, her friend's brother's cock is so much bigger than she imagined when masturbated her asshole dreaming about it. With her ass in the air she gets both hands wrapped around behind to spread her ass cheeks and show him her cute little anus. She can feel his big cock stretching out her tight anal funnel as it makes its way inside her. Her eyes go blank as he restrains her wrists behind the small of her back and gives her asshole the most intense a no pounding of her lifetime. While he is fucking her ass, she's sucking on the butt plug, tasting her asshole on the anal toy and on his hard cock when he rams it down her throat, pumping loads of hot cum inside this dirty little anal Princess.
|
What a gorgeous girl I have for you today, she's got some amazing, huge natural breasts! A dream girl for all busty lovers. She's 18 but she has absolutely amazing, big, juicy, beautiful tits. This young blonde girl is gorgeous, busty and always with a smile. Her smile, charm and personality make her very attractive. That's why her boyfriend enjoys filming her doing naughty things on camera! She's a dirty little exhibitionist, walking around this park with her top pulled over her big naturals, flashing them in front of a random guy and then pulling her shorts to the side so she can rub her dripping wet pussy. She rubs her clit, sinks her fingers deep inside her young pussy feeling the wetness of her vagina, turning over, pulling down on her shorts and spreading her ass cheeks with her hands to expose the crack of her ass and her delicious little asshole, all while people walk by! This girl has never done any adult work before, and its her first time getting naked for a website!!! Back at her guy's place, she strips completely naked, playing with her big tits and showing off her smoking hot body. This busty naked girl dances wearing just high heels, she had beautiful long legs, perfect ass, perfect tits, perfect face. She sits on the couch and spreads her legs, licking her fingers and taking them to her crotch, rubbing and fingering her dripping wet pussy. We get amazing closeups of her little pink clit. Lying on her back she spreads her pussy lips with her fingers while her lover pours water from the bottle into her clam, forming a little puddle, fucking hot! With her pussy full of water she tightens up her vaginal muscles while finger fucking herself, making herself squirt the water all over the place. Water squirts from her gaping pussy like a geyser, spraying all over her body and face. For more watersports, naked girl goes to pee outside. She still has some water inside her, so she rushes back outside, squats over a bench and relieves herself, peeing on the floor. Back inside, she fucks herself with her ripe zucchini and outside with a big rubber cock! She fingers her asshole and masturbates with her vibrator and the rubber cock stuffed inside her! There are so many pussy, ass and clit close-ups and you can see how her anus breathes when she flexes her anus muscle in and out. She uses the Magic Wand toy while the thick dildo is inside her, stretching her vagina, making her orgasm, squirting the toy out, spraying juices! So enjoy this total first timer, who is blessed with amazing breasts, and a natural beauty, download the full length video!
|
Are there any fans of small naked girls, redheads and huge cocks? Ever since he started dating this sexy tiny redhead girl, this guy's been wondering if his huge cock can fit inside her. Now he's finally ready to know, and despite his initial doubts and concerns, the spunky redhead seems to be having no problem at all as he pounds her deliciously tight snatch with his massive erection! Lying flat on her back, she keeps her legs spread wide open so she can give that huge cucumber dick more room to move. This small girl can feel his hot cock going deeper and deeper into her belly. As she watches it sink completely inside her cunt, it seems almost like some sort of magic trick to her, she can't believe it can fit entirely! When her mom thinks she's in class, he spreads her tender pink meaty pussy lips with his fingers and continues stabbing her with his meat sword. He pushes her pussy lips together like a pink clam and she tries to regain her breath every time his massive boner slips out of her cunt for a few seconds. It's so big, so long, so hard and thick; every time it pops out of her pussy it leaves a gaping wet sex orifice. He gives her snatch a rest from his dick and proceeds to tongue fuck her, licking and sucking her fleshy mound and tugging and nibbling at her pussy lips. This young girl has very nice, bald, wet, pink pussy. He uses his tongue all over her, in her hole, on her lower lips, on her clit, deep in her vagina. His tongue wanders down the crack of her ass and into her tender asshole, stretching it wide open in anilingus. Tiny naked girl straddles herself atop his hard cock and impales her pussy on it, bouncing up and down and then he makes her bend over by the edge of the bed and fucks her doggy style from behind, holding her long pigtails as if they were her reins, before cumming all over her cute face! Watch more small naked girls getting their tiny pussies stretched out by the biggest cocks ever.
|
Don't miss the most crazy hardcore scene of last few updates. These girls, the hot teen slut and the MILF, do incredible thing with the BF's big cock, using their twats, mouthes and assholes. There's a lot of ass fucking, squirting, pussy fisting, deepthroating in this insane threesome scene. This sexy teen slut has been waiting all day long for her mature stepmom to finally leave the house so she can call her boyfriend over and fuck with him! He arrives and she takes him to her parents' room, since it's the one with the biggest bed and she strips naked, getting down on her hands and knees so he can lick her dripping wet pussy and tender asshole before fucking her hard doggy style from behind. She pushes her juicy bubble ass against his hard sausage but no matter how hard he fucks her, he just can't make her cum! Maybe if he tries entering by her backdoor it will do the trick! But just as he is trying to pop his hard cock into her ultra tight asshole, her stepmom comes in through the bedroom door! She doesn't know what she's more upset about, them choosing to fuck in her bedroom having so many other places in the house, doing it behind her back, his failed attempts at making her stepdaughter cum or even being able to fuck her ass or maybe the fact that they are doing all this shit without her! These two newbies need to learn how it's done! The MILF fishhooks her stepdaughter and urges her boyfriend to fuck her mouth and throat with his big dick and watches the thick ropes of saliva dripping down her lips and chin. Now that's hot!!! This hot woman gets underneath so she can catch all that warm drool while licking his balls and teaches the teen girl how to deepthroat a cock! Soon she's getting her wet pussy rubbed by her stepdaughter, who's getting her gaping asshole anally fucked by her boyfriend while the stepmom sucks his dick and tastes her stepdaughter's ass on his cock! Now they all indulge in a sordid three way anal romp. The girls are all dripping wet with sweat as they fuck in a hardcore styled threesome and he takes turns fucking his girlfriend's and her stepmom's pussies and assholes! He fucks the MILF in her ass and the teen fucks her twat with her fist!!! He makes the mature slut squirt while the slutty stepdaughter opens up wide so she can taste her gushing squirt juices! Pussy fisting, squirting twats, insane anal drilling, it's something amazing! He keeps hammering their twats and assholes with his huge cock, in and out, in and out, so much harder, and harder, making them cum again and again. The young girl had no idea her stepmom could fuck like that and squirt, and she enjoys licking her pussy and asshole and can't wait for her boyfriend to blow his load all over their mouths so they can swap it!
THE HOTTEST GIRLS, THE BIGGEST COCKS, THE BEST HARDCORE PORN EVER:
The summer is Brazzers and you can enjoy the hottest hardcore porn and the sexiest teen girls right here! These guys are the most famous in the world and they are trendsetters in the Adult biz, offering you the most exclusive downloadable and streamable adult HD videos on the web! If you are looking for the craziest porno you only need to look in one place and one place only, Brazzers! Watch these teen sluts as they strip naked, grab a huge cock, swallow it completely, get their little pussies and assholes destroyed by huge cocks, even together with their hot stepmoms in a threesome, and finally receive the most amazing creamy facials and massive cumshots. From raunchy standalone scenes to blistering hot ongoing series and parodies, Brazzers has all the porn you want and need. Don't miss out, man!
|
My stepsister has a crush on me ever since we met for the first time after our parents got together. I think the idea of getting banged by her very own stepbrother turns her on, but I usually just ignore her and pretend she's just playing games with me or pushing my buttons. Problem is, it's getting pretty hard to ignore her, since she's getting more and more provocative with each encounter we have, and since we live under the same roof with our parents, you can imagine the sexual tension at this point; you can cut it with a knife! My step sister always has a little grin on her face that says, "I have dirty thoughts and I know you do too". We're sitting on the living room couch and the flirting begins again. It feels like a game of who will make the first move. And finally she gets up and her skirt is hiked up and I can see her naked juicy bubble ass!!! She's not wearing any panties!!! I just can't resist, grabbing her meaty ass cheeks! My step sister's ass is absolutely amazing, two big round buttocks and a little pussy between them. I can stare at her naked ass and I certainly take the opportunity. She's so turned on and I just want to see how far she can go. She spreads her legs and starts rubbing her dripping wet muff in front of me, telling me she can't resist this any longer, and honestly, neither can I! Then she leans over and unzips my jeans, pulling out my throbbing cock and taking it to her wet mouth, sucking it hard like a dirty little slut. This teen slut gives great head! We go to her bedroom and she strips naked and gets in her bed, masturbating herself for me and showing me how wet her pussy is. She keeps sucking my hard cock and stroking it slow and gentle. I don't think my dick has ever been so fucking hard, man! There is no turning back, my sexy naked step sister gets down on her hands and knees, spreads her hot, tight, fleshy ass cheeks and I instantly move so that my prick touch the hot wetness of her slit. I ram my hard cock deep inside her wet cunt, grabbing her tight bubble butt as I fuck her doggy style from behind. I can't believe it, I'm sliding in and out of my naked little sister and I know I'm about to cum at any moment. She straddles herself atop my lap and impales her snatch on my dick, riding it, then leaning back and spreading her legs so I can keep plowing her pussy in missionary position. We've both been waiting so long for this moment! I grab her titties while I'm fucking her and she gets back on top, this time in reverse cowgirl, so I can check out her juicy butt bouncing up and down my hard rod until my dirty little slut stepsister is ready to swallow my creamy cum as I blow my load!
THE SEXIEST AND HOTTEST YOUNG SISTERS GOT CAUGHT FUCKED: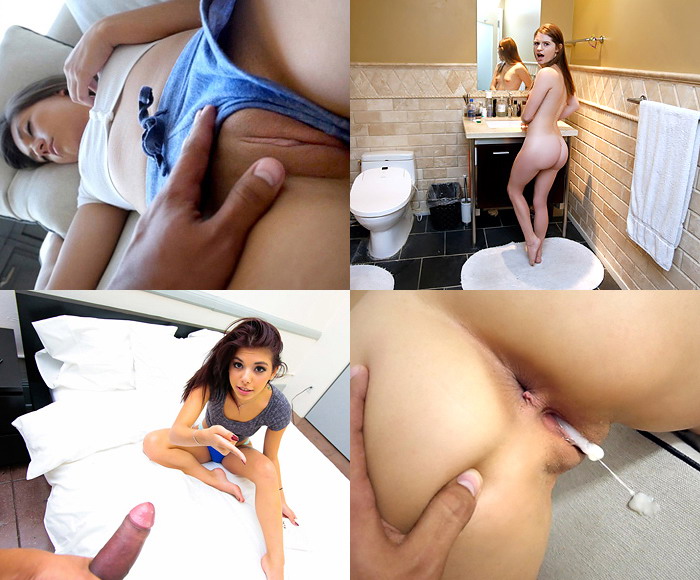 These horny brothers and sexy sisters have a dirty little family secret they want you to know all about! That's right; SisLovesMe is all about horny brothers seducing and fucking their hot sisters! These guys spy on their naked sisters in the bathroom and then fuck them hard; brothers and sister masturbate together and have sex for the first time; the guys sneak in the sister's room and stuff their tight pussies with their big throbbing cocks while the girls sleep and cum inside their virgin pussies; the girls get caught masturbating and now let their brother fuck their wet pussies and gaping assholes and blow their loads all over their faces! As long as their moms and dads don't find out, everything is okay!
|
This supremely lucky guy has a sexy girlfriend with a perfect ass, so fucking perfect that he loves having her show it around wherever they go. She pulls her tight leggings down her thighs and he pulls her pink thong aside to check out that delicious ass crack, spreading her luscious ass cheeks to better show her tight cunt and cute little asshole. He wants to do something daring and she loves it! She leans over this palm tree and lets him finger her asshole, right there, in public, so hot! He jams his thumb deep inside her anus and takes her back to their place, where they go straight to the balcony so she can rub her ass against his raging hard-on and their surrounding neighbors are invited to watch the show! She bites her lips as he tugs down her thong and fondles her tits over her top and rubs her wet twat, and she shakes her juicy ass while leaning over the balcony rail. That juicy bubble butt jiggles like cherry jello! Perfect! Just perfectly amazing. This babe is an absolute beauty with a tight body, sexy ass, cute face and lovely pussy. Her bubble butt looks fantastic with her ass cheeks bulging up and little dimples at the top where the cheeks meet the back. She pushes her ass against his hand and spreads her ass cheeks so he can finger her asshole some more and gets down on her knees so she can lick his balls and hard cock, stroking and sucking it as it gets bigger and harder. I like it, as she masturbates with one hand when sucks his huge cock. The hot babe sits on his dick and feels it sliding deep inside her wet pussy, making her perfect ass bounce up and down his rod. While she rides his dick, he fingers her asshole and the double penetration effect drives her crazy! She bends over, giving a spectacular view of her booty. Her ass cheeks look especially big and voluptuous in this position. She sucks his dick some more and then impales her gaping asshole on his thick rod, ready to get his hot cum all over her after they have some hot anal sex in bed! I like her voice, as she sings so nice when her butt hole gets stretched. This sexy babe is absolutely amazing. After fucking such an ass, you can die in peace… simply gorgeous!
|
Every girl wants to have a boyfriend like this guy, he goes the extra mile to make sure his girlfriend's birthday is the best and she gets everything she wants! He got her a sexy new dress that makes her tits look awesome when she pops them out, prepared birthday cupcakes, strawberries and cream, and there's still more surprises! Her cute smile is really flirty and it foretells us an incredible scene. As his sexy girlfriend sifts through her gift box and sees he got some sexy rope for their bondage sex, and a new vibrator for her teen pussy, she still hasn't realized that the best gift is behind her, hiding behind the door! He brought her best friend along, and he is stroking his hard cock as he films her! Her boyfriend knows she's fantasized about a threesome with him and some stranger with huge cock and he's making it happen for her today! This teen girl is 19, beautiful, cheerful and giggly, with absolutely gorgeous tits and in my opinion the best thing to happen to amateur porn in a long time. She loves the sex toy and blindfold he got her too, and she tries them out and soon she's masturbating with the new sex toy and sucking his dick. He calls her best friend over so they can switch places and she devours his throbbing cock, not knowing she is no longer blowing her boyfriend since she still has the blindfold on! His naked girlfriend smears whipped cream all over his dick, sucks and strokes it and then bends over, leaning against the bedroom wall so she can get whipped cream all over her juicy ass and have it licked clean! Her ass looks fantastic!!! Her boyfriend eats her out, her pussy is so wet and she is so turned on, she begs for her bf's hard cock that will make her cum like crazy! When she begs for his cock to fuck her hard, it's her best friend penetrating and banging her in missionary, and when she feels a second dick close to her mouth, she realizes she is being double teamed! When she pulls out the blindfold and realizes it's not boyfriend's cock inside her! I love the expression on the girl's face when she sees the stranger's dick balls-deep in her pussy! She's amazed, it's the best birthday gift ever and she thanks her boyfriend by sucking his rod while her best friend keeps pumping her twat with his hard cock! Other guys would be jealous, but not her boyfriend, he knows how to please his sexy babe! Now she's down on all fours and sucking her guy's dick while her best friend fucks her doggy style and she feels like the dirtiest slut ever on her birthday. She is so turned on, she decides to show off her deep throat and swallowing skills to her boyfriend and his friend. The guys fuck her so hard from both sides, the friend grabs her hair and pushes her head on her bf's dick, making her engulf it balls-deep and drool all over it. Then this hot teen babe rides their dicks one after the other, showing off her awesome cock riding skills, grinding and twerking her juicy bubble ass like crazy. It seems this hot girlfriend can ride them all day long! I am lost for words… She is one of the hottest girls ever! I love it when a girl moans like a fucking beast having wild sex! They kept fucking this girl in a threesome without any time gap. She's just going mad when her boyfriend shoves the vibrator up her tight little ass while she's sucking on the friend's dick and balls. There's nothing better for a girl than a vaginal orgasm with a hard throbbing cock is in the vagina while the other cock is pulsing in her mouth. This crazy girl just can't wait for her two lovers to blow their creamy loads all over her face and her big tits! Cute Face, BIG TITS, banging' body, awesome pussy, crazy scenario! What more can I say! GUYS, DON'T MISS THIS FANTASTIC FULL LENGTH VIDEO HERE:
THE HOTTEST, SEXIEST, CRAZIEST GIRLFRIENDS CAUGHT FUCKING ON CAMERA:
MOFOS is the official site for the best amateur teen porn you can hope to find on the web! When real girlfriends, amateur teens want to become famous pornstars, this is the place where they get started, where the girls first strip naked in front of the cameras, ready to suck dick, get fucked hard and receive incredible cumshots and facials from big throbbing cocks in hardcore real amateur footage and high definition videos! Surf the MOFOS network for tons of hot girls and videos, the amateur fun never stops here! You won't want to miss the hottest, sexiest, craziest girlfriends in the best amateur homemade sex videos.
|
This guy may not be getting a cream filled egg for Easter, but that's okay, cuz he's getting something so much better! A sexy blonde Easter Bunny girl he can fill up with the cream from his eggs! Hot! She's tall, skinny and leggy, wearing a sexy white Easter themed lingerie outfit with bunny ears and tail included. He munches on her perky nipples and kisses her tender pink lips, sliding down her petite body so he can lick her wet pussy slit and finger her tight vagina. She gets on her hands and knees and takes his big cock in her mouth, sucking it good, it's so big and so thick that she gags and chokes when she tries to deepthroat it. He likes that, cuz it makes her drool all over his member and lubes it up so she can straddle herself atop and impale her tight twat on his thick rod. Tiny naked girl leans back and pushes her pelvis up and down his marvelous erection, squatting over his thighs and rubbing her twat while she rides his cock. She flips over so she can keep riding his dick while facing his way and he places her down on all fours so that he can fuck her doggy style from behind. His cock is so large for her small pussy when he pops it out of her pussy, it's left open and gaping until he pops it back inside and continues fucking her. I'm impressed with how the pussy of this tiny, little trooper just swallows up his thick manshaft! She can feel his hard rod pumping her faster, deeper and harder and she knows that her boyfriend will be blowing his load any time soon and when it's Easter, she loves for him to cum inside her pussy and leave a sticky creampie oozing from her tender pussy lips and all over her asshole!
|
CHECK OUT RECENT VIDEOS ON THE MAIN PAGE !!!