Long legs
This sexy brunette girlfriend is so happy to have her boyfriend back after a work trip that took him away from her for several weeks. She has even abstained from masturbating during his absence, so she can hardly wait for him to fuck her, she needs it so bad! She receives him wearing just her tiniest denim shorts and touches herself in bed, her pussy needs his hot throbbing cock so bad! She finally gets to rub her slit and she is soaking wet. She spreads her moist pussy lips and shows her vagina to her boyfriend and begs him to pound her hard, deep and fast. This naked girl looks so hot, long legs, cute face, nice breast, shaved pussy and little ass. She will be of special interest to those who like slim girls. His sexy naked girlfriend gets down on her hands and knees and begins sucking his big throbbing member. He fucks her mouth with his large cock and slaps her outstretched tongue with it. She drools all over his cock and her saliva drips down her chin and his dick, splattering the white silk sheets she set up so they could fuck. She spreads her legs so her boyfriend can eat her out, fucking her wet pink clam with his silky smooth tongue and pops his big dick inside her pussy, fucking her hard in missionary position. She rubs her muff while he fucks her and she straddles herself atop his erection and impales her dripping wet snatch on it, pushing her sexy naked body up and down his meaty pole. She loves riding his member and feeling his hands all over her body, twerking, grinding, caressing her thighs and fondling her breasts while he plows her cunt and her titties bounce up and down. The tiny girl pops his hard cock out of her wet pussy, sucking and stroking it hard, her mouth opened wide and ready for her man to blow his load, splattering hot and creamy semen into her mouth and all over her beautiful slutty face and her sexy tits!
|
Blondes going down on blondes and the younger older aspect is magic stuff to eyeball! You won't want to miss these naked blondes in a hot girl-girl lesbian scene. This sexy blonde teen is eager to meet her new stepmom, she's heard so many good things about her from her dad, and by the looks of it, her hot stepmom just can't wait to meet her new husband's hot daughter either! She receives her in sexy pink lingerie and gets really close to her as they talk, caressing her with her soft hands. She can tell she's getting hit on… by her very own stepmom! Well, it's actually kinda hot, and she's pretty hot too, so what the fuck! Daddy doesn't need to know! The sexy woman kisses her, softly at first, more passionately afterwards, until the girls are making out hot and heavy and she helps her out of her tiny panties, they are drenched in her pussy juices already anyway! The combination of blonde hair, pale skin and those delicious pink pussy lips, mmmm… She feels her stepmom's hands all over her naked body as she touches hers too, her tits are so big and firm in comparison to her tiny breasts! As she cups them in her hands, her stepmom rubs her dripping wet muff, masturbating her while ramming her smooth wet tongue down her throat! Teen girl spreads her legs and gets her little pussy eaten out by her new mom, her silky tongue laps up her pussy juices as they flow between her tender pink pussy lips. Naked girls masturbate facing each other and the naughty teen fucks her stepmom's twat with her toes while she licks the ones on her free foot! She sits on her face so she can ride her while she's eating her out. Her gorgeous long blond hair, tiny waist, small titties, young pussy, flawless skin, this girl looks ridiculously hot riding her stepmom's face. She also gets to taste her stepmom's dripping wet pussy and her deliciously tight asshole too! Naked woman parks her big juicy ass right over girl's face for a good pussy and ass licking. What a MILF goddess! She's gorgeous and has amazing sexual energy. Her body and overall look is incredible. She needs to sit that lovely ass on my face! After riding each other faces, naked girls begin scissoring, bumping their clits and rubbing their wet pussies against each other, bring themselves to an orgasm! Great scene with two hot naked blondes, plenty of licking, kissing, finger plaing, tribbing and even big toe pussy fucking. This teen loves this first meeting with her new stepmom and hot lesbian lover and can't wait for the next one!
|
My stepsister has a crush on me ever since we met for the first time after our parents got together. I think the idea of getting banged by her very own stepbrother turns her on, but I usually just ignore her and pretend she's just playing games with me or pushing my buttons. Problem is, it's getting pretty hard to ignore her, since she's getting more and more provocative with each encounter we have, and since we live under the same roof with our parents, you can imagine the sexual tension at this point; you can cut it with a knife! My step sister always has a little grin on her face that says, "I have dirty thoughts and I know you do too". We're sitting on the living room couch and the flirting begins again. It feels like a game of who will make the first move. And finally she gets up and her skirt is hiked up and I can see her naked juicy bubble ass!!! She's not wearing any panties!!! I just can't resist, grabbing her meaty ass cheeks! My step sister's ass is absolutely amazing, two big round buttocks and a little pussy between them. I can stare at her naked ass and I certainly take the opportunity. She's so turned on and I just want to see how far she can go. She spreads her legs and starts rubbing her dripping wet muff in front of me, telling me she can't resist this any longer, and honestly, neither can I! Then she leans over and unzips my jeans, pulling out my throbbing cock and taking it to her wet mouth, sucking it hard like a dirty little slut. This teen slut gives great head! We go to her bedroom and she strips naked and gets in her bed, masturbating herself for me and showing me how wet her pussy is. She keeps sucking my hard cock and stroking it slow and gentle. I don't think my dick has ever been so fucking hard, man! There is no turning back, my sexy naked step sister gets down on her hands and knees, spreads her hot, tight, fleshy ass cheeks and I instantly move so that my prick touch the hot wetness of her slit. I ram my hard cock deep inside her wet cunt, grabbing her tight bubble butt as I fuck her doggy style from behind. I can't believe it, I'm sliding in and out of my naked little sister and I know I'm about to cum at any moment. She straddles herself atop my lap and impales her snatch on my dick, riding it, then leaning back and spreading her legs so I can keep plowing her pussy in missionary position. We've both been waiting so long for this moment! I grab her titties while I'm fucking her and she gets back on top, this time in reverse cowgirl, so I can check out her juicy butt bouncing up and down my hard rod until my dirty little slut stepsister is ready to swallow my creamy cum as I blow my load!
THE SEXIEST AND HOTTEST YOUNG SISTERS GOT CAUGHT FUCKED: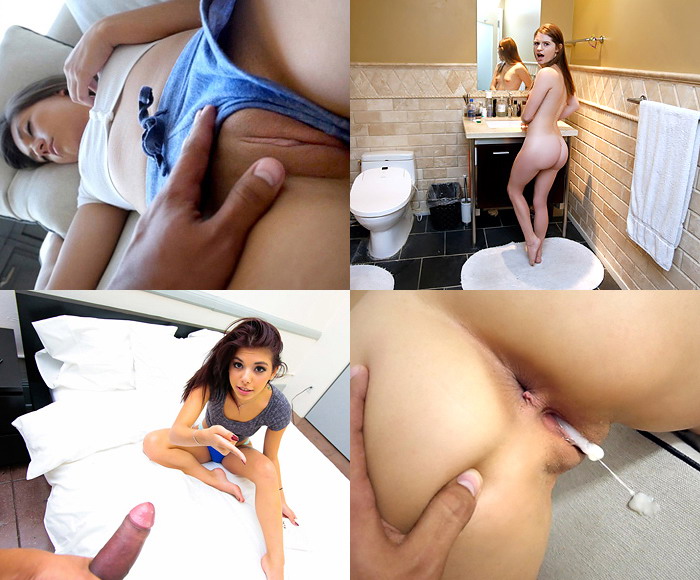 These horny brothers and sexy sisters have a dirty little family secret they want you to know all about! That's right; SisLovesMe is all about horny brothers seducing and fucking their hot sisters! These guys spy on their naked sisters in the bathroom and then fuck them hard; brothers and sister masturbate together and have sex for the first time; the guys sneak in the sister's room and stuff their tight pussies with their big throbbing cocks while the girls sleep and cum inside their virgin pussies; the girls get caught masturbating and now let their brother fuck their wet pussies and gaping assholes and blow their loads all over their faces! As long as their moms and dads don't find out, everything is okay!
|
You know all teens love huge cocks and this tiny girl also wants to try her pussy with the biggest dick ever. This sexy blonde chick likes surprises, and when this guy promises her a big one for their fifth date, he's not lying! The fifth date means sex, and when she pulls down on his briefs, his erection springs to life like a Jack in the Box and she is indeed surprised! I love the expression on their faces when all these young girls see a huge cock for the first time. This girl has never seen such a big, hard, thick cock in her life! This is the kind of surprise she absolutely loves! After getting over the initial shock, she cups his big balls in her soft hands and gets to work on his dick, sucking it hard while down on all fours in bed. He holds her head with both hands and fucks her mouth, thick ropes of saliva dripping from the sides of her mouth. She laps up her own drool dripping from his throbbing erection and keeps sucking it like a dirty little whore, deepthroating it all the way down to the base. You can see her eyes watering as she gags and chokes on this thick rod and rubs it all over her slutty face. The teen girls love it more than anything. She lies on her back and spreads her long legs so he can stick that thick pole deep inside her tight cunt, fucking her hard in missionary position. He places his cock between her pussy lips and begins rubbing it back and forth over her wet pussy and every time he moves the head of his cock forward it bumps her clit. Then he slowly starts to enter her. She's very petite, and only weigh about 95 pounds, and he is a big man with a big tool. Her pussy is very tight and at first it's hard to insert that huge cock inside but very soon she feels the whole of his monster cock within her body. Her twat is making a slurping sound as his huge cock slides in and out. He puts her sideways, admiring her juicy bubble butt while pounding her hard, cradling her in his arms as he lifts her and fucks her with her legs wrapped around his waist and her arms around his neck. Young naked girl rides his hard cock, making her juicy ass bounce up and down his hard pole and she wants to get pounded hard by that meaty sausage and swallow all its creamy cum after he blows his load all over her face and tits!
|
Wow, excellent sneaking and the almost getting caught scene from start to finish! The teen slut is stunning, perfect body, wonderful deepthroat, great fucking. This sexy blonde babe has a new boyfriend and he has a really big dick and her mom is really happy for her… because she doesn't know that it's her new husband! While she asks to use her daughter's bathroom, the sexy blonde teen strips naked and gets under the cover, waiting for her "boyfriend's" daily visit! Her juicy naked ass looks fantastic sticking out from under the blanket. He comes over, sees this lovely ass and dives right in between her ass checks, sticking his tongue in her moist slit and his nose in her ass hole. When he finds out his wife, her mom, is in the bathroom he gets a bit anxious, but that won't stop him from banging this wet pussy! He knows his wife can stay hours on the toilet anyway! He spreads her legs and rams his hard cock deep inside her tight wet pussy, fucking her hard on her bed. The girl rubs her clit while he bangs her hard, he stuffs her tight little pussy with his huge cock like mad, making her moan and scream. He puts his hand over her mouth to muffle her screams.
Be quiet, your mom might hear us!
Mom is right next to them in the bathroom, suffers from constipation when he puts her slutty daughter down on her hands and knees and fucks her young pussy doggy style from behind. Naked girl put her hands over her mouth when the fat and long cock penetrates into the deepest regions of her body. Wide hips, tiny waist, round ass, perfect pussy, this teen girl has it all. He fucks her harder and harder, watching his dick go in and out of her cunt and watching her ass cheeks bounce. In the bathroom, her mom can hear the sex noises and can't help wondering what's going on. Maybe her daughter is having hot phone sex with her new boyfriend! Matter of fact, she's getting her pussy and ass licked by her stepfather! She twerks her juicy bubble butt while he keeps banging her from behind and she strokes and sucks his massive cock squeezing his balls with her hands. In the meantime, her mom is still in the toilet, and she ran out of toilet paper! He asks for her daughter to fetch her some, but the teen slut is too busy bouncing up and down her husband's huge dick! I really enjoy seeing these big tits shaking and his balls slapping against her pussy when the girl is really getting nailed. Her whole body is shaking and quivering as an orgasm rips through her body. What an amazing leg shaking orgasm! She straddles him in cowgirl position and rides his dick, getting her ass cheeks slapped and her asshole fingered by her horny pervert stepdad and presses her hot body against his own, she just loves getting fucked hard every day by her mom's husband! She can feel all that hot cum boiling inside his balls and she can't wait for him to cum, blowing his hot and creamy load all over her face and her tits, just as her mom is stepping out of the bathroom! OMG, they're so fucking busted!
HOT TEEN SLUTS CAUGHT FUCKING IN THE BEST PORN VIDEOS:
Your erection will gush with cum watching these hot teens being fucked in all these craziest sneaking and getting caught scenes. The thrill of potentially getting caught is a major turn on. Love sneaking scenarios? Love a little pussy and a huge cock combo? Love a MILF and a teen combo? It's every guys fantasy, getting to fuck your girlfriend when her parents at home, or even better getting to fuck your girlfriend and her smoking hot mom in a steamy threesome! It all happens right here.
|
If you've ever fantasized about having sex with your hot girlfriend when her parents at home, then you'll really enjoy our next video. This sexy teen chick just came back from school and still has her tight uniform when she hears some noises outside the bathroom. It's probably her dad, but before she gets a chance to figure it out, somebody grabs her from behind and puts their hand over her mouth, hiking up her mini skirt, pulling down her cotton panties, exposing her juicy bubble butt and biting on her ass cheeks! After getting over the initial shock and surprise, she realizes it's her naughty boyfriend, who sneaked into her place for a surprise fuck! Her daddy calls from across the bathroom door to see if all is okay since he heard her scream, and she invents some bullshit excuse. Her daddy doesn't approve of her boyfriend and doesn't like him coming in the house, much less unannounced and to fuck his daughter! He spreads her legs while fingering her dripping wet pussy and when I say her pussy is wet, it's really wet! He spreads her pussy lips and fucks her vagina with his finger and her pussy juice pulsing out of her hole. Then he inserts his tongue inside and all her pussy juices rush into his mouth. His girlfriend is so turned on, she drops to her knees so she can suck and stroke his rock hard cock. Naked schoolgirl spits all over his cock and spreads it along his shaft with her hands, giving him a sloppy blowjob and handjob combo. He fucks her mouth as she cups her tits in her hands and she lets her saliva drip down her lips and over her cleavage as her boyfriend fucks her tits with his big dick. She keeps blowing him, bending over as he leans against the bathroom counter. Then he bends naked girl over and starts banging her from behind. He nails her over the counter and lets her ride his dick on the bathroom floor. His girlfriend even doesn't think about her parents who can come into the bathroom and catch them in the act. If her daddy asks to use the bathroom, they're in trouble! She just enjoys her bf's hard dick deep in her pussy, riding him and twerking her sexy ass up and down. He stuffs her pussy faster and faster, she gets an orgasm and her eyes roll back! She has several amazing orgasms before he cums all over her dirty face!
|
Sit back, relax and watch this tiny naked girl getting her pussy stretched out in hardcore sex scene! This guy is checking out his sexy stepsister while she's in the kitchen trying to reach for a bowl on the kitchen cabinet and when she jumps trying to grab it, he notices that she's not wearing any panties under her short skirt! Getting a glimpse of her perfectly shaved clam makes his dick get hard as a rock! This girl has one of the most beautiful pussies ever, and a gorgeous ass in addition. He goes over to give her a hand and she notices the massive bulge throbbing hard between his legs under his denims and she takes her stepbrother to the living room couch, so she can play with his erection while he plays with her dripping wet clam! The teens kiss as she spreads her legs and lets her step brother stick a finger in her wet, warm pussy. He pulls her sexy tits over her top and sucks on her pierced nipples. Then he takes out his hard cock and she smiles as she takes his throbbing cock into her mouth. She kisses, licks and sucks his big cock slowly, caressing it gently with her lips and tongue. They strip naked and she's so fucking tight and petite, beautiful! There are many advantages in sex with a small sized girl, one of them is Standing 69 position! He lifts the petite naked girl and puts her in a pile driver, placing her head between his legs and her legs onto his shoulders so he can eat her delicious pussy and she can suck his hard rod hanging upside down. Then he spreads her legs on the couch and eats her out, squeezing her tits while tongue fucking her tight clam and it feels so fucking good. He follows up with his hard cock, her pussy is just too tight, but he tries to push it in further into her body. He begins pounding her wet snatch faster and faster and she's surprised he can actually get it all inside her! Naked girl bites her lip, she rubs her clit furiously, her eyes roll back as her step brother drives in and out of her madly and his balls slapping against her crotch. His huge cock is making her cum like no other guy has ever made her cum before! The shorty screams with pleasure having one wild orgasm after another. Then she squats over his dick and impales her pussy on it, bouncing up and down his long shaft, still rubbing her muff while he's banging her. She flips over on his cock and keeps riding him, her juicy bubble butt rising up and down before she gets down on her hands and knees so her horny stepbrother can fuck her wet pussy doggy style! She starts shaking and moaning really loudly, her body is quivering with orgasms, her pussy lips squeeze tightly around his cock. This feels so good, she doesn't want it to stop, but at the same time, she wants to feel his hot cum all over her face and body when he cums!
THE SMALLEST, YOUNGEST AND SEXIEST GIRLS GET THEIR PUSSIES DESTROYED BY HUGE COCKS:
You won't want to miss the youngest, smallest and sexiest 18yo young naked girls taking on the biggest dicks in porn! Slim, petite, tight and smoking hot teen girls love huge cocks and they love getting their little pussies destroyed in hardcore sex scenes. Their mouths, pussies and assholes will get stretched out of proportion and their bodies will get drenched in cum! Take a young sexy girl, match her up with a huge cock, and let the fun commence.
|
Just take a look at this sexy teen girl, her cute little but and her legs are absolutely amazing, especially wearing her sexy school girl outfit. This horny dude has been waiting for his sexy girlfriend to come back from school all day long; he just can't wait any longer to fuck her! She managed to come back pretty quick and they have plenty of time to fuck before her strict stepmom comes back home! He has her sweater pulled over her tits and sucks on her puffy nipples, rubbing her sexy ass and her crotch through her plaid dress, while she massages the throbbing bulge under his pants! The sexy schoolgirl spreads her legs and lets him pull her thong aside so he can rub her wet pussy right there in the living room. Her titties, her ass, her lovely pussy, everything looks perfect. Her youthful pussy is about as flawless as one could possibly be. The girl whips out his hard cock and gives him a handjob, stroking his meat with her soft hands while she kisses him and suddenly, her stepmom comes in though the kitchen door! Fuck! They act all casual and shit, and while she cleans around the kitchen, the girlfriend is stroking the dude's dick under the throw she put over his crotch to conceal his erection! The stepmom leaves and the girlfriend gets back to sucking his cock, it's such a turn on having her stepmom around, they might get caught any moment! She's so wet now, the naughty girl lifts up her school dress, pulls her panties aside and impales her dripping wet pussy on his cock. This cute teen definitely has one of the sexiest asses ever and she looks so fucking hot riding his dick with her school uniform still on! He's fucking her sideways with the throw over their bodies, but the teens are so fucking turned on, they get sloppy and her stepmom realizes what's going on behind her nose! Far from being upset, she's terribly turned on by them, pulling down her panties and masturbating her dripping wet snatch while observing them! There they are fucking, with her stepmom in the background rubbing her muff and feeling up her big tits! This hot woman wants that young big hard dick too. They are so ashamed and embarrassed when she stops them, they have no idea what to do but the MILF is so fucking turned on, she asks them to have a threesome. She tells her step daughter to suck her bf's dick and tells him to suck her huge milk tits and lick her nipples. Then the sexy woman turns over, spreads her ass and parks it right over his face, so he can lick her pussy from behind with his nose right in in her asshole. The stepmom gets fully naked and tells the teens to lie in 69, so her step daughter sit on his face and so he can eat her pussy and ass out while the girl give him a double blowjob! Then the naughty cougar straddles herself on his cock, riding it while he eats out her naked step daughter! Download the full length video and watch these naked girls riding him in turn, sucking his cock together, having lesbian sex with each other, watch the guy blowing his load all over the stepmom's ass and the teen licking his sperm out of her ass crack!
HOT WOMEN TEACHING YOUNG GIRLS HOW HARDCORE FUCKIN IS DONE:
This is the most intense threesome fuck they have ever been involved in and they are sure they will be having many more after this one! Love the milf and teen combo? It's every guys fantasy, getting to fuck your girlfriend and her smoking hot mom in a steamy threesome and it happens right here at Moms Bang Teens! These young teen girls are hot and sexy, but their stepmothers are even hotter, far more experienced and very, very horny! These women teach the teens how to swallow huge cocks, how to ride it, how to cum and how to take it up the asshole, in return the teens do whatever it takes to please these older women.
|
Why is this sexy tiny girl hiding from her boyfriend in the closet? No, don't worry; she's not a closet lesbian, lol! Matter of fact, this hot girl likes dick, like, a lot! But, she is scared her new boyfriend's huge cock! I mean, he's sent her pictures of it, it's massive! Their long overdue fucking, and if she doesn't get over her fears, their relationship won't move forward! He throws her on his king size bed, takes off her clothes, spreads her legs, pulls her pink panties aside and inserts his tongue into her little hole. He eats her young smooth pussy out and fucks her with his tongue. It's not quite as big as his cock, so it will help her loosen up her vaginal muscles for the real deal! He pulls down her panties and stuffs them all the way up her mouth, then pops out his massive cock. He makes her suck it, that way she can get used to the taste, size, thickness and girth! Thick ropes of saliva drip down the side of her lips as the teen babe attempts to deepthroat such a massive erection and she strokes his huge penis, spreading the drool along his shaft. Now his dick is lubed and ready for her little pussy. The tiny girl straddles herself atop his hard cock, gaspes for air and impales her dripping wet pussy on it. The 11 inches go almost inside of her petite body, the sensation is incredible! As it slides into her tight pussy she is bitting her lip. Yeah, it's big, but it feels so fucking good inside her! The teen is screaming real loud as his huge cock is pumping the inside of her stomach. Soon she starts to be comfortable with the whole thing, riding his massive cock like a pro. Since she is on top, she gets to control his huge cock. Yay, her fears are conquered! Now comes the good part, when her boyfriend puts her in a full nelson and fucks the living shit out of her tight little pussy with his gargantuan member! He pounds her making her amazing ass bouncing up and down, then he lifts the small naked girl up and fucks her standing up, then throws her on the bed and destroys her pussy missionary. He fucks the living daylights out of her before blowing his load all over her pretty face!
|
Finally, after 5 incredible dates with this hot guy, this sexy brunette teen slut is ready for sex! Yay! She's already totally naked and down on her knees, ready to take a first look at her date's hard cock, but what she sees is not what she expected! She thought that maybe, with luck, her date would be well endowed, but this is like, too much! Her eyes and mouth are wide open in bewilderment; the little girl has never seen a cock so big, hard and thick in her life! Matter of fact, if she would have known he was packing like this, she would have broken her five date rule on the very first encounter! Anyway, better late than never! His dick is as long as her face, and as she licks it she ponders if she can even attempt to deepthroat it! Still she shows amazing deepthroat skills as she swallows it whole, all the way down to the base after he slaps her face with his massive sausage! Holy fuck! Most amazing deepthroat ever! That young lady has some serious talent! The teen girl swallows this huge cock whole, again and again, without stopping. Best deepthroat I've seen! She drools all over his dick like a horny slut and begs him to fuck her mouth and throat and she screams like mad when that huge cock stuffs her nice, pink pussy! It's just too big for her little hole! He fucks her so hard, fast and deep in missionary position, her legs spread wide open, gasping for breath as he pounds her relentlessly! This guy is creepy and abusive and looks like Frankenstein. But his girl loves every second of their rough, hard, sex! I like how she sings when his huge cock stuffs her fast and deep. Naked girl squats on top of his cock, pushing her body up and down his large cock, impaling her dripping wet snatch on it while fondling her big tits. If his dick is so big, she can't even imagine how thick and creamy his cum will be when he blows his load deep into her throat or all over her face! One of the hottest chicks! One of the best hardcore scenes! Bravo TeensLoveHugeCocks!
|
I can't take it anymore! I know she's my girlfriend's best friend and all, but she just keeps flirting with me and teasing me every chance she gets! And this time, my girlfriend is not even around! Her best friend came over to leave some stuff and sat on the couch, spreading her legs and rubbing her muff over her panties! She gives me the sexiest look, pulls them aside and shows me her pink slit, daring me to touch her little pussy before my girl, her best friend, comes back! If she would be ugly and fat I could resist, but she's so fucking gorgeous! Long sexy legs, cute little butt, lovely face, charming smile, she's 19 years old and dripping with sexuality. Sexy babe spreads her legs wide open and holds them apart as I dive into her wet muff and lick her dripping wet slit and she tussles my hair with her soft fingers. I'm licking her beautiful pussy, oving my tongue all over her pussy lips and between them. She tastes so sweet and juicy. Smiling she kneels down in front of me, pulls down my pants and my hard 8 inches springs out into her face. She takes my swollen cock, slowly opens her lips and swallows the head of my cock and begins licking all around the purple mushroom and under the ridge, sucking and stroking my throbbing erection with this dirty look on her face. She tells me she has been waiting so long for this, and so have I! I just hope we don't get busted by my girlfriend! She strips naked so sensually and looks longingly at my cock which is hard and throbbing up and down. This teen babe is utterly sexy. She straddles herself on my hard cock, guiding it deep inside her wet, hot twat! She's so fucking tight, wet and hot. Beautiful girl and a beautiful pussy! She removes her bra as she makes her juicy bubble butt bounce up and down my cock and she shakes and twerks it like a fucking pro! Now that I'm finally fucking her, I know I won't be able to stop! This is too fucking good! So good, I have to get it on film, and she loves being in front of the camera, even grabbing it so she can get some footage of her own while we are fucking. She flips over so she can look my way while she keeps riding my cock, and she's bouncing on my cock so hard I'm worried she'll bust my balls! This babe knows how to ride a dick, men love to have sex with the woman on top, it's one of the best sex, unfortunately my gf doesn't like riding my dick. Then naked girl gets in missionary and we caress each other as we keep fucking on the very same couch where my girlfriend and I watch our favorite sitcoms! I stay still and she grinds her pelvis against my cock, actually fucking my dick with her pussy, telling me she wants to be my fuck slut and that she wants me to cum all over her dirty face, her titties, her naked body and fill her filthy mouth with my creamy semen before my girl returns!
SEXY GIRLFRIENDS CAUGHT FUCKING IN THE BEST AMATEUR PORN VIDEOS:
Looks like somebody you know? Anything is possible, because I Know That Girl is filled with sexy, naughty real teen ex-girlfriends filmed by their exes and exposed online in raunchy real footage added weekly, homemade and user submitted videos with hot real amateur girls stripping naked, masturbating, having hot lesbian sex, sucking cock, fucking and receiving facials and cumshots in hot couples, threesomes and group sex action with their ex-boyfriends and friends! These girls could be your next door neighbors, co-workers, classmates or maybe even an ex-girlfriend! Check it out now, new videos and real life ex-girlfriends added all the time!
|
There is nothing in the world that can get this sexy brunette teen babe's tight pussy wetter than teasing her boyfriend, just watch her enticing him with her tight body in sexy lingerie while down on all fours in bed! His erection is practically bursting out of his jeans as the sexy teen shakes and twerks her delicious bubble butt in front of him. She gets so close, then pulls back, denying him of her hot body! Finally she lets him take hold of her, groping her firm breasts while stripping her naked, pressing his hard cock against the small of her back, burying it between the crack of her juicy ass! She licks her chaps as she strokes and sucks his hard cock, deepthroating him gently, slowly, building up the tempo and the momentum! He peels her lingerie off her gorgeous body and spreads her legs, digging his tongue deep between the wet slit formed by her semi-parted tender pussy lips, biting gently into the soft meat of her smooth and silky pussy. With her shoulders pinned on the bed, she raises her pelvis and gives into his wet tongue fucking her clam. This guy knows how to eat his girlfriend's pussy like a king! All pussy loving eaters don't miss this amazing oral scene. Her pussy is so beautiful and eating a gorgeous pussy like hers is such a huge turn on. Naked girl pulls her legs behind her neck and shoulders and in this incredible posture he penetrates her pussy and begins fucking her hard, rubbing his dick back and forth between the canals formed by her pussy lips. He lies on his back and the teen babe straddles herself on top, impaling her snatch on his big cock and riding him. The way this girl moves her hips when she rides him is phenomenal. She rides faster and harder, at the speed of her level of arousal, she loves him inside her, she just presses her body against his and enjoys an orgasm that makes her body shiver. Her tight throbbing pussy makes his cock even harder, he doesn't stop pushing it deep into her body, and it has keep her cumming. After this long orgasm she turns over and keeps riding him in reverce cowgirl, twerking her flawless sexy ass in front of his face. Now his girlfriend wants him to blow his load all over her cute face and cum in her little mouth!
|
There is no doubt that these teens of today are so open minded, but this sexy blonde teen girl takes it to a whole new level when she uses her tennis racket to fuck her dripping wet pussy in the tennis court in public! We see her in cute, short tennis outfit, with panties that are split in the middle as she plays with her pussy! Anybody could be watching her as she rams the tennis racket handle deep inside her wet pussy! When she removes the handle from her cunt, she takes it to her mouth and sucks it, tasting her sweet pussy juices on it before standing and squatting so she can keep fucking herself with it right in the middle of the tennis courts. With the handle lodged in her cunt through her crotchless panties, she turns over and shows off her juicy bubble butt and walks around, holding the racket in place with the strength of her pelvic muscles, damn! The hot teen girl uses these very same muscles to expel the handle from inside her and plays with her meaty pussy lips, spreading them apart and showing off her pink muff. This young girl shows off her pretty private parts, exposing her clit, labia stretching, and talking about her masturbation. She digs her fingers inside her slit and finger fucks herself in front of the camera with this naughty smile on her cute face. She moves to a nearby bench, takes a seat and spreads her legs, playing and feeling herself. Looks like public masturbation really turns this sexy girl on! Not just that, she squats on the floor and relieves herself, forming a puddle of warm golden pee on the tennis court, fucking hot! She even doesn't mind to play and insert her finger in her little anus on camera. The girl lies on the tennis court and spreads her long legs, finger fucking her tight asshole and feeling her anal sphincters contracting as she anally masturbates herself. By the time she gets home, after rollerblading in the nude by the road, she is ready to fist her dripping wet pussy and rip out a couple of hot orgasms!
|
This guy's sexy brunette girlfriend is practicing her yoga routine and he loves checking her out as she does so. The different stances and poses she gets into and the way her sexy body flaxes and contorts gives him an incredible hard-on! She loves seeing the reaction she gets out of him, and she moves to the nearby pool to cool off, because she's already hot and her pussy is dripping wet too. She slowly pulls her shorts down and shows him her tight pussy and sexy bubble butt while she gets naughty in the pool and cools off her hot ass. You get the front row seat up the girl's ass as our sexy girlfriend spreads herself open and puts on a very private and intimate pussy and ass show just for her boyfriend (as she thinks). With her wet shorts down just under her ass she gives you an outstanding view straight up her perfect shapely ass and lovely pussy. Posing for the camera is total foreplay for her. She lets her boyfriend take all of the pictures he wants as her hands roam between her legs. I can't get enough of watching this beautiful young girl teasing us with her private parts. She bites her lips as she touches herself, rubbing her little pussy and feeling how wet she is. What could be better during Yoga than a good masturbation? His sexy girlfriend gets close to him and rubs his throbbing member over his shorts and whips it out so she can pop it into her wet mouth and feel it getting bigger and harder as she sucks on it, licking his shaft and balls. They move to a nearby lounge bed so she can give him head, sucking and stroking his rock hard erection and straddling herself atop, guiding it deep inside her dripping wet pink pussy. Once impaled on his cock, she makes her sexy body bounce up and down his dick, riding her boyfriend in cowgirl position. She eases up against his cock, she likes to feel how it invades her insides and fills her up completely. I can only imagine, how good this yoga practising girl manage with her vaginal muscles, squeezing her bf's dick with her tight vagina walls. Her slender body is so flexible. The tiny girl pulls her top over her small firm tits so she can play with them while getting fucked so hard by her handsome boyfriend after her yoga routine. She flips over, still riding his hard cock, but in reverse cowgirl, making her juicy bubble butt bounce up and down his long shaft. She's the prettiest girl I've ever seen with nice pussy and amazing ass. She grinds her pelvis against his crotch, they can both feel the friction of their bodies rubbing one against the other in their horizontal mambo! Then naked girl lies back and spreads her legs so she can have her boyfriend inside her in missionary position, fucking her wet pussy very deep and it feels so thick and hard today, it is almost a tantric experience that will come to its glorious end when he cums all over her! She is a totally hot and beautiful young girl with a fabulous sexy ass and a sweet personality to go with it. If you agree, then you're going to really enjoy this amateur sex tape.
HOT YOUNG GIRLS IN THE BEST AMATEUR SEX TAPES YOU HAVE EVER SEEN:
A good video camera sure comes in handy when you are dating a hot and sexy babe! You never know when she's going to tease you with her sexy bubble ass or have some naughty fun, and whenever that happens, you wanna hold on to these hot amateur sex tapes where she is sucking your cock, masturbating and having lesbian sex with her friends or bouncing up and down your cock and getting her face smeared with your cum! Come to the best teen porn website, MOFOS, and watch the hottest and sexiest young girls turned into hot real life pornstars! Don't miss out!
|
When you are starting a new business, you will always face a few setbacks along the way, and each and every one of them is an opportunity for learning. This cute babysitter for example, made an error of judgment when she brought her girlfriends to the house where she was babysitting! Her client walked in and didn't like it one bit! These are her best friends forever, her BFFs, and her associates in her new babysitting enterprise and they are just getting started and this guy is already threatening with shutting them down! The girls know they did wrong, but as good entrepreneurs, they are focused on making it right! When the girls get on their knees and start sucking his big hard cock, it's obvious they will manage to keep him as a customer, and maybe even start a totally new business on the side, but that's another story! The babysitter is a gifted cock sucker and so are the rest of her friends. They look so sexy fighting over his cock, licking his rod and balls! The guy is standing in front of these four teen sluts, with his head all the way back while they are busy fucking his dick with their mouth! The brunette in the group bends over and pulls her leggings down so he can lick her asshole and fuck her doggy style from behind while he slaps her juicy ass and the rest of the girls watch! The babysitter has her legs spread and her panties tugged aside, rubbing and fingering her dripping wet twat, masturbating herself while she watches her client fucking her girlfriends; it's so hot and sexy! She wants to go next so bad! He grabs her, pulls her toward him and penetrates and fucks her in missionary position. She pulls her sweater up and her big tits over her bra so she can play with them while he bangs her so hard and goes taking off her clothes along the way. Once he has her totally nude he puts her down on her hands and knees and drills her pussy from behind doggy style. He lies on his back and lets the teen slut straddle herself atop his cock and ride it while the babysitter masturbates herself and continues watching them along with the rest of her entourage. She gets on top next and makes her big tits bounce up and down as she rides his cock and begs him to cum all over them! These teens of today know how to ride dick right. It turns into a real fivesome orgy when all girls get naked and ride his dick in turn.
|
The crew has set everything up to film the latest porn scene and they are just missing one thing: the male porn star! They don't want a professional, they want a total amateur, an average Joe picked up from the street, but his sexy co-star is having a hard time finding him! Can you believe that with her banging hot body and the promise to fuck her hard, she is still getting turned down by the guys she picks and asks to be her co-stars? She's on her hoverboard and her legs and ass look absolutely stunning. When she finally finds the guy, a hot bald stud with tattoos, she drags him back to the studio, totally excited and ready to rock his world! She pulls down on her denim shorts so he can admire and touch her juicy firm bubble butt and munch on her butt crack. She's got everything – cute face, nice titties, fantastic firm ass, long sexy legs, slim waist. Are you ready to watch her fucking? They take off their clothes as she straddles herself atop his lap and he sucks on her erect nipples. The sexy teen babe stands and places a foot over the couch's armrest so he can lick her delicious young pussy and he mounts her over his shoulders and tongue fucks her! The way she rides his head, moving her crotch all over his open mouth, is amazing. Then this young naked girl takes his throbbing member and devours it, straddling herself back on top and stuffing her tight muff with it. She's so fucking wet that when he lifts her and fucks her cradled in his arms, you can see her pussy juices dripping down his balls! He lies flat on his back and the porn slut rides his member in reverse cowgirl, pushing her body up and down his rod and grinding her ass against his crotch. She can't wait for the stranger to blow his load all over her open mouth and dirty face! Would you make a sex tape if it was a such hot teen babe? It's funny and original when these sexy teen girls pick up random guys and show them what really wild sex is all about. Don't miss more videos like this one by the link above.
|
CHECK OUT RECENT VIDEOS ON THE MAIN PAGE !!!